The Independent's journalism is supported by our readers. When you purchase through links on our site, we may earn commission.
13 best beach toys for making a splash this summer, from beach balls to underwater cameras
From a classic bucket and spade set to frisbees, these are this summer's must-haves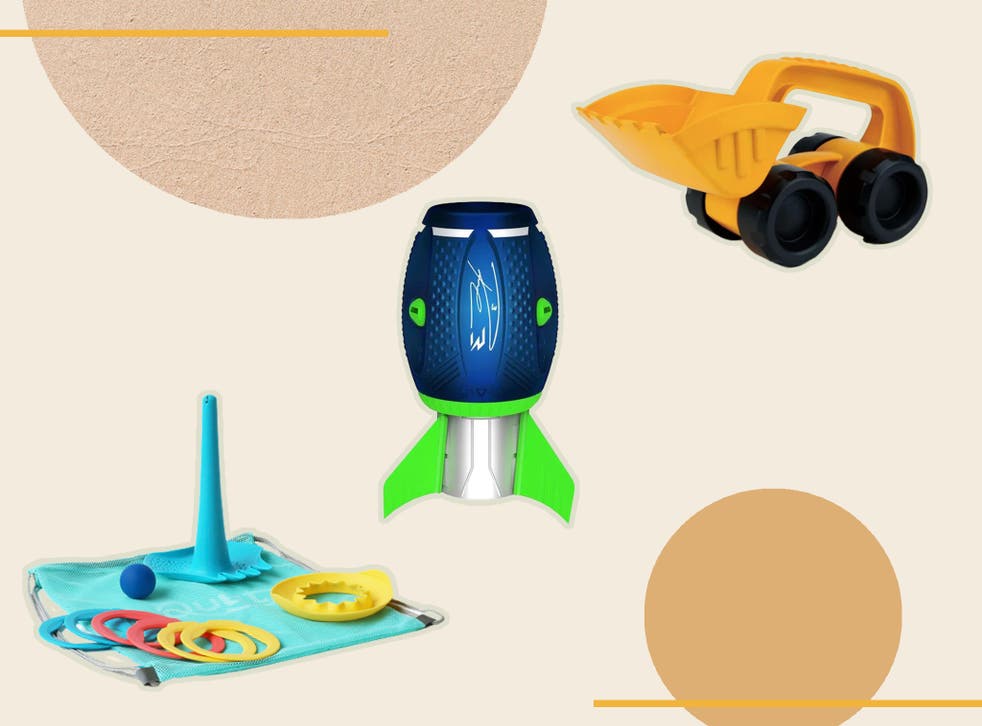 The beach may be one of nature's best playgrounds, but if days spent on the sand are on the agenda, it pays to pack plenty of clobber to keep the kids entertained.
Of course, it depends on who you're planning on entertaining. Toddlers and pre-schoolers, for example, will inevitably need more consideration than older children who are happy running, swimming and burning off excess energy.
Either way, purely relying on a bucket and spade to keep their attention for the entire day may not be the best port of call. So, we have taken it upon ourselves to find a mixture of the best toys, games and beach accessories to keep them busy up until the tide comes in.
While we have found some of the classic paraphernalia you'd associate with the seaside – think beach balls, kites and, yes, a bucket and spade set – we've also found some brands making waves in other areas. From educational toys to open their mind, to weather and waterproof play mats and dolls, there really is something for everyone.
Personally, we loved the group games as, in our mind, the beach is a great place to make some of life's best memories, so any game that encouraged a little bit of family interaction – with a bit of friendly competition thrown in for good measure – was a huge hit with us.
Read more:
Basically, we've tested toys galore and all to find the best in terms of entertainment, cost, child-friendly design and that were able to travel from car to sandy shores.
Our four-year-old, six-year-old and 12-year-old helpers were more than happy to head to the beach and try out a variety of beach toys. We looked for toys that would engage a variety of ages and particularly those that got us burning off some energy.
We considered cost and durability as we wanted toys to last beyond a solo trip to the coast. Fun is the order of the day, so we wanted toys that encouraged happiness and laughter. Also high on the agenda was portability, so handy storage bags and handles gained extra points, and games or toys that can be used at home too got a big thumbs up. These are the ones that really made a splash...
Register for free to continue reading
Registration is a free and easy way to support our truly independent journalism
By registering, you will also enjoy limited access to Premium articles, exclusive newsletters, commenting, and virtual events with our leading journalists
Already have an account? sign in
Register for free to continue reading
Registration is a free and easy way to support our truly independent journalism
By registering, you will also enjoy limited access to Premium articles, exclusive newsletters, commenting, and virtual events with our leading journalists
Already have an account? sign in