The Independent's journalism is supported by our readers. When you purchase through links on our site, we may earn commission. Why trust us?
Jellycat's new Halloween cuddly toys have landed in time for spooky season
From a pumpkin to Ooky bat, the new arrivals look more friendly than frightening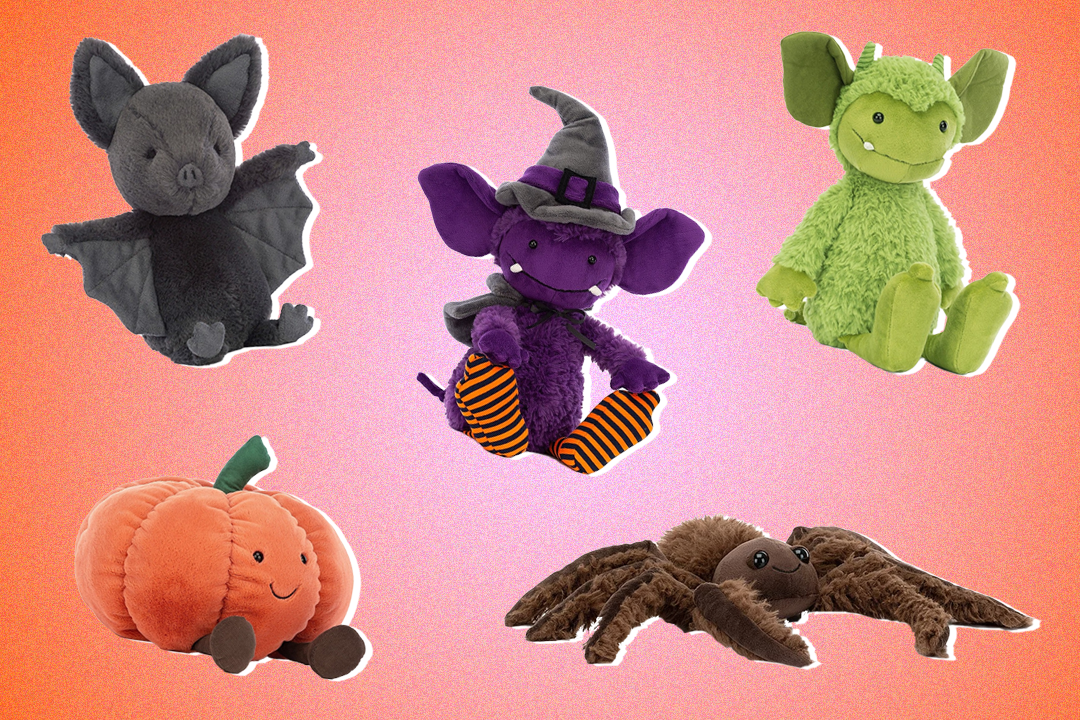 Somehow, we've wound up in late September already. The evenings are getting gloomier, and there's a discernible chill in the air. Along with several suitably autumnal and spooky products hailing from brands such as Le Creuset (hello, pumpkin casserole dish) and Lush, the changing weather is here to remind us the spookiest time of the year is fast approaching.
Landing ahead Hallowen, trending toy brand Jellycat has launched a Halloween-themed series of cuddly friends – think pumpkins, spiders and gremlins dressed as witches. For the uninitiated, Jellycat has become hugely popular since the brand was first established in 1999, with its super-cute soft toys coming in all shapes and sizes.
Jellycat's vast, collectable range encompasses animals, food, plants and prehistoric creatures, and it remains a key kids' toy trend.One of the brand's best-sellers, bashful bunny has acted as a comforter for many kids across the country but the cuddly toy trend isn't just for tiny tots – the Jellycat croissant hashtag has garnered a whopping 3.4 billion views on TikTok.
If you're hoping to purchase one of the new Halloween-themed toys for a youngster (or yourself), here is where you will find all you need to know about the latest Jellycat arrivals. There's everything from a series of plush pumpkins and Ooky bat to a friendly-looking spider. Plus, we've rounded up several of our favourite Jellycat toys to purchase for year-round gifting.
Read more: These mini Lego sets make great gifts
While bats are known for being nocturnal, Jellycat's Ooky toy is bound to make a sweet bedtime pal for little ones this Halloween (and beyond). Featuring a charcoal-coloured body and suedette wings, happily, this soft toy is one of the smaller (15cm x 6cm) and more budget-friendly options that can be shopped from the brand.
If you're after a Halloween-themed toy to cuddle up with this spooky season, this plush pumpkin is one of the brand's new arrivals. Your new vegetable buddy features ruched stitch segments, little brown cord boots and a suedette stalk. Shoppers can also plump for the smaller vivacious vegetable pumpkin (£18, Jellycat.com) or the mini Ooky jack o lantern (£16, Jellycat.com).
Thanks to the toy's furry green finish and squiggly body shape, this Nessie Nessa cuddly toy has made the famous monster of Scottish folklore look a lot less frightening. Having emerged from Loch Ness to make friends, Nessie is described by the brand as being beautifully soft, featuring floppy fins, glossy eyes and a beany base.
This fluffy, eight-legged friend (sorry, arachnophobes) has a fuzzy body and a beaming smile, which should help make the creepy-crawly seem a little more friendly rather than, well, creepy. Whether Spindleshanks spider is used as a Halloween decoration or a cuddling companion, we can see the soft toy being a fun present idea for budding arachnid enthusiasts.
A bright-green and tufty gremlin characterised by humongous ears and feet, Grizzo is definitely more sweet than scary. With two twizzly horns and mini fangs, we can see why the curly tailed creature is one of the brand's best-selling toys. This could be the perfect not-so-scary toy to introduce to your collection or purchase for a younger Jellycat fan.
Another new launch flying in (possibly on a broomstick) in time for spooky season, this gremlin goes by the name of Greta. If you know the children in your household are already looking forward to heading out for an evening of trick-or-treating, this gremlin will make a fun companion, as it comes dressed up in a witch costume. With fluffy purple fur and suedette ears, Greta's outfit includes a witch's hat complete with buckle, a ribbon-secured cape and orange-and-black stripy socks.
For more of our favourite Jellycat finds, read on to see some sweet soft toy pals that we think would be a brilliant buy year-round – for little ones and big kids alike.
A classic buy synonymous with shopping the Jellycat range, this medium-sized bunny is a sweet, snuggly keepsake for a child's birthday or a significant milestone. Plus, the ears can be personalised to add an extra special touch to a gift.
A tempting treat with a soft-toy twist, this is the one to shop for baking afficionados or those partial to a posh afternoon tea. Plus, there's a pretty patisserie tarte aux fraise (£14, Hamleys.com), if you fancy a matching foodie pair.
A fun take on a fake plant, this cute aloe vera soft toy is a fab gift for adults as well as kids. The 45cm x 14cm toy would sit pretty on any shelf, as well as doubling up as a cuddly succulent.
This soft toy looks far less scary than its mythical counterpart, and we can picture bashful dragon being a cosy bedtime pal for little ones. The sage green colour is a gorgeous soft toy shade, and we like the velvety-looking wings too.
Kids could play shop with these soft toy grapes, propping the fruit up alonside other Jellycat favourites. We can't resist the smiley face, which is far too sweet for eating.
This friendly-looking dinosaur features different textures for little ones to play with. The green, yellow and blue is sure to catch their eye, too.
A multi-coloured chap complete with a tactile tummy, tail and expressive eyes, this fun character would be great for interactive story time. He'd also make a good mascot for clubs or sports teams.
Present them with a floral treat, in the form of this vibrant sunflower toy. Whether yellow is their favourite colour, or you think they'd simply love the flower's happy, smiley face, this squishy toy is sure to win gifting points.
Tuck into this tempting burger buy, which comes complete with a bun featuring outstretched arms and layers of cheese and salad. It's an ideal toy for a foodie fan or for children to like to play cafes.
They'll be delighted with this lovely sausage dog toy named Otto. The 9cm x 17cm stuffed animal is suitable from birth, and could be an adored childhood playmate.
For the latest discounts on toys and baby products, try the links below:
Searching for snuggly kidswear? We've rounded up the best blanket hoodies for kids