The Independent's journalism is supported by our readers. When you purchase through links on our site, we may earn commission.
Best baby bouncers
Whether it's for naps, entertainment or giving mum and dad a break, our panel of parents and mini testers have given this selection their seal of approval
Friday 02 February 2018 22:31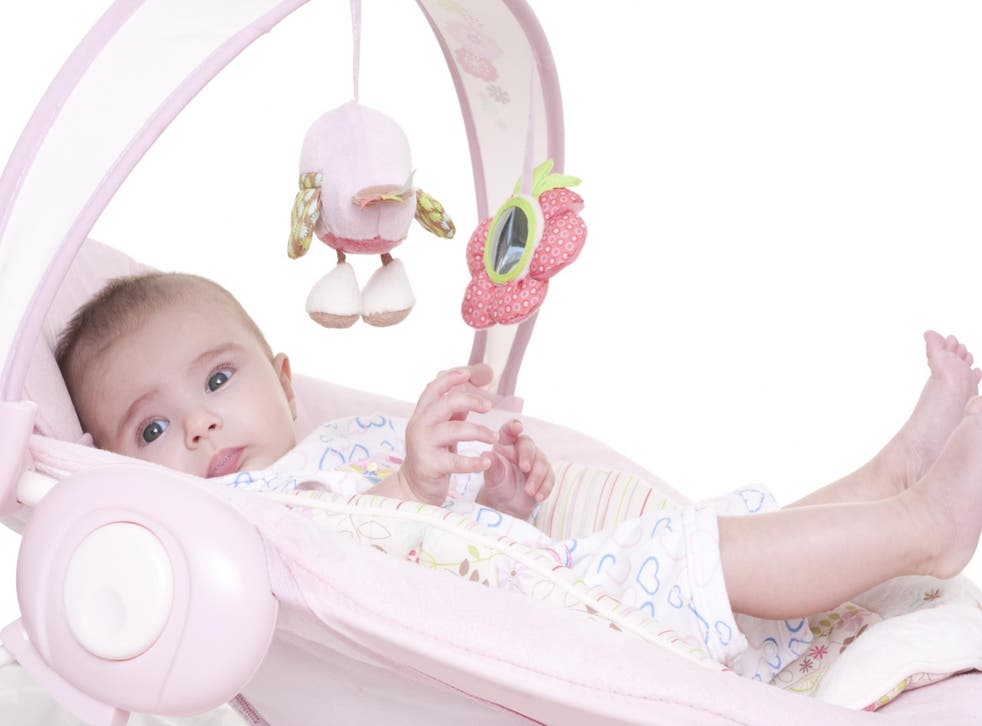 Of course, there's nothing better than cuddling your baby, but there are times when you need both your hands free for other things and quite frankly, a bit of a break. That is where baby bouncers come into their own. They are the ideal location for your little one to entertain themselves for a few moments or steal some precious snoozing time, giving you time for a well-earned sit down and cuppa.
Most of the bouncers on the market are light enough to be moved around the house but they all have slight differences that can make it hard to know which one to choose. That is where we come in. We have put all these bouncers to the test with the help of some very sleepy newborns (and their mums) and slightly more energetic six month olds - there was also the odd toddler in the mix too - to figure out what sets them apart from all the others and why these are deserving of your attention.
1. BabyBjörn Bouncer Bliss: $205, Amazon
There is a reason this bouncer has become a cult buy for parents. You can either set the chair rocking with your foot - using the weight of your baby for momentum - or when your baby starts to kick their legs, you can leave them to it. Once they've learnt to sit up, the bouncer can be turned around to make it into a chair. It' lightweight and compact, so is easy to transport around the house, and it folds completely flat making it ideal for packing into the car and for putting away at the end of the day. Plus, the cover is really easy to remove and is machine washable - ideal for when nappy explosions happen during bouncing fun (which is exactly what happened when we tested it!). Comes in three colours.
2. Stokke Steps Bouncer: $199, Amazon
This one ticks a lot of boxes. It's comfy, supportive, and offers different incline heights and it can be attached to the Stokke Steps high chair (sold separately). Meaning when you finally manage to all sit round a table and eat a meal together, your baby can be part of the moment too. It also makes a brilliant option for feeding your little one when you start weaning and they're too small for a high chair. It can be used from newborn up until they're too big to fit in it anymore and comes in four colours, our favourite being the cloud print.
3. Nuna Leaf Curv: $229, Albee Baby
This is one of the slickest looking chairs on the market. Instead of traditional bouncing it "sways", mimicking the rocking motion of your arms without the ache. Our 12-week-old tester fell asleep within minutes of being put in it - result. Simply pop your little one into the chair, strap them in and gently push the chair, which keeps on swaying for two minutes unassisted. No need for sockets, batteries or foot rocking. And if you have older children, they can also get in on the act, as the chair can support kids weighing up to 60kg. It is on the bulky side compared to other bouncers but it's more stylish than many we've seen.
4. Skip Hop Uplift Baby Bouncer: $119, Amazon
One of the problems with some conventional baby bouncers is that they are restricted to floor level - a problem Skip Hop has resolved with this clever chair. With just a few turns of the dial you can raise the bouncer from the lowest height, to sofa level or even up to the height of your kitchen table. It's a brilliant solution for any mums recovering from a C-section who can't bend down easily. It's also useful if you have pets and you'd rather your baby was slightly higher to avoid inevitable licks or if your baby wants to be part of family time round the table. It has a vibrating mode as well as playing two lullabies, a heartbeat sound and ocean waves, which our three-month-old tester loved and her Mum found so soothing she fell asleep listening to it too.
5. Fisher Price Infant-to-Toddler Rocker: $26, Amazon
Toddlers can find it hard to adjust when the new baby getting lots of new toys, which is why this chair caters for both. It is suitable for newborns as it has a three seat angles, a vibrating mode but with one click you can remove the toy bar and any older children (weighing up to 18kg) can use it as a rocking or stationary chair to chill out in. The frame is more structured so it can't be folded flat but it's a great price for a chair that will last your baby until they are a toddler.
6. MamaRoo 4: $219, Amazon
These days everything is smart. Everything has been upgraded and stuffed with technology. Options, options, options, that's what you get here. The self rocking with five unique motions and speeds ensure your baby will find something they can fall asleep to. Adjustable recliner, MP3 capabilities, machine washable cloth, no batteries required, and is built to handle up to 25lbs, you get everything you want, but it comes at a hefty price. If you can part with a pretty penny you and your baby might fall in love.
7. Tiny Love Take Along Bouncer: $79.99, Amazon
Whether you're a stay at home parent or a working parent the odds are that you're extremely busy. You got appointments, people to see, shopping to do, and sometimes it's nice to sit down at the park. You could leave your baby in a stroller or carrier, but that's no fun for either of you, especially when the crying starts. If only you had a baby bouncer that was light and foldable, something you can take anywhere and keep your offspring entertained. Guess what, Tiny Love's got you covered, and they even throw in a carry bag for your troubles. Could be cheaper, but it's also pretty comfortable, which justifies the price point.
8. Fisher Price Auto Rock 'n Play Sleeper: $54.99, Amazon
Here is another smart bouncer with a concentration on sleep. Only, this one isn't going to force bankruptcy, it's the cheaper option. Having said that, cheaper doesn't mean bad, especially for baby bouncers. That's not to say you don't get a lot of features. Personally, I would take the Auto Rock 'n Play Sleeper over the mamaroo 4 because of the price difference vs features withheld. Does a baby really need MP3 music? Here you save almost $150 and you still get two speed auto rocking, 12 songs, a sleep timer, and a comfy incline.
9. Fisher Price Sit-Me-Up Floor Seat Panda: $39.99, Amazon
You don't always want your baby reclined and asleep. It's good to practice sitting and building up some muscle by self bouncing, and hey, why not make it fun. Detachable toys, different textures, a squeaker, and that panda is just so cute. And of course, the back support is comfortable and safe for even the most active baby.
10. Bright Starts Bounce 'N Spring Deluxe Door Jumper:
Here is an option for the older Toddlers. Fun and springy with adjustable toys. Your toddler is going to have a blast jumping up and down. But, you need to make sure you have a sturdy door frame and ample leg space and the maximum weight is 26lbs. The seat is comfortable and the set up is easy and self explanatory. You can have all the comfort and music in the world, but sometimes the best sleeping agent is exercise! Strap that kid in and let them tucker themselves out while having a blast!
The Verdict: Baby bouncers
There are multiple reasons the BabyBjörn bouncer has been bought time and time again by mums: it's simple, stylish, sturdy and so easy to move around. For those reasons it's our best buy. For those that are looking for something more tech savvy, then the Nuna Leaf and Chicco Balloon are ideal, and the Fisher Price gets points for value.
Register for free to continue reading
Registration is a free and easy way to support our truly independent journalism
By registering, you will also enjoy limited access to Premium articles, exclusive newsletters, commenting, and virtual events with our leading journalists
Already have an account? sign in