The Independent's journalism is supported by our readers. When you purchase through links on our site, we may earn commission. Why trust us?
Best bikinis for a bigger bust
Finding the perfect summer look in your size can be a painful process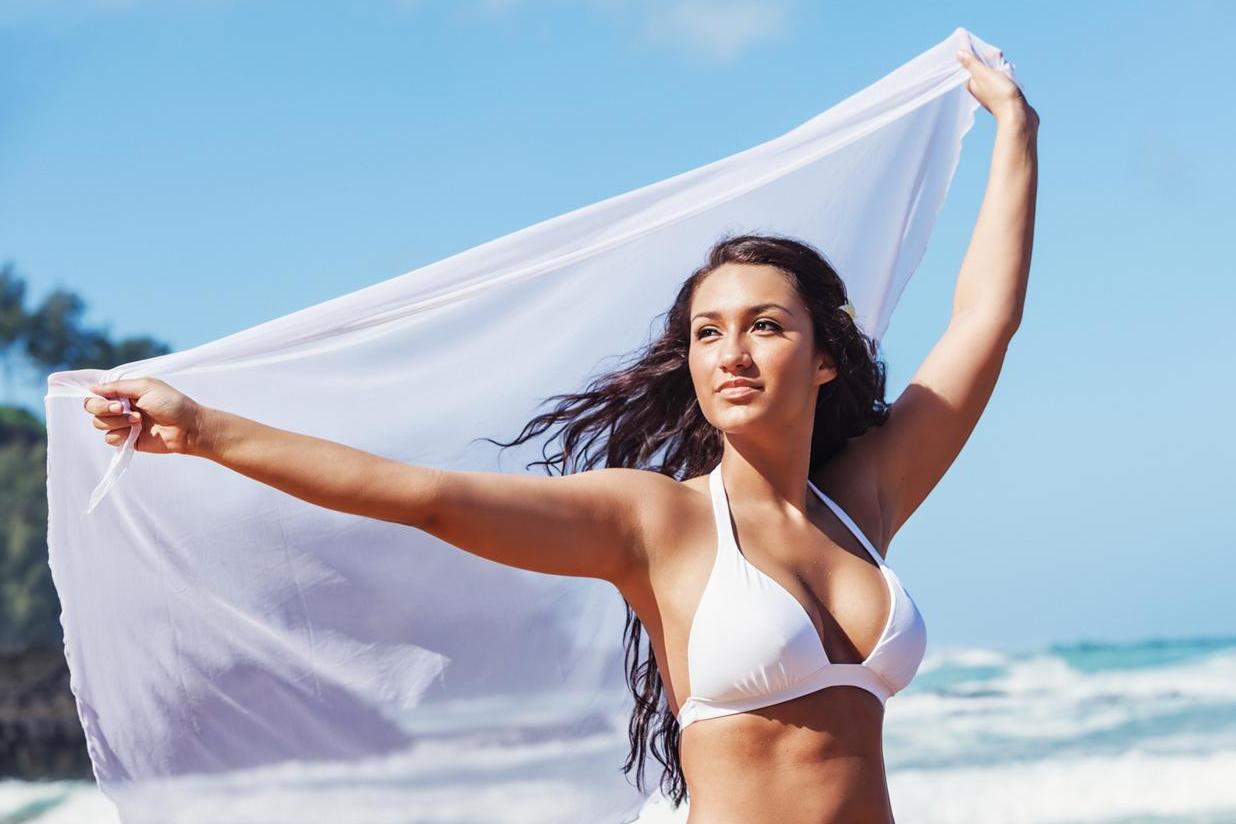 If you have a larger bust, you'll be all too familiar with the trials of finding a bikini that both fits and looks good. Spilling over ill-fitting cups, straps digging into your sides or the fear of having a 'wardrobe malfunction' are the last things you want on your mind when sipping a mojito on the beach.
Even if you do find a bikini style you like, mainstream clothes stores often don't stock larger sizes, making vacation preparations even more frustrating. With a bigger bust comes the need for more support – be that an underwire, padding, or just a well cut piece – so you can swim in comfort.
There are of course bikinis for different occasions; sunbathing, swimming, beach sports, with each lending itself to different styles and recommendations.
Finding the shape and fit that best suits your figure is a minefield, so we tried a range of bikinis for bigger busts to give you a better idea of what to buy. Being bigger doesn't mean you have to forgo a stylish swimwear option, so read on for some of the best options out there in 2019.
Frankies Greer Set: $175, Frankies Bikinis
A bigger size doesn't mean you can't be bold. Frankies bikinis bring you all the latest trends in swimwear. Stylish, contemporary looks that would fit in on a luxury yacht or at a beach festival, Frankies bikinis don't specialise in bigger busts, but they do go up to XL. This green two piece is definitely for the more confidant of you, with smaller briefs giving that Brazilian carnival look. The top - despite having no underwire or padding - is comfortable and supportive, and works great as part of a summer ensemble. Retailing at $90 for the top and $85 for the bottoms, this set is at a higher price range, but Frankies fashionable looks are worth it.
Figleaves Color Block: $45, Figleaves
Although a UK based company, Figleaves have a huge range of bikinis available to buy in the US. With sizes ranging from 30F to 38GG, this shop understands what you need from a bikini. With well-made, extremely comfortable but still stylish looks available, Figleaves is a must for any bigger-bust shoppers.
This navy, tan and white two piece at $45 is a perfect example of a quality, original bikini with a reasonable price-tag. The halter-neck is adjustable, but secure so no risk of coming undone while swimming, and has an underwire for extra support. The briefs are slightly high waisted, which is great for anyone wanting to hide a little more of their stomach. A sophisticated look for any age.
Panache Anya Cruise: $68, Bare Necessities
Another UK company, but also available to buy in the states. Panache really knows how to give support. With a range of bikinis in a similar style to padded, underwire bras, there's no risk of falling out of this brand. But that doesn't mean they don't know how to have fun with their style. This adorable navy two piece with a white trim oozes 50s vintage style so you can truly channel your inner sailor at the seaside. The adjustable straps aren't just practical, but also serve as decoration by tying into a cute bow at the back.
The thing layer of padding helps give a nice cleavage, and the multi-way design means you can not only adjust the strap but try out different looks. Panache ranges from 30D to 38H, with this particular suit retailing at $68.
Diva White Dot Halter High-Waist Bikini: $72, Swimsuits for All
As their name suggests, Swimsuits For All provides everything you need if you have larger breasts. This US company specialises in sizes 4 and up, with a huge range of swimwear.
If you want fun, cleavage and confidence, this is the bikini for you. The bold red polka dot tie-it-yourself halter-neck has a thin layer of padding, with no underwire. But it's the bottoms that make this set so fun; the extreme high waist is a playful, original look, that's ideal for those that want to hide some stomach while still rocking a two-piece. This particular suit is $72 and ranges from size 6US to 24.
Ashley Graham X Swimsuits For All Elite Black Triangle Bikini: $58.80, Swimsuits For All
American model Ashley Graham's swimsuit range is perfect for those struggling to find stylish, sexy looks in their size. Ranging from US6-24, Graham's pieces are available to buy online at Swimsuits For All.
This particular set is an absolute classic look. A black tie-it-yourself halter neck, with hip-riding bottoms at $58.80. This might sound like a nightmare to some of the more curvaceous of you out there (we've been burned by skimpy bikinis before!) but this set feels like it's been made differently. Although you get a great cleavage from the top, it doesn't feel like you're going to fall out. It's still a fairly small halter neck, so we wouldn't advise challenging Michael Phelps to a race in this, but it's a comfortable, timeless, sexy look that would fit on any beach vacation.
Icon Black Halter Bikini: $77.58, Mandalay Swimwear
Miss Mandalay ranges from C-HH cups, providing a great selection for those struggling to find something in their size. This simple black design with a clasp back, tie-it-yourself halter neck and under wire is a classic, supportive option. What you might not notice at first glance is the extra detail on the briefs; they have a roll top for decoration, that we found you can actually pull up for an alternative high waisted look.
With the briefs at $28.41 and top at $49.17, you can also mix and match with this look. The structured top design is ideal for anyone that wants to wear a halter neck bikini, but still get some serious swimming done.
Rainbow Stripe Set: $105, Lilly & Lime
This bright two-piece from Lilly & Lime is ideal for those who want to be active and swim, and look good doing it. Ranging from 30D to 40F, these guys are experts in catering for larger breasts. This bikini top has just the right amount of padding and underwire to give good shape and support, but still be light and comfortable. This particular item would particularly suit anyone looking to minimise their cleavage slightly. The matching briefs come in a variety of styles, from high waisted to side tie-ups, and are equally comfortable.
The briefs retail at $45 and the top is $70, but Lilly and Lime have plenty of different style options in the same pattern for whatever look you prefer.