The Independent's journalism is supported by our readers. When you purchase through links on our site, we may earn commission.
10 best saucepans
From varying sizes to coating, find your perfect saucepan below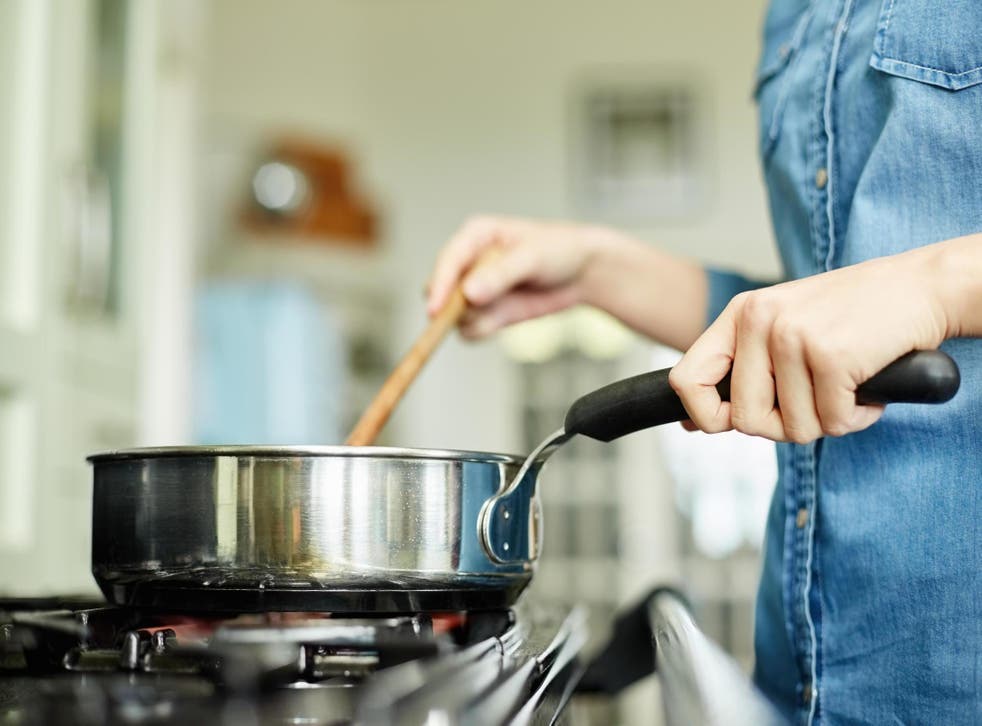 Saucepans may seem like a simple piece of cookware, but there's a wealth of characteristics to consider before purchasing one. Let's break down these factors.
Cookware comes in three primary metals—aluminum, stainless steel and copper.
Aluminum is inexpensive and has high heat conductivity. It's the most common metal found in affordable cookware. There's also hard-anodized aluminum that's a more durable, non-stick option. Stainless steel saucepans are versatile and can be used on stovetops, as well as in ovens and dishwashers. By itself, stainless steel is a poor heat conductor, which is why you'll usually find it layered between aluminum or copper. Copper is the most heat conductive metal found in cookware, but it's also costly. It's typically added to stainless steel counterparts to be more conductive.
Besides metal, there's an assortment of saucepan features to evaluate; Is the lid glass or solid metal? Can you use metal utensils on the surface? Does the rim have a pouring lip or straight edge? Is there a strainer built into the lid? Does the handle conduct heat or stay cool?
With all that said, let's dive into the best saucepans on the market that appeal to a wide range of price points.
When it comes to cookware, Calphalon may be the cream of the crop. It's Signature Nonstick two-quart saucepan doesn't fall short of this reputation. The non-stick pan is comprised of PFOA-free hard-anodized aluminum and allows you to cook without worrying about scratching the surface, which is a luxury for non-stick coatings. Its see-through glass cover is a bonus for monitoring food. It is also safe to use in a dishwasher, oven (up to 500°F) and has a lifetime warranty.
For those on a budget, the Target Made By Design ceramic coated aluminum saucepan is the way to go. Its lightweight aluminum body has high thermal conduction and features a silicone handle that prevents it from getting too hot, while also having the ability to be transferred to an oven up to 400°F. The built-in pouring lip and lid strainer are welcomed features. The non-stick ceramic coating is made without PFOA and makes cleaning a breeze, even though it's not dishwasher safe. Its surface isn't scratch resistant to metal utensils, so stick with wood or silicone instruments.
If you're a seasoned pro in the kitchen looking for a saucepan with reasonable heat control, Viking's 3-Ply stainless steel a great option. It's permanently bonded with an aluminum core for even heating and is an ideal saucepan for preparing temperature-sensitive foods like hollandaise or beurre blanc sauce. While testing, we noticed it wasn't as stick resistant compared to other brands, but unlike standard stainless steel bodies, Viking has a heat-reducing handle that allows it to stay cool longer. It's also dishwasher-friendly and safe to use in the oven and grill up to 600°F. The lifetime warranty might make us consider its hefty price tag.
Bialetti's Ceramic Pro saucepan holds three layers: ceramic nonstick, aluminum and hard anodized aluminum. It's a "get the job done" saucepan that's versatile in the kitchen when it comes to preparing noodles, beans and soups. Before making a purchase decision, note that this saucepan isn't induction stovetop or dishwasher safe, but it can withstand an oven up to 400°F.
Unlike other pure stainless steel cookware, the Chantal Induction 21 Steel contains four metals: stainless steel, copper, titanium and chromium. These four powerhouse metals make for a robust, durable and heat-conducive pot. While testing, we appreciated the no-drip rim that's ideal for pouring sauces and soups. It's an excellent pot for home cooks who want something more durable than aluminum, yet are looking for a glass lid to monitor the cooking process, something that isn't commonplace among pure stainless steel saucepans.
The SCANPAN Classic Saucepan is worth the hefty price tag. It's made from 100 percent recycled aluminum and features a patented PFOA/PFOS free five-layer Stratanium nonstick surface that's ultra-durable and safe to use with metal utensils. It has two pouring lips, a glass lid and a heat-proof handle. Whether you're searing, braising or deglazing, this pan can handle it all. It's oven safe up to 500°F but isn't compatible with induction stovetops.
The Wolf Gourmet saucepan was the most durable pan we tested. Made for discerning household cooks and professional chefs, Wolf Gourmet doesn't mess around when it comes to high-quality cookware, which is why it's one of the most expensive of the bunch. Its seven-ply construction has layers of 18/10 stainless steel and pure aluminum, providing even heat distribution and retention. It's safe to use in the dishwasher and oven up to 500°F.
Not to be mistaken for the celebrity, Starfrit's The Rock saucepan is a fan favorite among its users. The patented small metal pellet impact technology gives it a durable rock-like exterior, making it unlike other cookware on the market. The Rock is virtually non-stick, dishwasher and oven safe (up to 450°F), while featuring a thick aluminum base, glass lid and stainless steel handle. Just be sure not to use any metal utensils or abrasive cleaners on it that will tarnish the non-stick properties.
Although the T-fal Easy Care saucepan is the most affordable saucepan on our list, you shouldn't overlook it. The non-stick interior and exterior make it easy to clean, and we appreciate the quart/cup measurements etched on the inside of the pan. It's the least heat-resistant saucepan on this list, being able to handle up to 350°F in the oven, which isn't a big deal if you're only interested in using it on the stove. Overall, it's a worthy option if you're on a budget.
The All-Clad LTD cookware collection has one of the more stylish high-performance of saucepans on the market. The three-ply design features a stainless steel interior, an aluminum core for even heat distribution, and a hard anodized exterior that's scratch and stain resistant. Overall, the pan heats up and retains heat very well, but has the steepest price on our list to consider.
The Verdict: Best saucepans
While testing, we fell in love with the Calphalon Signature Nonstick 2-Qt. Saucepan With Cover, which has a durable non-stick and scratch resistant surface that was comparable to some of the more expensive saucepans we tested. Target's Made By Design Ceramic Coated Aluminum Saucepan is an excellent option for those on a budget. Just make sure not to use any metal utensils on its surface.
Register for free to continue reading
Registration is a free and easy way to support our truly independent journalism
By registering, you will also enjoy limited access to Premium articles, exclusive newsletters, commenting, and virtual events with our leading journalists
Already have an account? sign in
Register for free to continue reading
Registration is a free and easy way to support our truly independent journalism
By registering, you will also enjoy limited access to Premium articles, exclusive newsletters, commenting, and virtual events with our leading journalists
Already have an account? sign in