10 best sketching materials
As the world's largest drawing festival approaches, we put pencils and brushes to the test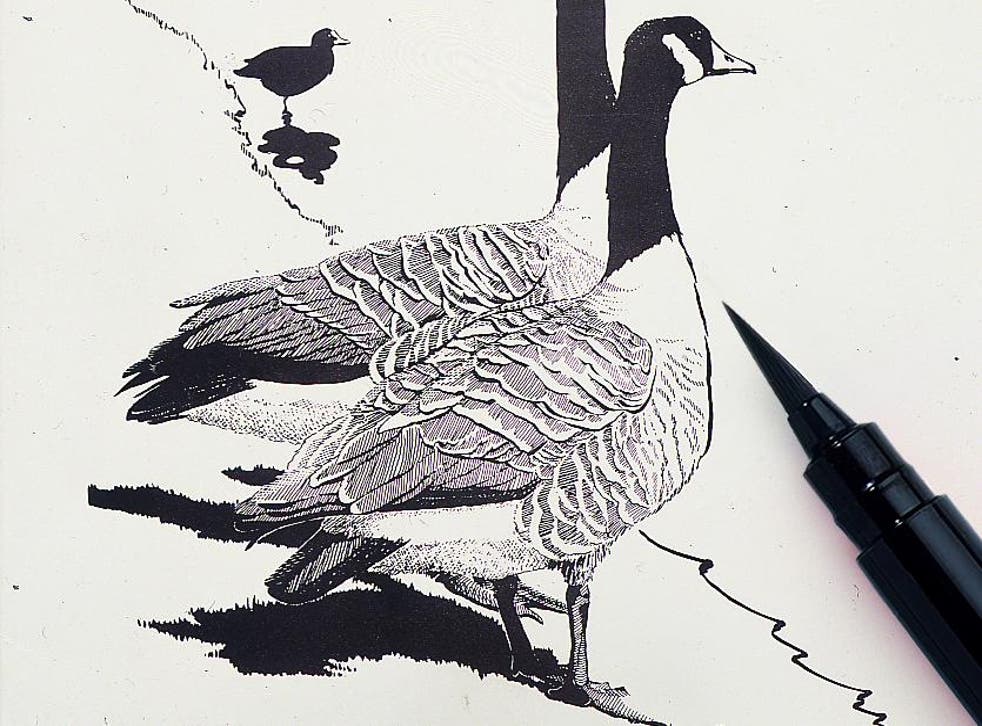 The Big Draw Festival encourages people of all ages to roll up their sleeves and practise their artistic skills. The 2018 festival takes place across the country throughout October, with events ranging from drawing workshops to art exhibitions, all aimed at promoting drawing as a tool for "learning, expression and invention".
Feeling inspired? The good news is that you don't need any fancy equipment. Artist and illustrator Sophie Harding says there's no need to buy expensive materials at all.
"A sketch can be a point of reference for further work or simply a way of practising drawing and observational skills," she says. "It's important that the sketching materials you use are ones that you're happy and confident with. Until recently I sketched in black biro as I loved the very simple line it produced. I've now moved on to a black brush pen which has given my sketches a different feel.
"I'd advise trying different tools and materials to find what suits you best. And don't be afraid of using colour – watercolours and pastels are great for sketching. When it comes to paper you can use anything, either a proper sketchbook or scraps of paper. I sometimes sketch on the back of shopping lists if I see something inspiring and I've left my materials at home."
We put a selection of sketching materials to the test. Whether you're a beginner keen to have a go or a gifted artist already, here are ten of the best.
Derwent Graphic Pencils 24 Tin: £29.12, Derwent
This set of 24 pencils contains every type of pencil you could wish for, from a fine, crisp 9H to a soft, smudgy 9B. The pencils were recommended to us by an artist and when we tried them out for size we could understand why. The softer pencils are great for loose sketches, while the harder ones are good for intricate detail.
Packaged in a robust tin, these graphite pencils are easy to sharpen. They are available to buy individually but we enjoyed having a full set to choose from.
Artway A4 Enviro Wirobound Sketchbook: £6.00, Artway
With a hardboard cover and premium recycled cartridge paper, Artway's sketchbook is durable, attractive and great quality.
Our artist tester liked the fact that the sketchbook is ring-bound so it opens smoothly. The creamy white pages can be removed in a trice and the cover is thick enough to protect her precious work.
Available in a variety of sizes, from A2 to A5, the sketchbook comes in landscape and portrait versions and wholesale packs are available for anyone to buy.
Pentel Arts Brush Pen: £15.49, Pentel
Professional and amateur artists use brush pens for everything from drawings and cartoons to Manga-style artwork and calligraphy. The Pentel version is a particular favourite, mainly because it's clean and simple to refill and doesn't make splodges all over the page. Even if you aren't quite in Leonardo da Vinci's league it's easy to create fine or broad lines with a single stroke.
If the bristles get clogged up with ink you can rinse them with warm water and get back to the drawing board. Available with black, sepia or grey ink, the brush pen comes with two refills.
Cotman Brush Pen Set: £15.80, Winsor & Newton
For artists who like using a brush and want to experiment with colour, this sleek-looking box is just the ticket. The set features 12 Cotman watercolours in vibrant hues from yellow ochre to ultramarine, a fine tip water brush and a mixing pallet in the lid.
Our artist tester was keen on "the good mix of essential colours" and the set's compactness – ideal for artists on the move. It's the size of an iPhone so it's small enough to keep in your pocket.
Derwent Lightfast Pencils: £34.99, Derwent
The Derwent Pencil Museum in the Cumbrian town of Keswick is well worth a visit if you're interested in the history of pencils. The area has a long history of pencil making, dating back to the discovery of graphite in the Borrowdale Valley. The Cumberland Pencil Company launched in 1816 and the first Derwent colour pencil was introduced in 1938.
These days Derwent produces a vast range of pencils, including the new Lightfast range. Available in a wide range of colours, the 12 pencils in this set have a strong point, so they can be used for detailed drawing – but they're easy to blend if you prefer a more freestyle approach.
Derwent Tinted Charcoal Pencils: £43.81, Derwent
Charcoal pencils are brilliant for sketching. They can be smudged and blended and they create less mess than traditional sticks of charcoal.
If you've always associated charcoal with black and grey though, think again. Derwent's tin of 24 tinted charcoal pencils sounds like something out of a beauty range, with colours like Heather Mist, Ocean Deep and Sunset Pink, as well as the more traditional light, medium and dark charcoals.
Our testers loved the fact that charcoal creates a more relaxed, spontaneous effect than graphite pencils.
Blackwing Pencil Set: £30, National Theatre Bookshop
Blackwing pencils are so popular that when they were discontinued in the 1990s pencil fans paid as much as $40 per pencil to get their hands on unused stock. The pencils were reintroduced in 2010 and they've gone from strength to strength.
Available in a set of 12, these soft graphite black pencils are ideal for drawing, particularly if you like sketching in soft, dark lines. Ultra-stylish and topped with a replaceable eraser, they are satisfying to draw with and you don't have to press very hard on the page. Art students love them.
Pastel Art Box Set: £60, Tate Shop
A halfway house between drawing and painting, working with pastels creates a pleasing effect – and you don't need a ton of equipment. These professional standard pastels come in an easy-to-carry orange Tate box so they're ideal if you're on the move.
They look good too. Best of all, there are 26 colours, all with a high concentration of pigment, resulting in a very dense colour application.
The set also has a sharpening board and a blending stick. Working with pastels can be messy so it's helpful to have a wet wipe or cloth at the ready.
Your Sketchbook Your Self: £7.99, Tate Shop
If you want to try your hand at sketching but feel stuck for inspiration this book will give you loads of ideas. Author Felicity Allen explains how to make the most of your sketchbook, recommending that you always take it with you and write or draw in it every day. "The minute you have an idea, write it or draw it," she says.
Beginners will appreciate her down-to-earth advice on starting and maintaining a sketchbook while more experienced readers will enjoy delving into famous artists' sketchbooks.
The drawings of Leonardo da Vinci, Pablo Picasso and David Hockney feature in the book, alongside tips on doodling, drawing from observation and experimenting with different types of lines and marks.
Personalised Johnston Alphabet Pencil Case: £9.99, London Transport Museum Shop
After investing in a new sketching kit you'll need a pencil case to keep your pencils in. This 100% cotton zip-up case from the London Transport Museum can be personalised with your name in the iconic Johnston typeface designed for the London Underground more than 100 years ago.
Chic and practical, it also features the traditional London Underground roundel. Every purchase supports the London Transport Museum's charitable work.
The Verdict: Best sketching materials
Whatever your sketching style – loose and free or painstaking and meticulous – the Pentel Arts Brush Pen is easy to use and creates fine or thick lines with a single stroke.
The Tate's Pastel Art Box Set is more pricey but it's pleasing to the eye, suits beginners and experts alike and the colours are stunning.
Register for free to continue reading
Registration is a free and easy way to support our truly independent journalism
By registering, you will also enjoy limited access to Premium articles, exclusive newsletters, commenting, and virtual events with our leading journalists
Already have an account? sign in
Register for free to continue reading
Registration is a free and easy way to support our truly independent journalism
By registering, you will also enjoy limited access to Premium articles, exclusive newsletters, commenting, and virtual events with our leading journalists
Already have an account? sign in