The Independent's journalism is supported by our readers. When you purchase through links on our site, we may earn commission.
10 best kids non-fiction books to help explain the world to inquisitive minds
From colourful science guides to inspirational tales about remarkable people, these will provide hours of entertainment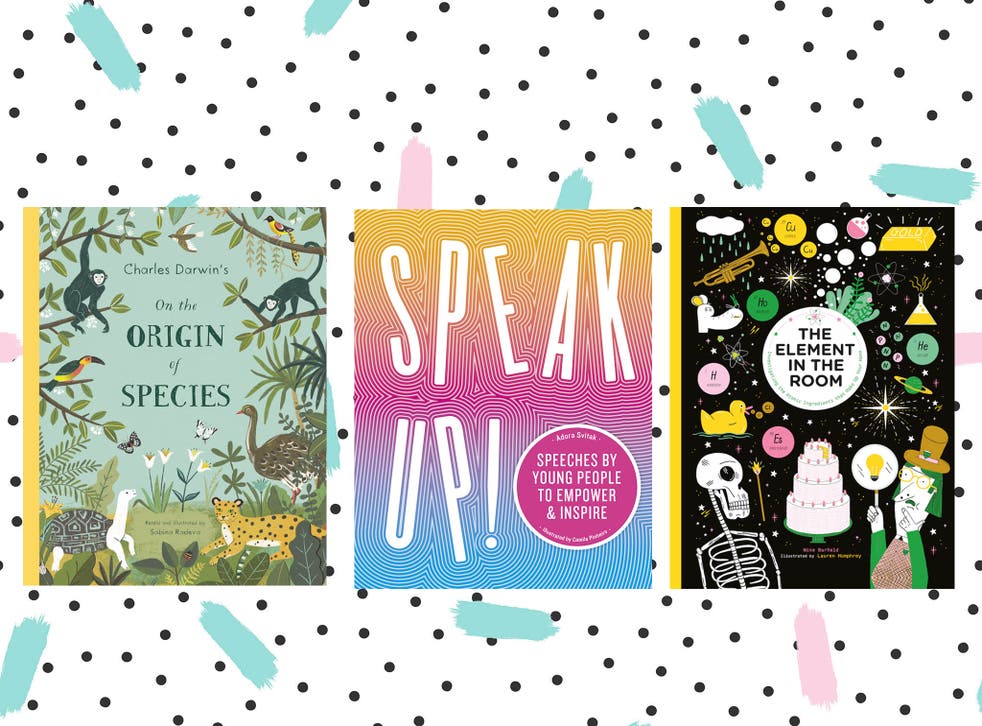 Developing a love of reading is a vital part of childhood. Research conducted by the National Literacy Trust in 2018 found that children who enjoy reading are three times more likely to have good mental wellbeing than children who dislike it.
Non-fiction books are an excellent way to explain the wonders of the world and these days there's lots of choice – from colourful science guides to inspirational tales about remarkable people.
With children off school at the moment we have chosen some of the best non-fiction books to keep youngsters happy, engaged and busy.
Not only that, if you're organising homeschooling activities during the coronavirus lockdown you can plan lessons and projects around some of the themes covered in these books.
Our selection includes a picture book inspired by Charles Darwin's theory of evolution, the story of one of the most famous space missions ever undertaken and a collection of stirring speeches made by children and teenagers around the world.
You can trust our independent reviews. We may earn commission from some of the retailers, but we never allow this to influence selections, which are formed from real-world testing and expert advice. This revenue helps us to fund journalism across The Independent.
'On the Origin of Species' by Sabina Radeva, published by Puffin Books. Suitable for 5+: £12.99, Foyles
This is a stunning book to look at and will get young children interested in science and nature. Determined to bring Charles Darwin's theory of evolution to a younger generation, molecular biologist and illustrator Sabina Radeva created this gorgeous tome, complete with stylish illustrations and a simple, easy-to-understand text. Full of fascinating details and facts, it will appeal to all ages. Older children will appreciate the suggestions for further reading, the glossary of useful words and the explanation of concepts like genes, variation and mutations, while younger siblings will enjoy learning about the evolution of different animals and plants.
'Grow' by Nicola Davies and Emily Sutton, published by Walker Books. Suitable for 5+: £9.29, Blackwell'​s
The award-winning duo behind picture books like Lots: The Diversity of Life on Earth and Tiny: The Invisible World of Microbes excel at tackling complex subjects in an accessible way. Explaining the concept of DNA to young children sounds like a tall order, but Grow does exactly that. This beautiful volume uses simple, crystal-clear text and exquisite illustrations to describe the way our bodies follow a set of instructions – a code that connects us to every creature on the planet. "We share some parts of our genetic code with all living things," says the book. "Those that are alive now, and all those that have ever lived on earth." A remarkable and very special work of non-fiction.
'Coronavirus: A Book for Children' by Elizabeth Jenner, Kate Wilson and Nia Roberts and illustrated by Axel Scheffler, published by Nosy Crow. Suitable for 5+: free, Amazon
How do you catch coronavirus? Is there a cure? Why are some places we normally go to closed? These are some of the questions addressed in this invaluable digital book for primary school children. Aware that many parents and carers are struggling to explain the coronavirus crisis to youngsters, children's publisher Nosy Crow has produced a book to try and reassure them. With drawings by The Gruffalo illustrator Axel Scheffler and expert input from Professor Graham Medley of the London School of Hygiene & Tropical Medicine, two headteachers and a child psychologist, this timely book answers difficult questions in a gentle, accessible way. The title is free to download, but the publisher suggests readers make a donation to the NHS.
'The Element in the Room' by Mike Barfield, published by Laurence King Publishing. Suitable for 7+: £11.22, Amazon
Did you know that hydrogen makes up almost three-quarters of the total mass of elements in the universe? Or that carbon is the second most common element in the body after oxygen? Written by Mike Barfield and illustrated by Lauren Humphrey, this colourful guide to the chemical elements explains that almost everything in the universe is made from them – from aluminium to zinc. Using comic strips, experiments and fun facts, scientific sleuth Sherlock Ohms challenges readers to look around and find elements for themselves. As he says: "Some elements date back to the start of time. Some are manmade and only exist in laboratories. But most occur naturally on earth and can be found in your home." This is the perfect book to enthuse youngsters about science and the universe.
'Survival in Space: The Apollo 13 Mission' by David Long, published by Barrington Stoke. Suitable for 8+: £6.99, Amazon
Published to coincide with the 50th anniversary of Apollo 13, this is the dramatic tale of one of history's most famous space missions. David Long excels at telling intriguing stories from the past (Survivors, his anthology of remarkable stories of survival, was named Blue Peter Book of the Year in 2017) and this book is no exception. In April 1970, Apollo 13 was launched from the Kennedy Space Centre in Florida, aiming to be the third manned Apollo mission to land on the moon. But when an explosion on board damaged the spacecraft it became a perilous and near-impossible fight for survival. With striking black-and-white illustrations by Stefano Tambellini, the tale will enthral young readers. Publisher Barrington Stoke has also created a space-related quiz, a creative-writing pack and even a build-your-own-rocket activity.
'Little People, Big Dreams: Bob Dylan' by Maria Isabel Sanchez Vegara and Conrad Roset, published by Frances Lincoln Children's Books. Suitable for 4+: £6,80, Amazon
The hugely successful Little People, Big Dreams series focuses on inspiring people who have accomplished remarkable things. Around 50 titles have been published so far, featuring everyone from aviator Amelia Earhart to physicist Stephen Hawking. Bob Dylan is one of the latest books and relates how the musician "sounded like a dog whose leg was caught in a barbed wire" in the early days but went on to write songs that reached people around the world. As Maria Isabel Sanchez Vegara writes: "Bob's music spoke about things that mattered: civil rights, war and religion. Without trying, he became the voice of a generation eager to change the world, putting down in words what millions of people feel."
'Explorers: Amazing Tales of the World's Greatest Adventures' by Nellie Huang and Jessamy Hawke, published by DK Publishing. Suitable for 7+: £13.59, Amazon
"A driving curiosity, a thirst for discovery and a desire to test the limits of our minds, bodies and the world around us." That's how Barbara Hillary, the first African-American woman to reach both the North Pole and the South Pole, describes what it means to be an explorer. She's an inspiring choice to write the foreword to this stylish book, which documents the achievements of more than 50 great explorers.
Each entry includes a biography, a map showing the explorer's intrepid journeys and photographs of artefacts and relics they discovered along the way. It also predicts where explorers will journey to next. Europa, one of Jupiter's moons, perhaps? Or maybe Mars? Watch this space…
'Speak Up! Speeches by Young People to Empower and Inspire' by Adora Svitak, published by White Lion Publishing. Suitable for 12+: £17.09, Amazon
Greta Thunberg's condemnation of climate crisis apathy and Malala Yousafzai's heartfelt call to keep girls in education are just two of the 45 stirring speeches to feature in this absorbing book. The first ever collection of speeches made by children and teenagers around the world, it shows that today's young people are a force to be reckoned with. At the age of 12, author Adora Svitak gave a TED Talk entitled "What adults can learn from kids" and she writes in her introduction: "I'm delighted to present a small sample of the many brilliant young minds worldwide who are proof that we have much to learn from the 42 per cent of the world's population under the age of 25."
'How to be Extraordinary' by Rashmi Sirdeshpande, published by Puffin. Suitable for 5+: £5.99, Amazon
This eclectic collection of tales of exceptional people includes a clutch of famous names, including David Attenborough, Nelson Mandela and Michelle Obama as well as some unsung heroes who are less well known, such as physics dynamo Sau Lan Wu and Krystyna Skarbek, Britain's first female spy, who was parachuted into occupied France in 1944.
Each biography includes illustrations by artist Annabel Tempest, along with upbeat quotes. "Whoever you are, and whoever you want to be, discover the real-life stories of 15 extraordinary humans and decide how you will be extraordinary too!" says the book.
'You Got This: A Fabulously Fearless Guide to Being You' by Bryony Gordon, published by Wren & Rook. Suitable for 12+: £9.99, Waterstones
Journalist Bryony Gordon has inspired millions with her refreshing honesty and frankness about her struggles with mental health. You Got This is her first book for teenage girls and includes some of the life lessons she wishes she'd been taught when she was younger. In this confidence-boosting book she tackles everything from social media and friendship to body image and periods and tells teens: "The most powerful thing you can be when you grow up is yourself."
The verdict
Our top choice is Sabina Radeva's remarkable On the Origin of Species. It's not only gorgeous to look at but is the perfect way to get young children interested in science and nature. Grow, by Nicola Davies and Emily Sutton, is a close runner-up, and if you are trying to explain coronavirus to your kids, don't miss Coronavirus: A Book for Children, a free digital book published by Nosy Crow.
Register for free to continue reading
Registration is a free and easy way to support our truly independent journalism
By registering, you will also enjoy limited access to Premium articles, exclusive newsletters, commenting, and virtual events with our leading journalists
Already have an account? sign in
Register for free to continue reading
Registration is a free and easy way to support our truly independent journalism
By registering, you will also enjoy limited access to Premium articles, exclusive newsletters, commenting, and virtual events with our leading journalists
Already have an account? sign in