The Independent's journalism is supported by our readers. When you purchase through links on our site, we may earn commission.
9 best sulphate-free shampoos for sprucing up lacklustre locks
Transform your haircare game with these hardworking formulas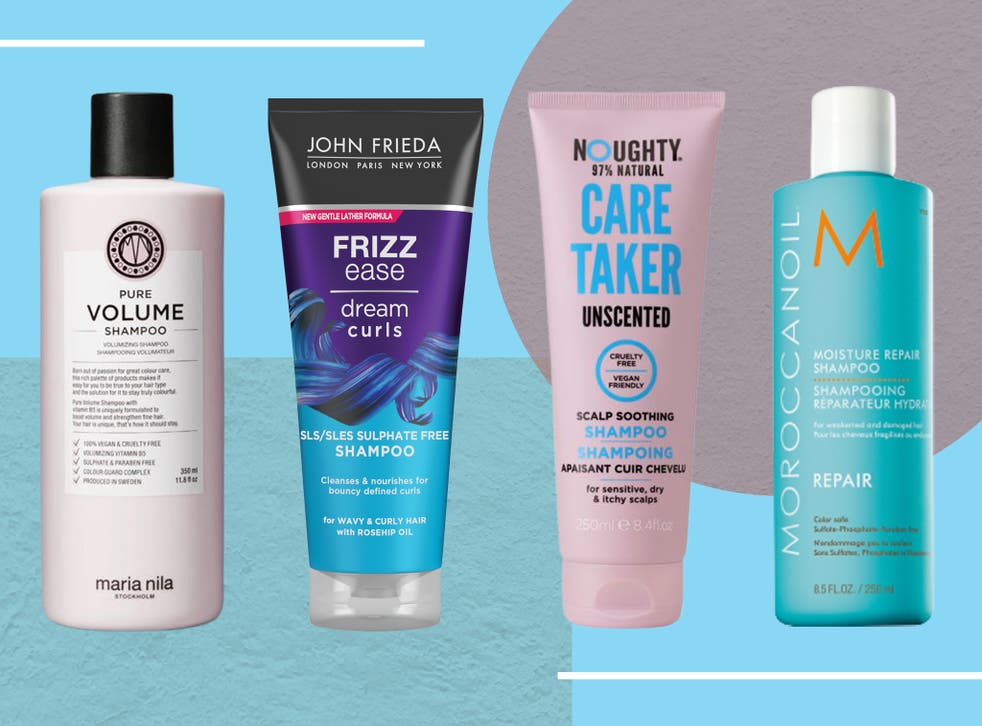 Sulphates and parabens are chemicals present in many popular shampoos. They're included to help create that delicious foam that many of us associate with a deep clean – however, that doesn't mean they're always a good thing. In fact, these ingredients could actually do more harm than good.
Sulphates (sometimes known as SLSs or SLESs) can strip your hair and scalp of moisture, leaving it feeling fragile and dry. They can also damage hair extensions and, if your hair has been dyed, cause colour to fade faster by removing the pigments.
So, it's no wonder many hairdressers recommend that we ditch sulphate and paraben-laden shampoos for good, and opt for products that offer a deep clean without compromising our hair's integrity. Luckily, many beauty brands have developed innovative sulphate-free formulas that put hair health first.
There are a number of different options out there, and many of them not only provide a gentler clean and reduce damage, but also help in other ways too. Depending on your hair needs, you can pick a sulphate- and paraben-free free product that will also add volume, tame frizz or even enhance your colour.
How we tested
To help you on the path to happier and healthier hair, we've rounded up nine of the best shampoo and conditioner combinations that ditch sulphates, parabens, or both.
Each of these shampoos were tested on long hair that has been colour-treated and tends to feel quite damaged. We tried them out on wet, unwashed hair, and used the recommended amount of product, usually roughly the size of a 50p piece. We rubbed the liquid over our scalp, working it into the roots, before rinsing thoroughly.
The products that impressed us the most created a rich lather and enabled us to give our hair a good scrub. Delicious scents elevated our experience, and it was important that there was no trace of residue, grease or stickiness left behind – the best shampoos left our hair feeling clean, fresh and healthy. Here are the results…
Read more:
The best sulphate-free shampoos 2022 are:
Sulphate-free shampoo FAQs
What does a sulphate-free shampoo actually do?
This type of shampoo works much like any other regular formula but the ingredient list is where you'll find the most differences. Unlike some shampoos, they do not contain sulphates – ingredients that are used to preserve cosmetics and give shampoo its lather.
While they might sound harmless, sulphates ingredients can cause the natural oils from your scalp, which help to keep strands healthy, to be stripped, and even cause some skin irritation.
How can I tell if my shampoo is sulphate-free?
The majority of the time, if a shampoo is sulphate-free, then it will say so on the packaging. But, if you want to be extra sure, the best thing to do is double check the label for the two most common sulphates found in shampoos: sodium lauryl sulfate (SLS) and sodium laureth sulfate (SLES).
You can also look out for the following ingredients: lauryl sulfoacetate sodium, lauroyl isethionate and sodium lauroyl taurate.
Should I use sulphate-free shampoo on hair extensions?
This is largely dependent on whether your extensions are made from synthetic hair or natural hair.
If it's synthetic hair, then you should use a clarifying shampoo that will help remove build-up of products, grime and smells. However, if they're made from human hair, then a sulphate-free shampoo is best as it will be more gentle.
The verdict: Sulphate-free shampoos
Davines's melu shampoo is a great formula that leaves hair feeling lovely and clean, and would work well for many hair types. Those looking for hydration will love the Moroccanoil moisture repair shampoo, which is an intensively moisturising shampoo, while the Noughty care taker scalp soothing shampoo is purse-friendly pick that gently cleanses for a super fresh finish.
Voucher codes
For the latest discounts on hair care and other beauty buys, try the links below:
For more treats for your tresses, read our review of the best shampoos for grey hair that hydrate and tone brassy locks
Register for free to continue reading
Registration is a free and easy way to support our truly independent journalism
By registering, you will also enjoy limited access to Premium articles, exclusive newsletters, commenting, and virtual events with our leading journalists
Already have an account? sign in
Register for free to continue reading
Registration is a free and easy way to support our truly independent journalism
By registering, you will also enjoy limited access to Premium articles, exclusive newsletters, commenting, and virtual events with our leading journalists
Already have an account? sign in