The Independent's journalism is supported by our readers. When you purchase through links on our site, we may earn commission.
11 best baby sunscreens that are high in SPF and easy to apply
Protect their sensitive skin with these sprays, creams and sticks that'll sink in quickly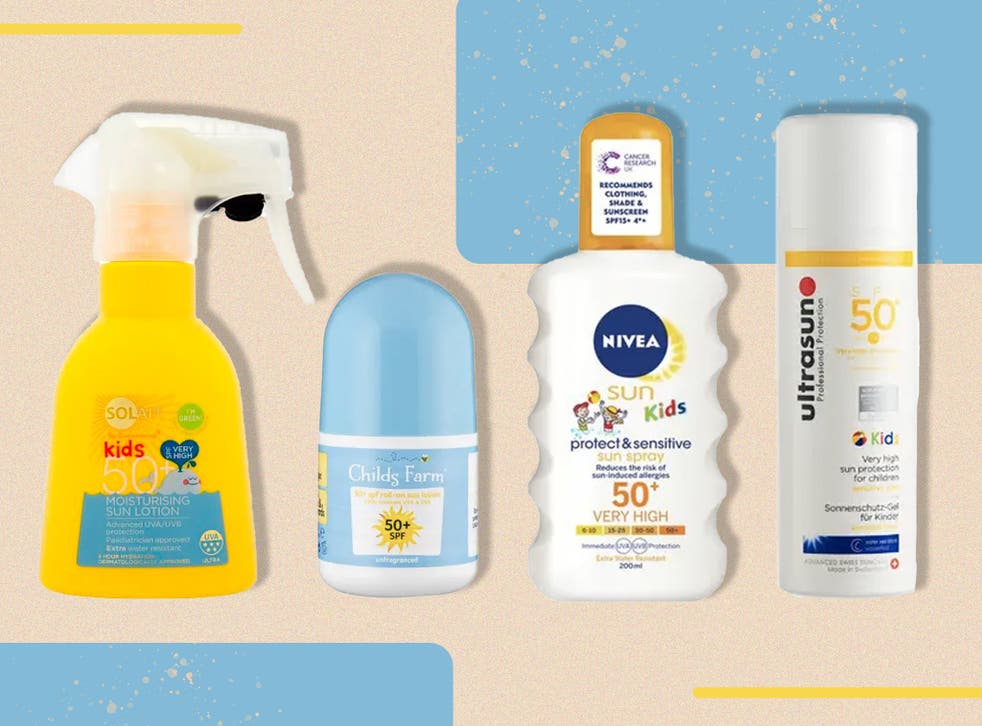 Making sure your baby is safe and their skin is protected in the sun is of paramount importance. NHS advice is to keep your small person out of direct sunlight, especially if they are under six months.
"Covering your children's skin is key," says skin expert, Dr Sam Bunting. "Use hats with neck protectors, have a pram with a canopy and for small exposed areas, like the face or the back of hands, use a high factor mineral sunscreen."
She adds that, "Children's skin is much more sensitive to UV damage than adult skin," and warns that "repeated injury from UV exposure could predispose to skin cancer developing in later life." But what do you need to be looking out for when it comes to SPF for your baby or toddler?
"You need a high factor, broad-spectrum, mineral sunscreen," says Dr Bunting. "You may find that anything with a fragrance in it can irritate young, sensitive skin so a fragrance free sunscreen is always a good option."
You'll also need to be consistent with slathering it on too. She advises applying the first layer 15-20 minutes before going outside and to reapply generously every 2 hours – or more frequently if children are swimming. "Under-dosing and not reapplying frequently enough is probably the most common mistake parents make." Says Dr Bunting. "And remember to apply it to the eyelids, under the armpits, the feet and the tops of the ears as these are spots that often get missed."
Read more:
How we tested
We have slathered, rubbed and sprayed on sunscreens to our small and willing helpers to find the best SPFs for you. Every sunscreen tested has a minimum SPF30, are broad spectrum (which means they protect against UVA and UVB rays) and come in an array of applicators and options. Meaning all you have to do is find the best fit for your family, pop a hat on, find the shade and enjoy the sunshine.
The best baby sunscreens for 2022 are:
Baby sunscreen FAQs
What else should I consider before buying?
Other elements to consider are chemical or mineral (physical) sunscreens. While the former are more economical and easy to apply, thicker mineral sunblocks are the environmentally-friendly option, though they can leave a white residue on skin.
Dr Worsnop explains that, "mineral sunscreens are less irritating to the sensitive skin of infants and children. They act like a shield, deflecting the sun's rays... compared to chemical sunscreen, which absorbs rather than deflects the UV."
Regardless of which formula you favour, be sure to use lashings of it. "Sun cream should be applied generously and frequently," Dr Worsnop says. To make it easier, there's options aplenty, including: lotions, sprays, pumps, roll-ons and even mousses.
The verdict: Baby sunscreens
Our best buy goes to La Roche-Posay Anthelios baby lotion SPF50+, as when it comes to protecting delicate skin in the sun it ticks all the boxes parents are looking for. Avène very high protection lotion for children SPF50+ came a very close second for the exact same reasons, but we also loved Solait kids 50+ moisturising sun lotion for making suntan lotion a far more fun experience for everyone involved.
Voucher codes
For the latest discounts and offers on skincare and other beauty and health buys, try the links below:
To protect yourself as well as your little one from the sun, we've rounded up the best facial sunscreens for daily protection
Register for free to continue reading
Registration is a free and easy way to support our truly independent journalism
By registering, you will also enjoy limited access to Premium articles, exclusive newsletters, commenting, and virtual events with our leading journalists
Already have an account? sign in