The Independent's journalism is supported by our readers. When you purchase through links on our site, we may earn commission.
8 best soundbars for cinematic audio in your home
Take your living room speakers to new heights with these quality devices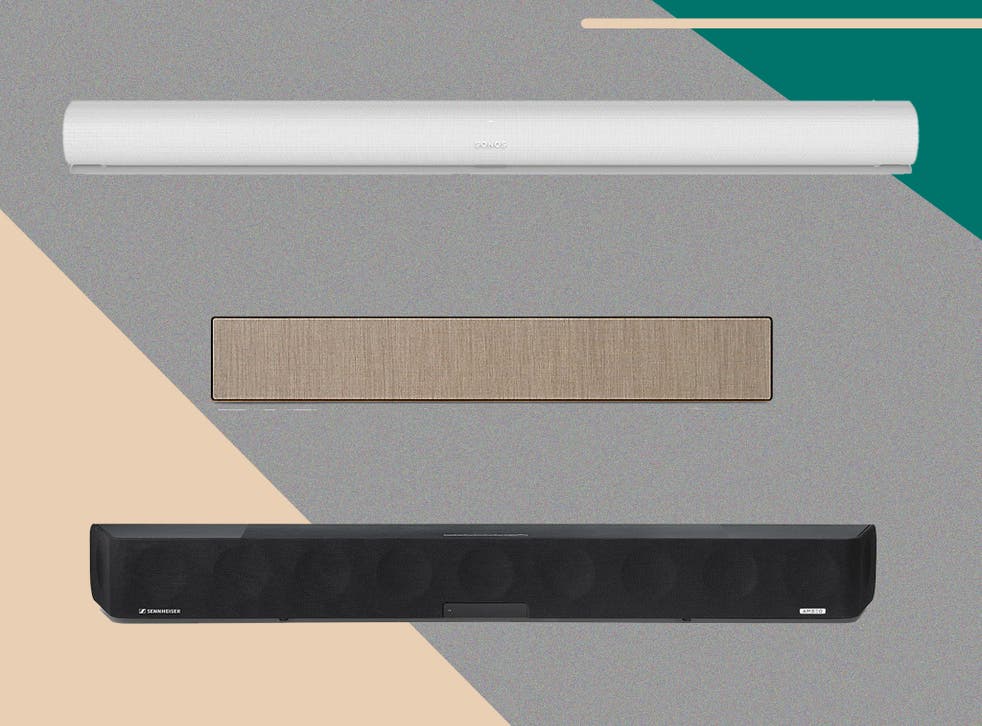 Epic 65in 4K TVs are taking up residency in homes across the UK. The thick bezels of yesteryear have faded out of existence, beckoning in an era of gloriously detailed high dynamic range (HDR) tellies, making it easier than ever to get that silver screen experience right from the comfort of your own settee.
But while the picture quality on our TVs is continuously improving, something has to give – and audio is often the first to take a hit. Those thin screens leave little room for booming speakers, so voices don't always sound crisp and clear, and there's often not much depth. That's where soundbars come in.
With a soundbar, you get explosive sound that matches the intense shots seen on screen. The best part? All that acoustic magic comes in an all-in-one audio box, available in a range of sizes – there are compact examples or beefier ones that stretch across the length of your wide screen, and everything in between.
You can get soundbars that connect via both ARC (Audio Return Channel) and eARC (Enhanced Audio Return Channel), as well as examples that come with external subwoofers. The latest technology is also making blockbuster audio more immersive than ever before, thanks to the integration of three-dimensional sound technology, courtesy of Dolby Atmos.
Below, you'll find a range of soundbars, perfect for any budget, but if you're looking for a specifically wallet-friendly model, check out our round-up of the best budget soundbars.
Read more:
How we tested
We looked at a range of different soundbars – from high-end premium models to more budget-friendly options, testing them out extensively on our 65in LG nano86 television set, which has an eARC port.
To get a full sense of the soundbar's audio quality, we watched a range of Dolby Atmos and non-Atmos TV shows and films on Netflix and regular TV, such as the Premier League, Altered Carbon, Six Underground and high-fidelity music streaming services. 
We also looked at each model's design, features and specs, looking at the quality of any extras – such as subwoofers and companion apps, as well as assessing each soundbar's overall performance when it came to filling rooms with sound.   
The best soundbars for 2022 are:
Soundbar FAQs
Are soundbars better than speakers?
Soundbars can offer higher-quality audio than speakers while being more compact and neat as there are fewer, if any, wires and cables, especially with those designed to connect to your TV or mobile devices via Bluetooth. They can also often be cheaper than a home cinema speaker system.
Can you mount a soundbar vertically?
To get the best sound quality from your soundbar, it's recommended to only mount it horizontally, to ensure the sound is spread wider, and to make the multiple woofers and tweeters inside sound strong. Also, installing it vertically can be more difficult and make it less stable.
Are soundbars good for karaoke?
You can use your soundbar for karaoke, however, most don't have a mic-in option, so you may need a Bluetooth microphone in order to have the full sing-along experience.
The verdict: Best soundbars
The Sonos arc is the real standout here, delivering an epic sonic Dolby Atmos experience in one single package. It looks sleek, has several clever integrations and works brilliantly with both music and films. Looking for the best of the best? You can't really go wrong with the Sennheiser ambeo, although there will be gaping hole in your trouser pocket.
And if you're after a more compact affair, then the second-generation Sonos beam and the Denon home 550 are stellar choices. Whatever you go for, investing in a soundbar will elevate your home audio experience to new heights. And we mean that literally, if you opt for a Dolby Atmos-friendly one.
Voucher codes
For offers on soundbars and other speakers for the home, try our discount code pages:
Want a solid soundbar that won't break the bank? Have a read of our round-up of the best budget soundbars
Register for free to continue reading
Registration is a free and easy way to support our truly independent journalism
By registering, you will also enjoy limited access to Premium articles, exclusive newsletters, commenting, and virtual events with our leading journalists
Already have an account? sign in
Register for free to continue reading
Registration is a free and easy way to support our truly independent journalism
By registering, you will also enjoy limited access to Premium articles, exclusive newsletters, commenting, and virtual events with our leading journalists
Already have an account? sign in