The Independent's journalism is supported by our readers. When you purchase through links on our site, we may earn commission. Why trust us?
iPhone 15 Pro and iPhone 15 Pro Max review: Apple's peerless smartphone gets a titanium makeover
There's more to the iPhone 15 than USB-C: a faster chip, upgraded camera and a customisable action button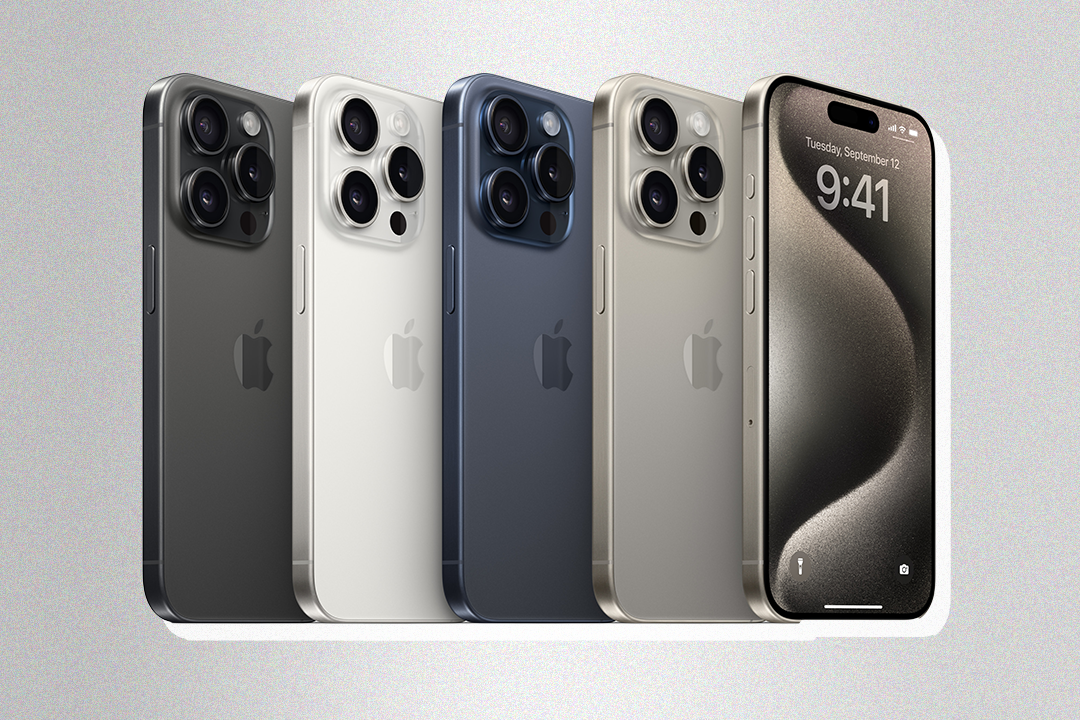 The smartphone world sees a huge uptick in interest each September when Apple releases its latest iPhones. In case you're not keeping count, we're now up to the iPhone 15, which comes in four flavours: the iPhone 15, the similar-but-larger iPhone 15 Plus and two Pro models, the iPhone 15 Pro and iPhone 15 Pro Max.
The baseline iPhones are excellent, but the Pro models have a lot more to offer, from improved cameras and a new side-mounted button to a whizzy new processor and the introduction of a titanium chassis that looks great and saves weight.
For the most part, both phones are the same, but there's one big change to the telephoto camera for the Max, which we'll come to shortly.
Read more:
How we tested
Since Apple announced the new iPhones on 12 September, we've been putting the new phones through their paces from ease of setup to battery life. We snapped plenty of photographs in a range of lighting situations. We tested the processor with everyday tasks, as well as with more demanding and graphically intensive apps. Plus, of course, we tracked battery life to see how long it lasted.
iPhone 15 Pro and iPhone 15 Pro Max: From £999, Apple.com
Rating: 4.5/5 (Pro); 5/5 (Pro Max)
Screen size: 6.1in (Pro); 6.7in (Pro Max)
Processor: Apple A17 Pro
Storage: 128GB (Pro only), 256GB, 512GB, 1TB
Dimensions: 146.6mm x 70.6mm x 8.25mm (Pro); 159.9mm x 76.7mm x 8.25mm (Pro Max)
Weight: 187g (Pro); 221g (Pro Max)
Rear cameras: 48MP main, 12MP telephoto, 12MP ultra-wide
Front camera: 12MP
Colours: Natural titanium, white titanium, black titanium, blue titanium
Design
The new iPhones offer a consistency of industrial design, with steep edges and glass back and front. But the new models have a small modification that makes a big difference. The cliff edges are softened by curved corners, front and back, so the new iPhones are noticeably a lot more comfortable to hold. This is especially important for the iPhone 15 Pro Max – the largest of the four – which, at 6.7in, will still be too big for some hands.
The chassis of the new Pro models uses titanium, previously reserved by Apple for some of its most deluxe Apple Watches. As a result, the phone has a premium look and feel.
The previous stainless-steel edge was unmissably shiny and has been replaced by something quieter and more demure. It looks stunning, in all four of its colours. These are the longest colour names Apple has ever used: natural titanium, white titanium, black titanium and blue titanium. Although the back panels are glass, the edging and back are immaculately matched to the colour in the name. Personally, I think the natural titanium colourway stands out with a simple elegance.
The display looks the same as last year: 6.1in on the Pro, 6.7in on the Pro Max. But it's also different – Apple has managed to narrow the already-skinny bezel around the screen, the thinner frame adding to the overall immersion.
The front-facing camera that takes selfies and helps power Face ID is embedded in a small lozenge-shaped cutout near the top edge of the screen. Apple cleverly hides this in-display camera hole with what it calls the 'dynamic island', which shows on-screen information around the cutout, such as how long is left on your timer or, with something like the brilliant Flighty app, which gate your next flight leaves from. Tap and hold on one of the apps that uses dynamic island and you're rewarded with a bigger panel that's even more informative.
Read more: Best iPhone 15 Pro deals to shop now
The other design change is on the left side of the phone. Since the first iPhone, this spot has held a mute switch used to silence your ringtones. It's effective and simple. But what if you wanted it to do more? Apple answered this question by replacing the switch (on the Pro models only) with a button. Press it quickly and the iPhone screen shows you whether you're on ring or silent mode. Press and hold the new button and it switches to the other setting, with a light haptic feedback effect letting you know it's been done.
What makes this more interesting than the old mute switch is that you can configure the button to do pretty much anything you want: launch the camera, turn on the torch, start a voice note, open a specific app and more. Actually, lots more. You can use the Shortcuts app to add extra functions, so this suddenly becomes a very versatile button.
The other thing you notice when you hold the new iPhone is that it's lighter than before, thanks to the new materials. Each phone is 19g lighter than its predecessor, enough to make a noticeable difference in the hand.
For me, these new iPhones are the absolute pinnacle of smartphone design, looking and feeling drop-dead glorious. The iPhone 15 is easily the best-looking iPhone yet.
Cameras
They say the best camera is the one you have with you. The iPhone's effortless, speedy access to shooting photos has always been designed with this in mind, so you don't miss that perfect moment.
More advanced than before, while still retaining that trademark ease of use, the iPhone 15 camera is, says Apple, the equivalent of carrying seven camera lenses with you.
There are three physical lenses on the iPhone's back. The main camera has a 48MP sensor, and there are two other cameras, a 12MP ultra-wide and a 12MP telephoto.
Apple is using a clever technique to improve photo quality without creating enormous, storage-scoffing image files. When the phone takes a shot on the main sensor, it takes multiple photos. One combines adjacent pixels in groups of four, called Quad Pixels, to create a 12MP image that can pull in more light, quicker. At the same time, it takes a full 48MP image. By combining the two, it creates a 24MP shot that is visibly more detailed, while only creating a file one-and-a-half times bigger. What would be a 2.4MB file with the feature turned off becomes 1.6MB with it on. It's worth leaving it on, I'd say.
How about those extra lenses? One is the macro camera, which is achieved by shooting through the ultra-wide lens at close quarters.
The others are created by cleverly reframing part of the image. So, there's a 2x zoom where Apple simply shoots the central 12MP of the 48MP sensor. And, if you tap on the 1x symbol on the screen, it reveals three settings, measured in millimetres. There's 24mm, which is 1x, 28mm (1.2x) and 35mm (1.5x).
Where zooming in usually requires digital zoom, which depletes resolution, here, all seven cameras offer full optical resolution and are re-framed to create slightly different effects. If you find one of these three is especially to your liking, you can set it as your default.
For many people, there may not be any interest in these details, but for keen photographers, it provides the ability to take photos in a way no other phone offers.
The new iPhones (15 and 15 Pro alike) have another reason to shoot first and ask questions later. That's down to how you take portrait photos. Until now, you needed to consciously choose portrait mode to accomplish those gorgeous shots where your subject is in pin-sharp focus and the background artistically blurred.
Now, the iPhone is smart enough to recognise when a person (or a dog or cat) is the subject of the shot. When it does, it will automatically record the depth information necessary for the portrait effect, allowing you to turn it into a portrait shot later on with all of the same quality and effects as having used portrait mode at the time. It's a brilliant step forward.
Read more: Samsung Galaxy Z Flip 5 review
There's one lens I haven't mentioned in depth: the telephoto. On the iPhone 15 Pro, this is a 77mm focal length, which is a 3x zoom compared with the main lens. All well and good. But on the Pro Max, Apple has managed to squeeze in a 5x zoom. It's done this by creating what it calls a tetraprism, meaning light is reflected four times, to manage the 120mm focal length.
Some other phones use a periscope system, but this is a better-looking solution that performs well. Even the most casual photographer will be glad to be able to zoom right in on the action.
Performance and battery life
The iPhone 15 Pro and Pro Max have a brand new processor called the A17 Pro. The industry's first three-nanometre chip, it can effectively squeeze more computer brains into the same space. Not only does it mean the phones are spectacularly fast, they have the bandwidth to do certain things such as ray tracing in games – something typically reserved for games consoles and high-end PC graphics cards.
This gives the iPhone 15 a ludicrous graphics boost. Apple claims console games can be ported to the iPhone with minimal changes. One of the first is Resident Evil Village, a horror game noted for its detailed and terrifying realistic scenes and characters. For app developers, the more powerful graphics processing gives them headroom to develop better-looking, more complex and sophisticated apps in future.
For all this, the battery life is strong, with the iPhone 15 Pro lasting easily for a full day, while the iPhone 15 Pro Max has even more juice to spare. It's an efficient, as well as a powerful, chip.
Apple has also switched from a lightning connector to the more universal USB-C on these new phones. It means you're going to find the right cable much more quickly, and it even means you can plug your Apple Watch into the port and charge it from the iPhone. You could even charge another iPhone from it if you're feeling generous.
Verdict: iPhone 15 Pro and iPhone 15 Pro Max
The iPhone Pro is Apple's most powerful model and, this year, the 15 Pro and 15 Pro Max have delivered outstanding upgrades. If you've never had an iPhone, this is a sensational time to start. You'll get the best cameras on any phone, a dazzling design that boasts a handsome display with an eye-catching thin bezel around it and the classy, understated look of a titanium edge band.
Using the iPhone at length reminds you how effectively Apple has matched appealing simplicity with delightful beauty. Of course, these are the best iPhones yet, but the leap forward needs to be seen to be believed.
Best iPhone 15 Pro and iPhone 15 Pro Max contract deals
Voucher codes
For the latest discounts on phones and tablets, try the links below:
Looking for a more affordable option? Read our review of the iPhone 15