The Independent's journalism is supported by our readers. When you purchase through links on our site, we may earn commission. Why trust us?
10 best gardening tech
From an app that has horticultural experts on speed dial to a robotic mower, we try out the latest gadgets for the green-fingered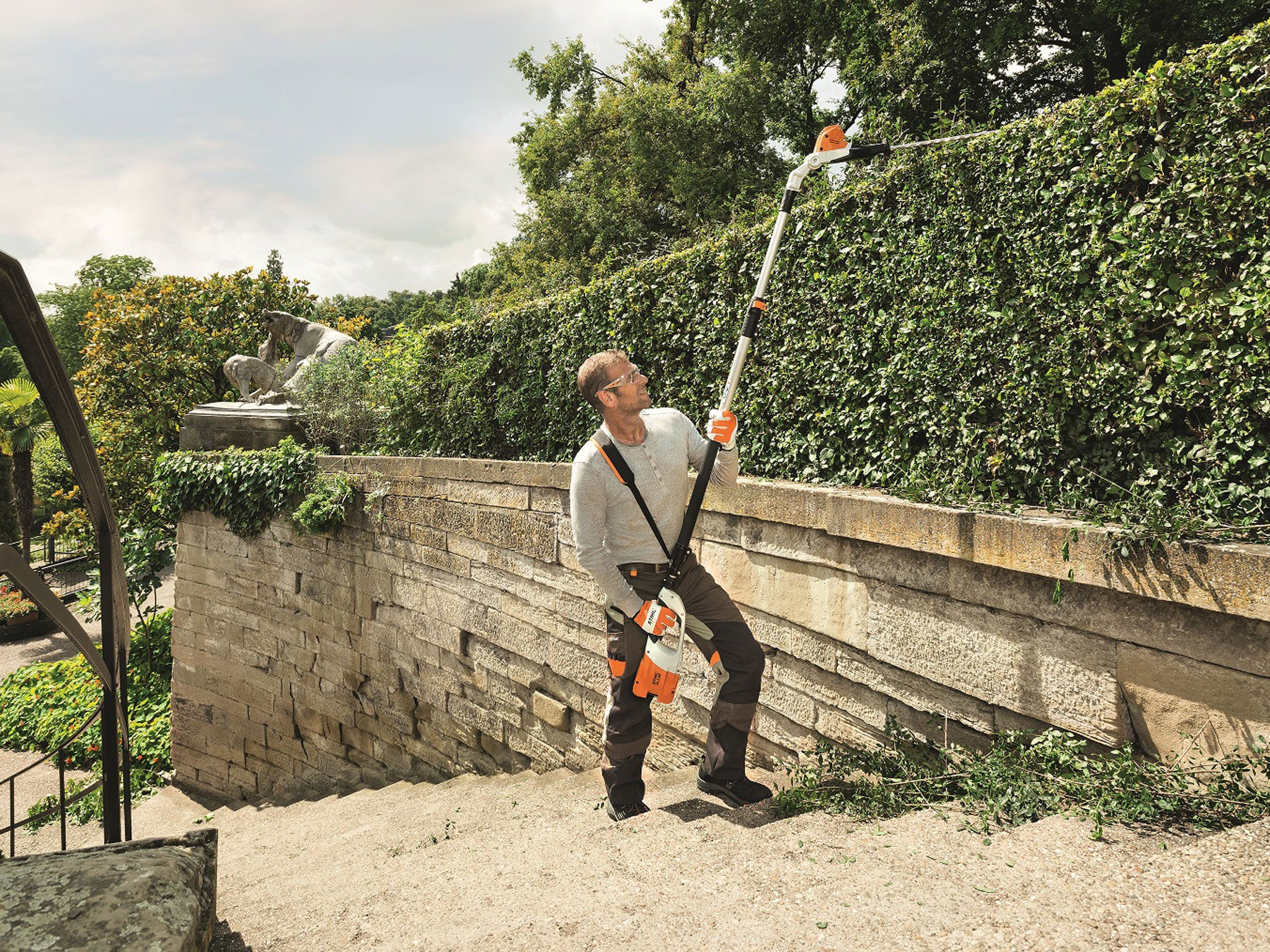 There's a brave new world of glistening gadgets out there, readily available for the tech-savvy gardener to embrace, making the pursuit of the Good Life that little bit easier. Ignore the grumbles of gardening traditionalists who may pour scorn upon these new-fangled gleaming goods – it doesn't mean you are cheating, just because you're not using your granddad's tenth generation hand-me-down shears to trim your privet, or sticking a wet finger in the air to predict the next hard frost.
Here's a list of our favourite high-tech horticultural aids – grasp the future and be garden smart…
1. Garden Compass Smartphone App: Free download with 3 photo submissions, premium membership £4 a month or £36 annually, iTunes
Cast your gardening tomes onto the bonfire. Snap plant pictures with this smartphone app, upload them to the Garden Compass website and receive identification notifications, direct from a global network of horticultural experts. It's geo-mapped to take into account your location, climate and soil type – premium membership allows the user unlimited questions and photo IDs and access to a personalised garden care calendar. All of our plant queries were returned within 24 hours – all of them spot on, and came with comprehensive care advice.
2. Stihl HLA 85 telescopic cordless hedge trimmer: £616 (including AP 180 battery and AL 300 quick charger), Stihl
Sculpt and shape dishevelled shrubs with one of these: a cutting-edge, battery-powered trimmer from power tool supremo Stihl. The adjustable cutter extends from 260cm through to 330cm for both low-level and lofty tasks and the whisper-quiet, brushless motor ensures neighbours will remain undisturbed by your thicket-clipping adventures on a Sunday morning. Each full battery charge will give you 140 minutes worth of trimming.
3. Olloclip Macro Pro Lens: £59.95, Olloclip
This is the perfect photo accessory for the Instagram-obsessed gardener. Clip it over the lens of an iPhone and it'll combine with your phone's digital zoom, allowing you to take eye-popping macro photos up to 100x magnification. It's ideal for analysing the structure of plants, or for taking professional-looking close-ups of the bugs eating your cabbages.
4. Parrot Flower Power Plant Monitor: £39.99, Very
Pop a Parrot in a plant pot and it'll squawk the plant's dietary requirements direct to your chosen Android or iOS mobile device. It'll monitor levels of sunlight, moisture, food and temperature, to help ensure your prized plants remain green and fresh, not brown and crispy. Bluetooth 4.0 or higher required.
5. Batavia Maxxheat 2000w 3-in-1 Weeder: £48, Mower Magic
This is the safe, techy way to banish weeds without reaching for any environmentally unfriendly herbicides. It may resemble a film prop pinched from the set of Ghostbusters, but this thermal weed gun will make short work of any dandelion-infested pathways with 600-degree blasts of hot air. It also transforms into a smaller, hand-held device for stripping paint and lighting BBQs. Simply plug it into the nearest socket, wait a minute for it to heat up, then point it at the nearest pesky weed for a further five seconds to destroy its cell structure.
6. Hozelock Cloud Controller: £114, Leekes
Ensure your veg and flower beds are watered when you go on your hols with this new gizmo. Hook it up to an existing Hozelock irrigation set-up and you'll be able to remotely quench thirsty plants via the iOS/Android app. It'll also send you weather alerts and suggest appropriate changes to your watering regime. Far superior to relying on the neighbours, and you won't need to buy it a thank you gift for its troubles.
7. Husqvarna Automower 450X: £2,800, Sam Turner & Sons
It may cost more than most second-hand cars, but this top-spec robo-mower will remotely graze your lawn to golfing-green perfection at the swipe of a finger. You can keep tabs on the mower's precise location through its onboard GPS, and remotely command it to stop, start or scare the postman via the Automower Connect app. If Batman owned a mower, it'd look like this.
8. UE Megaboom: £249.99, Ultimate Ears
Be the life and soul of the garden party (or an allotment noise pest) with this powerful, portable Bluetooth speaker. Place it in the shed, or stash it in the borders, and it'll grant you 360 degrees of expansive garden grooving. It's also stainproof and fully waterproof so you can carry on singing in the rain should the weather turn inclement. Comes in a range of different colours.
9. Netatmo Weather Station: Indoor and outdoor module £169, Rain Gauge £69, Wind Gauge £89, Netatmo
Assess atmospheric conditions inside and out with this multi-faceted weather station. It'll measure air quality, humidity, temperature and pressure and send you weather alerts direct to your smartphone. Stick a module in your greenhouse to keep tabs on your tomatoes, and use the wind gauge to warn you of any polytunnel-flattening windy gusts.
10. Sherpa Power Barrow: £599, Mower Magic
Part barrow/part dragster, this self-propelled mechanical cart is perfect for heavy-duty landscaping jobs. An electric, wheel-concealed motor powers its mighty steel chassis and vast 170 litre tray, while the one-fingered throttle and lockable disc brake keeps this beast firmly under reins.
Verdict
You'll mess up your screen with muddy finger-swipes, but the Garden Compass smartphone app is an invaluable, encyclopaedic gardening resource. It's like having Alan Titchmarsh on speed dial for an intimate gardening chat.
Richard is one half of the Two Thirsty Gardeners. Their book, Brew It Yourself, is available on Amazon.