The Independent's journalism is supported by our readers. When you purchase through links on our site, we may earn commission.
11 best outdoor toys
Keep them entertained for hours with a garden-friendly piece of kit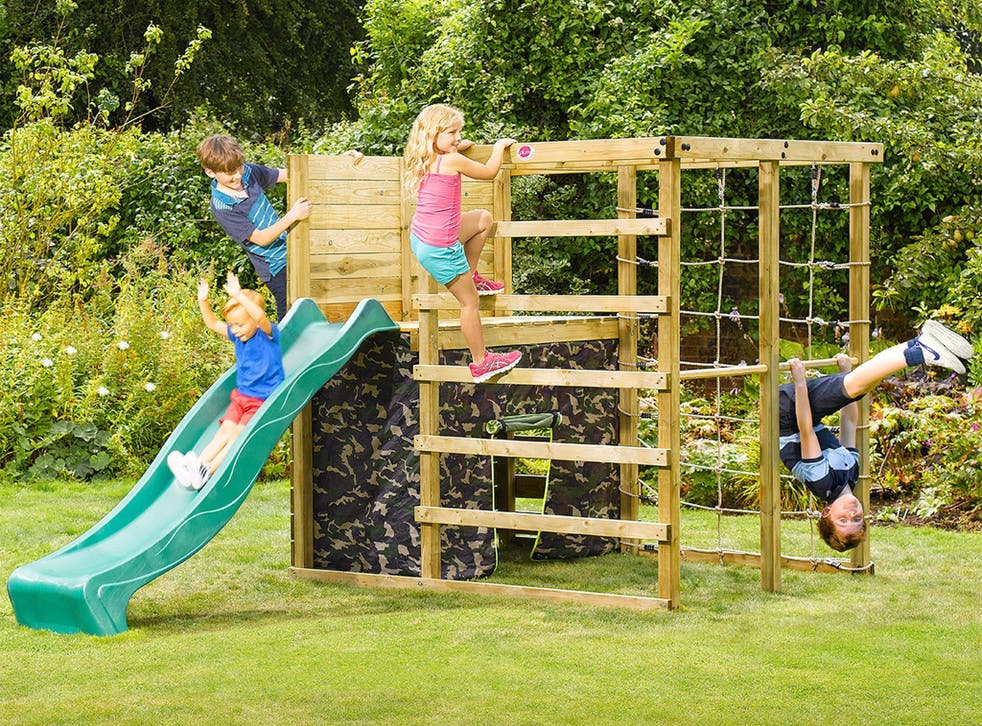 Want the kids to make the most of your outdoor space this summer? Our outdoor toys roundup promises fun for all the family, with something in all price ranges. Only toys that are built to last have made our shortlist, so you can rest assured that your money will be well spent.
1. Little Tikes Cozy Coupe Dino: £59.99, Little Tikes
The Cozy Coupe, now in production for over 30 years, is among the best outdoor toy for younger children, who love feeling all grown up driving and spinning the car in the high backseat. There are lots of variations available, including this dinosaur-themed version. From 18 months to five years.
2. Plum Climbing Cube Wooden Play Centre: £569, Plumplay
This will likely be an outdoor toy that your kids will remember fondly for years to come. The frame, made from sturdy, durable timber, will keep them entertained for hours – it features an 8ft slide, a wooden climbing wall with steps to help little legs to navigate, monkey bars, a net for them to scramble up and a camo-fabric den you can rig up. From three years.
3. Early Learning Centre Sand and Water Table: £40, ELC
If you don't have room for – or don't want – a full-on sandpit, this is a great compromise, particularly for toddlers. Fill with sand and water (or just one of either), get out the 10 toys included – from a rake and spade to a toy boat - and they'll be occupied for ages. Then, at the end of the day, pop on the waterproof lid and store it neatly away. From 18 months.
4. Chad Valley Inflatable Water Slide: £149.99, Argos
Rare is the child that doesn't make an immediate beeline for a water slide, and now you can have one in your own garden. It takes two minutes to inflate, using the attached electric fan, and includes a water sprayer that will have them in hysterics. Although there are several similar heavy-duty options on the market, we think this is the best value. From three years.
5. Hedstrom Roundabout SeeSaw: £87.99, Wayfair
The traditional see saw has always been a favourite for kids, but this one takes things to the next level, spinning round 360 degrees and fitting either two or four children. It's best for younger kids and do be sure to supervise them if there's a mixture of ages.
6. Plum Wooden Growing Swing Set: £155, John Lewis
We reckon this is the best garden swing on the market. The frame can be adjusted, so it suits everyone from babies to early teens, and it features a three-stage, animal-themed seat for growing bottoms. It's made from top-notch, durable pine. From one year and up.
7. GLTC Bughunter Wigwam: £59.50, GLTC
This is a decent-sized, quality wigwam, which works well both outdoors and indoors. Choose from a range of designs in including stars, stripes or this one adorned with colourful creepy crawlies. And you don't need Scouting skills to get it up or down, as assembly's fairly idiot-proof.
8. Little Tikes Go Green Playhouse: £269.99, Mothercare
Little Tikes has come up with a whole host of plastic playhouses over the years, but this one stands out for encouraging little ones to recycle and think about the environment from a young age. It includes a water butt that feeds into a working sink, a mini garden patch made up of containers that they can plant up, and a solar panel which is connected to the doorbell. From two years.
9. TP 8ft Challenger SurroundSafe Trampoline: £119.99, TP Toys
TP is one of the best names in the world of trampolines and this year, it's launched this new range of affordable, steel-framed and durable trampolines. This one includes classic features includes the all-important SurroundSafe enclosure so that kids can't touch the springs or fall off the side. The range goes all the way up to 14ft.
10. Samba Football Fun Goal: from £55, Tesco
Quick and simple to assemble, but built to last, these football goals come in a range of sizes to suit all gardens – the one we've chosen is 6ft x 4ft. Both the netting and frame are stronger and sturdier than other goals we tried and there are ground pegs for extra stability.
11. JCB Battery Operated Ride On Tractor: £129, Argos
Any child aged three or over that likes diggers will adore this ride-on machine with rechargeable battery that acts just like the real deal, complete with an accelerator pedal and bucket scoop control stick that moves it in all directions. The horn sounds realistic too. Requires two AAA batteries.
Verdict
If you can afford it, the Plum Climbing Cube Wooden Play Centre is the best climbing frame we've come across, while the Little Tikes Cozy Coupe Dino is a sound investment for people with very young children and you don't need much outside space to use it.
Register for free to continue reading
Registration is a free and easy way to support our truly independent journalism
By registering, you will also enjoy limited access to Premium articles, exclusive newsletters, commenting, and virtual events with our leading journalists
Already have an account? sign in
Register for free to continue reading
Registration is a free and easy way to support our truly independent journalism
By registering, you will also enjoy limited access to Premium articles, exclusive newsletters, commenting, and virtual events with our leading journalists
Already have an account? sign in