12 best cold brew coffees for an instant caffeine fix
From nitro cans to sip on to liqueurs perfect for espresso martinis, these are the drinks to have this summer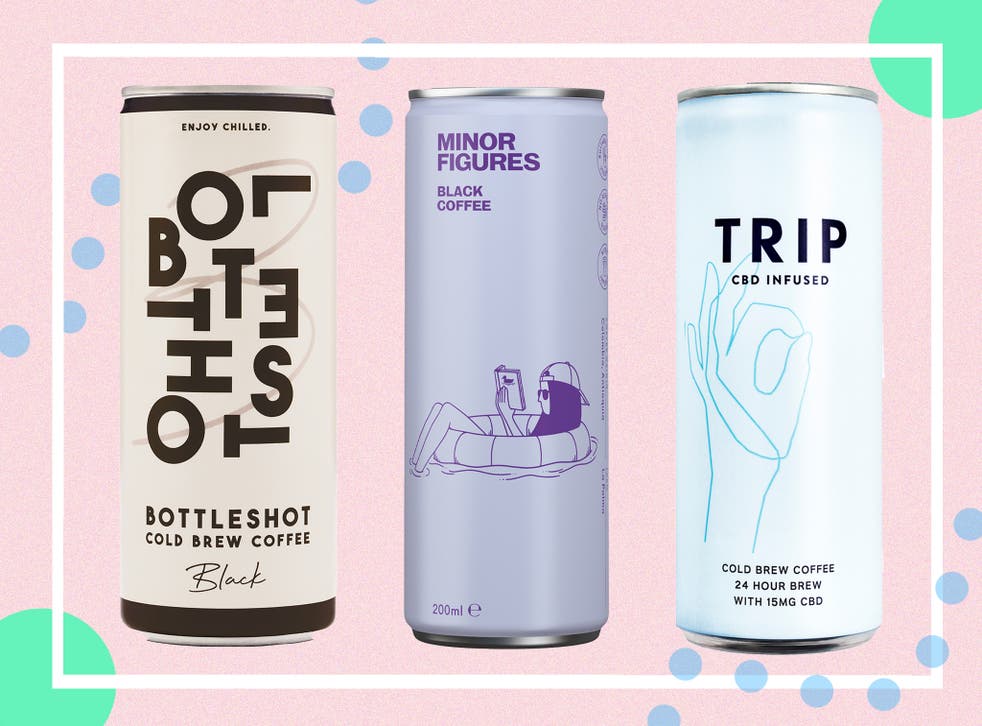 For those that take their coffee seriously but want something more refreshing for the warmer months, cold brew is the summer drink of choice.
Not to be confused with iced coffee, which is made with hot water and then cooled down – cold brew is a much slower process, created entirely with cold water and a bit of patience.
Think of it like an infusion, where you leave finely ground coffee to macerate with cold water for several hours, generally between 12 to 24 hours (there's no definitive amount of time, it varies from brand to brand).
It's a super simple process with no electricity required, the key element to getting the best brew is quality beans. Look out for speciality grinds and single origins if you're after something special.
Because you're not flash heating the coffee, this slow extraction results in a smoother, sweeter and less acidic drink – yet with all the complexity you'd find in a fantastic cup of coffee.
This slower release of caffeine, along with the lack of heat, means it's up to 60 per cent less acidic than a traditional cup. Those who have a have a hard time with coffee due to heartburn or jitteriness should find cold brew much easier to drink.
We put a selection of brews to the test – including those made with sparkling water, single serves and large 3l "bag in a box" versions.
When choosing the best cold brew for you, consider how much you'll anticipate getting through. Some of the larger options will need to be consumed within about four weeks to preserve the freshness.
Keep it in the fridge for instant cooling refreshment and serve over ice. We like it black, but you can also add any milk – regular or plant-based and use it to create any coffee drink or even smoothie.
Less bitter and naturally sweet, cold brew also makes the ideal base for cocktails – particularly the much-loved espresso martini. It makes the process so much easier too, negating the need for cooling down hot coffee in a shaker.
We found it really upped our espresso martini making game and if you're making drinks for larger groups or at a party, we'd go so far as to say a bag in a box cold brew is essential.
With us all working from home a little longer, make sure your fridge is fully stocked with the best selection of cold brew.
You can trust our independent reviews. We may earn commission from some of the retailers, but we never allow this to influence selections. This revenue helps us to fund journalism across The Independent.
Minor Figures nitro cold brew multi pack, 200ml: £8 for 4-pack, Minor Figures
Brewed in east London, Minor Figures is the first of many completely plant-based brands in our round-up. Using coffee from around the world depending on what's in season, each can will tell you the origin of your unique batch. "Nitro" is used in all Minor Figures cold brews, which means the coffee has been infused with nitrogen bubbles, creating the foaming texture when you crack into it – just like the perfect head on a latte. This pack is ideal if you can't pick your favourite flavour, including the straight up black, a chocolatey mocha, the spicy chai latte or an oat milk latte.
Origin Coffee cold brew bag in a box, 3L: £22, Origin Coffee
Origin takes sourcing the coffee that makes it into your cup pretty seriously – travelling all over the globe for the best speciality beans. It's picked up multiple awards along the way, so clearly, it's doing something right and the same approach has gone into its new 3l cold brew bag in a box. It's brewed using its single-origin san fermin (meaning coffee from a single producer, crop, or region within one country – in this case, Colombia). With notes of orange sherbet, caramel and red berries, this cold brew is delicious drunk as it is, in a cocktail, or with a splash of milk. It's only just launched but has been so popular the brand is releasing 250ml single-serve bottles shortly.
Solo Coffee cold brew coffee on tap, 3L: £19.95, Solo Coffee
We love the no-nonsense monochrome packaging of this mighty 3l fridge pack and we think it perfectly sums up what Solo Coffee is all about. It's the brainchild of two former, award-winning baristas on a mission to make coffee less complicated. This uncompromising "bag-in-box" cold brew is perfect for the home with 15 ready-to-drink servings on tap. The design was chosen to lock in the unique cold brew flavour profile without the need for heat treating or adding preservatives. It's available as a one-off purchase or on subscription if you want to make sure you're never without your icy cool caffeine fix.
Trip cold brew coffee, 250ml: £19.99 for 6-pack, Trip
We love the taste of proper coffee but the jittery highs… not so much. Like all Trip drinks, this clever cold brew has been infused with 15mg of CBD, allowing you to enjoy the flavoursome chocolatey notes from the speciality grade Guatemalan beans but with an altogether more chilled out experience. Although CBD can sometimes have a slightly bitter after taste, that is not the case here, perhaps due to the fact it's brewed for 24 hours, allowing the flavours to become super smooth. With no calories or sugar, packaged up in a handy grab-and-go can – it's the perfect afternoon pick me up.
Bottleshot Brew cold brew coffee black, 250ml: £14.99 for 6-pack, Bottleshot Brew
Having only launched last summer, these newbies are on a mission to bring New Orleans style cold brew to the UK. It's a city with a rich history of making cold brew, long before it got popular across the rest of America and has a distinct flavour profile. Bold, smooth and nutty, Bottleshot use a touch of chicory to round out the sweet flavour. One recycled can contains as much caffeine as two espresso shots so we'd recommend not drinking too late in the day if you'd like a good night's sleep.
Union Roasted cold brew concentrate 3L: £31, Union Roasted
Just like the other "bag in a box" coffees mentioned above, this pack contains three litres. However, unlike the others, this is a concentrate, brewed at double strength so it will need diluting with equal parts of cold water before drinking – making your stash go even further. Intended to be used as a versatile coffee base for cocktails or simply over ice, you can expect notes of milk chocolate, caramel and stone fruit. Union Roasted provides an extensive collection of cold brew cocktail recipes over on the website to get your mixologist juices flowing.
Kuka Coffee ready to drink cold brew coffee, 240ml: £30 for 12-pack, Kuka Coffee
A ready to drink cold brew in a glass bottle, Kuka Coffee's version is rich and full-bodied with chocolatey notes. Super smooth, it's best served ice cold to really get the most out of it. It's so refreshing on a hot summer's day and we loved that it didn't need any extra diluting or milk – it was delicious just as it was. An ethical brand, Kuka use an energy-efficient roaster, with waste coffee composted and used as fertiliser for the local potato farms.
Jimmy's Iced coffee cola, 275ml: £8 for 4-pack, Jimmy's Iced Coffee
Branching out from iced coffee, this is Jimmy's first carbonated drink, combining cold brew with a secret cola recipe. The Rainforest Alliance accredited coffee beans are cleaned, roasted and brewed in cold water for over 10 hours and have been specially chosen to complement the cola. A pretty sophisticated alcohol-free alternative if you're avoiding the booze but still want a buzz.
Califia Farms xx espresso cold brew dairy free coffee, 750ml: £2.50, Tesco
This Californian brand champions the humble almond in all its plant-based products, including in its version of cold brew. This larger bottle combines cold brew made from beans sourced from central and south America and the Yirgacheffe region of Ethiopia with almond milk. The result is subtle, perfect for those that don't want anything too hard hitting when it comes to caffeine. We liked whizzing ours up with a banana for an energising post-workout smoothie.
Vita Coco cold brew coffee, 330ml: £1.99, Holland & Barrett
This plant-based drink is made of just two ingredients – cold brew coffee and coconuts. It definitely tastes like a treat but refrains from being overly sweet, making it the ideal afternoon pick me up. It's free from dairy, nuts and gluten, and despite being super creamy, it's also suitable for vegans too.
Mr Black cold brew coffee liqueur, 70cl, 25%: £29.99, Mr Black
In the past coffee liqueurs have had a reputation for being sickly sweet – however, Mr Black is on a mission to change that with this much more grown up proposition. Made in Sydney, Australia, each bottle contains about half the sugar usually used, and 10 times the coffee, combining arabica coffee beans from Papua New Guinea, Kenya and El Salvador with Australian grain spirit. Intense and slightly bitter, yet balanced (like a piece of quality dark chocolate), this complex little number is a great base for punchy cocktails and makes a mean espresso martini.
Conker Spirit cold brew coffee liqueur, 70cl, 25%: £31, Conker Spirit
Another modern coffee liqueur with no nasty flavourings – just the highest grade of coffee beans, sourced from Ethiopia and Brazil distilled with British wheat spirit and a touch of sugar to make everything super smooth. With sweet vanilla notes, this is the perfect accompaniment to dessert, just pour over ice. Alternatively, aside from the classic espresso martini, it works a treat in a cold brew negroni or the refreshing cafe spritz (which combines tonic water and fresh orange).
The verdict: Cold brew coffee
We prefer the convenience of our cold brew in a can, allowing us to chuck it in our bag when we're out and about, as well as enjoying at home, so for this reason, our Best Buy goes to Minor Figures for its snazzy branding and array of cold brew flavours. However, if you're looking to make espresso martinis for a crowd, or simply need a steadier supply, the bag in the box format works well and we loved the distinctive single-origin notes found in Origin Coffee.
IndyBest product reviews are unbiased, independent advice you can trust. On some occasions, we earn revenue if you click the links and buy the products, but we never allow this to bias our coverage. The reviews are compiled through a mix of expert opinion and real-world testing.