The Independent's journalism is supported by our readers. When you purchase through links on our site, we may earn commission.
12 best fans for keeping cool this summer
Struggling to beat the heat? We've found a chilled out appliance for every space from the likes of Dyson and Swan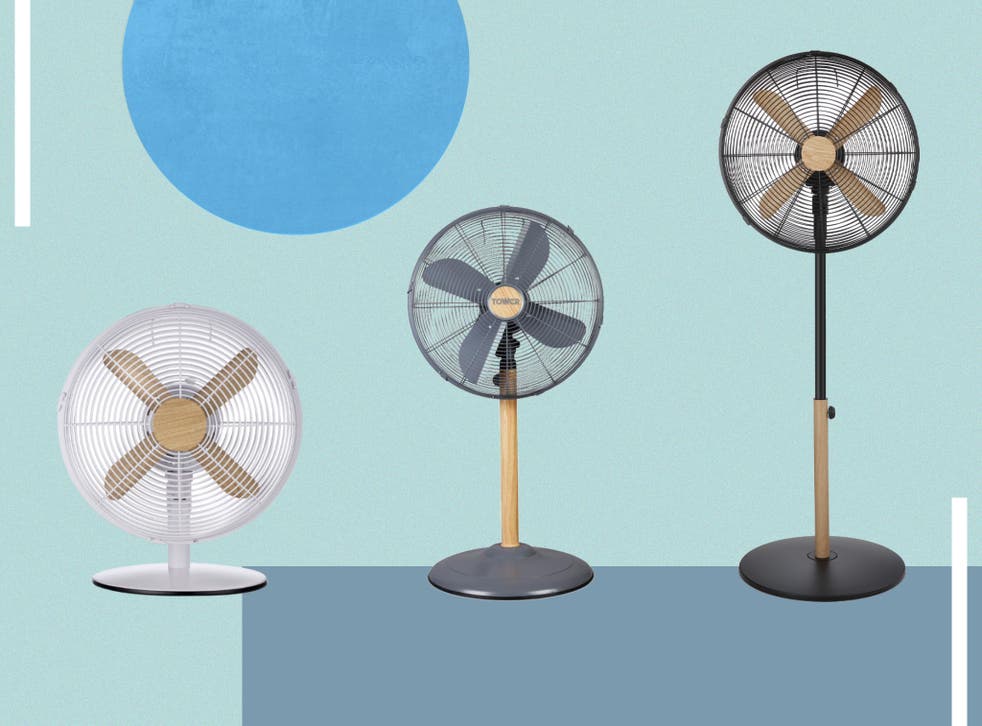 Fans have come a long way over the past 10 years. Gone are the rubber-bladed, handheld horrors the cool kids touted at school, and the whirring monstrosities rolled out to cool our homes once the summer heatwaves kicked in.
Today's fans are slick, silent and stylish, capable of cooling a wide range of rooms with minimal noise and with versatile modes which allow us to crank up the cooling depending on the setting.
We're pleased to report we had the perfect testing conditions. Namely, a baking-hot week in June and a two-storey house with very different requirements, including a first-floor office with minimal space, and a large living room prone to greenhouse-like heat retention.
There were multiple revelations. We gained a whole new appreciation for portability – fans that can be quickly moved from one room to another are a godsend. We also realised just how handy it is to have settings designed for night use – not just because these allowed us to programme the fan to shut down after a certain amount of time, but because of other night time-specific aspects that minimise the risk of disturbance, whether it's reduced screen brightness on digital displays or special, ultra-quiet modes.
A top tip to supercharge air circulation while keeping your home deliciously cool? "To really reduce the temperature of a room, you'll need two windows in the room and two fans," says Chris Michael, managing director of air conditioner manufacturer Meaco. "Point one out of one window to exhaust the hot air and the second one near another window to circulate fresh cool air.  This works best when the outside temperature is cooler than the indoor temperature and it's also a great way of keeping germs at bay when meeting friends indoors."
Read more:
The best cooling fans for 2021 are:
Fan FAQs
What are the most common types of fan?
Tower fans: These tall, thin fans have an oscillating cooling device stretching vertically. They are good for cooling down a whole room while taking up very little floor space.
Stand or pedestal fan: These floor fans feature a traditional cooling unit that sits on an adjustable stand. Many allow you to direct the airflow to where it's needed.
Desk fan: These compact styles are designed to sit straight on your tabletop and offer a short-range directional airflow for personal cooling. They are both space and cost efficient.
Handheld fan: Great for travelling, you can slip these battery-operated fans into your pocket or handbag and bring them out as required.
Ceiling fan: These fans, which consist of a rotating blade that hangs from the ceiling, circulate air at different speeds whenever required. Great for those who want a more permanent option.
Bladeless fan: Available as freestanding or desk varieties, these new-age fans work with an electric motor that pulls air in through small vents in the base, then forces it upwards and out at high speeds through the circular ring above. Good for efficiency, modern looks and safety.
What features should I look out for?
Oscillating: Instead of focusing the air in a single direction, oscillating fans sweep the airflow across the room. Some fans give you the option of different oscillation patterns and speeds.
Speed settings: Most fans have at least three settings so you can adjust the amount of cool air you get, with some offering significantly more.
Adjustable height and angle: This is particularly useful if the fan doesn't have oscillating capabilities.
Timer: A programmable timer enables you to set your fan to start and stop running at certain times – great if you want to come back to a cool house after work.
Auto shut-off: A useful safety feature, particularly if you're likely to fall asleep with the fan running.
Remote control: A great solution if you don't want to get up to change the speed, set the timer or auto shut-off.
Noise output: While some people can easily ignore the white noise of a fan, others find it highly irritating, especially in bedrooms, so you might want to look for a model designed to be quiet.
Size and weight: This is important to consider if you want a fan that is easily transportable and that you're able to store away in the winter months.
Built-in heater: Some fans combine heating and cooling capabilities in a single model. You'll pay more for it, but it will save you the trouble of buying a separate heater in wintertime.
Built-in air purifier: This can be a saviour for people who have allergies to pollen or dust, although be warned it will increase the price tag.
Safety: If you have young children or pets, it's worth bearing in mind the hazards of getting fingers or paws caught in the blades of a full-speed traditional style fan.
The verdict: Cooling fans
We were blown away (excuse the pun) by Tower's Scandi 16 inch metal pedestal fan, which ticked all the boxes without any compromise: it did a brilliant job of keeping us feeling as cool as this pedestal fan looked, and it was both incredibly light and refreshingly easy to assemble. Duux's whisper flex smart fan is one the quietest fans we've come across, and did a brilliant job of cooling larger areas while being incredibly easy to use, thanks partly to the presence of a slickly engineered app and a remote control. Finally, there's Dunelm's boneco F220 air shower floor fan, which is one of the most stylish fans on the market, and – especially for such a compact fan – was surprisingly efficient at keeping the largest of rooms wonderfully cool.
Voucher codes
For the latest discounts on household appliances, try the links below:
Keep cool this summer with the IndyBest team's hot weather essentials, from fans to face mists
IndyBest product reviews are unbiased, independent advice you can trust. On some occasions, we earn revenue if you click the links and buy the products, but we never allow this to bias our coverage. The reviews are compiled through a mix of expert opinion and real-world testing.