The Independent's journalism is supported by our readers. When you purchase through links on our site, we may earn commission.
8 best SAD lamps to get you through the dark winter months
Ease the symptoms of seasonal affective disorder with a light-therapy lamp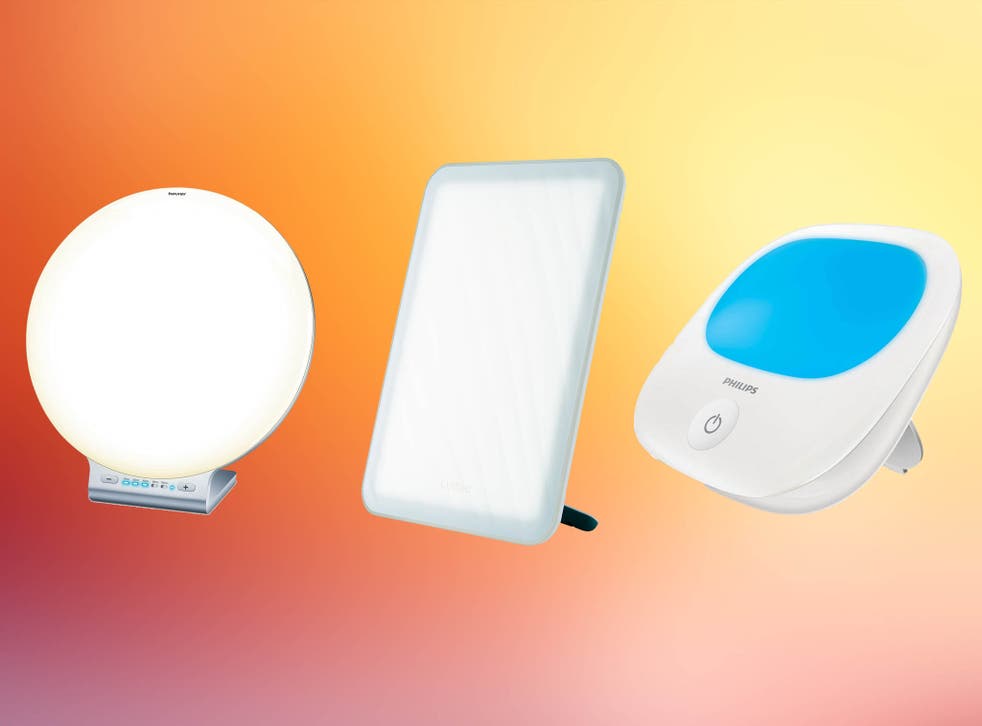 SAD stands for seasonal affective disorder, and SAD lamps are designed as a form of light therapy to help alleviate things.
The bright light in the SAD lamp hits the retina and sends nerve signals to the brain, affecting the chemical and hormone levels. In turn, this improves the mood of the sufferer.
To qualify as a SAD lamp it needs to have a brightness of at least 2,500 lux, though many are much more powerful than that, often 10,000 lux.
A brighter light means greater effectiveness in a shorter time – between half an hour and an hour a day is recommended.
A SAD light needs to be medically certified for treating the disorder.
Some are lightweight and portable, others can sit on your desk.
Since the light needs to fall on both your eyes, positioning the light correctly is important.
One brand dominates this category, Lumie, which not only makes SAD lamps but also alarm clocks that wake you with light and even, as you'll see on the company's website, a cute nightlight for children.
You can trust our independent reviews. We may earn commission from some of the retailers, but we never allow this to influence selections, which are formed from real-world testing and expert advice. This revenue helps to fund journalism across The Independent.
Philips EnergyUp light: £150, Amazon
Brightness: 10,000 lux equivalent
This energy lamp uses blue light, not white, aiming to give an effect similar to a sunny day, but without UV rays. Because it's blue light, the lux level is lower than some here but described as being the equivalent of 10,000 lux. It's simple to use – one big power button on the front – and the diffusers and filters mean there's a completely even light distribution. Philip says 20-30 minutes a day is enough to revitalise the user.
Lumie Bodyclock Shine 300: £103, John Lewis
Brightness: not applicable
This light promotes therapeutic benefits in a different way: it is designed to wake you up with light. As such, the lux levels are lower than on the pure SAD lamps here. It's claimed that light at the beginning of the day can effectively reset your internal clock and metabolism, allowing you to wake up refreshed. It wakes you up with an artificial sunrise which can last anywhere between 15 and 90 minutes. You can also use the light to wind down at the end of the day with a sunset feature. You can add sounds to help you wake up or fall asleep, too. Lumie describes this as a complement to a lightbox for treating SAD, rather than an alternative.
Beurer TL100 light: £150, Currys
Brightness: 10,000 lux
The Beurer takes a little more setting up than some here but is easy to use. As well as bright white light, the TL100 can change through hundreds of colours to work as a relaxing mood light – this is one of the features which is controlled by an app on a smartphone. The brightness is also adjustable to 10 different levels and preferred settings can be stored. Timers automatically turn off the light at set intervals from 15 minutes to two hours.
Lumie Brazil SAD light: £135.53, Wayfair
Brightness: 10,000 lux
The Brazil is large, standing 50cm tall, with three big broad-spectrum bulbs inside. It's the largest SAD light that Lumie makes. Treatment time is 30 minutes because the light is so bright. The brightness is not adjustable – if you want it to be less bright, you need to move it away further than the recommended 35cm. There is a handle so you can move it around easily, though at 2.85kg while it's technically portable, it's certainly not light.
Diamond 5 SAD lightbox: £292, Amazon
Brightness: 10,000 lux
This is a big, hefty light and it's quite expensive. But it's a simple machine to use and the large display means it has an especially short usage time: just 20 minutes, which may be ideal for a busy lifestyle. Its 4.2kg weight means it can't stand on every desk comfortably, but it is so big it will dominate smaller rooms and not necessarily in a good way. The light intensity can be varied so you can adjust it if it's too bright. Having two or three of the five lights turned on means you can leave it on all day if you prefer.
Lumie desklamp: £120, Lumie
Brightness: 10,000 lux
There's plenty of flexibility in this lamp. The neck of the light can be moved to the exact point you need it at, so it can work as a reading light when you're not using it as a SAD lamp. The recommended usage time is 30 minutes, though this can be done in stages rather than all at once. The LEDs have extra blue shades built in which is believed to be beneficial. A touch-control system gives access to four different light levels. There's also a diffuser to make the light even easier on the eye.
Lumie Vitamin L SAD light: £90, Amazon
Brightness: 10,000 lux
The simply designed, slim block of light that is the Vitamin L light works well and looks good. Because it's so slim it's easy to place on any table and easy to store. It works upright or on its side and is large enough to feel versatile and useful. A minimum of 30 minutes use per day is recommended, though this doesn't have to be all in one go – shorter sessions are meant to have a cumulative effect.
Beurer TL30 ultra portable daylight: £59.99, John Lewis & Partners
Brightness: 10,000 lux
This simple lamp looks good and extremely easy to set up. It's similar to the Lumie Vitamin L above, though this one is smaller. However, Beurer recommends a much longer usage time: two hours per day. It's neatly designed with a clip-on piece designed to hold it upright which slides into a pocket on the back when you're done. It can clip in different places so you can angle it as you wish. Although it is light and portable, it's mains-only.
The verdict: SAD lamps
The Philips EnergyUp light is powerful, portable and effective. The Lumie range is extensive with something for everyone. The Lumie Bodyclock Shine 300 is a tremendous alarm clock with therapeutic benefits and the same company's Vitamin L SAD light is compact but potent.
IndyBest product reviews are unbiased, independent advice you can trust. On some occasions, we earn revenue if you click the links and buy the products, but we never allow this to bias our coverage. The reviews are compiled through a mix of expert opinion and real-world testing.