The Independent's journalism is supported by our readers. When you purchase through links on our site, we may earn commission.
10 best hiking shoes for women that make treks a walk in the park
Fallen out of love with your heavy winter footwear? It's time to choose a lighter, flightier version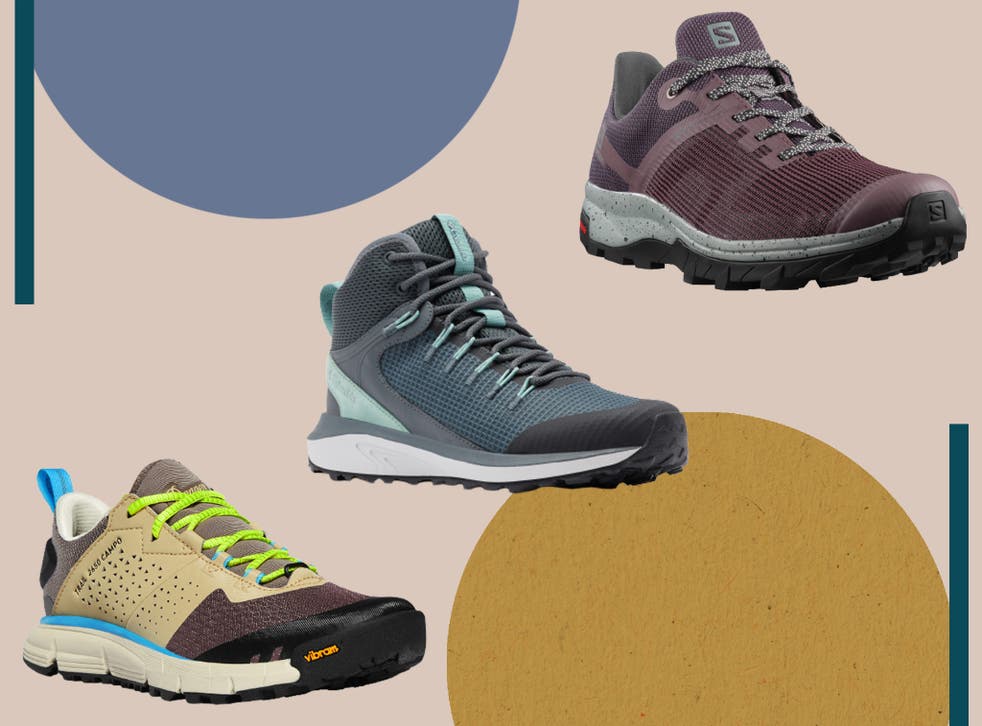 Like most things, walking shoes exist on a spectrum: they range from nippy, grippy trail-trainer styles to sturdy, waterproof shoe-boot hybrids.
Though cut below the ankle, reducing stability and warmth, walking shoes beat boots in other important areas: notably comfort via their energy-saving, lighter weight. The average pair of boots is about 500g heavier than the average pair of walking shoes, and over time this makes a considerable difference to how tired (or not) you feel after a gruelling, steep climb or eight hours trudging hot tarmac in summer.
When considering which shoe is best for you, think about speed, distance, time, terrain and climate. The lighter and more breathable shoe, the better suited it is for the summer months or walking in more exotic climes than Blighty.
Some of those in the featherlight category have also been designed with speed in mind. On the other hand, the heavier options tend to have a more sturdy structure and stiffer sole. Though flexible soles can aid pace, they also make your feet work slightly harder, so a degree of rigidity is good for longer distances over rugged terrain. The latter will also better suit all-season adventures, offering more grip in mud. In this case, make sure your shoes are waterproof – don't be caught out by mere "water resistance".
The type of terrain you'll be exploring will influence your decision in other ways too. If you're just looking for a pair of everyday walking shoes that will keep you comfortable as you traverse around the block, then you'll need a smoother tread.
Read more:
In general, for rougher trails, the deeper the lugs the better the shoes will fare, keeping you sure-footed on scree, gravel and grass in wet and dry conditions. The only exception is if you're covering a lot of rocky ground, in which case a shallower tread is advisable.
In terms of comfort, you'll know best what requirements you have for arch support and toe-box size and shape. Of course, trying on shoes in person is always advisable. There are a few things to keep in mind. Remember that the longer you're walking, the more important it is to have a well-cushioned sole. Tougher upper materials might feel slightly less comfortable at first, but they will be more durable if you walk regularly on rougher terrain. Plus some materials such as leather will require break-in time, whereas many synthetic materials won't.
How we tested
We took every pair on walks several miles long following gravel trails, paths through fields and on steep rocky climbs in a mixture of wet and dry conditions. We tested them for grip, support, comfort and value for money, to pick the best of both the big and lesser-known brands.
The best women's hiking shoes for 2021 are:
Register for free to continue reading
Registration is a free and easy way to support our truly independent journalism
By registering, you will also enjoy limited access to Premium articles, exclusive newsletters, commenting, and virtual events with our leading journalists
Already have an account? sign in