The Independent's journalism is supported by our readers. When you purchase through links on our site, we may earn commission.
10 best inflatable kayaks for exploring rivers, lakes and the sea
Get pumped for your next adventure out on the water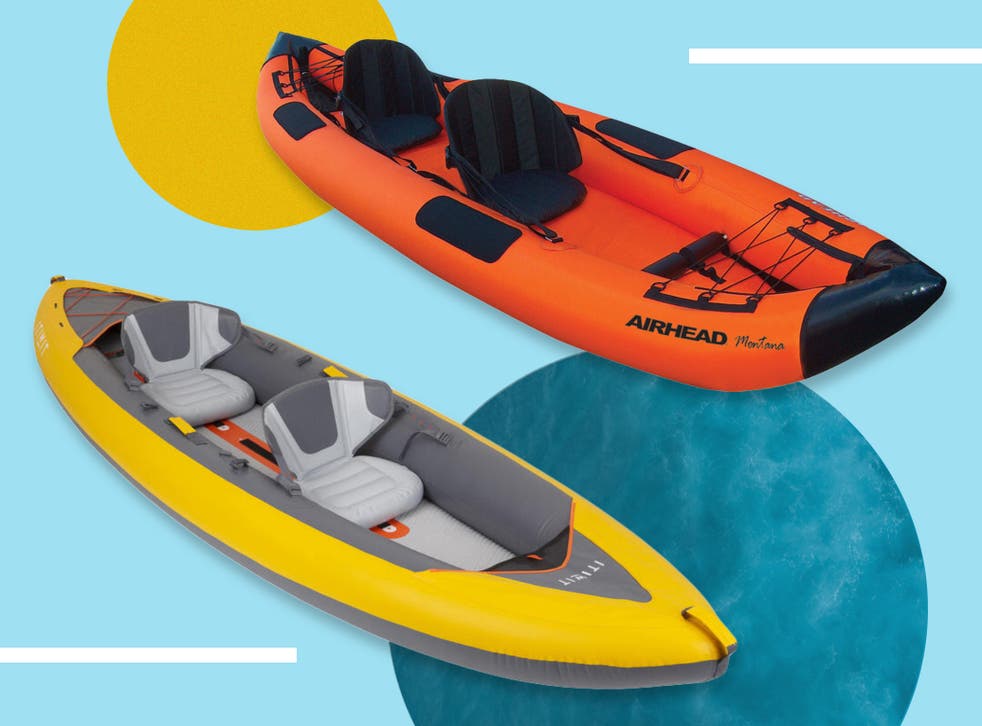 Ask any seasoned kayaker what they don't look forward to about a day on the water and they will likely tell you it's the struggle to get their kayak on and off their car roof and then down to the water. And that's where inflatables come in.
Taking a leaf from the huge popularity of inflatable paddleboards (do you see any other kind these days?) manufacturers have looked to produce crafts that are portable and yet still retain the on-water credentials of their rigid counterparts.
Obviously, anything inflatable has the potential to meet a sticky end. That's why quality materials need to combine with construction to produce a kayak with structural integrity that won't be compromised by the first ripple in the sea or hidden branch in a river.
A kayak is less about messing around on the water and more about actually getting somewhere, which is why inflatables need to feel stable and track well, so that all your paddling energy is being harnessed by the kayak to get you to your destination in the most efficient way possible.
Their lightweight nature means inflatables are more prone to catching wind and being blown off course. So we were looking for kayaks that would stay as true as possible to the line we were paddling in and dash towards their destination like a dart, even when the wind was blowing.
Read more:
We made sure that all our recommendations came equipped with a paddle and a quality pump (preferably, dual action, which pumps in air on the upstroke and downstroke) as this is the only way that you'll be able to inflate the craft quickly enough, and we were also mindful of things like portability, carrying weight, ease of inflation and how easily it drained when we were back on land.
What guaranteed inclusion in the list was an inflatable's ability to mimic as many of the characteristics of a rigid kayak as possible, so that you can leave the roof rack behind and just enjoy the water.
How we tested
We tested all the kayaks in the sea, launching from the beach to an island off the coast of south Devon; and also in river conditions. This gave us the best indication of how each craft would cope with a range of conditions and so what kind of water each one was best suited to.
As well as making notes on things like portability, handling and comfort, we also tested with junior paddlers to see how different sized passengers affected performance. As durability is such an important characteristic in an inflatable, we floated each one over submerged plants and rocks and performed several beach landings to ensure we were never left with that sinking feeling.
The best inflatable kayaks for 2022 are:
The verdict: Inflatable kayaks
Replicating the handling of a rigid craft, the Shipwreck kayaks Arrowstream is a real paddler's dream that is at home in the sea and on the river. An excellent pump and paddle are all included in the price, making it a solid jump off point if you're buying an inflatable for the first time, or are looking for an upgrade from an entry-level blow-up.
Voucher codes
For the latest offers on sports equipment, try the links below:
Need to refuel? The best protein bars will aid muscle recovery and actually taste good
Register for free to continue reading
Registration is a free and easy way to support our truly independent journalism
By registering, you will also enjoy limited access to Premium articles, exclusive newsletters, commenting, and virtual events with our leading journalists
Already have an account? sign in
Register for free to continue reading
Registration is a free and easy way to support our truly independent journalism
By registering, you will also enjoy limited access to Premium articles, exclusive newsletters, commenting, and virtual events with our leading journalists
Already have an account? sign in