The Independent's journalism is supported by our readers. When you purchase through links on our site, we may earn commission. Why trust us?
8 best men's Christmas jumpers
From office-friendly garments to the downright outlandish, these are the finest festive sweaters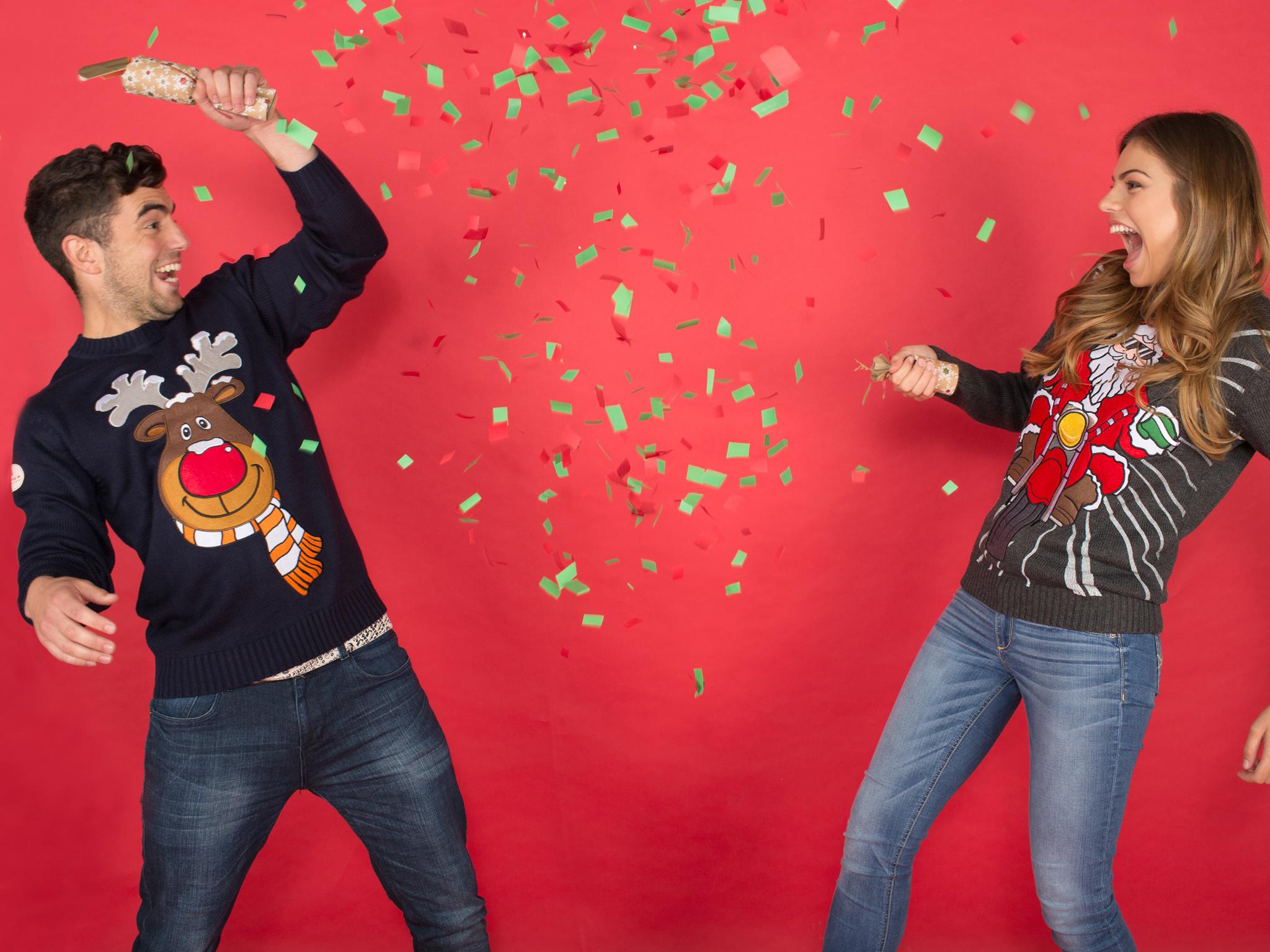 Prepare yourself, because the deluge of festive knits is a-coming. From the refined and (almost) stylish knits to the brightly patterned sweaters that you probably shouldn't look at without wearing sunglasses, we've been on the hunt for the best Christmas jumpers to help you get into the festive spirit.
So whether you're after something you can wear to the office, or something that will most certainly get the conversation started at your yuletide shindigs, we've got it covered.
1. Cheesy Christmas Jumpers Tree and Train Light Up Christmas Jumper: £49.99, Cheesy Christmas Jumpers
"Hmm, this Christmas jumper is garish, but quite frankly, it's nowhere near garish enough." If this is a thought that has at any point passed through your mind, jettison the jumper in question and opt for this offering from Cheesy Christmas Jumpers. Not only does it have a brightly coloured Christmas tree and model train print, but it is adorned by flashing LEDs and real pom-poms. It's sure to turn more than just a few heads in the pub on Christmas Eve.
2. John Lewis Christmas Jumper Panda: £45, John Lewis
The panda on this jumper looks how we expect to feel after completing our schedule of Christmas indulgence. If you reckon you'll feel a similar way, then this may well be the knit for you. Coming in muted but seasonal green, it's made of a merino wool blend, which means it will fit comfortably, won't itch on the skin and will keep you snug (although you shouldn't overheat while roasting those chestnuts). Available in sizes S-XL.
3. Natural History Museum Unisex Dinosaur Christmas Jumper: £50, Natural History Museum
We're not entirely sure how much dinosaurs have to do with Christmas – after all, they did go extinct 65 million years or so before the birth of Christ – but don't let mere details spoil your enjoyment of this excellent jumper from the Natural History Museum. Designed in conjunction with clothing label Worn-By, it brings together that classic sartorial combo of Nordic patterning and the tyrannosaurus rex, to deliver a unisex jumper which comes in sizes ranging from XS to XXL. 'Tis the season to be prehistoric.
4. Beyond Retro Slouchy Christmas Jumper: £21, Beyond Retro
Ugly Christmas knits have been around for quite some time, and this website proves it. Beyond Retro, which specialises in clothes and accessories from yesteryear, has thousands of vintage, festively themed knits and sweats, ranging from relatively refined Nordic numbers to the downright ridiculous. We chose this one as we think it brings the two together quite nicely – if you like the look of it, act quickly because, as with most items on Beyond Retro, it's a one-off. And once it's gone, it's gone.
5. HYMN Carrot Snowman Face Applique Sweatshirt: £50, John Lewis
If the ugly knit is all a bit too much for you, go for one of the rather more stylish options, such as this sweater from the London-based brand HYMN. According to the brand, the jumper's print is a "deconstructed interpretation of a snowman" – and we think it looks good. Made from 100 per cent cotton, it's a comfy, snug fit. Available in sizes S-XXL.
6. Howlin' Before The Snowfall Sweater: £170, Mr Porter
The beauty of this jumper is that you can wear it for the entire winter season, not just for Christmas, thanks to its refined Nordic-style print and low-key colours. And at this price, you can expect it to last you for a fair few winters. Coming from an Antwerp-based clothing brand, it's made from a blend of merino wool and mohair, which means it's super warm and has a relaxed fit. If your festive look this year is classy Christmas, this is the jumper to go for. Available from S-XXL.
7. Funky Christmas Jumpers Lego Santa: £44.99, Funky Christmas Jumpers
Funky Christmas Jumpers has a massive range of pullovers that are sure to make you stand out from the Christmas-jumper-clad masses – featuring everything from DJ Jesus on the decks to a Harley Davidson-riding Santa Claus. We've gone for one of this year's new releases, featuring Father Christmas made of Lego (because why not). It's made from a wool-acrylic blend that isn't rough on the skin, and is available in sizes XXS-XXL.
8. Nintendo The Legend of Zelda Link Christmas Jumper: £26.99, Nintendo
If you're obsessed with the Nintendo Switch (or are buying a gift for someone who is) then this could be the ideal Christmas jumper to wear over the festive period. Coming straight from Nintendo's store, it features a retro-looking 8-bit print. If Zelda isn't your thing, there are other similar options featuring Mario and characters from Pokémon. These jumpers were actually released last year, but many are still fully stocked – and are available at cut-down prices. Hurrah.
The Verdict: Christmas jumpers for men
If you subscribe to the 'go hard or go home' school of thought when it comes to Christmas jumpers, you can't go much harder than to purchase the light-up offering from Cheesy Christmas Jumpers. If you're after something a little different (and a lot less intense), then we're fans of the festive panda jumper from John Lewis.