The Independent's journalism is supported by our readers. When you purchase through links on our site, we may earn commission.
10 best hair dryers that make every day a good hair day
From budget buys to luxury appliances, we've found a device to suit every hair type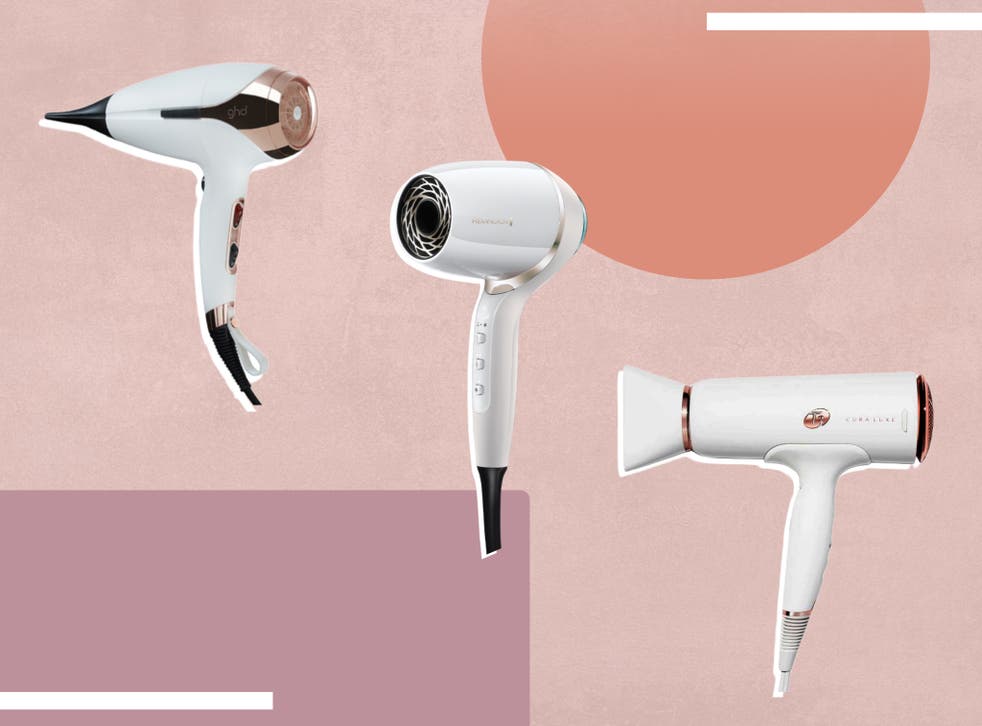 If technology has brought us one blessing, it's that a salon and stylist are no longer necessary to achieve the perfect blow-dry.
We're spoiled for choice with hair dryers that promise to de-frizz, volumise and protect our hair – with varying results.
To find the perfect hair dryer, we took a few things into account. With so many options, anything that might remotely damage our hair was out. This makes versatile heat options a must-have, with a range of nozzles or attachments also preferred.
Ionic technology is also the new normal, as it neutralises frizz-inducing atoms and reduces heat damage. But at the same time as boasting powerful motors and multiple features, we wanted something that was portable, light and easy to use.
With all this in mind, we also needed our styles to hold their own against the elements. Our tester tried each device out on a variety of hairstyles – from slick blow-dries to big, bouncy curls – to get to grips with each hair dryer's full capabilities and see which delivered the longest-lasting results.
Read more:
These are the best hair dryers for 2021:
Hair dryer FAQs
What's the best hair dryer for my hair type?
Not all hair dryers are made equal and finding the one which works best for you will depend on your hair type. Fine, straighter hair types will benefit from ion technology to increase volume, and variable heat settings will help you control the amount of heat damage to hair.
If frizziness is your bugbear, a cool shot button – which delivers a burst or ongoing stream of cold air – will seal the hair cuticle and help reduce the effects of humidity on your locks, while wavy and curly hair will benefit from the use of a diffuser, which is an attachment tool that allows for heat to be evenly distributed. For thick hair, a higher wattage will ensure a faster drying time, though you can be more susceptible to heat damage, so always use a heat protectant spray beforehand.
When drying afro hair that has dense curls and texture, too much continuous high heat can cause breakage, so look for varying heat settings that allow you to control this and minimise damage.
What should I consider when buying a hair dryer?
Size and weight
Hair dryers have slimmed down in recent years, making bulky devices a thing of the past. However, it's still important to consider the size and weight of the product. Thicker, curlier hair will take longer to dry, which means heftier hair dryers will take their toll on your arms after extensive styling. More complex, cutting-edge technologies tend to lead to heavier hair dryers, with lightweight travel dryers offering a more basic hair drying experience.
Power and temperature
If you're looking to dry your hair as quickly as possible, look at the wattage, not the temperature. Nowadays you can buy hair dryers operating at 3600W, but a high-quality device only requires around 1800W. For those with curlier hair that only needs setting or drying with a diffuser, high speeds aren't as important. The opposite is true for temperatures. While it's normally advisable to keep to as low a temperature as possible to minimise damage, thicker, curlier hair requires more heat. No matter your hair type, everyone should look for a variety of temperature settings. The more options, the more control over your styling.
Ceramic vs metal
The key difference between ceramic and metal hair dryers is that ceramic heats evenly and metal unevenly. As a result, ceramic dryers are less damaging to your hair, even if they take longer to heat up. Metal dryers are best suited to thicker hair, which requires stronger heat blasts to dry quickly. They also tend to be lighter than their ceramic counterparts.
What are ionic and ceramic technologies?
The word "ionic" is often thrown around when it comes to high-tech hair gadgets, but is very rarely explained. The name comes from its use of negatively charged ions. While your hair features both negative and positively charged ions, the water on wet hair is positive. Ionic hair dryers blast negative ions to help break down the particles which, in turn, helps hair dry faster than when it's left to its own devices. Because the negative ions help close the hair cuticle, it also leaves it smoother, sleeker and frizz-free. This is particularly helpful for protecting the definition and pattern of your curls, but as it removes moisture, fine hair can be left looking limp.
Meanwhile, ceramic technology is designed to evenly distribute heat. This works by coating the inside of the dryer with ceramic (or sometimes porcelain) and covering the metal or plastic components, which conduct more extreme, uneven temperatures. Hair dryers with this technology also take extra measures to protect your hair from heat damage, repeatedly checking the temperature and adjusting accordingly. Temperatures will be hotter at the start of your blow dry, cooling gradually. While some hair dryers combine both technologies, most ceramic hair dryers are already equipped with negative ions to help control frizz –just not to the extent of an ionic hair dryer.
The verdict: Hair dryers
Delivering on all fronts, the ghd helios is our top choice. Not only did it help eliminate the majority of our frizz and boost shine, but it's easy to use. We also loved how the Glamoriser salon results touch dryer performed on curlier hair.
Voucher codes
For the latest offers on fashion and beauty, try the links below:
Hold your blow-dried hair in place with the best hairsprays
IndyBest product reviews are unbiased, independent advice you can trust. On some occasions, we earn revenue if you click the links and buy the products, but we never allow this to bias our coverage. The reviews are compiled through a mix of expert opinion and real-world testing.
Register for free to continue reading
Registration is a free and easy way to support our truly independent journalism
By registering, you will also enjoy limited access to Premium articles, exclusive newsletters, commenting, and virtual events with our leading journalists
Already have an account? sign in