The Independent's journalism is supported by our readers. When you purchase through links on our site, we may earn commission.
14 best eye creams for mature skin that hydrate dry areas and tackle wrinkles
Revive tired eyes and de-puff delicate skin with these tried and tested formulas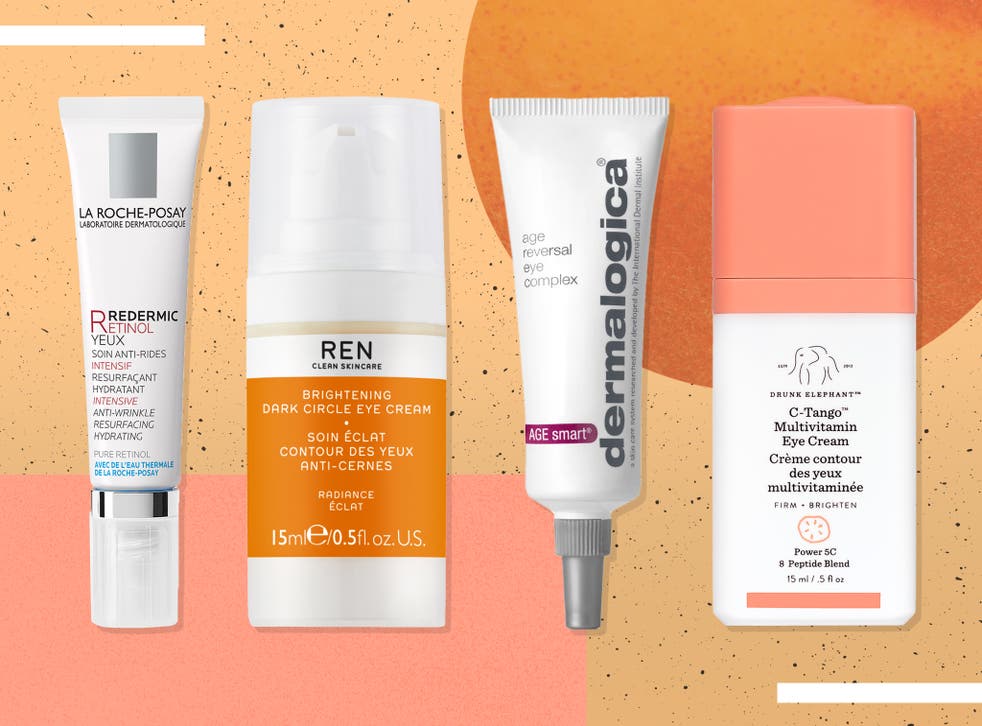 We start to see dark circles, wrinkles or dehydrated skin around the eyes when collagen in our skin starts to break down as we get older. As well as good old natural ageing, sun damage and lifestyle choices – such as diet and how much sleep we're getting – can also affect our appearance.
The anti-ageing skincare market is huge, with many brands investing in eye creams that hydrate the skin and leave it looking fresh and less tired come morning. But, what exactly should you be looking for?
Retinoids such as vitamin A, otherwise known as retinol, work to boost the production of collagen in your skin, helping increase the appearance of fine lines. Vitamin C works as a preventive measure, helping to protect the skin from sun damage and reduce further ageing. Peptides also help to stimulate the natural collagen in your body, while hyaluronic acid hydrates the under-eye area and makes the skin look more plump.
Emma Appleby from L'Atelier Aesthetics says: "Wrinkles appear over time because of two reasons – intrinsic, which takes into account internal or genetic factors and extrinsic, which is external factors such as sun damage and lifestyle factors such as stress."
The skincare specialist goes on to reveal some of the key ingredients we should look out for in eye creams for mature skin: "Hyaluronic acid holds on to water, leaving the skin hydrated and plump while a low dose of retinol strengthens the skin, improves skin quality, elasticity and collagen levels in the skin, increases skin cell turnover."
Read more:
"Antioxidants help prevent free radical damage from pollution, while SPF should be used every day to prevent further damage to the skin-DNA and collagen destruction," she adds.
We tested a range of eye creams from a variety of brands on how they were packaged, how they felt on our skin, if they helped with fine lines, dark circles and wrinkles - and if they were worth the price tag.
The best eye creams for mature skin for 2022 are:
The verdict: Eye creams for mature skin
Elemis pro-collagen eye revive mask was a treat to use both day and night. From the packaging to the way it constantly hydrated our eyes, the cream was a clear winner. Our fine lines were a distant memory after using the eye cream regularly. La Roche-Posay's anti-wrinkle treatment is a worthy runner up – we loved how gentle it felt on our skin, but also gave us some great results. It's also perfect if you can't shell out for expensive skincare every month.
Voucher codes
For the latest discounts on skincare and other beauty products, try the links below.
For more hydrating skincare favourites, read our review of the best hyaluronic acid serums
Register for free to continue reading
Registration is a free and easy way to support our truly independent journalism
By registering, you will also enjoy limited access to Premium articles, exclusive newsletters, commenting, and virtual events with our leading journalists
Already have an account? sign in
Register for free to continue reading
Registration is a free and easy way to support our truly independent journalism
By registering, you will also enjoy limited access to Premium articles, exclusive newsletters, commenting, and virtual events with our leading journalists
Already have an account? sign in