The Independent's journalism is supported by our readers. When you purchase through links on our site, we may earn commission.
10 best tablets from Apple, Android, Windows and more
These sleek, smart models have come a long way since Apple's breakthrough product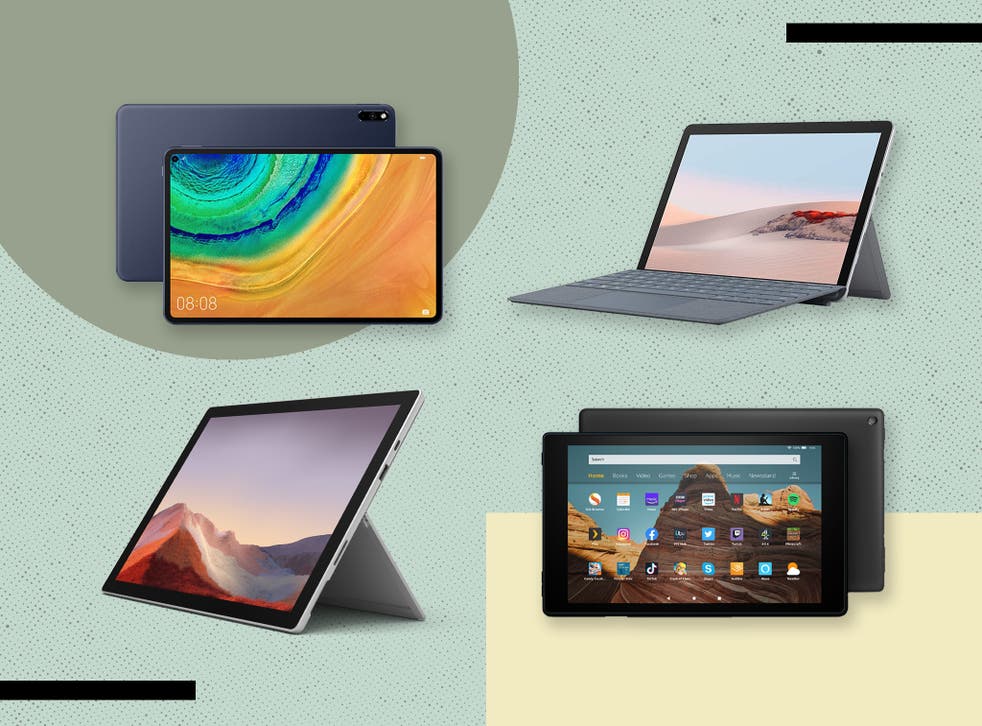 It's 11 years since Apple launched its first iPad. Though there had been tablet computers before, they were clunky affairs; essentially touchscreen laptops before the software was properly developed for them.
The iPad was a revelation because it was slim, light and portable with an interface designed purely for touch, a fast and responsive screen and hundreds of optimised apps from day one. Now, there are more than a million apps for the three main tablet operating systems: Microsoft's Windows, Apple's iPadOS, (iOS on earlier iPads) and Google's Android.
There are two others, Amazon's bespoke version of Android called fire OS, which has fewer apps but they're all tested to work. And then there's Huawei's version of Android which lacks some of Google's key apps like Gmail, Google Maps and Google Play Store.
Prices for tablets vary hugely, from Amazon's which are spectacular value to Apple's iPad range and Microsoft's Surface tablets which are pricier and have exceptional build quality. In the middle are Samsung, Huawei and a couple of other brands.
All tablets have wi-fi connectivity and a few, notably from Apple, have cellular capability so they can connect to the 4G network, too. In one case, the latest iPad Pro, 5G connectivity is available.
Read more:
How we tested
We've been testing for reliability, performance, responsiveness of touchscreen and processor, elegance of interface, breadth of apps and solid build.
These are the best tablets for 2021:
Tablet FAQs
What is a tablet?
A tablet is a small, portable computing device that has a touch screen interface and is designed to be held in one or two hands. It lets you do many of the same things you'd do on your computer or laptop, such as browse the Internet, use social media apps, emails and video calls, and much like your mobile, a tablet can have apps installed on it and you can watch videos. They provide a convenient way of accessing content on-the-go.
How to connect a tablet to a TV
Connecting your tablet to your TV differs per device. If it's an Android tablet you can use a mini HDMI cable (£7.97, Amazon.co.uk) and mirror the content onto your television screen. As for an Apple device, this process is similar, except you'll need a lightning cable (£49, Apple.com). If you have Apple TV (£139, Apple.com), you can use screen mirroring and use your television as the playback destination.
Android vs. Apple iPad tablets
The biggest difference between these tablets is the fact they have different operating systems. Apple's iPad runs on iPadOS, while Android tablets, such as Samsung, run on Google's Android. Often those who have an iPhone will find an iPad's interface more familiar and vice versa.
Apple currently only has four different iPad devices on offer, iPad, iPad pro, iPad air and iPad mini, whereas, with Android, there's far more to choose from, including Amazon tablets.
As for software, we think Apple iPads pip Android since they tend to be more stable and easier to use – Apple approves each app in the App Store, while Android's Google Play has a lack of supervision in comparison. Similarly, while Android has made strides with its devices, Apple's remain easier to use owing to their simplicity.
What size tablet do you need?
The size of the tablet you buy is very much down to personal preference and depends on what you want your tablet for. For example, you may choose to opt for something smaller if the main purpose for the device is for entertainment while travelling. While, if it's for more extended use and work purposes, a larger device will be better suited.
On one end of the size scale, you have a 7in tablet, which is the smallest you can buy and often the cheapest – it's an ideal choice if you want to be able to hold it in your hand and use it for reading. Some devices are 8in, such as the iPad mini, which you can still hold in one hand, but tend to be a little heavier.
If you're looking for something a little larger, we'd suggest reaching for a device that is somewhere between 9in and 11in, there are plenty of tablets within this range and cater for different budgets. For example, the fire 10 retails (£179.99, Amazon.co.uk) while the iPad air is a more costly purchase (starting at £579, Apple.com). These larger tablets are more suitable for use over extended periods of time, for example for work purposes, making them a great alternative to a laptop or computer.
As for those larger again, some tablets measure more than 11in and are again ideal for work when you can connect them to keyboards.
The verdict: Tablets
The iPad pro is the ultimate tablet, with a stunning display and astonishingly fast performance. For most people, though, the more affordable iPad air will be sufficient. And for the last word in value, Amazon's fire 7 is the best tablet in terms of value and portability, if a seven-inch display is enough for you.
Voucher codes
For the latest discounts on tablets and other tech offers, try the below links:
We've also rounded up the best tablets for kids that will keep them entertained and help them learn too
Register for free to continue reading
Registration is a free and easy way to support our truly independent journalism
By registering, you will also enjoy limited access to Premium articles, exclusive newsletters, commenting, and virtual events with our leading journalists
Already have an account? sign in