The Independent's journalism is supported by our readers. When you purchase through links on our site, we may earn commission.
13 best duvets for the ultimate snooze
Supercharge your slumber with one of these brilliant products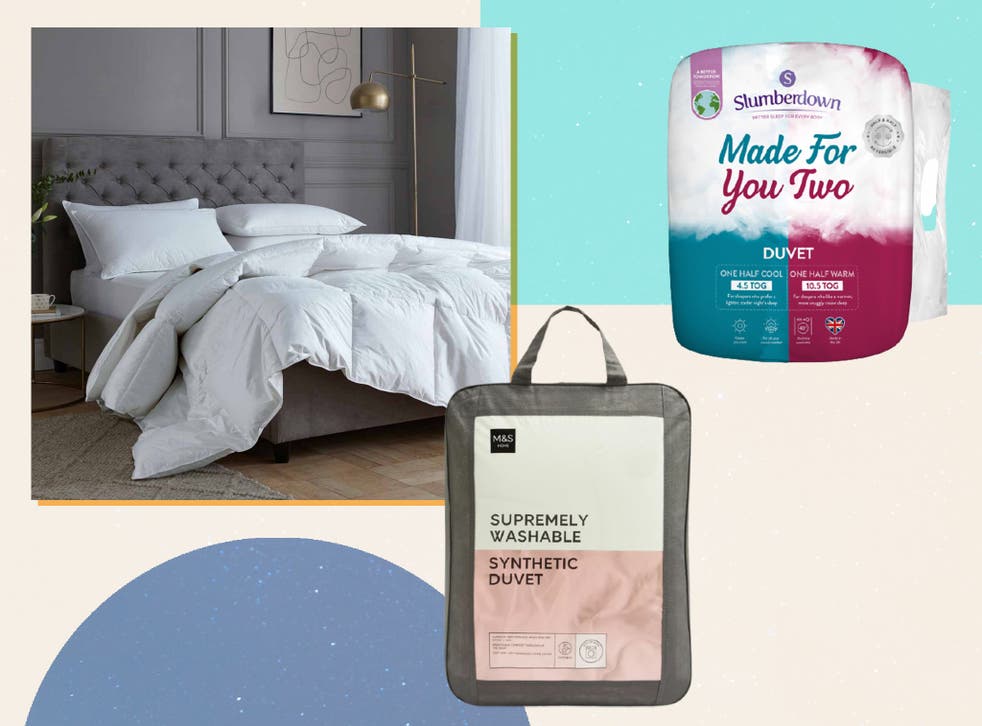 Nothing beats the comfort, warmth and reassurance provided by a top-quality duvet, whether you're a 10-tog type sleeper or a hot-bodied dozer who prefers to stick to single digits.
As huge duvet fans, we're loving the fact that there's never been a wider range to choose from, whether it's ones filled with recycled plastic bottles (more of which later) or the finest goose down, or ones that combine different togs in a single duvet. The downside is that this makes finding the one a bit of a minefield, which is why we decided it's high time to come up with a definitive guide to the duvets that should be on your radar.
But first, some timely advice from a sleep expert at a time when fluctuating temperatures and the combination of cold weather and greenhouse-like centrally heated bedrooms can make our journey to the land of nod a tricky one.
"For optimal sleep, your bedroom needs to be cool – around 19C – and well ventilated," says Dr Nerina Ramlakhan, neurophysiologist, sleep expert and author of The Little Book of Sleep: The Art of Natural Sleep.
"If you share your bed with someone who responds differently to temperatures at night, consider separate duvets or a carefully positioned fan. Wool or bamboo duvets can be a great option for people suffering from night sweats and menopausal temperature changes," they added.
How we tested
A lot of sleeping, to be honest. Luckily, our testing session took place during late October during a week when the weather swung from a balmy 21C to a chilly 10C. But we didn't just spend the entire process unconscious – we spent hours comparing duvet thicknesses, cover weaves and tog ranges to provide the best possible evaluation of what we believe are the top duvets on the market.
Read more:
The best duvets for 2021 are:
Duvet FAQs
What is the best filling for a duvet?
These days, there's such a wide range of fillings that it's very much down to personal preference. If you're prone to allergies, don't write off natural fillings such as goose down, but ensure the cover has a tight weave and that the duvet has Nomite or Downafresh certifications. That said, if you're still wary of natural fillings, opt for manmade ones such as Aerelle – a trademarked filling that is made from plastic bottles. Duvets filled with silk fibres are a great option for allergy sufferers, too.
Duvet vs comforter: What is the difference?
We're blaming the Americans for this one (apologies to our readers across the pond). In recent years, we've noticed more people referring to duvets as quilts, when they're two very different items. A comforter is basically another word for a blanket – albeit an extra-thick quilted one that is made from a single piece of material – while a duvet is a slab of thick filling inside a separate cover. Unlike a comforter, which is intended to be draped over beds for additional warmth, duvets are standalone items.
What is the thickest duvet?
A tog of 20 is the highest you're likely to come across, although why you'd need one – unless you're planning on camping out in the Antarctic circle – is beyond us. In reality, the ideal tog for a winter duvet is around 13. Summer duvet togs should be between 2.5 and 7.
That said, neither the tog or the thickness should be the only focus, because numerous factors play a part: the material used for both the filling and the lining, our individual responses to temperature fluctuations, and whether the duvet will be used by one person or two.
The verdict: Duvets
M&S's supremely washable duvet does it all – it kept us warm without weighing us down, and it's incredibly easy to care for, too. Slumberdown's made for you two dual tog is an ingenious duvet that comprises two different togs but doesn't require any fiddling around with press studs or buttons, and the Scooms Hungarian goose down duvet gets the highly commended nomination for the top-quality filling and wide range of togs and sizes.
Voucher codes
For the latest offers on homeware, try the links below:
For more bedroom inspiration, we've found the best bedspreads to give your room that luxury finishing touch
Register for free to continue reading
Registration is a free and easy way to support our truly independent journalism
By registering, you will also enjoy limited access to Premium articles, exclusive newsletters, commenting, and virtual events with our leading journalists
Already have an account? sign in
Register for free to continue reading
Registration is a free and easy way to support our truly independent journalism
By registering, you will also enjoy limited access to Premium articles, exclusive newsletters, commenting, and virtual events with our leading journalists
Already have an account? sign in