The Independent's journalism is supported by our readers. When you purchase through links on our site, we may earn commission.
9 best bath towels that are wonderfully soft and quick to dry
From hotel-style luxury to indulgent pile counts, drying off never felt so good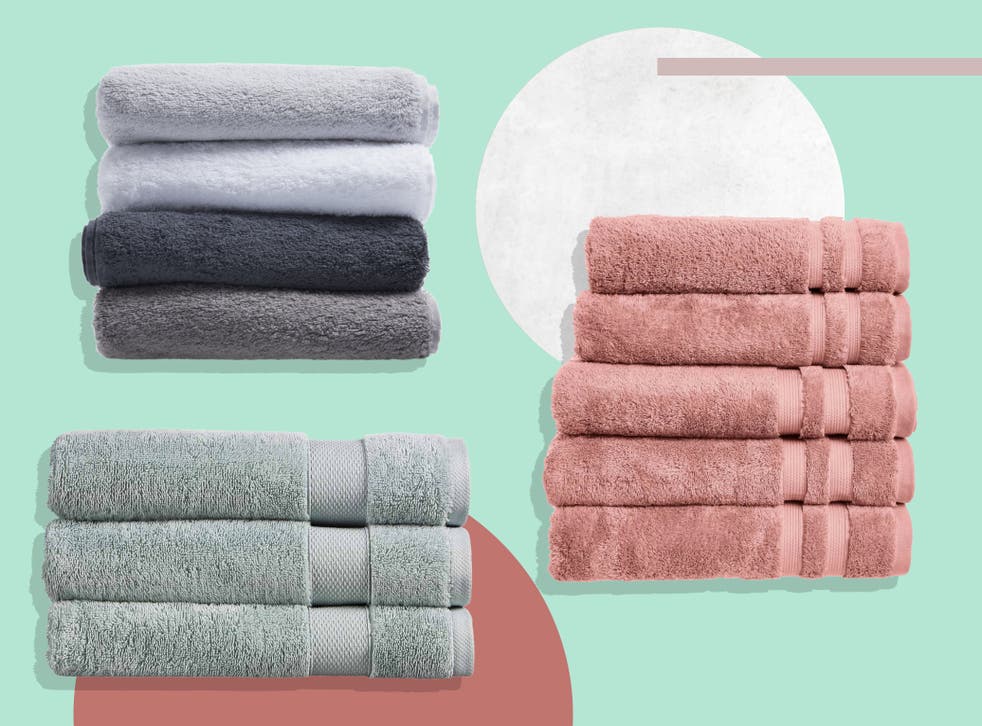 One of the best things about staying in a swish hotel is stepping out of the shower into a large fluffy towel. Yet at home, we often stick to the same threadbare ones we've used for years, rather than making an easy and affordable swap that will upgrade even the briefest bath.
If your towels are looking a little worse for wear, feel rough to touch or are no longer drying you properly, it's probably time to treat yourself to a new one. Which one you choose largely comes down to personal preference. If you live in a busy household and need towels that will dry quickly between uses or if you bring towels swimming or to the gym, look for a more lightweight option that has polyester listed on the label. It won't feel quite as plush, but will do the job perfectly well, be easier to carry and won't take hours to dry.
When only five-star hotel extravagance will do, look for a towel made of 100 per cent cotton that feels heavy when you hold it. Select one with dense, long loops of yarn that will be extra absorbent and make you feel like you're in a high-end spa every time you step out of the shower. The weight of a towel is measured in GSM (grams per square metre), which will give you an indication of how plush and durable it is. Look for one with more than 600 GSM for the full fluffy hotel experience.
Just remember that to keep it looking tip-top, a towel should be aired between uses, preferably washed only with other towels to avoid snags and never washed with fabric softener which can reduce its absorbency.
How we tested
We washed every towel before use as advised, then used it after baths and showers to judge how quickly it dried us, how snuggly it felt and how speedy the towel itself took to dry – no one wants something soggy cluttering the bathroom. We noticed if any left stray fluff behind and how good each one looked on our towel rail, paying particular attention to how well each towel washed. One thing's for sure: we've never been cleaner.
Read more:
The best bath towels for 2022 are:
Bath towels FAQs
What should I look for when buying bath towels?
Don't get too distracted by how soft a towel is when you first see it. Instead, lift it up and feel the weight. GSM is a measure of how heavy a fabric is in grams per square metre. Towels of 600 GSM or more will feel fairly weighty like those in five-star hotels. If you want a lighter (and cheaper) towel that will dry quicker, go for a mix of cotton and either linen or polyester.
How can you tell a good quality towel?
Generally heavier towels are better quality but they will take longer to dry after use. If you want to up the plush quota, look out for 100 per cent cotton towels with dense yarn. It's also worth checking the edges to make sure they're sealed well to prevent fraying. Twisted terry pile makes towels stronger while putting polyester in the mix will help them dry speedily, which is useful if you want to bring one to the gym.
How often should you buy new bath towels?
This varies depending on the quality of the towels, how often they've been used and how well they've been looked after. As a general rule, it's worth buying a new bath towel every three to four years but they may last longer if you have more than one set you can rotate. If you notice lingering smells despite washing, pulled threads or just don't feel dry after using one, it's definitely time to ditch it. Remember old towels can be disposed of in dedicated textile recycling banks or given to local animal shelters.
How often should you wash bath towels?
Experts reckon bath towels should be washed every three to four uses to keep them hygienic, so that works out around twice a week if you're showering every day. Spread out the towel and air it properly between uses to help it dry, rather than just slinging it on a hook. It's also essential you always wash every towel before its first use to stop it from shedding and maximise absorbency.
The verdict: Bath towels
Give yourself a treat every day and dry off in the Scooms Egyptian cotton bath towel pair for serious hotel softness, generous sizing and fantastic absorbency. We also loved the range of colours, price and divine fluffiness of Soak & Sleep luxury Egyptian cotton towels. However, if good looks trump all else, you won't be disappointed by the gorgeous Soho Home pool towel, White City House.
Voucher codes
For offers on bathroom accessories and other home buys, try the links below:
Improve your dental hygiene with our pick of the best electric toothbrushes for healthy teeth
Register for free to continue reading
Registration is a free and easy way to support our truly independent journalism
By registering, you will also enjoy limited access to Premium articles, exclusive newsletters, commenting, and virtual events with our leading journalists
Already have an account? sign in
Register for free to continue reading
Registration is a free and easy way to support our truly independent journalism
By registering, you will also enjoy limited access to Premium articles, exclusive newsletters, commenting, and virtual events with our leading journalists
Already have an account? sign in