12 best single duvet covers
You don't have to have a double to create a statement look, or to achieve the perfect softness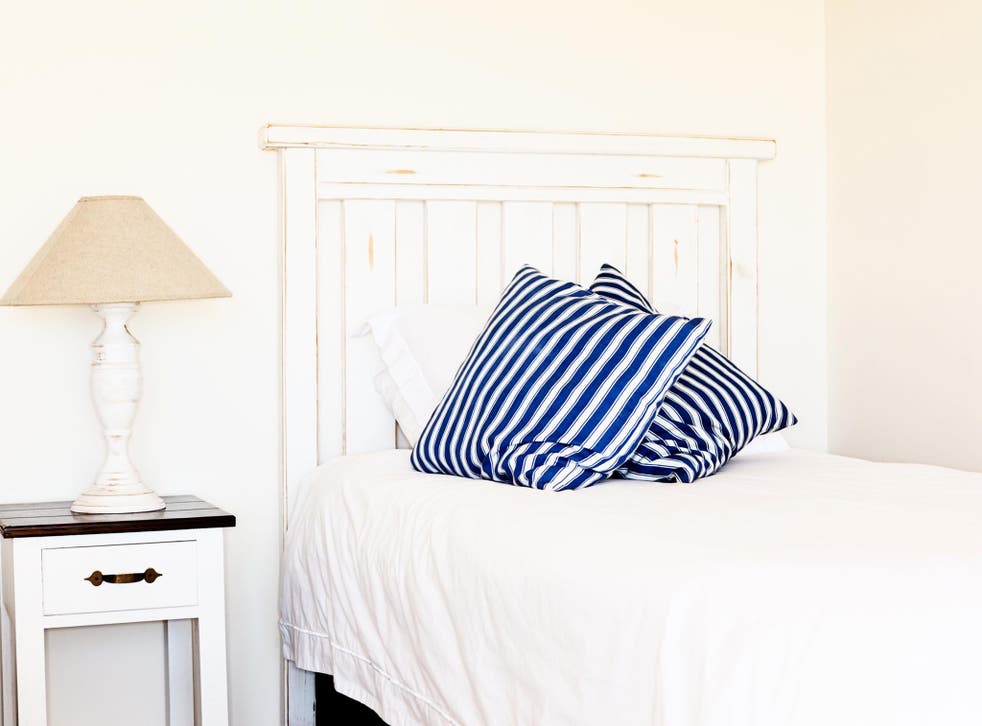 Single duvet cover sets aren't just for kids. While not all adult sets have a single version available, many do – so you can adorn your bed in checks, stripes, florals, plain or statement bedding to suit your décor.
Think carefully about the fabric before you part with your pennies. With cotton, a lot of people assume the highest thread count means the best quality. But the opposite can be true – a better quality fibre with a lower thread count can feel softer and last longer than material with lower quality fibre and a higher thread count.
Look for single ply yarn made of extra long staple (or at least long staple) cotton; avoid triple ply thread, which is made with cheaper, weaker and less durable cotton woven together in a more thick, dense and less breathable thread.
And remember, best quality cotton bedding is usually between 180 and 300 thread count.
Sateen weaves are also popular. These have more vertical than horizontal yarns, which make them softer, although be warned – they are more prone to tearing and pilling. Then there are more intricate weaves including jacquard and damask, which last exceptionally well although tend to be pricey.
Probably the most commonly available fabric is cotton-polyester blend – often known as polycotton. It's affordable, washes well, doesn't need ironing and lasts. But because it includes synthetic fibres, it is more likely to stain and can make you wake up feeling hot. Polyester can also irritate sensitive skin and create that static feeling.
Also consider how the duvet cover closes. Do you prefer ties (looks smart), poppers (quick and easy) or buttons (top quality) – Casper even does one with a zip.
Snurk Le-Clochard Bedding Set: £49, Cuckooland
Back in 2007, advertising professional Peggy van Neer and her partner Erik designed a duvet cover and fitted sheet to look like a cardboard box and most profits went to – and still do – helping the young homeless people across Europe.
They've since expanded the range to include some real corkers with quirky photographic prints for both adults and children, all of which stay true to their original promise of 100 per cent soft cotton sheets.
They look as good as new, even years later, but need a good iron after every wash.
The Casper Sheets: £115
Casper is best known for its new generation, bed in a box foamcore mattresses, but the brand does equally sumptuous bedding.
This set, which comes in white or one side white/one side slate, is made from soft to the touch but exceptionally durable, extra long staple Supima cotton.
We like the zip on the duvet cover – great for those who feel life's too short for buttons, ties or poppers. And you can include their sheets in your set too, if you're so inclined.
But although you won't damage them by putting them in the tumble drier, they come out quite crinkled – so not for those who like their sheets to look ironed when they're not.
Argos Collection Summer Meadow Bedding Set: £29
Fancy some florals but without getting too granny esque about it? Less is more with this good value fresh meadow themed bedding set that features pretty wild flowers at the bottom of the duvet, as well as on the side of the pillow.
It washes and dries well, and you can easily get away with not ironing it, although the polyester and cotton combo may not suit those who get hot and clammy when they sleep.
Very Bianca Cottonsoft Gingham Single Duvet Cover Set: £19
This is a steal for a posh looking classic and timeless gingham set that, frankly, you could find in a top London department store with another nought on the end of the price tag.
Plus, you could argue you get two for the price of one as the underside has a stars motif.
Some might think the stars make it a bit childish, but we love the fun it brings to the design. It's breathable and soft and made from 100 per cent cotton.
Tielle Classic Hotel 300 Thread Count Bed Linen: £92
If you're the type of person who is obsessed with hotel bedding, then you won't be disappointed with this crisp white 300 thread count that features in luxury hotels such as The Pigs, Norfolk, Lime Wood, New Forest, and Firmdale in London.
No commonplace poppers at the end of this classy set – only ties, if you please. Made from single ply and long staple yarns, and ethically sourced, the set also includes a fitted or flat bottom sheet.
Habitat Lemon: £30
If retro is your bag, then feast your eyes on this fruit inspired yellow and black printed 100 per cent cotton sheets. They're fresh, cool, crisp – and there's a cushion (available separately) to match if you're so inclined.
We think the graphic print is all your need to freshen up your room with a bit of zest. The cotton is nice quality, as well as washing well.
Cath Kidston London Toile Bedding Set: £60
Lovely London is shown off in all its glory in this gorgeous print from one of the nation's favourite designers. You get the olde worlde design with that classic 1950s style of drawing, which incorporates everything from Big Ben, St Paul's and London parks to Tower Bridge.
This combined with the modern monochrome colouring is the perfect combo for any style home.
The 200 thread count cotton comes out beautifully from the wash, but it will probably need a quick iron to look its best.
JTF Flamingo Duvet Set: £11.99
Flamingos, in case you hadn't noticed, are in. Name any type of home furnishing and we bet we can find it for you in a flamingo theme.
So you won't be surprised to discover this isn't the only flamingo themed bedding set out there, but we like this one for the pleasing mix of colours, the fact that it's easy to wash and dry, and because the colours don't fade.
But it's that polyester and cotton mix again, so not a set for people who get hot at night.
Snurk Bob Dog Bedding Set: £49, Amara
Snurk's designs are so spectacular we just had to sneak in another of their exceptionally soft cotton bedding sets into our roundup.
The common thread is original photographic designs, with some wonderfully eccentric options for kids and adults alike.
Curled up on the bottom of this otherwise pure white set, Bob the dog is a beauty. Fear not if you're more of a cat person as there's a feline version too.
As with all Snurk bedding sets, it's designed in Holland and made in Portugal. They wash beautifully, with colours that never fade.
Eve The Linen Sheets: £99
Not only is linen on trend, but it's naturally breathable – which helps keep you cool in summer and warm in winter, as well as being anti-allergic.
Linen sheets are very low maintenance and best when left to dry naturally. With this set – which is printed with one colour on each side, with loads of options to choose from – stonewashing has removed the stiffness, and each duvet cover has a single yellow button in honour of the Eve branding.
You can complete the set with sheets and also buy each item individually.
Soak & Sleep Neutral Striped 100% French Linen: £63
Another linen set, this one is French – and looks it. You can imagine it being right at home in a big airy room on an antique oak bed in Provence.
That said, the stripes, with plain white underside, make it a versatile set that will suit most decors, and it's soft and cosy right from the off, thanks to being pre-washed and pre-shrunk.
Don't bother ironing it – the crumpled look gives a nice, casual finish. And like the Eve set, the linen keeps you cool in summer and toasty in winter.
The housewife-style pillowcases have coconut shell buttons for a sophisticated finish.
Elements Emmott Revisable Grey Bed Linen: £18, Dunelm
This statement duvet in different shades of grey with bold dandelion print will transform the dullest of bedrooms, with a contemporary geo pattern on the underside.
The polycotton is particularly soft and easy to clean, and it keeps its colour well – but as with all polyester and cotton mixes, it can make you feel a bit damp on muggy nights.
The Verdict: Best single duvet covers
We love Snurk – it's one of the most innovative duvet cover manufacturers around, and their Le-Clochard Bedding Set stands out ethically too, with most profits going to charity. For a winning combination of softness and durability, our vote goes to The Casper Sheets.
IndyBest product reviews are unbiased, independent advice you can trust. On some occasions, we earn revenue if you click the links and buy the products, but we never allow this to bias our coverage. The reviews are compiled through a mix of expert opinion and real-world testing.