The Independent's journalism is supported by our readers. When you purchase through links on our site, we may earn commission.
9 best beanbags that are comfy and cosy
Add versatile slouchy seating to living rooms, kids' bedrooms and patio spaces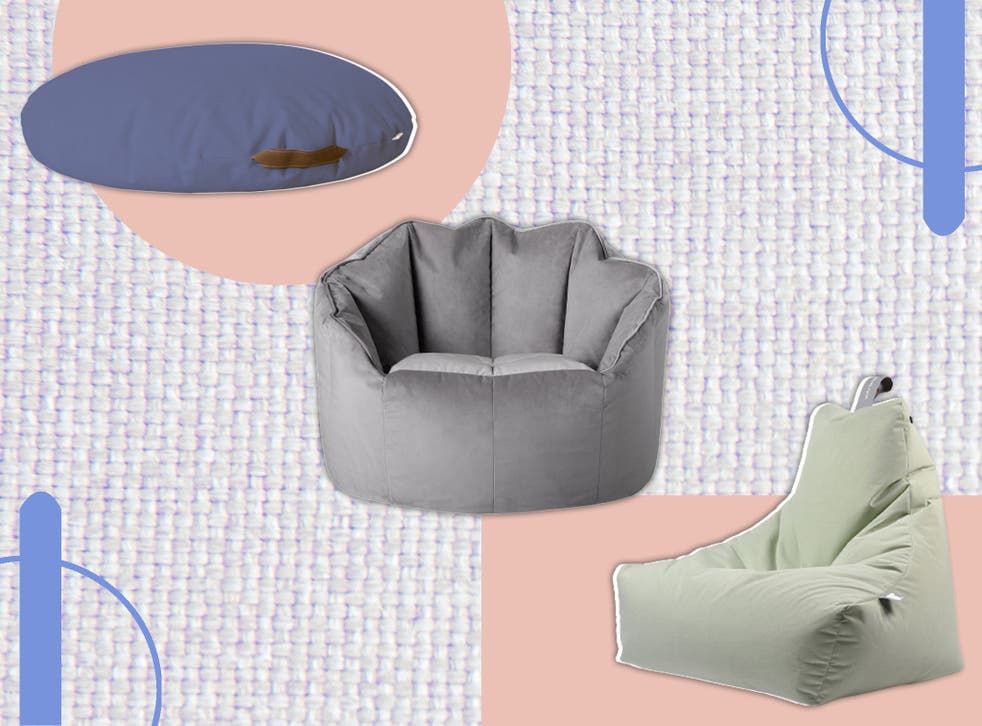 Beanbags have evolved. Once the preserve of teen bedrooms, this slouchy occasional chair has found its way into our grown-up spaces – and it's fast becoming a living-room staple.
Designers have responded with the use of luxurious, tactile fabrics, such as velvet and corduroy, or even long, shaggy wool for a particularly cosy recline. These are not pieces to store away when not in use, rather a significant addition to our modern day décor.
Filling the void between soft furnishings and a solid furniture piece, beanbags are positively made for movie nights – and they've really come into their own during the pandemic. What better way to relax and forget about world events than nestling on a cosy beanbag in front of a good film?
Excitingly, luxury beanbags have claimed their rightful home on our patio spaces, too, allowing us to rethink our entire garden-furniture set-up. We've found a few products for indoor and outdoor use that boast innovative weatherproof materials.
Beanbags can be cumbersome things, so think carefully about your space. Go too large and they can easily overwhelm it. Consider, too, products with removable and washable covers, particularly if you're choosing one for your child's bedroom or reading nook.
Read more:
We tested a range of beanbags from the teardrop-shaped to the traditionally round; from those designed for kids to the super high-end and sumptuous, and from cosy indoor products to modern patio pieces.
You can trust our independent reviews. We may earn commission from some of the retailers, but we never allow this to influence selections, which are formed from real-world testing and expert advice. This revenue helps to fund journalism across The Independent.
Great Little Trading Co washable beanbag
We love this kids' brand for its trendy homeware that refuses to conform to traditional pink and blue gender norms. This sack-shaped beanbag is perfect for the reading nook, in that it fits snugly into a corner, while its cover, made from a durable cotton, can be easily removed and machine washed, which is reassuring for a product aimed at children. We found this one to be surprisingly generous in size, so it will suit little ones and bigger kids alike. Smart, contemporary and with an arresting white-on-navy starry pattern, it's ideal for bedtime reading.
Icon Sirena velvet beanbag accent chair
We loved this newly launched beanbag for its scalloped back rest that recalls Art Deco furniture. It comes in charcoal grey and teal, as well as a rich ochre yellow, which reminded us of a gleaming gold crown. Fittingly, in plush velvet it offers a regal place to perch, too.
Offering a firmer seat and a little more structure than a conventional beanbag, this one is much more chair-like, in that it keeps its shape and cocoons the sitter nicely. The Sirena is perfect for movie night in the living room – and you'll want to keep it there once the end credits roll.
Made Andra large chunky knit beanbag
This tapered beanbag is made for serious slouching. Thanks to its elongated sack shape it can be manipulated into more of an upright seat or a horizontal lounger if you're after a greater recline. We enjoyed playing around with it to find our perfect position in which to slump.
Its 100 per cent cotton cover boasts an attractive chunky knit, offering both a visual texture and one to run your fingers through. In vibrant teal or chic slate grey, it's designed to complement our contemporary décor.
Extreme Lounging mighty B indoor bean bag
You know a beanbag's designed for adults when it has a supportive back rest. This one, from the aptly named Extreme Lounging, is made for both indoor and outdoor spaces. Like a super-comfy armchair, we found it hits the right balance between firm and slouchy, and, importantly, we were able to lean back, drink in hand. Generous in size and boasting a durable and waterproof fabric cover, it really comes into its own on the patio. Store it away in inclement weather to keep it looking fresh.
Armadillo Sun indoor outdoor beanbag chair
This is a brand that offers casual but luxurious alternatives to traditional garden furniture.  With its teardrop shaping, the contemporary beanbag encourages us to lie back and relax, yet it gives us good neck support and is designed to hug the body as we inevitably shift about. It boasts a hard-wearing acrylic cover that's reassuringly weatherproof, promising resistance to water, UV, mould and mildew, meaning it's not the end of the world if you do leave it out in the rain. We loved the geometric patterning and contrasting underside.
Isabelline beanbag chair
For an animal-friendly option, we loved Isabelline's faux-fur offering. The beanbag, in a graduated charcoal-to-cream colourway, is like a fluffy old English sheepdog – without the licks. And it is huge. Measuring 264cm in circumference, it's made for family slouching, with no arguments over who's getting their favourite spot.
While it is an obvious faux, the deep pile itself behaves much like sheepskin, with its plush texture and shaggy look. It's also lightweight and boasts a soft but durable base. Be prepared to fill it up with its polystyrene beans yourself – otherwise you won't get it through the door.
Great Bean Bags corduroy retro classic beanbag
From the company whose raison d'être is beanbags comes this perfectly retro number in a soft but chunky polyester corduroy fabric.  And just like the classic beanbags of yesteryear, this one is perfectly round – ideal for curling up in.
Impressively, it comes in five sizes, from small up to XXL, but even the small is generous in dimensions, so err on the side of caution or it will easily overwhelm your space. Slouchy but supportive, we loved this deeply textured beanbag.
Sweetpea & Willow New Zealand sheepskin beanbag
Only in recent times have we associated the humble beanbag with luxury – this one's more expensive than some armchairs, or sofas for that matter. But of course it is all about the natural material.
Made from New Zealand sheepskin with its luxuriously long, shaggy pile, it is nothing short of heavenly to sink into. And just as other pure wool products offer breathability and hypoallergenic properties, this one is kind to the skin too. Offering a good balance between slouchy and supportive, you won't want to get out.
Nobodinoz Sahara beanbag
Don't be fooled by the disc shape of this contemporary floor cushion. Once you flip it onto its side it creates an upright seat that looks and feels much more like a traditional slouchy beanbag. We loved this versatility – it's suitable for babies up to big kids and beyond, making it a perfect buy for the nursery with a transition to the reading nook in a few years' time.
The Sahara boasts a heavy-duty cotton cover that's both removable and washable, which is a plus for any kids' homeware. Add to that a smart contrasting faux-leather handle, which allows little ones to carry it from room to room.
Register for free to continue reading
Registration is a free and easy way to support our truly independent journalism
By registering, you will also enjoy limited access to Premium articles, exclusive newsletters, commenting, and virtual events with our leading journalists
Already have an account? sign in
Register for free to continue reading
Registration is a free and easy way to support our truly independent journalism
By registering, you will also enjoy limited access to Premium articles, exclusive newsletters, commenting, and virtual events with our leading journalists
Already have an account? sign in