The Independent's journalism is supported by our readers. When you purchase through links on our site, we may earn commission.
10 best sofa beds: Space saving furniture that's perfect for overnight guests
Say goodbye to clunky fold-out mechanisms and hello to stylish, comfortable and practical pieces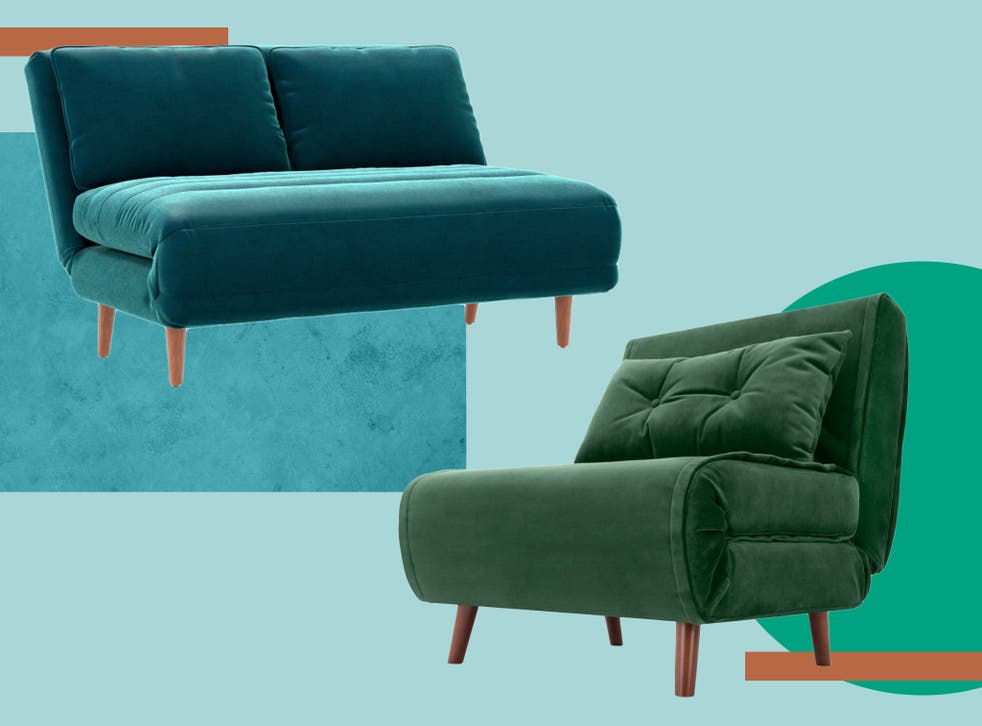 Extra space is a luxury many of us cannot afford, but we mustn't let our limited floor plan dictate our sense of hospitality. Enter the trusty sofa bed, a hard-working furniture piece with dual functionality.
If you haven't purchased one in a while, you'll be pleased to learn that the contemporary sofa bed has evolved. No longer do we have to put up with clunky fold-out mechanisms, bumpy seat cushions and paper-thin mattresses if we want our settee to transform.
Look for modern click-clack styles or those with a simple fold-down function if you're after an occasional bed that has a quick, one-person turnaround. These designs can be found on the more affordable end of the price scale and often prove surprisingly plush and cosy.
For something more substantial, you'll find a wealth of sofa beds with the conventional folding metal frame and mattress combination.
Unlike their stiff and uncomfortable predecessors, modern versions have smoother pull-out systems and luxurious feather-wrapped or memory foam mattresses.
Read more:
How we tested
All the sofa beds we tested scored high on comfort and functionality. And with thoughtful design across our selection, we were able to whip up a cosy bed for our guests without the backache in no time.
The best sofa beds for 2021 are:
Sofa beds FAQs
What is the most comfortable sofa bed?
The days of lumpy, hard, cramped sofa beds are gone – the best on the market now could probably fare well next to your normal bed. But when picking one, there are three things you should consider in terms of comfort: the upholstery, the kind of mattress and the size.
Generally, there are two types of sofa bed: the "click-clack" kind, for which you simply fold down the back, and the pull-out kind, which tends to provide more room and comfort than the former.
Whichever one you decide to opt for, it is recommended you consider how plush or durable the upholstery will be and whether you want a soft or firm mattress.
Click-clack vs pull-out: Which sofa bed type is better?
This will depend on what you want out of your sofa bed, from convenience to comfort and price. Given that they simply "click" into place, and don't require you to remove any cushions, click-clack beds tend to be easier and quicker to assemble. They're also cheaper than their pull-out counterparts, while their smaller size makes them better at saving space.
Of course, if you're looking for a more luxurious sleeping experience – and don't mind a little extra faff setting your sofa-bed up – a pull-out option may be your best bet.
The verdict: Sofa beds
Snug's small biggie chaise sofa bed feels truly luxurious and is as cosy as it looks. The foam mattress is surprisingly comfy and we loved the extra addition of hidden storage via the chaise section. Sofa Workshop's alfred sofa bed, despite proving a practical piece, does not compromise on style. It's not cheap but it is a big-impact, contemporary statement piece, and we loved its imposing presence.
Voucher codes
For the latest discounts on armchairs and other home furniture offers, try the below links:
For more comfortable seating, read our guide to the best affordable leather sofas to upgrade your space on a budget
Register for free to continue reading
Registration is a free and easy way to support our truly independent journalism
By registering, you will also enjoy limited access to Premium articles, exclusive newsletters, commenting, and virtual events with our leading journalists
Already have an account? sign in
Register for free to continue reading
Registration is a free and easy way to support our truly independent journalism
By registering, you will also enjoy limited access to Premium articles, exclusive newsletters, commenting, and virtual events with our leading journalists
Already have an account? sign in