The Independent's journalism is supported by our readers. When you purchase through links on our site, we may earn commission.
9 best ironing boards to steam through your laundry pile
From sturdy workhorses to easy-fold designs, these make the dreaded chore seem like a breeze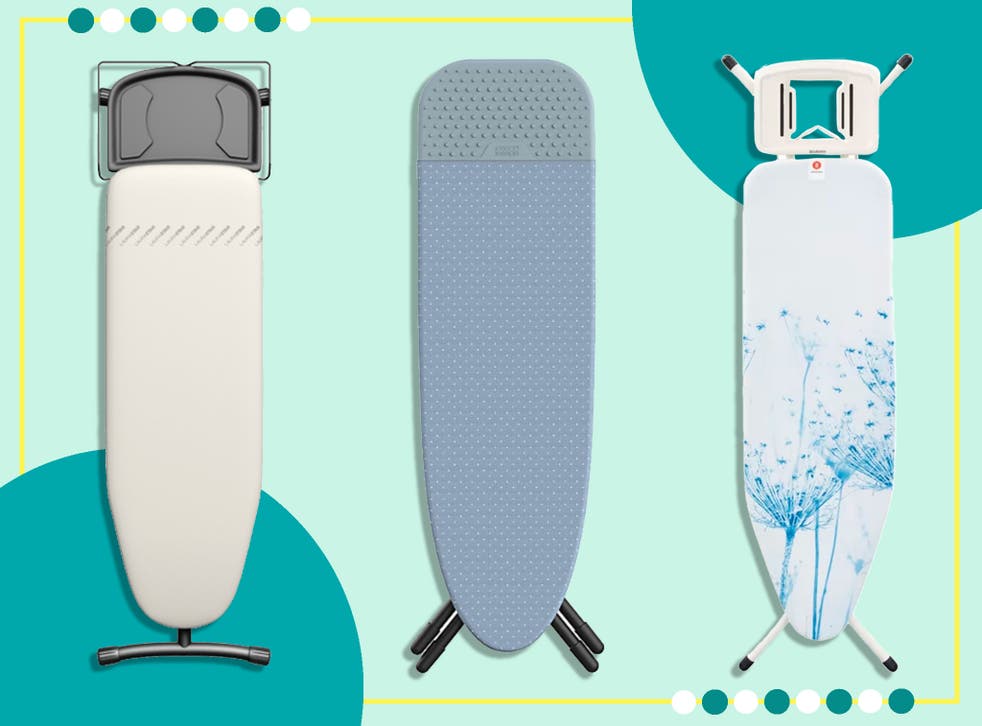 All too often we underestimate the importance of a decent ironing board, focusing on the iron itself, instead.
The right ironing board can slash ironing times with the presence of heat-reflecting linings, save space with the use of hanging hooks which double as leg locks, and minimise the risk of accidents with added extras such as cord holders and double iron stands.
Features we recommend looking out for include mechanisms which allow the board to be raised and lowered to any height, rather than in pre-defined increments, and reflective covers which allow for quicker crease-busting.
Short on space? Opt for slimline designs and space-saving features such as hanging hooks and iron stands which fold down. Remember to consider the size of your iron too – while a growing number of ironing boards have stands which will accommodate steam generators, which are much larger than irons, slimline boards won't always be suitable for this type of gadget.
Finally, it's always best to check out the ironing board in person – to feel the thickness of its cover, the smoothness of its mechanism and the overall weight. However, we realise this isn't always possible, which is why we've gone all out to highlight the features which can make or break your ironing sessions.
Read more:
How we tested
A lot of ironing, unfortunately. In all seriousness, we're hoping our (genuine) enthusiasm for the ironing boards below proves just how much of a difference the right ironing board can make.
We took the time to consider not only how easy it was to set up and stow the ironing boards, but any added extras – such as cable hooks and foldaway iron stands – as well as the size of key areas such as the iron rest. We were able to test the boards using irons as well as bulky steam generators – which take up much more space – too.
The best ironing boards for 2022 are:
Minky ergo freestanding ironing board
Best: Overall
Rating: 10/10
Say hello to the supercar of ironing boards. Despite the wallet-friendly price tag, it's packed with features, including a double-sided iron rest for left and right-handed users, extra areas of heat-reflective material at either end for superior crease-busting and universal height adjustment for quick, customisable positioning. A handy flex guide prevented cord tangles – no mean feat given our iron which, for reasons we've yet to fathom, has a ridiculously long cord.
Brabantia size B ironing board with solid steam iron rest
Best: For easy storage
Rating: 9/10
There's no denying it – ironing boards are getting bigger, although we're not quite sure why. Sadly, not everyone has limitless amounts of space, which is why this refreshingly slimline ironing board was a breath of fresh air. It stashed easily into our test cupboard and still had a reassuring sturdiness – although we'd have loved to see wider rubber caps on the bases of the legs, which left faint imprints on our carpet. Seven height settings meant there was plenty of room for adjustment, and the generously-sized iron rest was big enough to accommodate steam generators, too.
Laurastar comfortboard beige ironing board
Best: Stability
Rating: 8/10
Apologies if we sound like we're obsessed with our flooring, but our pet hate is anything that leaves creases on our carpet or which scores our shagpile. The design of the legs on this extra-wide ironing board – horizontal struts rather than individual legs – spread the weight, which meant less dents on our carpet, and better overall sturdiness.
We appreciated the ease with which height could be adjusted, too – we simply had to press a lever to raise or lower it, releasing it when it was at the preferred height. This meant limitless height options, and the mechanism was incredibly smooth, too. The rail surrounding the iron rest doubled as a handy rack for clothes hangers, a time-saving feature which meant we could simply hang our items off it as we ironed them, before transferring our freshly-ironed garments to the wardrobe in one go.
Brabantia spring bubbles ironing board
Best: For larger households
Rating: 8/10
This is a brilliant ironing board for families – its extra width meant there was more than enough room to tackle larger items, and we loved how there was enough space to drape the next garment in the queue over one end while we ironed the current one. We also loved the large iron stand, which was large enough to hold steam generators as well as irons, and which felt incredibly sturdy (an incident involving an accidentally-dropped iron has instilled a fear of flimsy iron stands).
Our only gripe was that we'd have loved to have seen  thicker legs and chunkier feet – the ones on this board erred on the thin side and left faint marks on our carpet even after a relatively short ironing session.
Joseph Joseph glide ironing board with cotton cover
Best: For customisation
Rating: 8/10
Describing any part of an ironing board as tactile might sound odd, but that's exactly how we'd refer to this ironing board. It has a wonderfully soft silicone iron stand and an incredibly soft, but thick, cotton cover. It's easy to erect and fold away, and to move too, thanks largely to the supersized handle, which doubles as a hook and ramps up its space-saving qualities. Thicker legs mean minimal carpet impressions, and a handy toggle on the cover made it easy to slip off, replace and tighten.
Minky aerial plus ironing board
Best: Value
Rating: 8/10
This 167cm-long board is one of the sturdiest we've come across, thanks largely to the extra-chunky rubber protectors which cover the legs' corners (these will also be a godsend for anyone keen to protect delicate flooring). We found it incredibly easy to alter – a fully adjustable height mechanism, rather than a ratchet system with pre-set heights, means it can be set at any level up to 1m.
We also loved the extra tapering at one end, which made it easy to iron smaller items and awkward corners of others, such as shirts. The cover has plenty of padding too, as well as a "scorch resistant" zone where we could park the iron while repositioning garments.
Beldray ironing board graphite grey print design
Best: For looks
Rating: 8/10
A brilliant ironing board with an equally brilliant price tag, Beldray's stylish model has seven height options and an extra-wide ironing area. Our favourite bits include the silicone grips on the iron rest, which held our iron snugly and minimised the risk of accidental branding.
We also loved the support provided by the thick cotton cover over the diamond-shaped mesh, as the ironing area felt rock solid with no flimsiness. It's shorter overall length (although its 115cm ironing area is more than ample) makes it a brilliant option for smaller homes with a lightweight design and slick folding mechanism.
Wilko tabletop ironing board
Best: Cover design
Rating: 7/10
Short on space? Consider a tabletop ironing board, ideally, this one from Wilko, which costs just £8. Although there aren't anti-slip pads on the legs, the position of the two supports (when fully extended) ensures this one stays put and the mesh platform allows air to circulate, which massively reduced the steaminess of our ironing session. A handy hook allows it to be hung up in the smallest of spaces, although we were happy to have this one on show thanks to the on-trend ceramic-inspired print across its cover.
You can sign up to be notified once the board is re-stocked.
Vileda total reflect ironing board
Best: For quick crease-busting
Rating: 7/10
Supercharge your steam power with this fantastic ironing board from Vileda. The premise is simple: a foil layer beneath the cover reflects both heat and steam back into your garments, making it easy to remove creases. And it worked – we were able to remove some seriously stubborn ones in record time, powering through a stack of (very crumpled) sheets in a matter of minutes. It's also one of the best ironing boards for households with children, thanks to a "kid safe" locking system that keeps the legs securely in place.
The verdict: Ironing boards
Minky's ergo freestanding ironing board slashes ironing times thanks to slick mechanisms which make it easy to set up but just as easy to raise, lower and stash away, and we loved the added extras, such as the cord holder.
Meanwhile, Brabantia's size B ironing board proves that slimline boards don't mean compromise – we loved how the stand, despite its size, was still large enough to support a steam generator. And finally, Laurastar's Comfortboard beige ironing board gets a gold star for ease of use, a sturdy base and the extra-wide, but lightweight, design.
Voucher codes
For the latest discounts on ironing boards and other household appliances, try the links below:
For more fuss-free kit that makes housework a little easier, read our roundups of the best steam irons and the best cordless vacuum cleaners
Register for free to continue reading
Registration is a free and easy way to support our truly independent journalism
By registering, you will also enjoy limited access to Premium articles, exclusive newsletters, commenting, and virtual events with our leading journalists
Already have an account? sign in
Register for free to continue reading
Registration is a free and easy way to support our truly independent journalism
By registering, you will also enjoy limited access to Premium articles, exclusive newsletters, commenting, and virtual events with our leading journalists
Already have an account? sign in