The Independent's journalism is supported by our readers. When you purchase through links on our site, we may earn commission.
11 best camping stoves for grilling sausages, toasting marshmallows and making hot drinks
Whether for smores, steak or a warming cuppa – we put them in the hot seat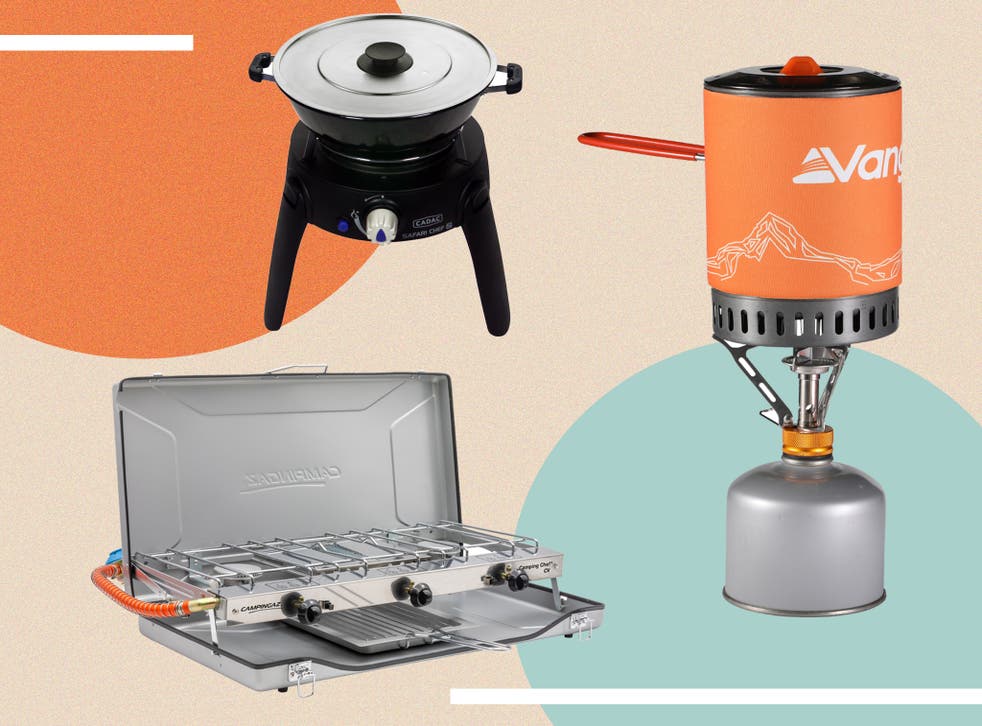 A camping stove is one of the most important items if you're retreating to a canvas castle for a few days, but with more types of stove to choose from than ever before, selecting the right model can be tricky.
Take the time to think about where you'll be camping. Is the terrain rocky and uneven? If so, stability should be a priority, and tabletop stoves could be the solution due to the increased sturdiness.
Ignition is also important. A growing number of stoves feature something known as Piezo ignition (push button ignition) which uses a small electric charge to light the gas. However, this type of ignition can be less reliable at altitude, and because of the internal mechanism – comprising of a tiny hammer which strikes a piece of quartz – it's worth bearing in mind that it's a moving part which is prone to failure. That said, you'll still be able to light the stove manually if the worst happens.
Keen to crank up the sustainability of your camping trip? Consider a wood-burning stove. Similar in size to a small gas cannister stove, they'll feature a small chamber which can be filled with materials like wood, pine cones and grass. They're increasingly popular amongst campers who want to travel light (fuel is never going to be in short supply) and who don't want to worry about the disposal of gas cannisters.
Finally, some top tips from the experts to help you cook up a storm. "Before you head off to the campsite, it's important to give your camping stove a once over to ensure there are no gas leaks," says Chris Stuckey at Campingaz. "To do this, add a drop of slightly diluted washing up liquid to the connection points of your stove and gas cylinder or cartridge. If there are no bubbles, your camping stove is safe to use. However, if bubbles start to appear this means that gas is leaking out and you should not use the stove."
Read more:
How we tested
We're big camping fans – we'd swap Costa del Sol for a campsite any day of the week, and we're never happier than when we're cooking up a storm at the campground. For us, the best camping stoves aren't the ones which simply grill great sausages, but the ones which will cook steaks and skewers, produce the perfect slice of toast and help us brew that all-important campfire cuppa (ideally, all at the same time).
But we didn't just consider versatility. We also paid plenty of attention to portability  – a factor which is especially important for anyone keen to reduce the weight of their kit, whether it's because they're hiking from one campsite to the other, or simply because the car is already jam-packed with everything but the kitchen sink.
The best camping stoves for 2022 are:
The verdict: Camping stoves
Cadac's 2-Cook 2 pro deluxe stove is, quite simply, the crème de la crème of cooking stoves, and a veritable hat-trick of the features we're most keen to see when it comes to camping stoves: easy operation, multiple cooking surfaces and a top quality feel. We've yet to find a camping stove with such a brilliant build quality, and one which packs so many features into a briefcase-sized package.
In an era when many of us are trying to tread a more sustainable path, we've also get a serious soft spot for Quecha's wood burning camping stove, not only because it allows us to use twigs, leaves and grass as fuel, but because it's gorgeous to look at and an absolutely fantastic option if you're travelling light.
Finally, a double whammy for Cadac, because its safari chef 30 pro QR is one of the best options for a two-person camping trip, and its quick release coupling system makes it one of the most portable, compact camping stoves out there.
Voucher codes
For the latest discounts on camping and outdoor essentials, try the links below:
Don't let the wind ruin your lunch with our best windbreaks round-up
Register for free to continue reading
Registration is a free and easy way to support our truly independent journalism
By registering, you will also enjoy limited access to Premium articles, exclusive newsletters, commenting, and virtual events with our leading journalists
Already have an account? sign in
Register for free to continue reading
Registration is a free and easy way to support our truly independent journalism
By registering, you will also enjoy limited access to Premium articles, exclusive newsletters, commenting, and virtual events with our leading journalists
Already have an account? sign in