10 best fitness trackers
Track your daily activity and exercise with an accurate piece of wearable tech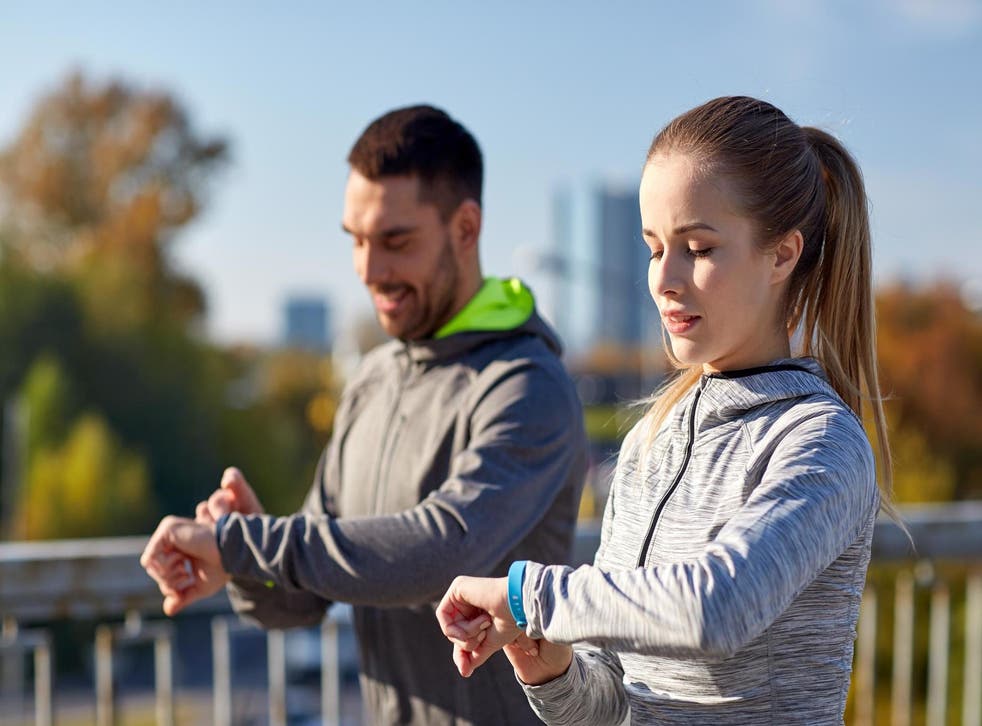 So you want to get fit? Fitness trackers are gadgets worn on the wrist, or just occasionally around the chest or secreted in a pocket. First, decide if you want a simple tracker that counts your steps, maybe measures your heart rate, or go for a full-on smartwatch with apps and extra features. A fitness tracker tends to be lighter, less obtrusive and you can probably wear it for longer between recharges. Smartwatches, however, not only help you monitor your steps and calories, or help you understand how well you're sleeping, say.
They also send notifications such as texts and emails through to your wrist. You can even make phone calls on some of them. And you mostly need to recharge them every night or every other night.
Some trackers and smartwatches have GPS built in, so you can accurately record your outdoor run. Fitbit is a dominant brand in this area, though Apple is now the biggest in terms of revenue.
Trackers here were tested for comfort, battery life, accuracy, range of features and versatility.
1. Apple Watch Series 3 With GPS + Cellular: From $399, Apple
The latest Apple Watch excels as a fitness tracker because of its accuracy, versatility and ease of use. The latest model has a cellular connectivity option, meaning you don't need an iPhone near when you're running outside, not even if you want to call an Uber rather than run home again – you can summon the car from your Watch. The Apple Watch comes in two sizes, 38mm and 42mm (the larger size costs $30 more). The entry-level Series 3 has an aluminum case but there are also pricier stainless-steel models.
It has advanced fitness capabilities with a heart rate sensor and other sensors to accurately measure activity, and to gently encourage you to do more. It is water-resistant so you can swim with it. There are thousands of apps for everything from navigation (so you don't need to hold your iPhone out in front of you in a sketchy part of town) to using Apple Pay just as you would your iPhone. Not everyone wants notifications so close by, but they can quickly become hard to do without.
Battery life: charge every night.
2. Fitbit Alta HR: $129.95, Fitbit
The Fitbit Alta HR is the best tracker from Fitbit thanks to its light weight, slim profile and excellent accuracy. The HR stands for heart rate and the monitoring of your ticker is among the best, tracking every five seconds. The Alta HR even helps in sleep monitoring – something Apple Watch only does through third-party apps at the moment and aided here by almost a week's battery life between charges. Previously, sleep tracking on Fitbit has been rudimentary but now, with heart rate tracking and seriously improved software, it can offer much better insights and advice. Like the Apple Watch, the Alta HR can display calls, texts and other notifications, though the slender screen isn't ideal for this.
This tracker is aimed at general users rather than athletes, and the heart rate tracking helps with that. Serious fitness freaks will find more details and metrics on the Fitbit Charge 2. The Alta HR is smart enough to know automatically when you're starting a run, for instance, where many trackers need to be told you're working out.
Battery life: charge every six days.
3. Nokia Steel HR: From $179.95, Nokia
The screen on the Steel HR is tiny and it doesn't draw that much energy. As a result, Nokia's smart watch, with its proper analogue face with real hands, has a battery that runs for over three weeks. As well as telling the time, a small dial records your steps with a hand that inches towards 100 per cent of your goal. The small, circular screen at the top of the display can show heart rate but also notifications of calls and texts. This watch is a good halfway house if you want an elegant traditional-looking watch but with some additional smart features. The Steel HR is available with two different sizes, but differences are cosmetic, the watches themselves have similar functions.
Battery life: charge every 25 days.
4. Garmin Vivosmart 3: $139.99, Garmin
One of the extra features here is VO2 Max testing, which measures the maximum oxygen volume your body can use when exercising. It's an advanced metric which can be useful for establishing your fitness level. It doesn't have GPS so it can't track your run with ultimate precision, but this is a versatile band which includes heart rate variability which calculates your stress level (shown on a graph on the display) and if it senses you're getting stressed it offers a breathing technique to calm you. This tracker is comfortable, efficient and reliable. It's safe for swimming and showering, too.
Battery life: charge every five days.
5. Fitbit Ionic: $269.95, Fitbit
This is a fully-featured smartwatch, complete with its own fledgling app ecosystem, though many fewer than Apple's Watch boasts. Still, this is a watch focused on fitness – Fitbit's prowess with super-accurate step tracking, for instance, is confirmed here. The Ionic has GPS for accurate outdoor running measurement, and it also offers continuous heart rate for further fitness tracking accuracy. It's water-resistant to 50 metres (like Apple Watch Series 3 and Samsung Gear Fit2 Pro) so it's good for swimmers. The Ionic is compatible with Android, Apple and even Windows phones.
Battery life: charge every four days.
6. Moov Now: $59.95, Amazon
It's waterproof, it's great for swimming and it's lightweight and comfortable to wear. There's no display so for detailed, accurate swim information, you start the swim workout on your smartphone and check out the results after. The information includes distance, stroke type and how well you're swimming. Battery life is enough for you to be able to wear it at night as a sleep tracker, too. And, of course, as well as swim info it's good for running and walking, too. It excels in the way it gives you gentle coaching advice, so you can run or cycle better – a larger strap means you can wrap it round your ankle for running and cycling. It uses a watch battery so there's no need to recharge.
Battery life: lasts six months.
7. Samsung Gear Fit2 Pro: $149.99, Samsung
This is a great balance between the power of a smartwatch and the compactness of a tracker, with a slim, bright display that's gorgeous. It even has an outdoor brightness mode which boosts the screen level for five minutes – handy on a run when it's really sunny. It's water-resistant to 50 metres so good for swimming, especially thanks to swim tracking with the Speedo On app. The workout capabilities are excellent, not least because it combines both a heart rate monitor and GPS. It's also sensitive enough to know automatically when you're running or cycling, for instance. It has decent sleep tracking, too, though Fitbit's is better.
Battery life: charge every two to three days.
8. Fitbit Charge 2: $149.95, Fitbit
The Charge 2 is wider, and as a consequence more noticeable, than the Alta HR. Unlike some models here, this tracker isn't waterproof, though it will withstand rain and sweat but you shouldn't swim in it. It usefully recognizes when you're exercising, or sleeping, and automatically starts measuring your activity accordingly. It is especially good at what it calls cardio fitness, which calculates your fitness level using sophisticated measurements. It's useful, especially for athletes and those most serious about exercise. It can also help with stress management thanks to its guided breathing exercises which are usefully calming. There are some notifications, though only when your phone is connected, when it will give you call and text notifications, and warn you what's coming up on your calendar.
Battery life: charge every five days.
9. Misfit Ray: From $79.99, Misfit
This is a good entry-level tracker which can't match the skills and sophistications of some here but is a cute, light, simple tracker that will suit many. It's a small aluminium cylinder with no clock or screen, just a single LED - which isn't as useful. Instead of counting your steps, it takes intensity into account, measuring everything in Misfit Points, so taking the same step count registers higher when running than walking. Like the Moov Now, it uses watch button cell batteries which last six months. Basic but fun.
Battery life: lasts six months.
10. Garmin Vivosport: $169.99, Amazon
The Vivosport is waterproof to 5ATM (164 feet) so is great for swimming. It has GPS built in so your outdoor run, walk or cycle can be accurately measured even if you leave your smartphone behind. And it has advanced heart rate measurement to accurately display your stress levels and offer guided breathing if you're stressed (the Fitbit Charge 2 does this as well). Controls are via the touchscreen which can be a bit fiddly as it's small but complex. Garmin is known for being particularly good for accuracy and that's the case here, too. It'll even count your repetitions at the gym, so you don't have to and can concentrate on the weight you're lifting.
Battery life: charge every seven days.
The Verdict:
The best all-rounder, the best-made and the most effective machine here is the Apple Watch Series 3. But it's also the priciest. Fitbit is a dominant brand and for general use the Fitbit Alta HR is hard to beat.
The real budget winner is the Moov Now, though paying a bit more for something like the Samsung Gear Fit2 Pro gives you a better design, screen and feature range.
IndyBest product reviews are unbiased, independent advice you can trust. On some occasions, we earn revenue if you click the links and buy the products, but we never allow this to bias our coverage. The reviews are compiled through a mix of expert opinion and real-world testing.