It wouldn't be Christmas without a cracker each at dinner on 25 December, or indeed for weeks running up to the big day. We've snapped as many as we can to check out the gifts and quality of the snap, and to make sure there is a look for every Christmas table, whether you go for haphazard and colourful or a more stylish, controlled kind of affair.
1. We Woof You Crackers: £12.99, Dogs Trust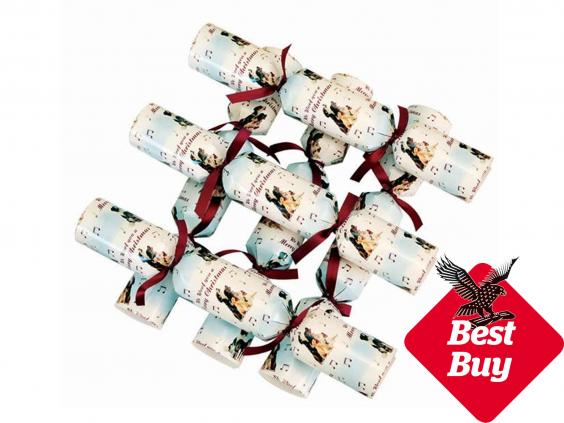 A dog isn't just for Christmas, and neither is your cracker gift – these dogtastic crackers each contain a doggy-themed fridge magnet you can look at every day, forever, with a cute pup and a starry design that will probably most appeal to 6-year-olds. 
2. Cox & Cox Luxury Star Crackers: £40, Cox & Cox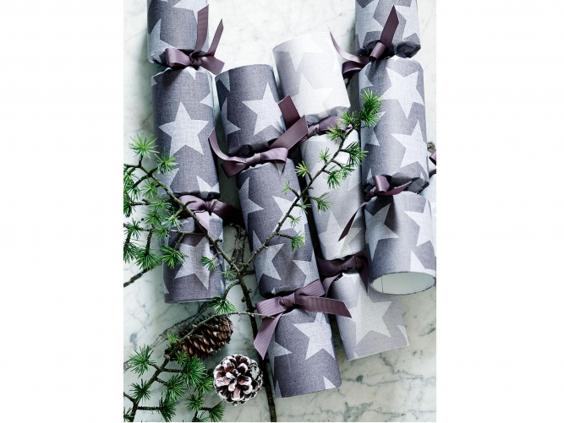 If you want your crackers to feel and look expensive then these are the ones for you – a classy star design on a thick paper with a grosgrain ribbon. The gifts are perfect for foodies – a mini grater, shot glass, tea infuser, olive oil pourer, lotus wood scoop and star-shaped cutter – all of which are good enough quality to want to keep. Six per box.
3. Lakeland Sharing Star Cracker: £9.99, Lakeland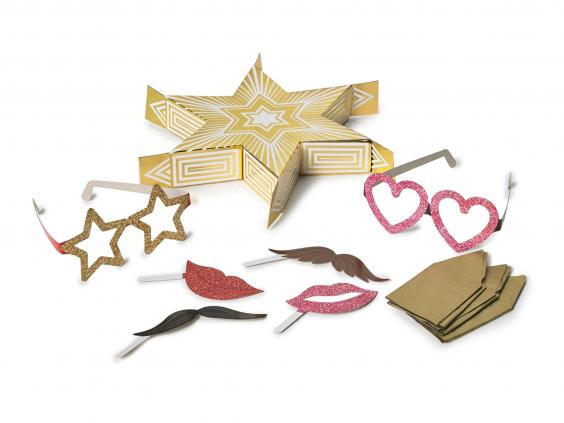 A table centerpiece and a cracker, this star has six points so that six people can pull it at once, ending any favouritism when choosing who to pull yours with. It contains hats, jokes, trivia, props for funny photos such as glasses and moustaches on sticks, and confetti.
4. Harrods Traditional Berries Christmas Crackers: £99.95, Harrods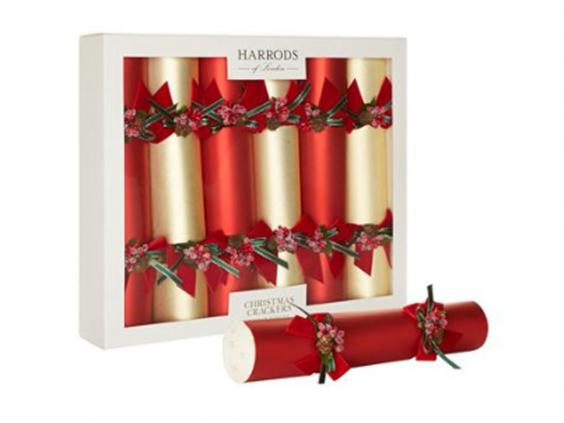 Coming in a over £16 a cracker, this is not a cheap option. Still, each of the six crackers give you multiple Christmassy motifs – berries, velvet ribbons, and glossy red and gold card – and the gifts, which include a silver plated magnifying glass, champagne stopper and compact mirror, are very keepable. Best for a grown-up dinner. 
5. Talking Tables Christmas Sprout Tastic Crackers: £13, Trouva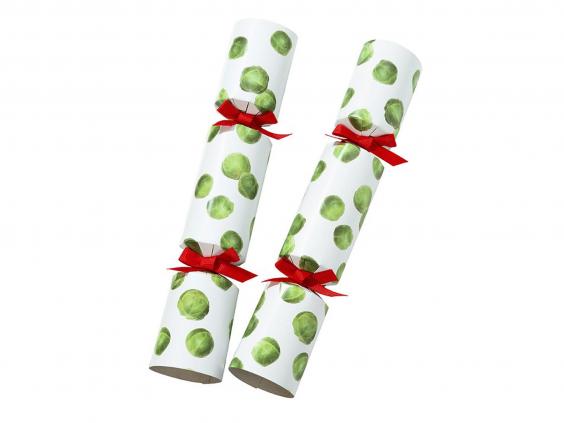 Not everyone loves sprouts but everyone should like these fun crackers, which as well as hats and entertainment scrolls, feature a range of sprout green gifts, such as a tape measure, dice and mini sticky tape dispenser. There are six to a box. 
6. Baylis & Harding Beauticology Soldier Cracker Gift Set: £8, Amazon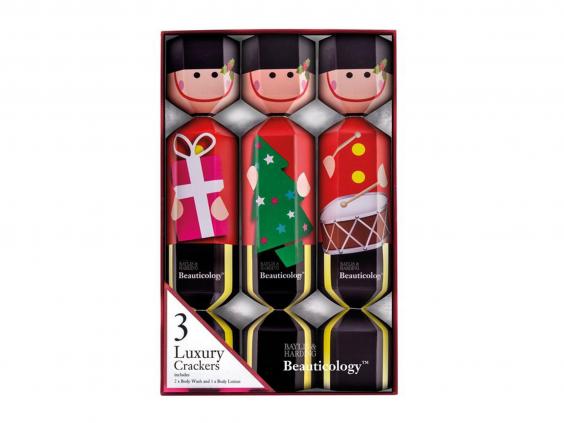 Not strictly a cracker – there is no snap – but for the right guests, a group of female friends for example, these soldier crackers could go down a treat. Two of the three crackers contain Baylis & Harding body wash and the other contains Baylis & Harding body lotion, so it's ideal for fans of the brand's products. 
7. Morrisons Santa & Rudolph Race Crackers: £6, Morrisons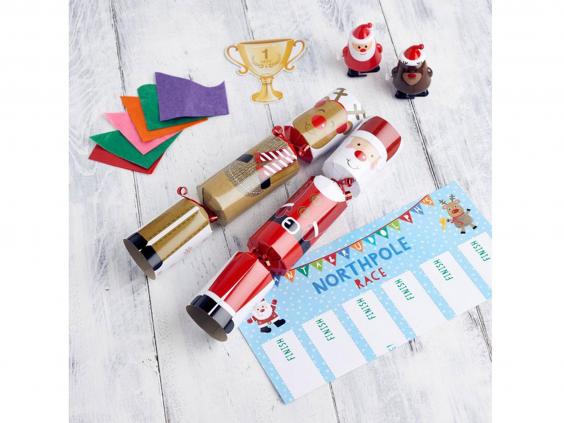 This is a great budget option – these six crackers each contain a wind-up santa or reindeer to race on the included track. There's a cardboard winner's trophy too, and of course a motto and hat in each cracker. 
8. Set Of 6 Festive Family Christmas Table Crackers: £6.95, dotcomgiftshop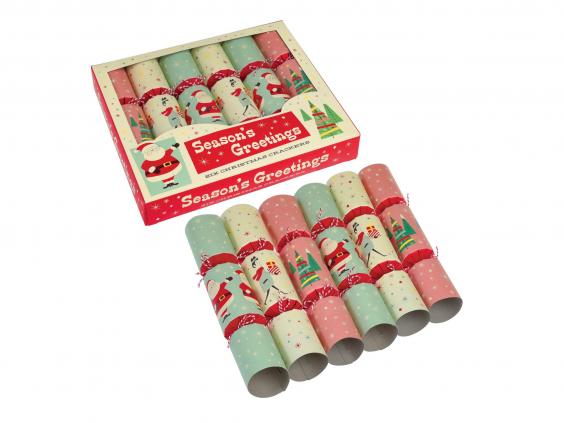 This is a cheap and cheerful cracker with gifts that will last for about the time it takes to enjoy your Christmas lunch, and then get thrown away with the leftover parsnips – a fortune-telling fish, a spinning top, an eye patch and so on. The set of six comes in pastel shades and a vintage-style box. 
9. Nancy and Betty Studio Pheasant Crackers: £35, British Library Shop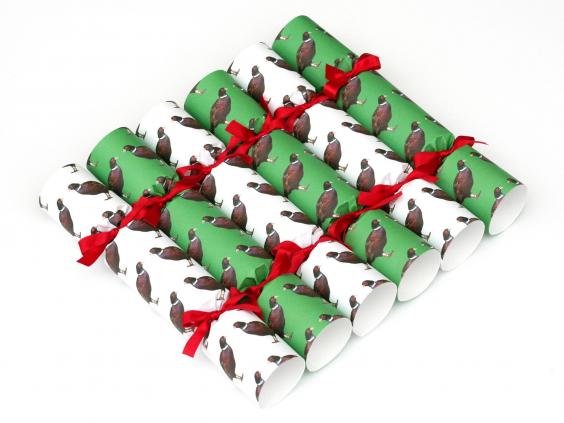 These six stylish crackers – white or green with a pheasant pattern, are perfect for a countryside Christmas. The gifts are great quality, including an egg cup, wooden golf tees and honey drizzler; this is another set that would be perfect for an adults-only affair. 
10. Musical Crackers A Whistle Orchestra: £11.99, The Present Finder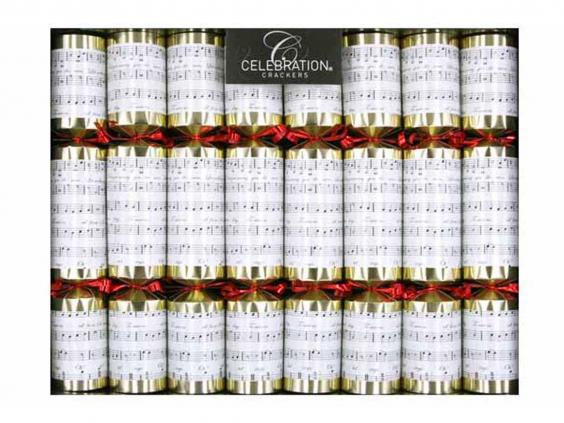 Each cracker contains a whistle (and a paper hat) – follow the musical score, included, by blowing your whistle when it is your turn, to play some Christmas favourites including We Wish You A Merry Christmas and Good King Wenceslas. There are eight crackers in this set so make sure you have enough musicians to complete the playlist.
11. Oxfam Make Your Own Crackers: £5.99, Oxfam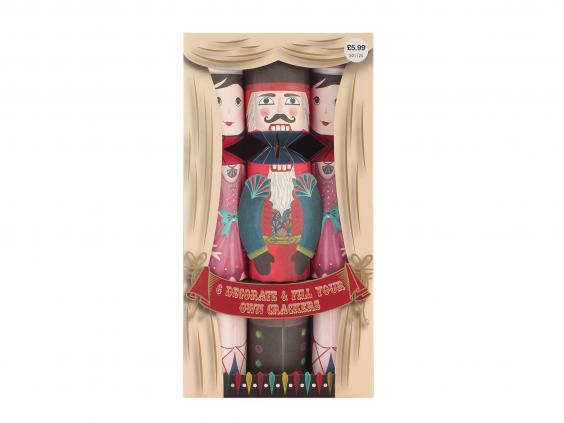 These crackers are empty for you to fill with your own gifts, meaning you can truly personalise each one. Made from recycled materials, the pack contains six hats, snaps, jokes and crackers, with stickers for decorating and ribbons to tie the open ends, and all profits go towards helping people living in poverty all over the world through emergency, development and campaigning work.
Buy in-store
12. Thornback & Peel Robin and Holly Cracker Box: £46.75, Thornback & Peel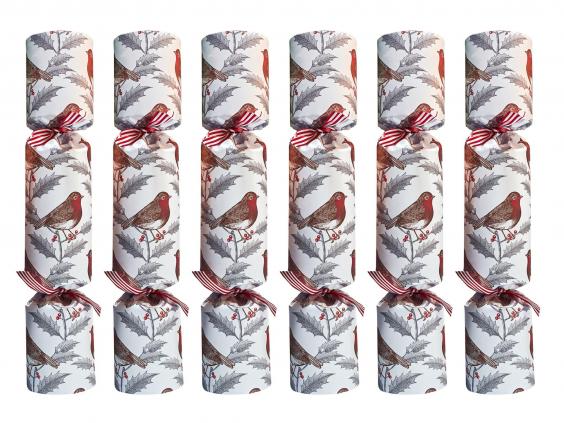 These are beautiful crackers for the design-conscious who like the great outdoors. We love the robin and holly design, but these also come in a Christmas tree and stag & mistletoe design. The six crackers contain useful gifts inspired by the outdoors, such as seeds, soap and garden twine. 
13. Hotel Chocolat Rather Large Cracker: £36, Hotel Chocolat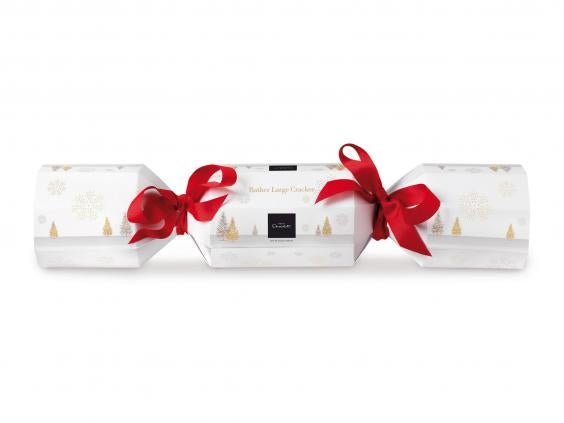 This very large cracker is perfect for bringing out after dinner – as well as 12 hats and 12 jokes, it also contains 40 Hotel Chocolat chocolates from the Christmas range such as mulled wine truffles, and Christmas brownies as well as regular chocolates, and contains a real snap. 
14. Sweetie-Shaped Christmas Crackers: £15, Marks and Spencer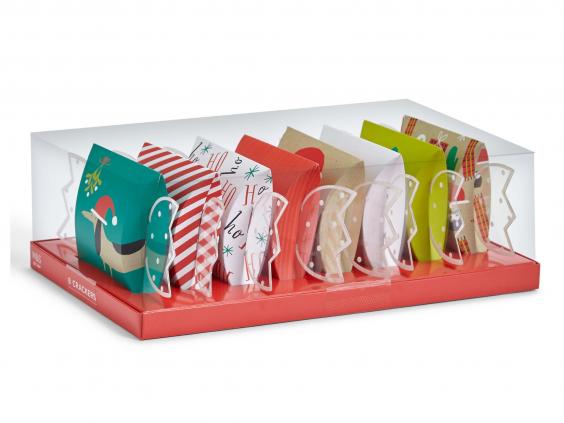 This isn't a cracker for cracker purists but those with a more open mind when it comes to crackers may enjoy the sweetie shape and the gift of a badge, each of which has a stylised Christmas image. Each box contains eight crackers each with a different design. These are ideal for people of all ages who want a Christmas cracker but don't care for the cracker gift so much. 
15. The Letteroom Confetti Crackers: £19.95, The Letter Room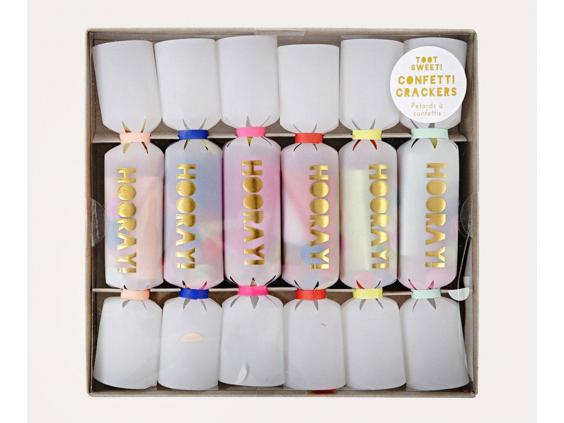 There's nothing inherently Christmas about these crackers, except for the fact that they're, you know, crackers. They have colourful ribbon ties, shiny "hooray" lettering on the cracker and each is filled with confetti, a joke, hat and temporary tattoo. Ideal all year round, or for the bah humbugs in your group. Six crackers per pack. 
16. Disney's Frozen Novelty Cracker: £1, Poundland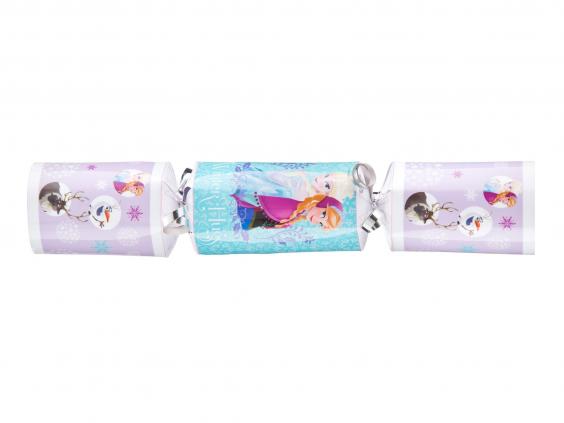 The Poundland range of individual crackers for kids includes Frozen, Star Wars and Avengers. Each cracker is over a foot long and includes a snap, hat, trivia question and cardboard game, allowing you to buy crackers for kids that are specifically tailored to their interests. 
17. Drinks by the Dram Gin Christmas Cracker Set: £39.95 for six, 31Dover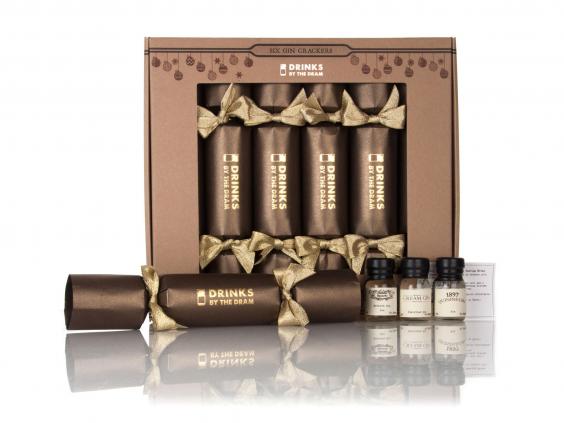 You might have seen Drinks by the Dram feature in our boozy advent calendar round-up. The brand also makes some crackers for over-18s. Each one, with a metallic look that will work on most tables, comes with a 30ml wax-sealed bottle with tasting notes, as well as the obligatory hat and silly joke. As with the calendars, there's no bog-standard Gordon's here. Instead, you get six innovative tipples, including some of the UK's finest. The selection includes the award-winning Bathtub Gin from Ableforth's in Kent and Wolf's Nose from east London-based distillers Moonshine Kid. If not everyone around the table likes gin, there is also a mixed spirits and liqueurs option.
The Verdict: Christmas crackers
Everybody wants a Christmas cracker with their Christmas dinner but it's the snap and the paper crown that usually gets the wow – the gift inside is just a bonus. With this in mind I'd go for budget crackers and spend more on main presents, so our favourites are inevitably the Santa & Rudolph Race Crackers from Morrisons and Festive Family Christmas Table Crackers from Dotcomgiftshop, though if someone else was paying then the beautiful fat quality crackers from Thornback & Peel do tick all the right boxes. The Dogs Trust crackers are our best buy, though – the magnets won't appeal to everyone but really, who isn't moved by a cute puppy?
IndyBest product reviews are unbiased, independent advice you can trust. On some occasions, we earn revenue if you click the links and buy the products, but we never allow this to bias our coverage. The reviews are compiled through a mix of expert opinion and real-world testing
Reuse content