Whether you're navigating the wilds on a bikepacking adventure, fine-tuning your pedal stroke ahead of a big race, or just trying to find your way to the pub, a GPS-enabled cycle computer fixed to your handlebars can make your ride so much easier.
No longer purely the domain of the lycra-clad enthusiast, devices range from keyring-sized stopwatches to behemoths that can outsmart your smartphone. Most cycle computers have GPS as standard, allowing you to track your speed and distance, plot routes and navigate like you would with an in-car GPS, but very cheap, entry-level computers will do this by pairing with your phone.
Before you buy, consider where – and what for – you'll use your computer. If you have a passing interest in how far and how long you've cycled, go for something at the lower end of the scale. If you're training for a race or a challenge – be it RideLondon, a triathlon or your first century – and you want to nail a personal best, buy a computer that can measure your cadence and heart rate and keep you in your ideal training zone. If it's navigation you're after, seek out a device with a big screen, bright backlighting and a long battery life; and if you're riding abroad, a good set of pre-loaded maps is a must.
There is a lot you can do with just a smartphone – Google Maps, for example offers reasonable turn-by-turn navigation with audio cues, and Cyclemeter stores route and ride data. But unless your phone is weatherproof and rugged you're better off with a device that's designed to be exposed to the elements and can survive the odd knock. 
Here are seven of the best to suit all budgets and challenges.
1. Mio Cyclo505 HC: £399.99, Mio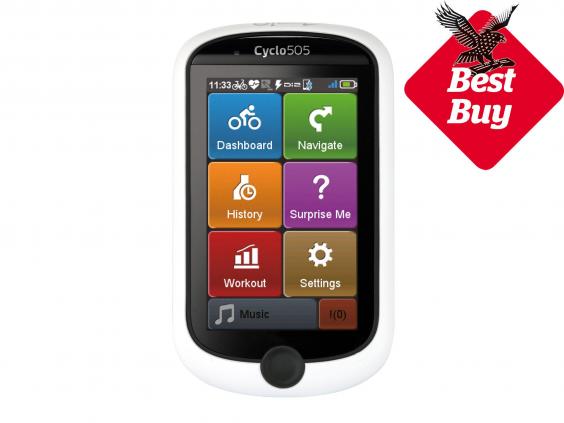 Mio's bright, cheerful Cyclo505 HC is a superb all-rounder. It's a brilliant co-pilot, something that is often overlooked when devices are aimed at the racing crowd because you're not likely to veer off course in a velodrome. With the Cyclo you can plot a route from the computer without recourse to your smartphone, and turns are indicated with intuitive audio cues. Best of all is its nifty "surprise me" feature, which lets you pick from three random routes and share them with other riders (Cyclo users) by shaking the computer. It also comes with its own speed and cadence sensor and heart rate monitor – both of which pair easily with the Mio – making it a good first device for cyclists looking to tune up their training.
2. Wahoo ELEMNT: £249, Wiggle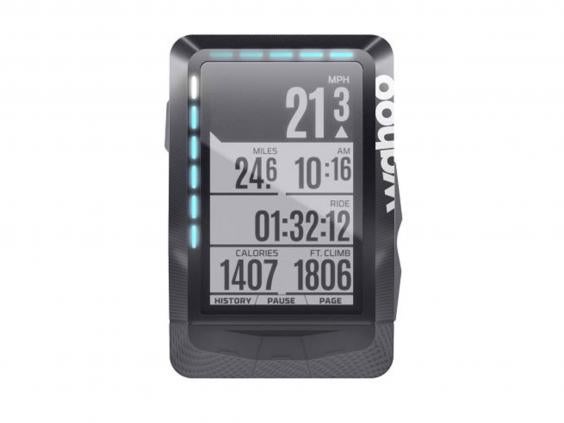 A real workhorse, Wahoo's ELEMNT boasts most of the features of top end devices at half the price. Because it's disposed of frills like a colour screen, the ELEMNT boasts a great battery life of around 16 hours. It pairs effortlessly with your phone – a quick scan of the QR code and you're done – and integrates with just about any app you can throw at it, as well as hardware like heart rate monitors, electronic gear shifters and so on. It's simple, stripped back and serious, but has a fun side: while navigating the innovative LED "power meter" that surrounds the screen will flash red when you veer off course and green when you rejoin, or pulse when you're reaching the end of a race or segment, adding a pleasingly computer game-esque touch to your ride.
3. Beeline: £99, Beeline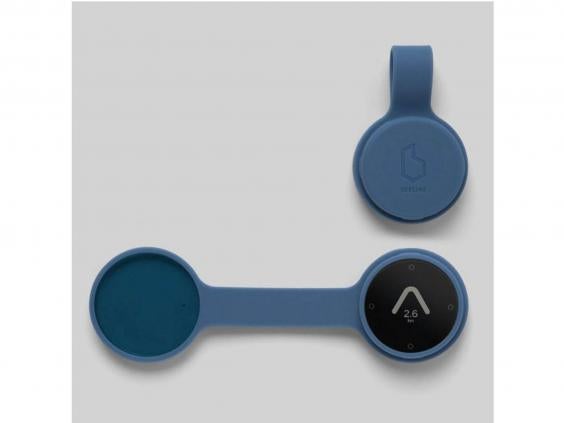 At the other end of the spectrum is this lovely looking computer for the not-so-serious. Born through a Kickstarter campaign, the Beeline is basically a digital compass: use your smartphone to pick a destination, upload that to the Beeline and follow the compass-like arrow to get there. Because the Beeline steers gently rather than dictating a route, it's great for avoiding traffic, unexpectedly-closed roads and one way systems. Perfect if the sudden whims of turn-by-turn navigation put you off your stroke, the Beeline is well-suited to urban riders out exploring, and its beautifully slick design also means it looks at home on the most hipster of pared-back fixies. 
4. Garmin Edge 1000: £324.39, Wiggle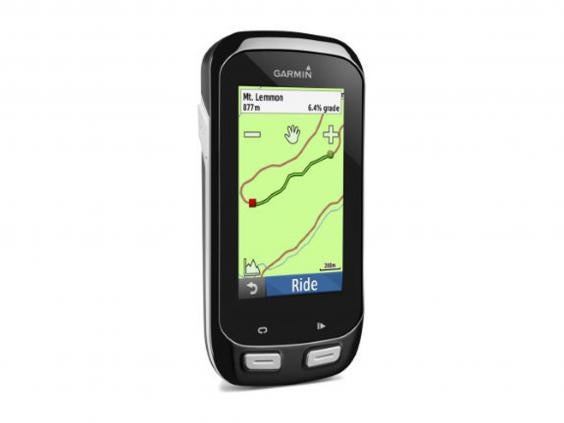 Market leader Garmin has buried layers within layers of functionality in the Edge 1000. One for the pros, its hi-res screen can transmit data about everything from torque effectiveness to temperature. As you would expect from such a high-spec device, it pairs quickly and easily with heart rate monitors, cadence and power meters. For all that, it's surprisingly usable – the large touchscreen works in the rain and the screen brightens based on feedback from an in-built sensor. It also allows you to set up multiple profiles, useful if you have different types of training – the commute verses the club run, for example – or if you want to share it with another user. The battery won't stretch as far as some other computers, and it's a tiny bit bigger and heavier than comparable rivals, but that's to be expected from a device that is wirelessly monitoring your every breath. 
5. Bryton Rider 530T: £192.48, Amazon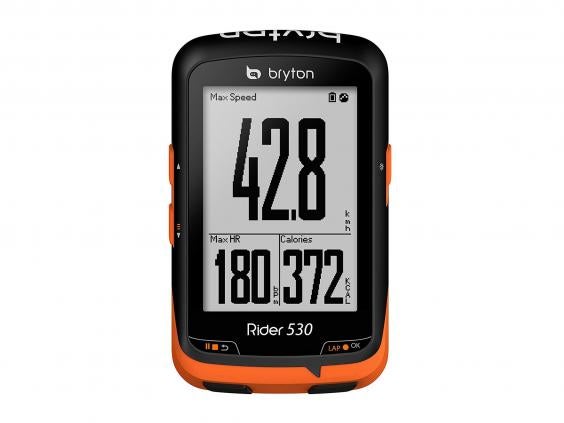 Taiwanese company Bryton has a loyal following among cyclists as the budget friendly alternative. The Bryton Rider 530T is the flagship model: black and white and without a touch screen, it has a seriously impressive battery life (33 hours) and is so easy to set up you can be out the door and down the road in the time it takes to pair a heart rate monitor. It has all the basics – like turn-by-turn navigation, which is backed up by a surprisingly helpful and often overlooked built-in compass. It pairs with the usual hardware and software, but doesn't bury you in stats, making it friendly for first-timers.
6. Lezyne Mini GPS: £91.96, Wiggle
At 29 grams, the tiny Mini from Lezyne – a company best known for its mighty bike lights – is one of the most minimalist options on the market. Stripped back and functional, with its four buttons it feels more like a stopwatch than a bike computer. It covers the basics – ride tracking and navigation, but not sensors and heart rate monitors – and pairs with your smartphone, displaying notifications, messages and updates from the much-loved cycle network Strava as you ride.
7. Polar V650: £144.61, Wiggle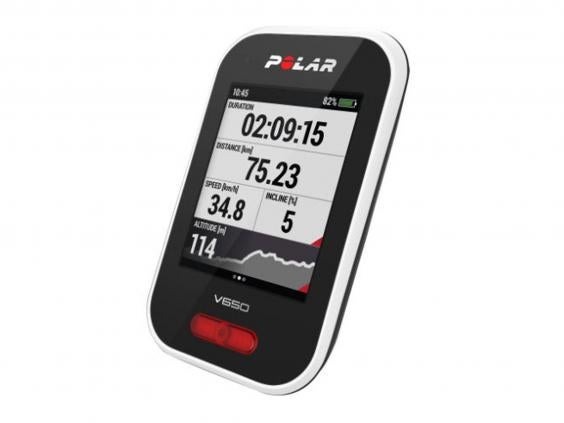 One for the fitness fanatics, as you would expect from the company behind some of the most ubiquitous and popular fitness tech. Paired with a heart rate monitor, Polar's computer keeps track of your training zones, analyses the effect your ride will have on your overall fitness, and relays with devastating realism how many calories you burned (never as many post-cycle pints as you'd hoped). Training and ride data sync quickly with Polar's online portal so you can pore over every pedal stroke, and the V650 also lets you build profiles for up to three different bikes.
The Verdict: GPS cycle computers
Simple to use but with the capacity for serious training, the Mio Cyclo505 HC covers all bases. Tap navigate, enter a postcode and set off; or take advantage of the "surprise me" button and set off on an adventure. Which, after all, is one of the best things you can do on a bicycle.
IndyBest product reviews are unbiased, independent advice you can trust. On some occasions, we earn revenue if you click the links and buy the products, but we never allow this to bias our coverage. The reviews are compiled through a mix of expert opinion and real-world testing
Reuse content