The Independent's journalism is supported by our readers. When you purchase through links on our site, we may earn commission.
11 best desktop picture frames
Spice up your working space with our top pick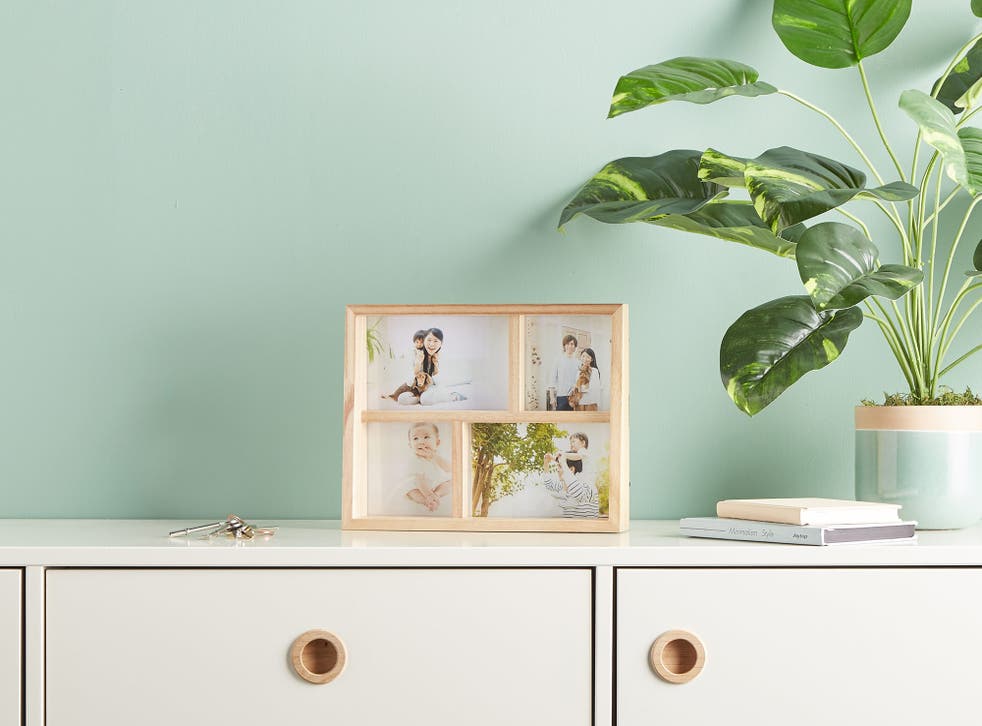 Albert Einstein famously said: "If a cluttered desk is a sign of a cluttered mind, of what, then, is an empty desk a sign?" While this doesn't mean you should frantically mess up your desk as quickly as possible, I'm in favour of at least a few accessories in our workspace and top of the list should be a lovely desktop picture frame.
Whether you frame wedding photos, family snapshots or simply postcards of inspiring quotes, it's great to have an important picture close to hand to gaze at when work all gets too much. We tracked down some of the best desktop picture frames available to buy now, making sure to include a range of styles, colours, budgets and materials.
If you're looking for a super luxurious silver frame, or simply want to buy something cheap and cheerful to pep up your desk, you'll find it here.
Next set of two gallery frames: From £7, Next
For excellent value, a wide range of colours and a variety of sizes, our top pick has to be Next's set of two gallery frames. Coming in pairs, the frames – which are available in a range of sizes, from 4x4 inches to 8x6 inches – have a chunky border and can be freestanding, tilted back on their easel or wall-mounted. We loved the wide array of colours, both bright and neutral, and found the frames to be excellently priced. It's also a great choice if you're looking to make a gallery wall.
Getting Personal personalised axis photo display: £24.99, gettingpersonal.co.uk
There's nothing like a personalised gift, and this axis photo display from gettingpersonal.co.uk, which you can engrave with the initials of a loved one, makes a truly thoughtful present. Unexpectedly big and chunky, this frame can fit two 4x6 inch photos side by side, with its large pivoting metal handle providing a fun design point that's a cool alternative to the usual easel stand in the back. We loved the thick wood metal stand and also found it to be very reasonably priced, considering the personalisation and size.
iWoodesign luxury photo frame: £100, iWoodesign
Smarten up your desk with a sumptuous photo frame from luxury British wood brand iWoodesign, which supplies interior accessories for private jets, super yachts and five-star hotels using a range of high-end woods from around the world. The brand's luxury 5x7 inch photo frame is made in four different types of wood, including walnut, smoked oak and Russian Karelian birch, but we loved the dark ebony for a beautifully elegant and stylish addition to our desk. A luxe option for a really high quality gift.
Rose & Grey Azizi standing brass portrait frame: From £19.95, Rose & Grey
A versatile frame available in two sizes - 5x7 inches and 8x10 inches - the Azizi standing brass portrait frame from homeware brand Rose & Grey can be used to display everything from traditional photos to playing cards, flowers or a mix of photos of different sizes, thanks to its easy side opening. We loved the vintage look of the brass frame, and the simple mechanism, which allowed us to display a collection of vertical photo booth pictures in a collage style with ease.
Red Candy umbra prisma copper photo frame: £15.75, Red Candy
For a photo frame that makes a structural statement as well as displaying your pictures, opt for this eye-catching Umbra Prisma photo frame from quirky homeware brand Red Candy. The sculptural frame will hold your photo in between two panes of glass, making your picture appear as if it were floating in mid-air, and the wire stand in the back makes a statement and is far cooler to look at than the usual easel you'd find on a photo frame. We also loved the on-trend copper colour.
Hersey & Son classic silver photo frame: £170, Hersey & Son
When it comes to photo frames, it doesn't get more elegant and timeless than a classic silver design. This 6x4 inch picture frame, from traditional London silversmiths Hersey & Son, an independent family-run business, is made of solid silver, with a generous border and luxurious wooden back. It comes in a smart grey gift box and engravings can be added to make a fabulous present. We loved the simplicity of the design and the attention to detail throughout.
VonHaus 4 aperture freestanding photo frame: £11.99, VonHaus
If you just can't decide which photo you'd like to display, but want only one frame, you need this clever freestanding option from homeware brand VonHaus. Made from thick Paulownia wood, the frame has two 6x4 inch and two 4x4 inch displays so you can fit in four of your favourite photos. The tapered underside means it stands up easily without any fragility, so you don't need to worry about accidentally knocking it over, and it can also be hung to a wall if you prefer. We admired the quality wood and the fun effect of framing four photos together.
Wayfair adrianna two piece picture frame set: £26.99, Wayfair
For a charmingly rustic look, we loved this picture frame set from American homeware company Wayfair. The rectangular 4x6 inch frames, which arrive in a set of two, come in slightly varying shades of beige to add a cosy cottage vibe to your home. Made of pine, the frames have natural chipping and slight scratches to evoke a vintage, lived-in feel. We also liked the fact it came in a set of two that slightly varied in colour for a contrasting look on your desk or shelf.
Wilko silver lace effect photo frame: £9, Wilko
If you're looking for a beautiful photo frame without spending a fortune, look to British budget retailer Wilko, which has a great range of homeware for superb prices. This metal photo frame, which fits a 7x5 inch photo, looks far more expensive than it really is, with an intricate, romantic silver lace effect that would look great paired with wedding photos. A fantastic wallet-friendly choice that seems designer.
Heal's simple copper photo frame: From £10, Heal's
Copper is the colour of the moment, and this simple but stunning copper photo frame from British furniture brand Heal's is a great way to display your favourite pictures. Available in four sizes, it's a smart, elegant choice, with a shiny copper border and a soft velvet black stand to prop it up. The minimalist style of the frame really lets the photo do the talking without detracting any attention. For a cool, modern look, we love the look of all four sizes together on a desk.
Amara black/white photo frame: £25, Amara
A fun monochrome print can be a great way to add interest to a space without being too bold, and this black and white photo frame from homeware brand Amara is a great option if you love an eye-catching design but tend to shy away from bright colours. The 5x7 inch frame is made of resin, with the geometric pattern providing a cool, modern border for prints or photographs. We particularly liked the feel of the resin for an alternative to wood or metal, and found the geometric print really stood out on our desk for all the right reasons.
The verdict: Desktop picture frames
Next's set of two gallery frames gets our top pick this time for excellent value for money and the wide range of colours and sizes to suit all tastes. For gifts, gettingpersonal.co.uk's personalised axis photo display is pleasingly large and chunky and a fabulous way to display two photos at once, while if you're tempted to spend a bit more for excellent quality wood and a luxe feel, we loved iWoodesign's luxury photo frame
Register for free to continue reading
Registration is a free and easy way to support our truly independent journalism
By registering, you will also enjoy limited access to Premium articles, exclusive newsletters, commenting, and virtual events with our leading journalists
Already have an account? sign in
Register for free to continue reading
Registration is a free and easy way to support our truly independent journalism
By registering, you will also enjoy limited access to Premium articles, exclusive newsletters, commenting, and virtual events with our leading journalists
Already have an account? sign in