The Independent's journalism is supported by our readers. When you purchase through links on our site, we may earn commission.
8 best men's ski and snowboard pants
From slim-cut ski pants to workwear-inspired bib pants, we've found some great outerwear options for the winter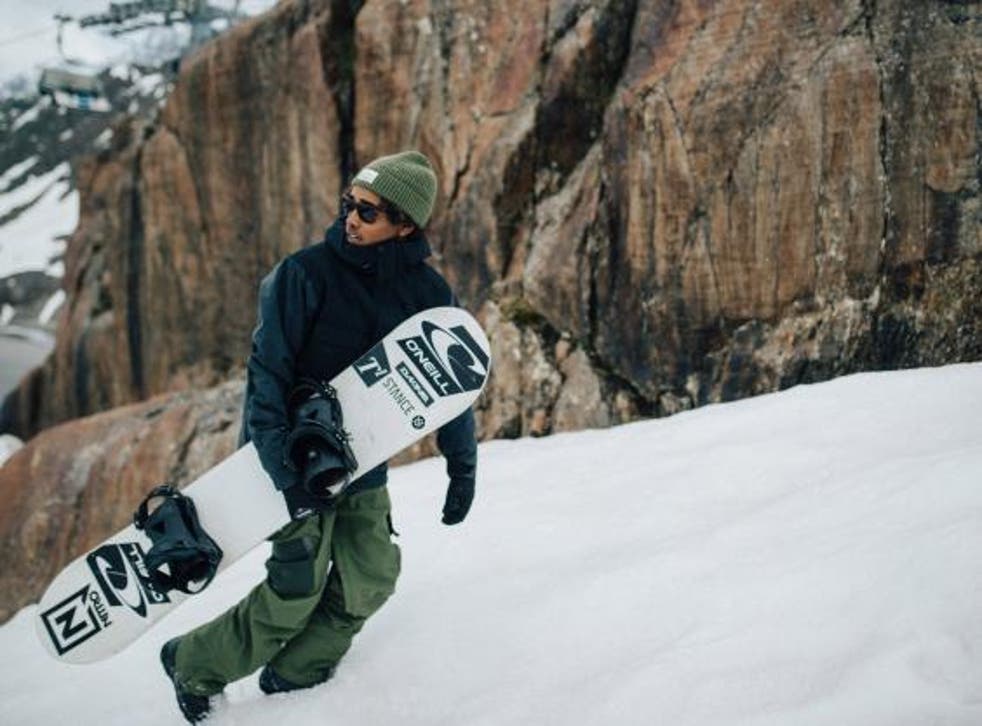 What makes a great pair of snow pants for a skier or snowboarder? The most important function is waterproofing, as when you sit or fall in the snow the last thing you want is to be wet, cold and miserable for the rest of the day. Snowboarders often sit down to strap their boards on, so top waterproofing is especially important for them.
Alongside waterproofing you also need warmth as you'll be spending your day in cold temperatures, not forgetting the potential wind chill, so insulation is key. Some of the pants in this test are shells with lighter insulation that would need to be paired with a base layer on a cold day, but they are great alone in milder temperatures.
The stretch and flexibility in the fabric of your snow trousers is also important. We've reviewed a range of shapes from slim to relaxed to baggy, and have also included two bib pants, which are increasingly popular.
Inspired by the workwear aesthetic, many of the hipper snow brands have produced a bib snowboard pant this winter. Our favourite version of these is Burton's Reserve pant as it looks good on and has great stretch but it's also reliably waterproof. It's a shell pant, so it will keep bad weather and brutal winds out, but it's not insulated so on super-cold days you might want to wear a base layer underneath, though the top half of the bib will make you extra warm on top. Available in sizes XS-XXL; sold in a range of colors including black, forest green and kelp.
The Snow Freak from Columbia is a really good value snow pant that will keep you warm and dry this winter. The insulated lining, which looks a bit space age, is designed to reflect your body heat back to keep you extra toasty, but there are also leg vents in case you get too hot. The fit is traditional and tailored and the waist is adjustable, so you can loosen things off after a hearty mountain lunch if you need. The extra fabric protection around the ankles is useful for limiting ski boot damage. Available in sizes S-XXL; also sold in black, blue and orange.
If you like your snow pants tight and jean-like, these ski and snowboard pants from French brand Picture Organic would be a good choice. They look stylish on but also have good waterproofing, breathability and stretch. We like that they're made from a mix of recycled polyester and we also like the I-Fit system, which means you can pull them up at the end of the day, so the bottoms don't drag on the streets of the ski resort. Available in sizes S-XL; also sold in a range of colors including black, brick red, petrol blue, yellow, beige and dark blue.
The DC Platoon Shell bib pants were some of the most waterproof on test, so a good choice for snowboarders who want to be able to sit in the snow and put their boards on but don't want to spend the day with a soggy backside. The crotch was low too, allowing a good range of movement which is not always the case with bib pants, and you could tighten the waist to your fit preference. They are a shell pant, rather than insulated so you might want an extra layer on very cold days. We liked the zip-up hand-warmer pockets. Available in sizes XS-XXL; also sold in light camo.
The Hybrid Friday Night from O'Neill are a slim-fit snow pant with a good quality feel for the price. They felt comfy on and we liked the felt cargo pockets and the fact the vent zips are hidden from view around the back, to keep you cool without compromising on the style or shape of the pant. The waterproofing was decent though you could feel the wind chill more than on some of the other pants on test. Available in sizes XS-XXL; also sold in black, denim and brown.
The most expensive ski pants on test but also one of the most waterproof and breathable with an impressive amount of stretch especially around the hips and knees. We liked the bright color and built-in belt around the high waist, while the fit is flattering and relaxed rather than over-tight or baggy. They were nice and warm to wear with extra insulation around the lower back. Available in sizes 46-56; also sold in black and orange.
The Powder Bowl pants from Patagonia are made entirely from recycled fabric, but they felt hard-wearing enough to last for several seasons. The fit is sporty and tailored but not too tight and the waistband is high to keep snow from riding up your back. They are one of the more expensive brands on test, but we found their weatherproofing very good and they scored high for flexibility and comfort, thanks to articulated panels in the knees. They also have scuff guards at the ankles to prevent ski boots tearing the fabric. Available in sizes XS-XL; also sold in black, grey, light and dark green.
The Seventy Fives from Volcom have the most relaxed and casual fit of all the snow pants on test; we also like the pocket detailing and design. They are really comfy on and allow a good range of movement, which is great for snowboarders and skiers who want to hit the snow park or pull tricks on the side of the mountain. They are warm and waterproof and felt durable, especially for the great value price. Available in sizes XS-L; also sold in black.
Verdict: Best men's ski and snowboard pants
If you're looking for a reliably technical snow pant with good style we'd recommend the Burton Reserve Bib Pants.
Register for free to continue reading
Registration is a free and easy way to support our truly independent journalism
By registering, you will also enjoy limited access to Premium articles, exclusive newsletters, commenting, and virtual events with our leading journalists
Already have an account? sign in
Register for free to continue reading
Registration is a free and easy way to support our truly independent journalism
By registering, you will also enjoy limited access to Premium articles, exclusive newsletters, commenting, and virtual events with our leading journalists
Already have an account? sign in