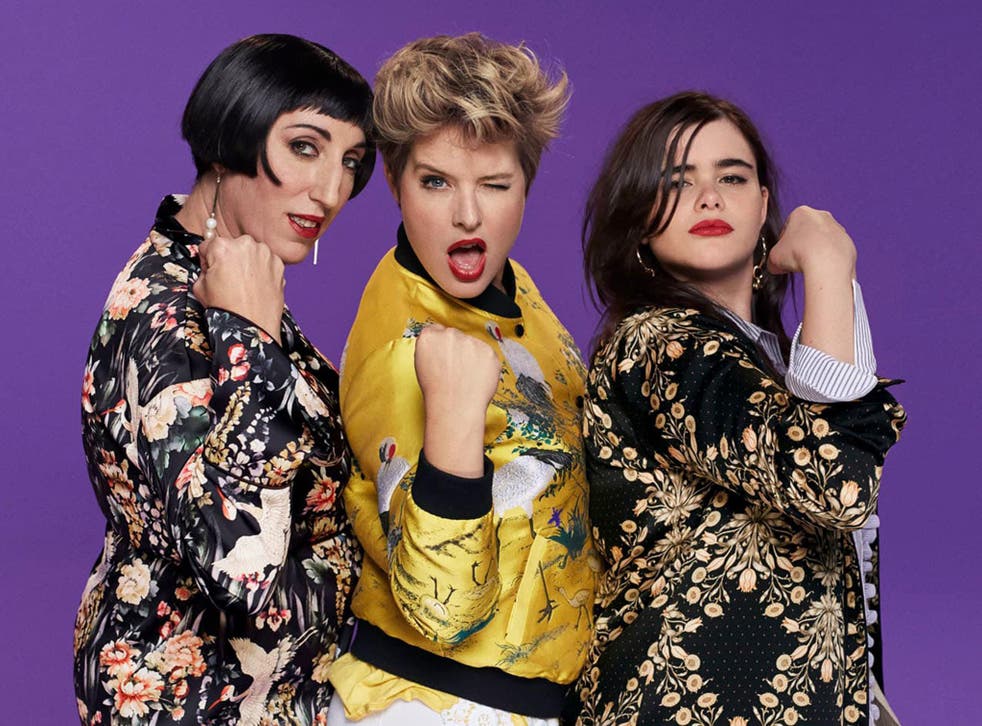 The best clothing shops for real women
From Asos to River Island and smaller London brands, the fashion industry has listened to real women: we've seen curvy shapes in campaigns – now brands have embraced the need for flattering pieces for every size
In the past few years, the fashion industry has been embracing diversity and giving space to plus-size models such as Candice Huffine, Ashley Graham and Denis Bidot. For example, Huffine was the first model to be included in the Pirelli Calendar and Graham has appeared on the cover of Sports Illustrated and Vogue.
The majority of high-street clothing shops have a plus-size line and lingerie brands have seen the demand for bigger breasts because the reality is not every woman is as flat-chested as models in glossy magazines. As supermodel Karen Elson told The Independent, "we all come in a lot of shapes and sizes".
Take for example new London-based label Esse Vie, which makes its collections starting from UK size 14 to 6.The brand's pieces are all about making every woman feel confident with flattering staple pieces in black and white that will see you through the season.
Like many other shops, Esse Vie has dropped the "plus-size" standard and focused on real, healthy women of all ages. "I create for really life-sized women, not plus or minus size. I believe that in today's industry everything is designed towards sample sizes and then jumps to plus sizes. There is no in-between for healthy girls with realistic body shapes," founder Sonam Vaswani told The Independent.
"I have a lot of customers who are fit with a petite frame but have a DD chest or wider disproportionate hips. The brand's focus is on concealing 'problematic' areas whilst enhancing flattering parts of a woman body such as the waist of décolletage.
"I think most brands cater towards an idealistic body shape. I am my own customer, I eat well and work out but I fully understand and respect my body and my expectations are more realistic and forgiving."
Vaswani says the ideal ambassador for her label would be Salma Hayek, referring to the actress' quote on Harper's Bazaar: "In recent years, we have had to fight against our genetic nature to look like little boys, to be socially accepted as beautiful. It used to be that a young girl couldn't wait to grow up and take the shape of a woman. Now our goal is the regression, to look younger and like a child."
"The industry should embrace the 'real women' movement because once upon a time in many cultures a woman's curvaceous figure was celebrated for many reasons," the 27-year-old founder added.
Spanish giant Mango has a line called Violeta, featuring a wide range of clothes and accessories in bigger sizes. Its new campaign is faced by veteran actresses Rossy de Palma and Tania Llasera, alongside young American plus-size model Barbie Ferreira.
Actress Llasera said: "Do you know how good it feels when you go to a store and you pick up a size and it is really the size it says on the garment?
"Size doesn't matter, what matters is the style you have and that you're confident… they key is the self-esteem and body confidence."
U.S teenage giant American Eagle has been promoting their #aerie campaign featuring "real young women" and unveiling unretouched pictures of "unconventional models" such as 20-year-old, UK size 16, Ferreira.
"I am unapologetically myself, no matter what anyone's opinion is. Not being retouched in the images is something that is very important to me," she says in the video campaign, which opens with the message "the real you is sexy".
Then "too big", "not big enough" 26-year-old model Iskra Lawrence followed. The British-born now has more than three million Instagram followers with whom she shares playful images showing off her curves, alongside body positive messages.
"This campaign is set to empower women, inspire women, to make us feel better about ourselves, rather than playing out insecurities to try and sell a certain lifestyle or a product," she said.
Real women also love minimal label Cos for its oversized, geometric pieces and straight fits. Marks and Spencer is a great shopping destination, too. With its new fashion-forward collections and UK sizing from 6 up to 24, the British high-street favourite has a lot to offer to every size, age and style.
When it comes to our underwear… well, we all want to be a long-legged, thin, lean and tanned Victoria's Secret supermodel, but that's just in a fantasy world of glitter and lace. In reality, we all can look attractive in lingerie. London-based Boux Avenue offers cup sizes from A to G, which is rare as lingerie labels usually go up to cup size E.
All of its swimwear is available in these cup sizes, too, and briefs run from 6 to 18, and are part of a mix 'n' match style to make sure every woman fits their perfect style whether that's strapless bikini tops and high waisted briefs to tie sides and triangle tops.
Owned by entrepreneur and former Dragon's Den Theo Paphitis, it now has 28 stores in the UK and Northern Ireland. In a recent research, Boux found that 84 per cent of their customers were wearing the wrong bra size and had seen the average size increase from 34B to 34DD, meaning that women are becoming to understand that bigger sizes are normal and OK to wear.
This week, Lindex launched a cheering campaign featuring real women models, including UK size 16 Swedish Sabina Karlsson, who has appeared in many fashion campaigns and editorials.
"The campaign is very uplifting and has such great energy. It's inspiring that Lindex focuses on showing different women in their campaign, no matter size or ethnicity. Shooting this campaign was a lot of fun", says Sabina Karlsson.
So, you, the real woman, let's go shopping!
Register for free to continue reading
Registration is a free and easy way to support our truly independent journalism
By registering, you will also enjoy limited access to Premium articles, exclusive newsletters, commenting, and virtual events with our leading journalists
Already have an account? sign in
Register for free to continue reading
Registration is a free and easy way to support our truly independent journalism
By registering, you will also enjoy limited access to Premium articles, exclusive newsletters, commenting, and virtual events with our leading journalists
Already have an account? sign in
Join our new commenting forum
Join thought-provoking conversations, follow other Independent readers and see their replies