The Independent's journalism is supported by our readers. When you purchase through links on our site, we may earn commission.
10 best moisturisers with SPF for daily protection and hydration
Simplify your skincare routine with one of these day cream and sunscreen hybrids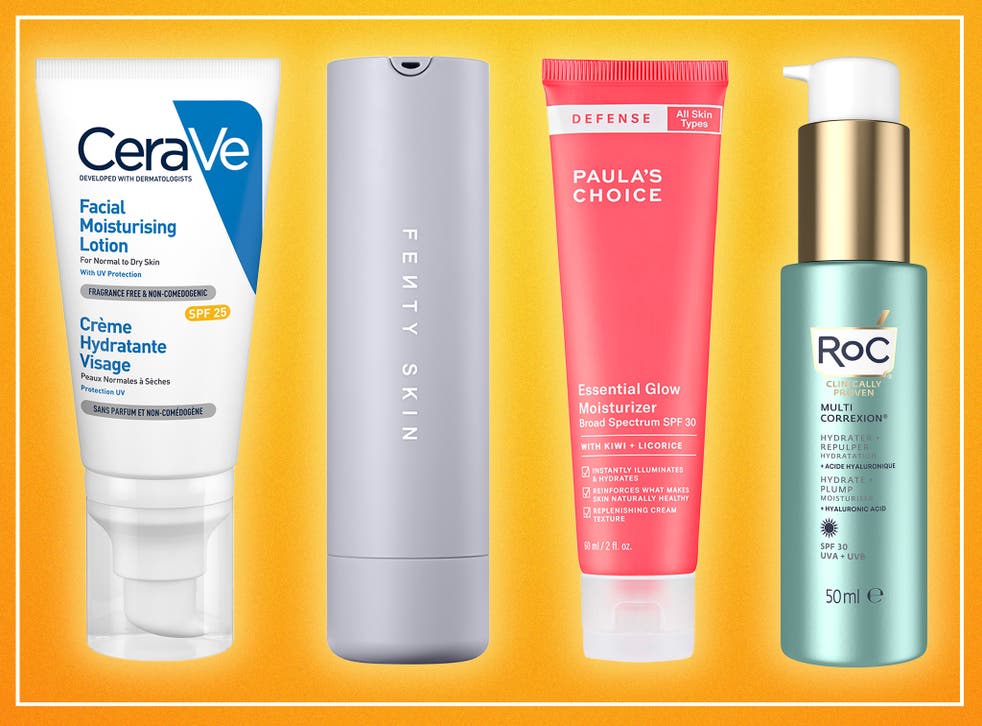 The one beauty rule dermatologists tell us time and time again is to wear SPF every day – yes, even on cloudy days and yes, even when you're indoors. Yet, so many of us skip this vital skincare step that's not only the key to keeping our complexion happy and healthy but also preventing premature signs of ageing.
Advances in cosmetic science mean you don't even have to add another step to your morning routine any more, as there are so many two-in-one formulas these days. Make the swap and you'll never forget to apply sunscreen again with these double-duty day creams.
Ideally, you should use one with a high SPF rating (30 or above) to keep you well covered from dangerous UVB rays. But it's equally as vital to make sure the product gives you adequate protection from UVA rays. Look for products labelled "broad-spectrum" to make sure you're well protected.
For those who don't already know, UVA rays travel deeper into the skin's layers and are responsible for ageing the skin – often showing up in the form of brown spots, wrinkles and skin sagging. These can also penetrate through the clouds, even on the greyest days, as well as through windows and reinforce why you should make it a priority to wear SPF on your face daily.
If you've avoided adding an extra step to your routine – be that because they've made your skin look greasy and caused breakouts, or they've been so thick they've left a white cast that's impossible to blend – rest assured that these next-generation formulations have come a long way. You'll only find lightweight, non-greasy and zero-chalky moisturisers in our winning edit.
Read more:
How we tested
Our tester has tried all these moisturisers with SPF for a minimum of seven consecutive days and all using the same skincare routine and foundation for the most accurate trial. We looked at the cream's texture, how easy it was to apply, how it felt and looked on the skin and how long the results lasted. These are the ones we're adding to our bathroom shelf.
The best moisturisers with SPF for 2022 are:
The verdict: Moisturisers with SPF
Considering value for money as well as performance, our best buy is easily the RoC multi correxion hydrate and plump moisturiser SPF30 as it does the two things every great moisturiser with SPF should do. Firstly, it protects skin from harmful and ageing UVB and UVA rays with an invisible veil. And secondly, it keeps the skin well hydrated and comfortable throughout the day.
If you have the means to splurge, the new ReVive moisturizing renewal day cream SPF30 goes the extra skin-rejuvenating beauty mile.
Voucher codes
For the latest discounts on skincare and beauty buys, try the links below:
Want to get your tan on without exposing your skin to UV rays? Check out our best face tanners for an effortless sun-kissed glow
Register for free to continue reading
Registration is a free and easy way to support our truly independent journalism
By registering, you will also enjoy limited access to Premium articles, exclusive newsletters, commenting, and virtual events with our leading journalists
Already have an account? sign in
Register for free to continue reading
Registration is a free and easy way to support our truly independent journalism
By registering, you will also enjoy limited access to Premium articles, exclusive newsletters, commenting, and virtual events with our leading journalists
Already have an account? sign in