The Independent's journalism is supported by our readers. When you purchase through links on our site, we may earn commission.
8 best workout DVDs
If your 'New Year new you' regime hasn't lasted beyond February, why not try working out from home?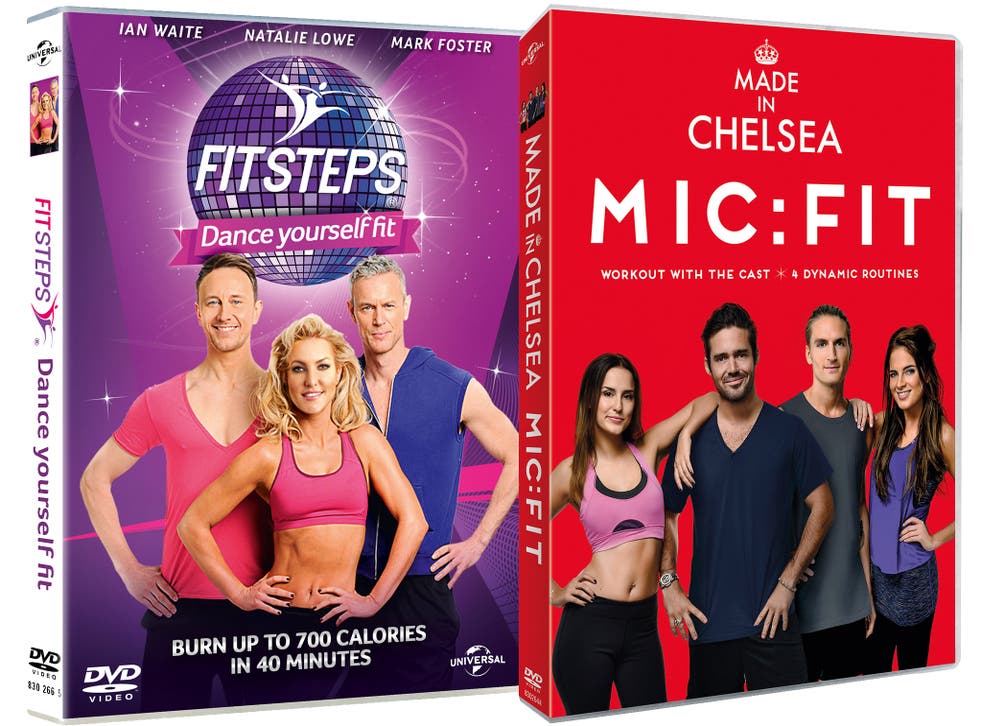 Whether you're a retiring gym bunny, or a total beginner, there's a home fitness DVD for you. We've worked our way through a selection to bring you the most effective – and fun – workouts.
1. Davina: 7 Minute Fit: £12.99, amazon.co.uk
Davina McCall is no stranger to the fitness industry. Her latest compilation is designed for the busy lifestyle. Fit short aerobic and anaerobic routines around your hectic schedule. Combine traditional squats and crunches with more adventurous boxing based sequences, and watch the additional tutorials for maximum results.
2. MIC: FIT: £10, amazon.co.uk
If you're a fan of the Made in Chelsea crew, and are looking for an energetic workout punctuated with regular wisecracks, this could be for you. Join the cast for some high-intensity interval training, including floor work and classic lunges and press ups, or opt for a blend of Pilates and Yoga with the "Chelsea morning power stretch".
3. Fit Steps – Dance Yourself Fit: £9.99, amazon.co.uk
Strictly Come Dancing professionals Natalie Lowe and Ian Waite pack the best of the BBC One ballroom dance show into ten easy-to-learn routines. Lose weight while you waltz as the duo takes you through dances suitable for a range of fitness levels.
4. Older, Wiser and Wonderful: £10.05, amazon.co.uk
Try this if you want a gentle, low-impact routine designed for beginners. The absence of floor work and the incorporation of furniture as a balance aid make this perfect for the more mature exerciser.
5. Kick Boxing Cardio Power: £8.99, amazon.co.uk
You get three DVDs for the price of one with this selection. Choose the 'Dance', 'Power' or 'Burn' title depending on the type and intensity of workout you desire. If you want to burn calories while learning some practical kick-boxing moves, this one's for you.
6. Zalza: The Ultimate Dance Fitness Workout: £7.69, amazon.co.uk
Another feel-good Strictly-inspired compilation from pro-dancer Flavia Cacace and astrologer Russell Grant. This unlikely pair don't take themselves too seriously. They offer an upbeat walk-through of some favourites from the show, including the cha-cha, rumba and salsa: ideal if you're not a fan of more classic cardio.
7. Yoga for Weight Loss with Roxy Shahidi: £10, amazon.co.uk
Opt for this if you want a slower- paced routine which still burns fat. Emmerdale star Roxy Shahidi combines sun salutations, breathing exercises and a range of classic poses, from Chaturanga to Cobra. Build your core, release muscle tension and shift unwanted pounds with this relaxing workout.
8. BarreAmped: £12.40, amazon.co.uk
BarreAmped creator Susanne Bowen takes classic ballet barre work and turns it into a high-intensity cardio and weight workout. Short interval routines are designed to target areas of fat build-up and improve posture. Perfect if you want a total conditioning experience.
Verdict:
If it's a quick, no-fuss cardio workout you're after, then Davina is the woman for the job. But if you want something extra from your fitness routine, then Zalza and Fitsteps' offerings will have you dancing like a pro in no time!
Register for free to continue reading
Registration is a free and easy way to support our truly independent journalism
By registering, you will also enjoy limited access to Premium articles, exclusive newsletters, commenting, and virtual events with our leading journalists
Already have an account? sign in
Register for free to continue reading
Registration is a free and easy way to support our truly independent journalism
By registering, you will also enjoy limited access to Premium articles, exclusive newsletters, commenting, and virtual events with our leading journalists
Already have an account? sign in