11 best pre-mixed canned cocktails that bring the bar to you during lockdown
Sip one of these ready to drink beverages on your next evening stroll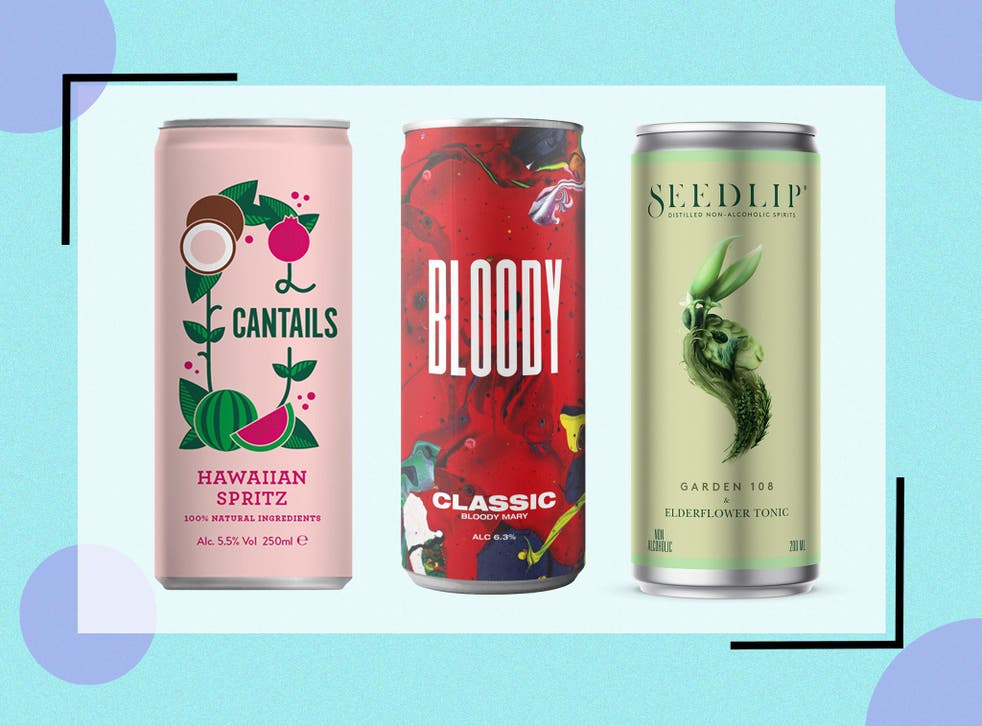 Do you have a can-do attitude? You've come to the right place.
Many of us are well-accustomed to the gin in a tin (with Fleabag and Hot Priest doing their bit to make this a national obsession), and pre-made cocktails are nothing new – but the market has, up to a point, been dominated by low-quality, mass-produced versions of our favourite drinks. Cheap and quite possibly cheerful, yes, comparable to what bartenders (we miss you) produce, no.
But the RTD (ready to drink) market is expanding rapidly, with the "premiumisation" of the category opening it up to new consumers. Brands are moving forward, pushing for fresher ingredients and better quality inside those cans; and outside of them, considering values that are becoming increasingly important such as sustainability, transparency and small-batch production.
Our round-up of the best canned cocktails on offer showcases brands which are going the extra mile to create a better all-round experience (time will come for us all to grab a can of something ubiquitous on the hoof – this isn't it).
Unsurprisingly, these high-quality drinks are a little pricier than their predecessors: during social distancing and beyond we think it's worth taking the time to order from producers who think we deserve better.
What's the can-scape? With Britain past the peak, but still fully in the grip of the gin renaissance, the spirit is dominant in the form of G&Ts and variations on that theme – you'll still find plenty of gin here, but we've attempted to give you some choice.
Unlike in the US, it's not easy to find whisky or tequila-based RTDs, but this is beginning to change. Several brands have responded to demand for lower-alcohol drinks.
With portability being a primary concern here, each of the plethora of cocktails we sampled was sipped directly from the can to simulate the outdoor experience, as well as over ice.
On top of flavour, we considered the drinks' ingredients, ABV, value and originality, plus the brands' own credentials. Most are available to buy in multipacks rather than a single serve, because, trust us, you don't want just one.
You can trust our independent reviews. We may earn commission from some of the retailers, but we never allow this to influence selections, which are formed from real-world and expert advice. This revenue helps us to fund journalism across The Independent.
Bloody Drinks bloody classic, 6.3%: From £16, Bloody Drinks
Bloody Drinks was founded by self-confessed bloody mary obsessives, and it shows. Our tester's words on trying "the UK's first premium pre-mixed bloody mary in a can" can be paraphrased as "heck yeah!"; if you think bar-standard tinned cocktails aren't possible, the bloody classic will defy your expectations. It's hot, but not overwhelmingly so, with those satisfying umami notes from soy and Worcestershire sauce combining with amontillado sherry, pickle juice and a rich and velvety tomato base (and vodka obvs). It benefits from being served over ice, so as much as you want that hangover pick-me-up, we don't advise leaving it in a warm tent until Monday morning. Once that's a thing again.
East London Liquor Co RTD variety pack: £20 for 12-pack, East London Liquor Company
Hot off the canning line comes East London Liquor Company's brand-new range. Having recently acquired RTDs start-up Longflint Drinks, the east London distiller and importer is now pouring its spirits into a four strong range of pre-mixed cans, complete with bold new branding, and without preservatives and artificial flavours or colours. Level up your gin-in-a-tin experience with its London dry grapefruit-infused G&T (5 per cent ABV) – also available in a low-alcohol 0.5 per cent​ ABV version – or try fiery rum and ginger (4.6 per cent​ ABV) or vodka and rhubarb (4.6 per cent​ ABV). The variety pack gets you three of each and is great value.
Thomas Tipple sparkling cocktails, 5%: From £2.99, The Food Market
If "where's my mimosa?!" is the question on your lips, ask Thomas Tipple. Unsatisfied with quality levels in the RTDs market, the founders launched the brand last year with a mission to replicate bar trends, adding their own spin. Sparkling wine combines with fruit juice and natural flavourings for the brand's inaugural offerings inspired by classic champagne cocktails; a raspberry Bellini and our favourite, the passion fruit mimosa, which is nicely balanced with that mouth-puckering passion fruit hit. Both varieties are light and refreshing and come in at 5 per cent​ ABV.
Cantails cocktails, 5.5%: From £15, Cantails
Cantails is another young brand, launched by two brothers last year out of a desire to introduce better-quality cocktails onto the market, which can be served with ease. It prides itself on the use of natural ingredients and there's plenty of choice in its varied range, comprising four classics and three of its own serves. The mojito was fresh-tasting and true to type – not overly sweet or artificial like canned iterations tend to be – other highlights include an espresso martini and the totally tropical Hawaiian spritz, with rum, coconut and watermelon. Boxes of one type of cocktail and random selections are available.
Porter's Gin hippy fizz, 5.7%: £34 for 12-pack, Porter's Gin
Porter's Gin is created using a vacuum distillation process, which allows its botanicals to retain more of their freshness as they're distilled at lower temperatures. The team at the Aberdeen-based micro-distillery has created this delightful highball that combines gin with patchouli leaf, pineapple shrub, malted passion fruit and hop soda. The gin counts Buddha's hand fruit among its botanicals, and the bright citrus and tropical flavours sing over the green, herbaceous notes. We loved this original cocktail: delicious, balanced and off the beaten track.
Punchy Drinks hard and soft punch: From £35, Punchy Drinks
You'll always get serious kudos for putting a sweet punch bowl together, but where that's not possible, we recommend cracking open a few of these to placate the crowds (of one/your household/etc). Punchy is all about natural fruit punches – and flexibility. Each of its three signature punches come in spiked and alcohol-free versions: our favourite, golden hour, combines Scotch whisky with the sun-kissed flavour of blood orange and spicy notes from bitters and cardamom. We were impressed with the amount of information on the can – which is also a gorgeous design.
That Boutique-y Gin Company craft cocktails: From £2.75, Master of Malt
Atom Brands' That Boutique-y Gin Company bottles a huge variety of gins from near and far and incorporates them into its canned cocktails. The range is fun and eye-catching, and while some of the drinks are a little sweet, highlights include the spit-roasted pineapple gin mule (5 per cent​ ABV), our favourite, a yuzu gin collins with jasmine lemonade (5 per cent​ ABV) and a G&T with a good measure of the brand's moonshoot gin (7.2 per cent​ ABV).
Drty hard seltzer mixed case, 4%: From £15, Drty Drinks
Hard seltzers – which combine sparkling water, alcohol and flavourings – are very much a thing Stateside, and the trend is starting to catch on here, with more brands launching onto the market. Drty's seltzers use a fruit-based spirit with natural fruit flavours and have none of the tell-tale sweetener taste that often comes with low-carb drinks. The slightly cloudy, lime and grapefruit white citrus variety was our favourite, or go for raspberry rose.
Seedlip and tonic: From £18.94, Dry Drinker
Seedlip's mission is to answer the question of "what to drink when you're not drinking", and it's been doing so with its non-alcoholic spirits since its inception. Since the beginning of this year, its aromatic spice 94, herbaceous garden 108 and citrusy grove 42 have been available by the can, each mixed with a bespoke tonic. Complex and refined, these drinks make sure no one gets left out when it's canned cocktail o'clock. Garden 108 with cucumber tonic was our pick of the three: it's bursting with bright, fresh flavours, with a lovely savoury note from the homegrown peas the gin-style spirit is distilled with.
Asterley Bros limited edition lockdown cocktails: £44.95, Asterley Bros
A pouch is a can… right? Well, we had to add a bonus round for Asterley Bros because as well as being made with the south London producer's own English vermouths and amaro, 25 per cent of sales of the two cocktails is going to The Drinks Trust, a charity which supports members of the UK's drinks industry at a time when it's sorely needed.
We couldn't not have a negroni on the list. Asterley Bros' twist is to infuse Cabby's London dry gin with rhubarb, ginger and vanilla, and combine with its estate vermouth and dispense amaro as well as campari (it comes in at 23 per cent​ ABV). There's also a wet martini (29 per cent​ ABV) made with Cabby's gin and Schofield's vermouth. Get these in the freezer for an hour before serving – or in a cool box if you're having a picnic.
The Uncommon wine spritzer, 5.5%: £4.99, Selfridges
Founded by two friends in 2017, The Uncommon is the UK's first brand to specialise in canned English bubbly, with a strong focus on local and sustainable production – grapes are sourced from Hampshire, Surrey and Kent. Now it's launching two spritzers which combine its award-winning wines with sparkling water and English botanicals: they're dry, light and refreshing with no added sugar. White spritzer Alfie has cucumber, rosemary, elderflower and lemon verbena in the mix; we especially loved the rose version Peggy, bursting with strawberries and enhanced with mint, rose, hawthorn and lavender. Currently this is only available in the Selfridges Food Hall, but keep an eye out because it's launching on the site on June 10.
The verdict: Pre-mixed cocktails
Bloody Drinks' bloody classic takes it simply because it's bloody delicious; it's on the more expensive end of the spectrum but you pay for quality, and this bloody mary elevated with sherry and pickle juice is just that. The Porter's Gin hippy fizz was something different, with a lovely complexity, and we loved Punchy's fresh take and flexible approach to a beloved style of drink.
IndyBest product reviews are unbiased, independent advice you can trust. On some occasions, we earn revenue if you click the links and buy the products, but we never allow this to bias our coverage. The reviews are compiled through a mix of expert opinion and real-world testing.