The Independent's journalism is supported by our readers. When you purchase through links on our site, we may earn commission.
8 best budget smartphones: Cheap phones that don't compromise on quality
With high-end features at your fingertips, get real bang for your buck from the likes of Nokia and Samsung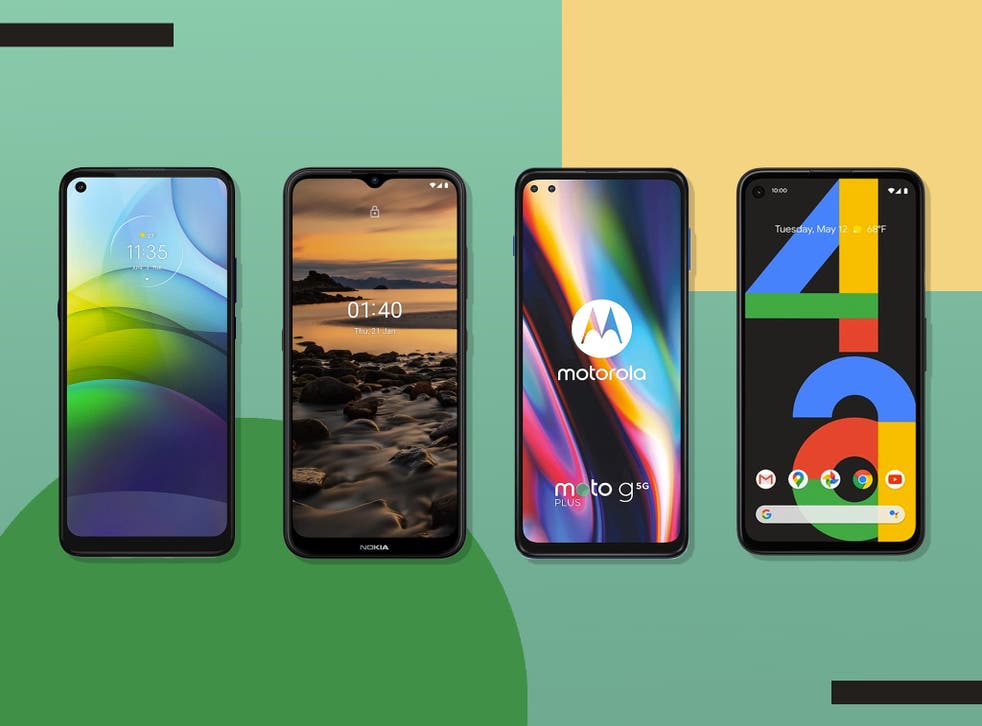 While Apple, Samsung and Huawei dominate the top end of the smartphone market, the demand for cheaper and mid-range devices is far greater than you might imagine.
Not only are the latest and greatest phones a luxury for most, but there's fierce competition between manufacturers to gain a foothold and win new customers in emerging markets. This means that budget phones have become much faster, better designed and more capable in recent years. Low cost doesn't mean low quality.
For us, a "budget" smartphone can stretch close to £400, especially for a phone that will last you a good few years: it's a vital piece of personal tech. 
However, there are plenty of budget smartphones at the lower end of the scale that do a great job for solid value.
A new generation of smartphone producers from China have disrupted the market, with brands like Xiaomi providing high-end specs at a low-end price. The usual suspects also make an appearance, but, with a wider range of choices than ever, now's the time to shop around.
Read more:
The best budget smartphones for 2022 are:
Best: Overall
Weight: 199g
Dimensions: 161.9mm x 77.3mm x 9.05mm
Battery: 5000mAh
Camera: Rear 48MP wide angle, 2MP macro, 2MP depth; front 13MP
OS: Android 10 with MIUI 12
Storage: 64GB/128GB
Xiaomi has done a brilliant job of disrupting the smartphone market in the UK. Its various ranges – redmi, POCO, mi – all offer great specs for any budget, but its redmi note 9T is perhaps one of its best launches. It's barely believable that a 5G-ready phone is on the market for such a low price, and you'd fear that this indicates a lack of quality elsewhere. However, the note 9T has snappy processing speed thanks to MediaTek's 800U chip – great for gamers and streamers – and its screen is comparable to any other phone at this price.
There are other phones from Xiaomi with 5G capability that rival the redmi note 9T for specs, such as the mi 10T lite or slightly-pricier mi 11 lite (£300, Amazon.co.uk), but this is a solid phone that is future-proofed and performs tasks with a minimum of fuss.
Best phone under £100
Best: For families
Weight: 178g
Dimensions: 166.42mm x 76.72mm x 8.7mm
Battery: 4000mAh
Camera: Rear 8MP, 2MP macro; front 5MP
OS: Android Q Go
Storage: 32GB with microSD slot
It's nice to see Nokia still producing phones. There's something a little nostalgic about switching on the 1.4 – maybe it's the characteristic Nokia tune that anyone reading this can now hear in their head. Or maybe it's because of how no-nonsense Nokia has been since its inception as a pulp mill in 1865, right through to the first truly indestructible human-made product, the Nokia 3210.
Back to the present day, the Nokia 1.4 is the perfect starter smartphone, at a price that beggars belief. From a great screen size to its super lightweight feel, there's not much wrong with it. Yes, its specs aren't brilliant: it's not the smoothest operator, feeling a little clunky when moving between apps, and the camera is grainy and struggles in low light. But it all works, and at this price, what more could you want?
Read the full Nokia 1.4 review
Best phones under £200
Best: Budget 5G smartphone
Weight: 220g
Dimensions: 173.83 x 77.68 x 8.85 mm
Battery: 5000mAh with 18W quick charging
Camera: Rear cameras 48MP, 5MP ultrawide, 2MP depth; front camera 8MP
OS: Android 11, ready for Android 12
Storage: 64GB with microSD support up to 512GB
Chipset: Qualcomm Snapdragon 480 Mobile Platform
Nokia's parent company HMD Global has been trying to encourage the same brand loyalty the original Nokia range had in the hearts of so many first-time phone owners in the '90s and 2000s. It has a strong chance of doing so with the Nokia G50, a 5G phone at a barely-believable price. It's Nokia's cheapest 5G-ready handset, and among the cheapest on the market full stop, yet still provides a good raft of features that would make it a sound choice regardless.
It's classic Nokia in terms of design: sleek and straight to the point. Although the huge screen and battery make this a bit of a chunky machine, widescreen streaming makes up for this somewhat. The camera set-up is good for the price point, with portrait mode a particular highlight, and a fun watermark mode that puts a professional gloss on the tenth "arty" shot you took today of your car.
The Android experience on the G50 is impressively clean, with no superfluous app downloads. We'd go as far to say that when it comes to simplicity, it's the best Android UI around. Nokia's forward planning isn't limited to 5G compatibility, as this phone comes with two years of OS upgrades and three years of monthly security updates, meaning that it's ready for the launch of Android 12. The Qualcomm Snapdragon 480 chip isn't the most sophisticated, but can perfectly handle streaming and gaming, while the huge 5,000mAh battery will last you for the weekend.
Read the full Nokia G50 review
Best phones under £300
Xiaomi poco X3 pro: £109, Mi.com
Best: No-nonsense performer
Weight: 215g
Dimensions: 165.3mm x 76.8mm x 9.4mm
Battery: 5160mAh
Camera: Rear 48MP, 8MP ultra wide, 2MP macro, 2MP depth; front 20MP
OS: Android 11 with MIUI 12 for POCO
Storage: 128GB/256GB with microSD slot
When you open the POCO X3 pro's box, you're greeted with the tagline "Everything you need, nothing you don't". It's exactly right. This is simply a high-performing smartphone for a price that really should be much higher.
Marketing for the X3 pro is mainly focused on the gaming potential of the phone, but all of its features extend to making the phone a very impressive device for general use. Moving between apps is frictionless, the Snapdragon 860 chip ensures lagless gameplay, the cooling technology protects against your phone overheating during demanding media sessions and the Gorilla Glass 6 should lessen that horrible feeling when you drop your phone.
The look might be a little simplistic and clunky for some, but it feels strong in your hands, and the camera performs admirably. The screen is a good size and offers 120Hz refresh rates, keeping everything smooth as silk, and the battery will give you around 18 hours of non-stop video. It all comes together to make a phone that performs at a much higher level than the price you pay.
Best: For portability
Weight: 159g
Dimensions: 160.53mm x 75.73mm x 6.81mm
Battery: 4250mAh
Camera: Rear 64MP, 8MP ultra wide, 5MP telemacro; front 20MP
OS: Android 11 with MIUI 12
Storage: 128GB/256GB with microSD slot
The mi 11 lite 5G is a long-winded name for a very well put together phone. The mi range can be a bit of a confusing place to shop, as all the phones have very similar names, including the 11 lite 5G, but this is a handset that stands out from the rest. The word "lite" is a misnomer, as the phone offers plenty of heavy-hitting tech. The 90Hz screen is backed up by solid processing power, the battery lasts an age, and Xiaomi's MIUI 12 skin for Android is a neat piece of software.
It is also an absolute beauty: it's the slimmest 5G phone we tested for this round-up, a huge plus point in a world of relatively clunky budget smartphones. While other phones at this price might offer more power, or slightly better camera specs, the inclusion of 5G capability here really makes the mi 11 lite a serious contender for your cash.
Best: Mid-range budget smartphone
Weight: 207g
Dimensions: 168mm x 74mm x 9mm
Battery: 5000mAh
Camera: Rear 48MP, 5MP macro, 8MP ultra wide, 2MP depth; front 16MP ultra wide, 8MP
OS: Android 10
Storage: 64GB/128GB with microSD slot
It's only taken a couple of years, but there are now 5G-ready phones at prices that rival their non-5G counterparts. One such phone is the Moto G 5G plus, a handy phone that has an impressive Snapdragon system under the case and 90Hz screen refresh, both seen rarely at this price point. This is a great all-rounder of a phone, a dependable handset that has above and beyond the goods to do its job, while offering 5G at an affordable cost.
Best phones under £400
Best: Value Apple smartphone
Weight: 148g
Dimensions: 138.4mm x 67.3mm x 73mm
Battery: 1821mAh Li-Ion
Camera: Rear 12MP dual-pixel, panorama up to 63MP; front 7MP
OS: iOS 14
Storage: 64GB/128GB/256GB
Apple released the iPhone SE as a cheaper option for those who want to be part of the Apple ecosystem without committing a paycheck in one go. The SE, however, is by no means a "budget" phone when it comes to what's inside, providing most of the features Apple's more expensive devices have.
The super-fast A13 Bionic chip is the same as the one found in the iPhone 11 Pro: a promising aspect that should keep the phone performing well a good few years down the line. Its high-end processing power makes this smartphone a great option for Apple users that have been holding onto an older iPhone for a little too long, or for those who fancy making the jump to iPhone with a little less financial risk. It's really very good.
Best: Value Galaxy smartphone
Weight: 189g
Dimensions: 159.9mm x 75.1mm x 8.4mm
Battery: 4500mAh
Camera: Rear 64 MP, 12MP, 5MP, 5MP; selfie 32MP
OS: Android 11 with One UI 3.1
Storage: 128GB with microSD slot
The galaxy A52 5G is easy and snappy, and feels much more premium than the price would suggest. The screen is as good as any phone here – an exceptional 120Hz Super AMOLED display – and the sound feels as close to stereo as you'd expect at this level. The cameras are good, albeit potentially not on the same level as other similar models, but shoot crystal clear shots in normal mode.
The A52 is a great Android experience (besides oddly making you download TikTok on setup) and is fantastic value for the price, with much higher specs than you'd expect in a sub-£400 smartphone. For Galaxy enthusiasts, this is far and away the best mid-range smartphone you can get, with that all-important 5G capability.
Read the full Samsung Galaxy A52 5G smartphone review
How to choose the best budget smartphone for you
Because they're so much cheaper than premium handsets, budget smartphones can more easily be bought SIM-free, meaning you're not tied to an expensive long-term phone contract. When coupled with the cheapest SIM-only deals, which start from a couple of pounds per month, you can end up making enormous savings over time.
Choosing a cheap smartphone doesn't have to feel like a compromise, so decide which features are most important to you and start your search there. There's really only one budget iPhone option, but there's a much wider range of Android phones to choose from. Even the latest features, such as 5G and edge-to-edge AMOLED displays, can be found on phones costing less than £400.
So whether you're after a device that looks stylish, takes great pictures, or has an all-day battery life, something in our list of the best budget smartphones will be right for you.
What to look for in a smartphone
With a dizzying array of phones to choose from, it can be hard to know where to begin. Let's break down some of the key features to keep in mind when shopping around.
Performance – Apps and websites are becoming exponentially more complex to load and display. Just like your laptop or computer, your phone will appear to slow down as it gets older, and the everyday tasks it needs to perform become more taxing. A fast processor keeps your device ahead of the curve, affecting pretty much everything your phone does. Apps open more quickly and run more smoothly, and camera performance improves.
Battery life – Generally speaking, the more expensive a phone is, the worse the battery life becomes. Cheaper phones are less powerful and don't drain energy as quickly, while high-end devices suck so much juice that they tend to only last a single day. If you want a phone you don't need to recharge every night, consider looking at a mid-range device.
Android or iOS? – The two competing mobile operating systems are more similar than they've ever been, and it's now easier than ever to transfer your messages and data between them at the push of a button. Don't feel like you need to stick with what you know: there are fantastic phones to be found in both the Android and iOS camp.
Storage – With the advent of online cloud storage, local storage is becoming less of a priority for phone manufacturers. But if you want to store a lot of music, videos and photographs offline, you'll want a phone with at least 128GB of space. If you need more, consider online storage options like Dropbox, iCloud, Google Photos or OneDrive, which can integrate seamlessly with your phone to unlock terabytes of storage space.
Display resolution – For the most part, phone screens have progressed past the point where it's possible to make out individual pixels. Even the cheapest phones will have full HD displays that would have been inconceivable just a few years ago. At the high end of the market, look for phones with a higher refresh rate – either 90hz or 120hz – for a display that feels smoother when scrolling and is kinder on your eyes.
Camera quality – This is where premium phones break away from the pack. The high-end iPhone 12 (£612.97, Amazon.co.uk) and Samsung Galaxy S21 (£584.99 Amazon.co.uk) have cameras that blow most mid-range phones out of the water.
| | | | | | | | | |
| --- | --- | --- | --- | --- | --- | --- | --- | --- |
| Budget smartphone | Price | Weight | Dimensions | Battery | Rear camera | Front camera | OS | Storage |
| Xiaomi redmi note 9TAmazon.co.uk | £218.60 | 199g | 161.9mm x 77.3mm x 9.05mm | 5000mAh | 48MP wide angle, 2MP macro, 2MP depth | 13MP | Android 10 with MIUI 12 | 64GB/128GB |
| Nokia 1.4, Amazon.co.uk | £88 | 178g | 166.42mm x 76.72mm x 8.7mm | 4000mAh | 8MP, 2MP macro | 5MP | Android Q Go | 32GB with microSD slot |
| Nokia G50, Amazon.co.uk | £179.99 | 220g | 173.83 x 77.68 x 8.85 mm | 5000mAh | 48MP, 5MP ultrawide, 2MP depth | 8MP | Android 11, ready for Android 12 | 64GB with microSD support up to 512GB |
| Xiaomi poco X3 pro, Mi.com | £109 | 215g | 165.3mm x 76.8mm x 9.4mm | 5160mAh | 48MP, 8MP ultra wide, 2MP macro, 2MP depth | 20MP | Android 11 with MIUI 12 for POCO | 128GB/256GB with microSD slot |
| Xiaomi mi 11 lite 5G, Amazon.co.uk | £399.99 | 159g | 160.53mm x 75.73mm x 6.81mm | 4250mAh | 64MP, 8MP ultra wide, 5MP telemacro | 20MP | Android 11 with MIUI 12 | 128GB/256GB with microSD slot |
| Moto G 5G plus, Amazon.co.uk | £249.99 | 207g | 168mm x 74mm x 9mm | 5000mAh | 48MP, 5MP macro, 8MP ultra wide, 2MP depth | 6MP ultra wide, 8MP | Android 10 | 64GB/128GB with microSD slot |
| iPhone SE, 2020, Tescomobile.com | £389.99 | 148g | 138.4mm x 67.3mm x 73mm | 1821mAh Li-Ion | 12MP dual-pixel, panorama up to 63MP | 7MP | iOS 14 | 64GB/128GB/256GB |
| Samsung Galaxy A52 5G, Amazon.com | £319.79 | 189g | 159.9mm x 75.1mm x 8.4mm | 4500mAh | 64 MP, 12MP, 5MP, 5MP | 32MP | Android 11 with One UI 3.1 | 128GB with microSD slot |
The verdict: Budget smartphones
There are great options at each price point. For a great starter smartphone with an impressive array of features, you can't go wrong with the Xiaomi redmi note 9T. Your choice at the higher end of the budget market really comes down to personal taste, but the iPhone SE has all you need from a smartphone at any price.
Voucher codes
For the latest discounts and offers on phones and other tech buys, try the links below:
Getting a SIM-only contract? Our buying guide covers all you need to know about getting the best deal for you
Register for free to continue reading
Registration is a free and easy way to support our truly independent journalism
By registering, you will also enjoy limited access to Premium articles, exclusive newsletters, commenting, and virtual events with our leading journalists
Already have an account? sign in