The Independent's journalism is supported by our readers. When you purchase through links on our site, we may earn commission.
7 best bedding sets
Guarantee sweet dreams with a new set of stylish sheets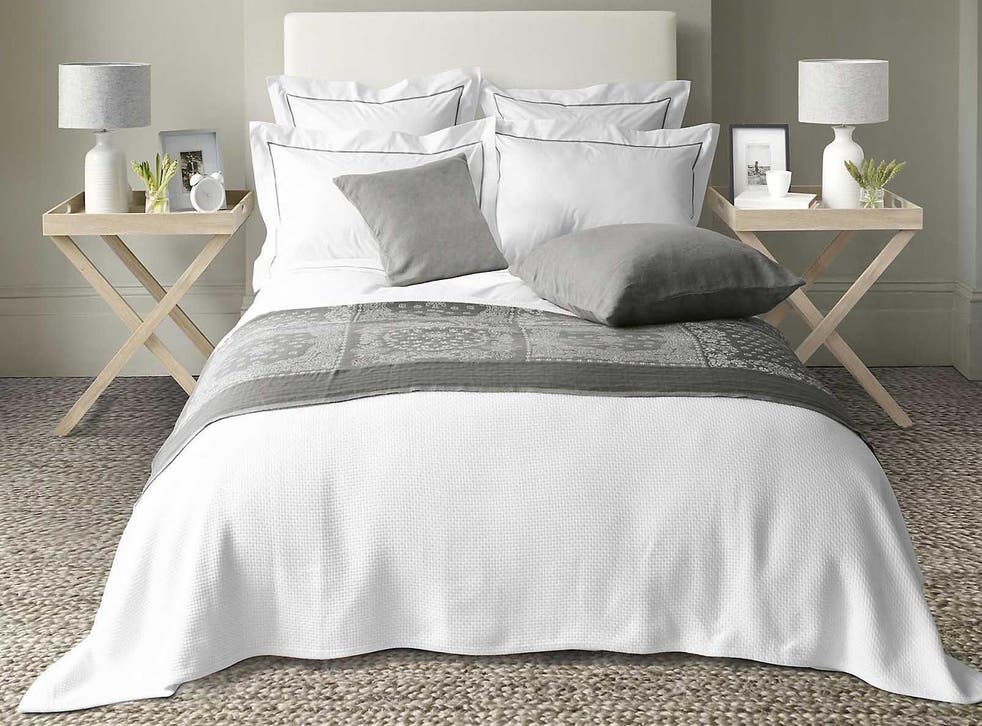 In today's world of endless choices, stresses and demands, your bedroom is something of a safe haven. A place you go to recharge and escape the outside world - or at least try. Too many of us get by on poor quality sleep and a crucial factor you may be forgetting is the bedding you're using. You're going to spend a third of your life sleeping, so why not make sure you get the best rest possible?
There are a few important aspects to consider when choosing your bedding: thread count, fabric, and aesthetics.
A common mistake is equating high thread-count with quality, but many brands will try to trick you here. Thread-count refers to the number of threads used vertically and horizontally per square inch of fabric, with a higher count meant to increase softness and density. However, many manufacturers use multi-ply threads in order to strengthen weaker cotton and then include each ply in the final count; a 250 thread-count of 3-ply fibers can masquerade as 750, while still feeling rough on your skin. To avoid this, prioritise the quality of the fiber above the count. (We've done this work for you when making our selections).
When it comes to fabric, it's all about personal preference. Your most common options are percale cotton; sateen cotton; linen, and microfiber. Percale has the same number of horizontal threads as vertical threads in its weave, while sateen has more vertical threads. The result? Percale tends towards a crisp feel; sateen is silky. For warmer weather or hot sleepers, linen is a great choice that tends to look more lived-in, more relaxed. Lastly, microfiber is a synthetic fabric which can provide unparalleled softness, often at much lower costs.
Once you've got your base, you can consider the look - print or plain, bright or neutral, trims or simplicity. That's the fun part!
Finding the right bedding will be one of the most valuable things you do this year, so let this guide do the legwork for you. We looked at both the comfort and style of bed linens across the market and here is our pick of the best.
All prices based on the Full/Queen size
Parachute Percale Venice Set: from $299, Parachute
An homage to Parachute's Californian roots, the percale Venice set has an undeniable light breeziness to it. Available in shades like 'sand' and 'powder', the washed-out tones give a bohemian charm without compromising on quality or luxury. The percale stays cool on the skin throughout the night and is stonewashed to ensure it continues to soften over time. As an added bonus, with every purchase a malaria bed-net is donated to Nothing but Nets, a United Nations Foundation anti-malaria campaign. Now you really will sleep easy.
Brooklinen Classic Hardcore Sheet Bundle: from $198, Brooklinen.com
The simplest set in the range, Brooklinen's Classic collection is anything but ordinary. By using only single-ply, long-staple cotton, the result is a seriously smooth and light percale fabric that stays cool and crisp, even at their lowest thread count (the Classic still clocks in at 270). The color selection only includes neutrals and simple stripes, but the tasteful palette suggest curation rather than limitation. With the bundle including a flat sheet, top sheet, 4 pillow cases and a duvet set, this is a great balance of affordability and quality.
The Casper Sheets: from $140, Casper
The mattress experts have expanded into the entire bedding range and for good reason: they know what they're doing. There's only one style, available in 6 two-tone or plain colors, but nevertheless this is good bedding. Not only is the percale cotton exceedingly comfortable, but the Casper team have added a few handy details to ensure maximum practicality. Snap ties inside each duvet corner, a hidden zipper at bottom, clear labels on the fitted sheet to tell you which side is which - sleeping well has never been so simple.
Threshold™ Performance Sheet Set Solids 400 Thread Count: from $44.99, Target
A national favorite for a reason, this bedding by Target is affordable, soft and available in 21 colors. There are no patterns or extra flourishes here, just simple and classic sheets that still rack up a 400 thread count. The sateen weave gives an especially soft and slippery feel on the skin, yet they still hold up well in a tumble dryer and all sheets include practical labels of the top, bottom and sides. Although this set doesn't include a duvet cover, there are plenty of accompanying options in the Threshold™ range which keep up the standard.
Pinzon Paris Printed Egyptian Cotton Sateen Duvet Set: from $54.99, Pinzon by Amazon
It's easy to feel like Amazon is taking over the world but it's also hard to say no to this duvet set. With a subtle filigree pattern on either eggshell or gray Egyptian cotton, these covers look far more expensive than their price tag. The sateen weave is perfect for those who like their sheets on the silky side but need something durable; multiple reviews claim them to be pet-proof. Available on Prime shipping, you're just two days away from a great night's sleep.
The White Company's Savoy Bed Linen Collection: from $169, The White Company
British-based The White Company has recently expanded into the US market, to great success. Winning New York Magazine's 'Best Sheets' prize earlier this year, the Savoy collection is a perfect example of the brand's Egyptian cotton bedding. Unsurprisingly, the options are all white-based but you can opt for delicate cord trim in Silver, Navy or Mink. Soft yet still crisp, these are the sheets that will make you feel like you've brought the five-star hotel experience into your own bedroom.
Mellanni Brushed Microfiber Bed Sheet Set: from $24.70, Mellanni
This option by Mellanni is one of the best-sellers on Amazon with over 37,000 customer reviews and a 4.5 star rating - the people have spoken and they love these sheets. Instead of cotton, they're made from microfiber which creates an especially soft feel while still being thin and lightweight; perfect for quick washing and easy storage. Hypoallergenic, available in 36 colors and budget-friendly, these sheets have proven particularly popular with families, students and young kids.
The Verdict: Best bedding sets
Our ultimate favorite has to be Parachute's Venice set. It may not have the va-va voom of print, it may not pack in any secret details, but it did give us the best night's sleep of the bunch. Jumping into bed became a real treat, rather than simply the last step at the end of the day, and Parachute's flawless shades earned a lot of compliments from jealous roommates. Although it's not the most wallet-friendly of the bunch, this set includes everything you need to completely makeover your bed - what are you waiting for?
For the more economically-minded, you really can't go wrong with Mellanni's Microfiber offering. It is unbelievably soft, easy to store and the durability is impressive considering how affordable it is. We couldn't find a comparable range of colors on the market - or a more loyal fanbase. This buy is reliable without being boring.
And if you're somewhere in the middle budget-wise, looking to maybe try something new as summer creeps nearer, why not go with Loomstead's linen set? It's beautiful to look at, even better to sleep in, and heavily rooted in sustainability. Win, win, win.
Register for free to continue reading
Registration is a free and easy way to support our truly independent journalism
By registering, you will also enjoy limited access to Premium articles, exclusive newsletters, commenting, and virtual events with our leading journalists
Already have an account? sign in