The Independent's journalism is supported by our readers. When you purchase through links on our site, we may earn commission. Why trust us?
13 best coat hooks
Set the tone for the rest of your house with a stylish and functional coat rack in the hallway. We're hooked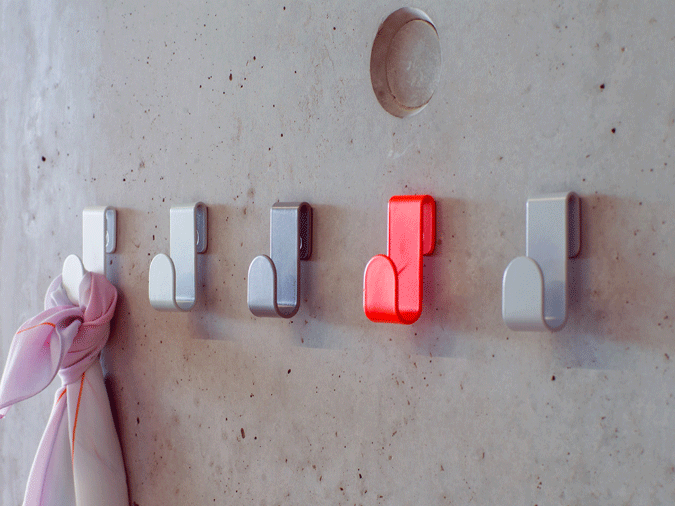 Let us guess, your hallway is bland and your coats and bags end up dumped at the foot of the stairs or thrown over the banister? But it doesn't have to be this way. Add some interest and colour (and get some practical storage solutions, too) to your under-appreciated space with a design-led set of coat hooks.
1. The Dots by Muuto: from £17.50, reallywellmade.co.uk
These fun solid wood coat hooks from Scandinavian brand Muuto are perfect for livening up a dull hallway. They come in three sizes and nine colour stains so you can get creative and design your own combination.
2. HAY Volet Coat Hooks: £20 for two, selfridges.com
HAY's Volet hooks are made of folded sheet metal, giving them an industrial feel and a neatness that should suit die-hard minimalists. The hooks, sold as pairs, come in shimmering gold or green, or a more sedate silver and black.
3. Esaila Forest hooks: £64 for four, nunido.co.uk
The great outdoors inspired this playful set of turned-ash coat hooks. Like miniature trees or mushrooms, they're designed to look like they've grown spontaneously from the wall; arrange them into a landscape of your own design.
4. Talking Heads: £54 for four, sebastianbergne.com
Designed to resemble chess and board game pieces, there's a friendly familiarity to Talking Heads. Each in the set of four is partially painted in shades of grey, and partially left exposed to reveal its natural beech finish.
5. Ambrose Butterfly Wall Hooks: from £25, heals.co.uk
Like delicate butterflies, these pastel-coloured wall hooks from Heals' look like they could flutter away at any moment. The hooks are made from thin sheet metal that you fold yourself, making a small shelf as well as a place to hang your coat.
6. Eames Hang It All Hooks: £207, conranshop.co.uk
This rack by influential design duo Charles and Ray Eames has been copied many times, but the original remains the best and will always be a classic. Originally designed to encourage children to hang up their things, the cheerful design will brighten up any hallway and its 14 balls will leave no coat un-hung.
7. Isaac Krady Stack Hook: £15.01 for three, hem.com
Isaac Krady's blocky, angular interpretations of tree branches bring a little industrial cool to your hallway. The natural bare oak keeps it soft and is our favourite, but they also come in black and red for a bolder statement.
8. Oscar Diaz Melon Bauhaus Hooks: £36.10 for three, madeindesign.co.uk
These playful hooks are inspired by the Bauhaus art movement's iconic primary shapes and are characteristically cast in red, yellow and blue lacquered aluminium. They'll look best in a white-walled, minimalist home.
9. Scholten & Baijings Flare Hooks: £53.70 for five, schoenbuch.com
If Bauhaus is a little too colourful for you, this set includes four hooks in varying shades of grey (50 would be a little excessive) with one bright colour – choose from red, yellow and blue.
10. Zara Lion Hook: £9.99, zarahome.com
These little lion hooks look much more expensive than they are. Buy three to make your own Aslan-themed coat rack.
11. Posh Totty Design Interiors Trio of Round Colourful Wall Hooks: £7.50, notonthehighstreet.com
We like these three bright pastel (if that's not an oxymoron) wooden hooks that will add a splash of colour to your walls. Each is roughly 6.5cm in diameter.
12. Normann Copenhagen Dropit Hooks Set of 2: from £22.50 for two, occa-home.co.uk
Those Scandis know a thing or two about pared down yet stylish, functional design, and these tear-drop shaped hooks are a classic example of the genre. Choose from five colours, including this coral.
13. Ikea Bastis Hooks: £1, ikea.com
Who'd have thought dogs bottoms could look so cool? At £1 a pop, you'll still get change for a tenner if you get one of these small rubber hooks in every colour.
Buy now (in store only)
Verdict:
For something that allows you to get a little creative and design your own display, The Dots by Munto are a brilliant choice, while the Hang It All by Eames is a little pricey but will never go out of style. For something a little subtler but just as classy, the bare oak hooks from Isaac Krady are perfect and surprisingly good value.