The Independent's journalism is supported by our readers. When you purchase through links on our site, we may earn commission.
January sales 2022 – live: Today's best deals on Kindle, clothes, home appliances and more
From AirPods to Shark vacuums and Emma mattresses, these are the hottest offers worth shopping right now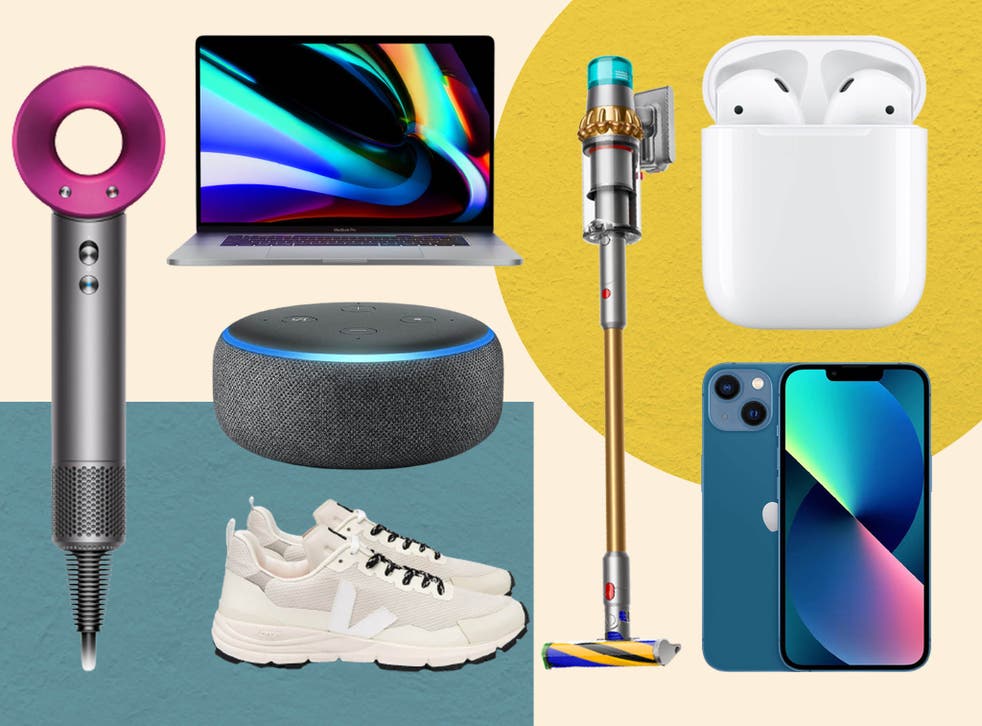 While some see the new year as an opportunity to kickstart some new life goals, it's also a great time to bag a bargain.
With the Black Friday and Boxing Day shopping bonanzas behind us, we've got eyes on the January sales, which see many of our favourite retailers, including John Lewis & Partners to Boots and Currys, Asos, Very and Argos slashing their prices.
If you're looking to ease those January blues with a spot of retail therapy, we've got the pick of the best deals on everything from a new mattress, pair of headphones and Nintendo Switch consoles to make-up and trainers.
Follow along for our live coverage of the hottest deals as they drop.
Read more:
1641403828
How to shop the January sales like a pro
That's it from us today. But of course it's not the end of our coverage because our guides are on hand to make sure you're shopping the January sales like an absolute pro:
Eva Waite-Taylor
5 January 2022 17:30
1641402628
The KitchenAid artisan mixer is even cheaper than it was on Black Friday right now
Looking to be a star baker in 2022? Amazon has slashed the price of this Bake Off approved stand mixer.
KitchenAid 5413184120696 artisan stand mixer: Was £599, now £459, Amazon.co.uk
We've reviewed a similar model in our guide to the best stand mixers. Our tester billed the classic 4.8l stand mixer as best for Bake Off quality, noting "KitchenAid has built its reputation as a tried and trusted faithful." They also mention that thanks to the optional attachment extras, KitchenAid machines are something "you can utilize for just about every kitchen need."
All of this makes the current sale deal an even more tempting prospect, serving up a kitchen appliance buy that will adapt well to regular use and slot into everyday food prep with ease.
To find out more about the appliance, read all about it here:
We've found the KitchenAid artisan stand mixer for less than its Black Friday price at Amazon in the January sales
Eva Waite-Taylor
5 January 2022 17:10
1641399028
Rest easy with these mattress deals
One particularly pricey item that you can save on during the January sales is your mattress, with popular brands including Simba, Emma, Eve and Dormeo cutting their prices considerably during the sale event – some by up to 50 per cent.
If you need a better night's kip, why not save hundreds of pounds on your next bed in a box right now. To make it easier for you, we've compiled a guide to the best mattress deals, so you can sleep easy knowing your new mattress will be that bit more pocket friendly. Happy snoozing:
From Emma to Simba to Sealy, these are the best January mattress deals to snap for 2022, plus everything you need to know about the sales
Eva Waite-Taylor
5 January 2022 16:10
1641395428
Run, don't walk: There's £100 off Apple Watch series 6
Apple Watch series 6 GPS, 40mm: Was £379, now £279, Johnlewis.com
It's not often we see deals on Apple's newer products, so this offer is definitely one to shout about. Prior to the launch of the latest series 7, our reviewer called the series 6 the most advanced Apple watch yet. "The screen has beautifully curved corners, a big speaker, a microphone and so on," they said. Noting the advanced health and sleep tracking features, they added that if fitness and wellness are important to you, then the series 6 is for you. It also has contactless payments, a built-in GPS, water resistance and a blood oxygen sensor. With £100 knocked off the price right now, there's no better time to invest. And if you have an old Apple watch, trade it in and claim up to a further £120 off its value.
Eva Waite-Taylor
5 January 2022 15:10
1641391828
Dyson airwrap dupe is 20% off right now
If you're struggling to find the Dyson airwrap in the January sales, we've got the next best thing.
In our head-to-head review of the two tools, our reviewer said the ghd rise helped their hair stay "wavy and bouncy late into the evening – something we thought only existed in our wildest beauty dreams." They also praised the tool for its ability to minimise heat damage by using an infinity sensor and predictive technology which adapts the temperature to one best suited to your hair type and thickness.
When it came to comparing the two devices, our writer said that "if all you're looking for is reliable volume and glamorous waves, the ghd rise is just as worthy an investment."
Want to know more? Here are all the extra details:
Eva Waite-Taylor
5 January 2022 14:10
1641388228
Calling coffee lovers, DeLonghi's bean-to-cup machine is 50% off
DeLonghi autentica bean-to-cup coffee machine, silver and black: Was £699, now £349, Currys.co.uk
If the only way you can wake up in the morning is with a fresh cup of coffee then make this DeLonghi your first purchase of January. Standout functions include technology that grinds and moistens the coffee before brewing for optimum flavour, a memory feature that remembers your favourite cup of Joe (as who can remember anything before a coffee in the morning?) and a milk frother for barista-worthy drinks.
Find out more about the machine below:
Partial to a fresh cup of coffee plus personalised aroma settings? Here's everything you need to know about this half-price bean-to-cup machine
Eva Waite-Taylor
5 January 2022 13:10
1641384628
Dreaming of a holiday? Check out Tui's flight and holiday deals
If the January blues have you dreaming of a holiday, Tui's live happy sale might be the answer you're looking for. The holiday provider is currently offering up to £300 off your next big trip when you depart between 1 May and 31 October 2022.
For example, if you fancy a trip to Kefalonia (who wouldn't?) then you'll be glad to hear that a seven-night, half board stay at the Hotel Mediterrane has been reduced from £546 per person to £407 (Tui.co.uk). Enter the code: "SALE" at checkout to get an additional £100 off.
Eva Waite-Taylor
5 January 2022 12:10
1641383428
Need a new sofa? This January sale deal is unmissable
If your plans for January consist of spending time on the sofa getting through Netflix, then you need to invest in a new settee. This one landed the top spot in our guide to the best sofa in a box, with our writer noting that if you're after a "deep, cosy sofa you can curl up in of an evening, look no further than the big chill". As for its style, they wrote that "the slight boxiness of the chunky arms and high back give this sofa a super-chic look", adding that "it's a great all-rounder that will work with any décor scheme".
Eva Waite-Taylor
5 January 2022 11:50
1641382228
Currys slashes the price of Dyson's cordless vacuum
Dyson V11 absolute cordless vacuum cleaner: Was £599, now £439, Currys.co.uk
Usually priced just shy of £600, this saving of £160 is well worth snapping up. We compared this with the V7 absolute cordless vacuum cleaner, and our reviewer said the "V11 no doubt has the edge". They noted "you won't have to shed out for another vacuum cleaner of any kind as it does a first-class job – as good as any corded model – even in larger homes." Seemingly a one-size-fits-all Dyson, it's a perfect January bargain.
This isn't the only model that's been discounted, read our shopping guide to find out how you can also save on the Dyson V10:
Clean up with these Dyson deals. Here's everything we know about the vacuum cleaner savings you'll find in this year's January sales
Eva Waite-Taylor
5 January 2022 11:30
1641381028
The best Theragun deal we've seen in the January sales
If you're starting the new year off with a little fitness kick, you're going to need one of these.
Soothe tired muscles and promote healing with Theragun's elite massager. It landed a spot in our round-up of the best massage guns, where our reviewer said: "If you want to be guided through your recovery, Theragun's elite model is the ideal top-end device."
They also praised the closed grip that helps you handle it with ease and reach difficult spots on your back. "It has five speeds, a long-lasting battery, excellent attachments and a quiet motor all of which add up to make it a luxury pick," they added.
Eva Waite-Taylor
5 January 2022 11:10
Register for free to continue reading
Registration is a free and easy way to support our truly independent journalism
By registering, you will also enjoy limited access to Premium articles, exclusive newsletters, commenting, and virtual events with our leading journalists
Already have an account? sign in