The Independent's journalism is supported by our readers. When you purchase through links on our site, we may earn commission.
10 best hyaluronic acid products for an extra hit of hydration
These skincare products have the secret ingredient to soothe your complexion and boost elasticity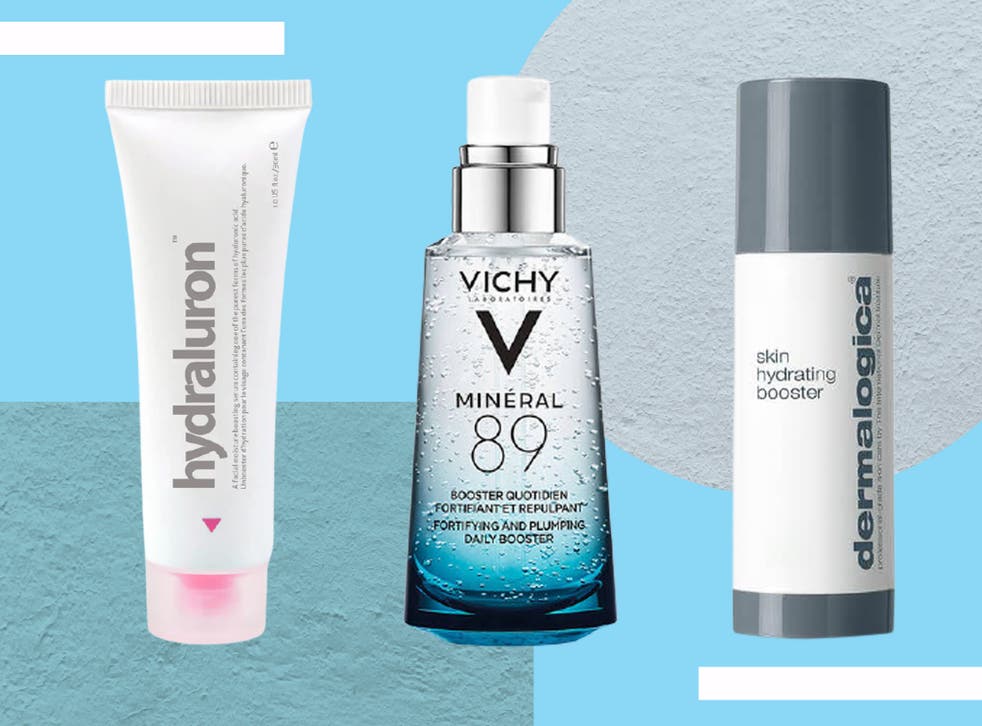 Hyaluronic acid is a naturally occurring humectant that binds water to itself; the much-repeated statistic is that it can hold 1,000 times its weight in water. As we age, our body's capacity to produce it diminishes, leaving skin drier and lacking in elasticity. Applying it topically can help remedy that, by improving the absorption of water in any products you apply after it.
You may well already be using a hyaluronic acid product without realising it, as it's a common ingredient in moisturisers, serums, eye creams and masks. It can appear in ingredient lists as "hydrolysed hyaluronic acid", "sodium acetyl hyaluronate" and "sodium hyaluronate", as well as "hyaluronic acid".
In serum form – our favourite form of application – hyaluronic acid products are usually clear and often a bit gloopy. They are usually lightweight and have great slip, meaning you can easily distribute a small amount across the face, and it will absorb swiftly.
You should see and feel a difference in dryness, glow and elasticity immediately, and the overall appearance of skin should improve with consistent repeated use.
It's safe to apply hyaluronic acid both morning and night. Make it the final step before your moisturiser (and oil, if at night) to lock in as much moisture as possible.
Read more:
You can trust our independent reviews. We may earn commission from some of the retailers, but we never allow this to influence selections, which are formed from real-world testing and expert advice. This revenue helps us to fund journalism across The Independent.
The best hyaluronic acid products for 2021 are:
FaceGym hydro-bound
Best: Overall
This, from the "workout" facial brand's new skincare line, has brilliant packaging: it has a button-operated pipette (rather than a traditional squeezy one) that pops up when you unscrew the lid and dispenses the right amount of product to cover your whole face, as well as a very slim dropper for great control. As well as hyaluronic acid it contains niacinamide, for improved clarity and texture, and polyglutamic acid, which is hailed by some as the next hyaluronic acid-like hero ingredient. It leaves skin brighter and feeling strong and bouncy.
Indeed Labs hydraluron moisture boosting facial serum
Best: Cult classic
Hydraluron has a cult following thanks to its moderate price and no-frills efficiency. It's a thick formula, so it won't run between your fingers, and it leaves tight, dry skin relieved, plumped and with a healthy glow. While the squeezy tube may be less attractive than other packaging, we love that you can cut into it to get at every last bit of product.
Balance Me tri-molecular hyaluronic serum
Best: For fine lines
Balance Me's serum is made from 99 per cent natural ingredients and contains three differently sized molecules of hyaluronic acid, each of which penetrates the skin at a different level, for comprehensive and deep hydration. The smallest weight targets fine lines and plumpness with repeated use, while the larger weights attract surface-level moisture and provide temporary relief.
Drunk Elephant f-balm electrolyte waterfacial
Best: For overnight care
We're suckers for overnight masks - or anything that promises maximum results with minimum effort. F-balm's ingredient list is like a roll-call of skincare big-hitters: niacinamide (for tone and clarity), squalane, hyaluronic acid, vitamin F and five barrier-strengthening ceramides. It's a cooling, hydrating gel-lotion; we like it massaged into skin with fingers or a tool just before bed, for quenched, brighter skin by morning.
Read more: 14 best overnight face masks for a renewed complexion
Dermalogica skin hydrating booster
Best: Packaging
This tiny tube lasts a long time, as it's one of the most generous serums we tried in terms of slip: a small amount easily covers the face and neck. It's thin, lightweight and cooling, as well as fragrance-free. We love it applied in a concentrated way to flaky or peeling areas of dryness for immediate relief. It also has great packaging: a squeezy rubber base that you press to dispense the product onto your fingers.
Beauty Pie triple hyaluronic acid & lipopeptide serum
Best: For glow
Like Balance Me's offering, this gorgeous serum contains three different molecular weights of hyaluronic acid to penetrate the skin at different levels. It also features peptides, which are key for the creation of collagen and elastic, and, combined with hyaluronic acid, add bounciness and improve resilience. It has a slightly tacky finish but that's swiftly remedied when followed up with a moisturiser, and it gave a glow like nothing else we tried. If you're a Beauty Pie member, you'll get it for £16.96, rather than the RRP of £60.
Read more: 10 best Beauty Pie products to shop: From serums to mascaras
Dr Dennis Gross hyaluronic marine moisture cushion
Best: Cream formula
Just the bright turquoise-blue of the American dermatologist brand's hyaluronic marine range makes us feel quenched. This is a light, cooling, gel-cream that gives very good hydration without feeling heavy, rich or tacky on the skin. As well as hyaluronic acid it contains amino acids and B vitamins, glycolic acid to gently exfoliate and improve texture, and marine algae – hence "marine moisture" – which boosts elasticity.
Vichy mineral 89 hyaluronic acid hydration booster serum
Best: Bargain
We love the French pharmacy brand Vichy for its brilliant formulations with surprisingly low prices. The ingredient list is short – just 11 – and solid: as well as hyaluronic acid to plump and strengthen skin, it contains Vichy's French volcanic water, which contains 15 minerals that help improve the skin's barrier function. It has the texture and results of a far more expensive brand, without the hefty price tag.
Elizabeth Arden hyaluronic acid ceramide capsules hydra-plumping serum
Best for: Potency
Every time the ingredients in your skincare are exposed to air – ie, when you open the pot or bottle – they can degrade, or bacteria can enter on your fingers. Encapsulated skincare keeps ingredients as fresh, potent and hygienic as possible. Elizabeth Arden's hyaluronic acid capsules also contain ceramides (both are naturally occurring in skin but lost with age); together they draw in moisture, deep into the skin, and strengthen the skin's barrier to prevent its loss. The texture is gorgeous and silky, and the capsules are biodegradable.
The Ordinary hyaluronic acid 2% + B5
Best: Efficacy on a budget
You can rely on an ingredient-focused brand like The Ordinary to deliver in this category. Its hyaluronic acid serum combines three weights of hyaluronic acid with a crosspolymer, plus vitamin B5, which is also good for hydration. We did find it a little sticky, but this is alleviated by applying further products on top, and is a small price to pay for a solid hydrating serum at such a low cost.
Register for free to continue reading
Registration is a free and easy way to support our truly independent journalism
By registering, you will also enjoy limited access to Premium articles, exclusive newsletters, commenting, and virtual events with our leading journalists
Already have an account? sign in
Register for free to continue reading
Registration is a free and easy way to support our truly independent journalism
By registering, you will also enjoy limited access to Premium articles, exclusive newsletters, commenting, and virtual events with our leading journalists
Already have an account? sign in