The Independent's journalism is supported by our readers. When you purchase through links on our site, we may earn commission.
10 best BBQ accessories to help you own the grill this summer
Cook up a feast with these handy accessories, from smart meat thermometers to salt blocks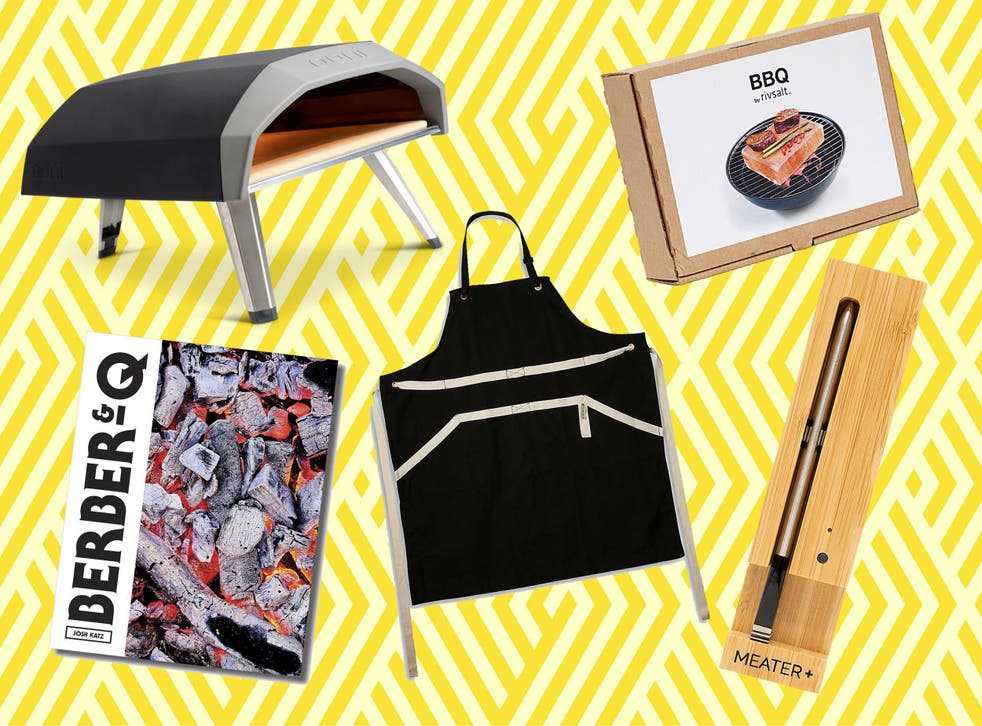 The sun is shining, the guests have been invited, you've even got the garden furniture out. It's time to gather the ultimate barbecue accessories to ensure your grilling action goes off without a hitch.
Firstly, you'll want some top quality instruments so you can flip, twist and prod to your heart's content.
We've found a meat selection pack to keep in the freezer, marinades and rubs to spruce them up and a cookbook to guide you.
From the cheap and cheerful to the splurge-worthy, even the more techy pieces of kit in our roundup are super easy to use, as we're firm believers that it's best to keep things simple when it comes to cooking outside.
So whether you prefer to use charcoal or gas, are a complete novice or a seasoned pro, we're confident the following selection offers the best barbecue accessories to invest in for the summer ahead.
You can trust our independent reviews. We may earn commission from some of the retailers, but we never allow this to influence selections, which are formed from real-world and expert advice. This revenue helps us to fund journalism across The Independent.
M&S collection multi grill basket: £15, Marks and Spencer
We've all been there: patiently salivating over the slices of halloumi, turning golden before our very eyes, when suddenly, they've dropped into the ashy coal below. Protect your food from falling to their grave with this super handy grill basket. It's a whopper, measuring 60cm across, so would happily hold an assortment of veg or an entire fish. It also keeps the barbecue grill cleaner than if you put food directly onto it and we found the long handle easy to turn when the time came, even when fully loaded.
Rivsalt barbecue salt block: £29.95, Harvey Nichols
If you're looking to give your barbecue a little je ne sais quoi (read: show off), how about this pretty pink salt block? You just oil up the surface, chuck it on the barbecue to slowly heat up (test it's hot by sprinkling a little water on it) and then pop your meat, fish or veg on top to cook. We were slightly concerned it would make our food too salty, but it only imparts a subtle flavour. You can also chill it and use as a serving block – sushi would work particularly well. It's really quite heavy, as you might expect from a solid block of salt, but cleans easily with a damp cloth and won't take up too much room.
World of Zing barbecue cooking kit: £28.95, World of Zing
Turn any old piece of meat from drab to fab with this awesome selection of marinades, sauces and salts from World of Zing. We slathered our steaks with the Texas hot spice, coated our chicken wings in the jerk seasoning and turned up the heat with Peri Peri Naga Chilli Ketchup​ in our burger bap. It would make a lovely gift for the barbecue aficionado but is equally handy to have in the cupboard so you have something tasty to work with next time the sun comes out. Definitely one for the heat seekers; the flavours packed a punch, but we'd say overall they were flavoursome rather than just spicy for the sake of it.
'Berber & Q The Cookbook' by Josh Katz: £25, Berber & Q
So you've got all the gear, but not much in the way of cooking skills? No worries. The Berber & Q cookbook is one of our favourites when it comes to barbecue food. With a strong Middle Eastern influence, Katz shows us how to grill with a selection of over 120 delicious meat and veggie recipes, including his restaurants' signature cauliflower shawarma. A lovely reminder that barbecue should be so much more than burnt bangers and mediocre meat.
Apption labs meater+ smart wireless meat thermometer: £98.99, Lakeland
Ensure your meat is cooked to perfection (without having to cut it in half) with this modern meat thermometer. It's a pretty clever bit of kit – you simply stick the probe into the thickest section of the meat and then sync it to your smartphone. Tell the app what type of meat you're cooking, how you'd like it cooked (from rare to very well done), and as long as you're within 50m, it will tell you when it's ready to eat without the need to keep lifting the barbecue lid. An alarm will alert you if there's an expected surge in temperature thanks to misbehaving flames and will even advise the best resting time. Easy to use, easy to clean, all in all, you'll look like a total pro. It can also be used in the oven during the rest of the year.
Ooni koda gas-powered outdoor pizza oven: £244.49, Ooni
There's absolutely no beating the taste of pizza fresh out of a proper pizza oven, but most of us don't have the room in our garden for such an extravagant piece of kit. Or that's what we thought until we discovered the portable Ooni pizza oven, which simply connects to your gas barbecue. Its diminutive size (9.25kg and 62 x 40 x 18cm) means it can cook pizzas up to 12in wide, but can be moved easily. It takes just 15 minutes to get up to 500C, after which pizzas are cooked in just 60 seconds, which is pretty great if you're feeding a crowd. And it's not just for pizza, we cooked fish, baked vegetables and seared steaks in it too.
M&S collection set of 4 boxed barbecue tools: £49.50, Marks & Spencer
Don't blame your lack of tools for less than perfect barbecue performance. Marks & Spencer have collated four of the most useful instruments and popped them in a sturdy aluminium case, which we'll be leaving in the shed during the winter months. Each set includes a pair of all-important tongs, a turner with a serrated edge (ideal for working with burgers that have got a bit stuck), a barbecue fork for larger pieces of meat and a silicone brush for ensuring your marinade is evenly distributed. All are made with stainless steel, so we're pretty confident they'll stand the test of time.
Le Creuset chef's apron: £33, Selfridges
Let's make no mistake, grilling can get pretty messy, so you'll need a sturdy apron to protect your clothes. Made from hardy canvas cotton, Le Creuset's chef's apron comes with an adjustable neck strap and is on the generous side, so should fit most bodies. It's also heat, stain and steam resistant, and can go straight in the washing machine to freshen it up. There's a front pocket and we stashed our mobile phone safely in one of the side pockets, keeping a tea towel close to hand with the loop attached.
Farmison & Co the barbecue meat box: £40, Farmison & Co
Now you've got everything in place you'll need some top quality meat to cook. We've found Farmison & Co consistently delicious, with detailed cooking instructions and beautifully prepared food that always garners compliments from our guests. We'd suggest ordering ahead and sticking in the freezer, ready for the sunshine to appear. There's enough in the box to comfortably serve four people a selection of burgers, chicken thighs, lamb sausages and barbecue sauce, with some crowd-pleasing bangers for the kids too.
Adnams ghost ship keg 5l, 4.5%: £15, Tesco
Cooking over a hot grill is pretty thirsty work. It's not practical to keep traipsing back into the kitchen to keep refreshed, so why not keep this 5-litre keg on standby instead. Full of summery citrus notes with an underlying attractive bitterness, it's the equivalent of about eight pints, perfect for a little gathering in the sunshine.
The verdict: barbecue accessories
We didn't realise quite how useful a grill basket would be until we had one. And now we can't imagine barbecuing without ours from Marks & Spencer. Cheap and cheerful, both carnivores and veggies alike will get plenty of use out of it. However, to inject some flavour, we'd highly recommend the World of Zing barbecue cooking kit. Every ingredient was utterly delicious and spruced up an array of meat and veg with zero effort.
Register for free to continue reading
Registration is a free and easy way to support our truly independent journalism
By registering, you will also enjoy limited access to Premium articles, exclusive newsletters, commenting, and virtual events with our leading journalists
Already have an account? sign in
Register for free to continue reading
Registration is a free and easy way to support our truly independent journalism
By registering, you will also enjoy limited access to Premium articles, exclusive newsletters, commenting, and virtual events with our leading journalists
Already have an account? sign in