SIM only buying guide: How to find the best deals for you
We've found everything you need to know, from keeping your number to data allowances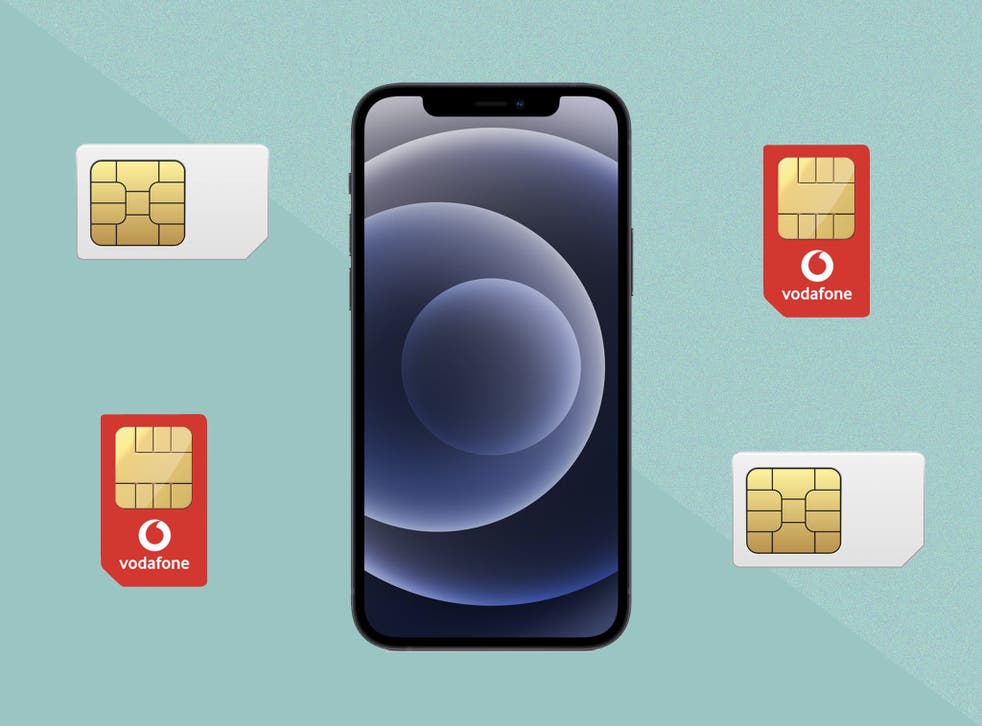 The latest and greatest smartphone can set you back as much as £1,000 if you buy one outright and that upfront cost is one of the main reasons people tend to take out monthly contracts. But that often means paying more in the long run.
All of the UK's network providers, EE, Vodafone, ThreeUK and O2 will offer deals for the latest models, like the iPhone 12 or Samsung's S21, with a monthly bill that includes a payment for the handset and another for the operator's services (calls, texts and data). Contracts also range from 12 to 24-months, and while they often promise "unlimited" data or "free" calls and text, they can end up costing far more than one would expect.
Read more: Best VPN services available in the UK
If you can buy the phone straight away, or even better, use your old one if it still works, then you should look at a sim only deal. This is where you simply pay for the minutes you talk, the texts you send and the amount of data you use.
Mobile data is basically the internet and the amount you use sending WhatsApp messages or scrolling through Twitter. It's measured in kilobytes but network providers advertise it in either megabyte (MB) or gigabytes (GB). For reference, one MB is 1000 kilobytes and 1000 MB is one GB.
Read more: 11 best portable chargers for topping up your battery life while on the go
Most providers have deals ranging from 1GB to as much as 30GB, so it is worth having some understanding of the terminology and also your own usage. For context, browsing 60 web pages is around 140MB of data, a one hour drive with Google Maps is 5MB, an hour of Spotify is 80MB and streaming a two-hour movie in high definition is a whopping 4.2GB.
Read more: 10 best home phones that are life savers in a mobile signal black spot
While some deals can offer high amounts of data, you might end up paying for more than you need. This guide will take you through all you need to know about sim only deals, from credit checks to keeping your number if you switch providers and all the jargon around data allowances. We will help you to extract the financial reality from the provider promises so you can find the best deal for you.
To find the best SIM only phone contracts available now, visit our best SIM only deals page to compare offers from a range of providers.
You can trust our independent reviews. We may earn commission from some of the retailers, but we never allow this to influence selections, which are formed from real-world testing and expert advice. This revenue helps to fund journalism across The Independent. 
UK mobile providers
The biggest providers in the UK are Vodafone, EE, ThreeUK and O2. EE offers the widest and fastest coverage for 4G in the country and it also 5G in over 50 towns and cities. The company has perks called "smart benefits" where Apple TV and BT Sport are bundled into most of its contracts.
Vodafone customers that have contracts without data restrictions have their prices based on speed tiering, where you pay for how fast the internet speeds are in your region, rather than a set price. It hasn't got as many 5G spots around the UK as EE, but all its monthly contracts come with roaming in 110 different countries.
Read more: Best phone of 2020, iPhone, Samsung and Huawei smartphones reviewed
O2 is an older provider and it doesn't currently have much 5G coverage – the company hopes to have it in 50 towns and cities by summer 2021. It does have some unique selling points, such as priority bookings for shows at O2 venues and also free wifi in 16,000 locations throughout the UK.
ThreeUK has good 4G coverage around the UK, similar to EE, but it hasn't fully launched its 5G services as yet. So far it is only in the biggest cities, such as London and Manchester, but there are plans for a full roll out by the summer.
Beyond the top companies there are a plethora of smaller firms that provide decent prices, such as TalkTalk or GiffGaff. They don't tend to have as much in the way of perks and benefits, or 5G coverage, but they are usually good places to find cheaper monthly fees.
What is a sim only deal?
A sim only deal is where you just pay for a new sim card and the monthly use of it. The sim card is the small chip you insert into your mobile when you first get it. It stands for "Subscriber Identity Module" and it is used to authenticate you as the user and link you to your provider's plan via the mobile device you use.  
Do you need a credit check for sim only deals?
You will still have to undergo a credit check for a sim only deal, but you have a greater chance of being accepted as the payments are generally lower. There's less risk for the provider as you won't be getting a handset and they can simply stop your plan with no real loss on their end.
What is the best deal?
ThreeUK: A 12-month 5G plan that comes with unlimited data, text and minutes for just £16 per month.
There are two very good reasons to choose a ThreeUK contract: price and data allowance. No other provider offers "unlimited" data, text and minutes for as little as £16 and certainly not for a year-long contract. Unlimited data allowances on EE, Vodafone or any other provider will cost around £25 and will be under a 24-month deal. What's more, ThreeUK has recently improved its rewards and customers often find free coffee or lunch vouchers in their inbox.
Are they worth it?
If you are considering a sim only deal it's likely you either already have a smartphone or the money to buy one outright. Either way, sim only can be a great way to save, but only if you pick the right deal. For example, the iPhone 12 is £799 and with ThreeUK's unlimited data deal for 12-months you'll end up paying £991 by the end. For a contract with the handset, ThreeUK only offers 24-month plans. 
There is currently a discount with six months at £30, but it goes up to £60 afterwards and still ends up costing £1,260 in the end. That's around £269 more. Therefore, it is often worth paying upfront for the phone and even more important to work out the complete cost of any deal.
Read more: Samsung Galaxy S21 vs Apple iPhone 12
This guide is for sim only contracts, but it is also worth mentioning Pay As You Go – particularly if you don't want to be tied to a contract. Instead of being locked into a 18 or 24-month payment plan with a provider, you pay for a certain amount of data and minutes or texts and when you run out you simply "top it up". This is a good option for those that don't use their smartphones that much. For heavy users, a contract is more cost-effective, though.
How much data do you need?
If you are a low user, sending and receiving emails, often on social media and occasionally browsing the web, you're likely to only need between 2 and 5GB of data. If you are a medium user, you'll download games, stream TV shows on Netflix and music from Spotify, you'll need around 10GB of data. High users are generally people that use the same device for work and pleasure. This is likely to be lots of emails with attachments, multiple streaming apps, lots of web browsing, Zoom-meetings on the go, all very data-intensive use. They will likely need a plan of 20GB and above – or an "unlimited" data allowance.  
It's always worth remembering that you can save data by downloading content from some apps over your home wifi connection and using the app's offline mode to watch or listen on the go. If you are still unsure how much data you need, you can check how much you currently use via your provider's website or their app. Your account can tell you how much you have used and what you have left for the month.
Can you keep your number?
You can still keep the same phone number if you're switching to a new provider. You'll need to request a Porting Authorisation Code (PAC) from your old provider and pass it on to the new one. Despite "code" being part of the acronym, it is still called a "PAC code". This will save you from both learning a new set of digits and having to share it with all your contacts.
Does Sky do sim only deals?
Sky Mobile does offer sim only deals, but the company is known as a quadruple provider with its TV, broadband, home phone and mobile services. Typically, it often tries to tempt customers into signing up to more than one service (or all of them) which generally means that existing customers get better value for money with a Sky mobile deal. The company is also known as a "virtual provider" due to the fact it uses O2's networks to deliver its mobile services. As a result, it hasn't got much in the way of 5G deals, but it does have 99 per cent 4G coverage across the country.
The verdict: Sim only deals
The main things to look out for with sim only deals is whether it saves you money in the long run and if it is right for your specific mobile needs. The full cost of a smartphone is always available on the manufacturer's website and each provider plan will have details such as monthly cost and contract length. It is worth spending a few minutes comparing the deals with and without a device and using a calculator to work out how much you'll have spent at the end.
"Unlimited" data sounds great, but if you don't use many of the internet-services on your smartphone then you might be able to find a much cheaper deal for say 5GB a month. Similarly, a 5G contract might not be worth it if you live in an area that doesn't have the coverage, so do check which regions the provider operates in.
To find the best SIM only phone contracts available now, visit our best SIM only deals page to compare offers from a range of providers.
If you're looking for a new handset, read our review of the best smartphones
IndyBest product reviews are unbiased, independent advice you can trust. On some occasions, we earn revenue if you click the links and buy the products, but we never allow this to bias our coverage. The reviews are compiled through a mix of expert opinion and real-world testing.