The Independent's journalism is supported by our readers. When you purchase through links on our site, we may earn commission.
15 best alternative advent calendars for adults
From stationery to socks and even dog treats, there's a festive calendar for everyone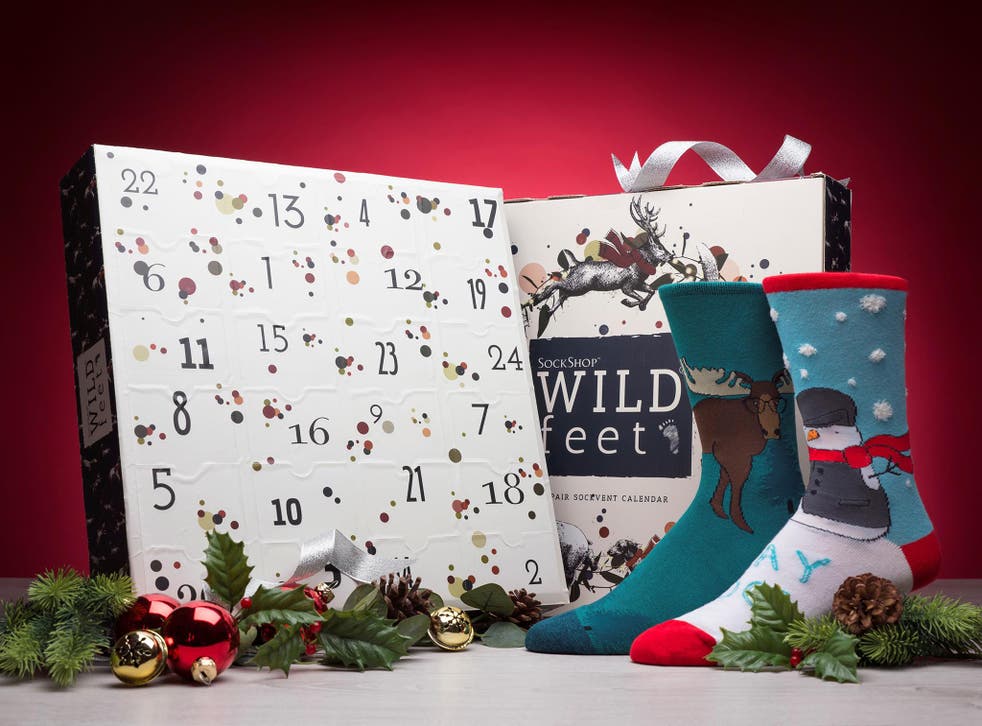 Christmas is nearly here, and December wouldn't be the same without a countdown, advent calendar style. And while chocolate advent calendars are great, we're more excited by the raft of quirky alternative calendars that have sprung onto the market in recent years.
From beauty and stationery to socks and even dog treats, there's a calendar to suit everyone, whether you're buying for yourself or for a friend or loved one.
We went on a search for the very best alternative advent calendars for adults, taking into account their appearance, price and contents.
We also found that buying an advent calendar was a great way to snap up a whole load of excellent products for a fraction of their usual price, so we also considered how much each calendar was worth, and how much you could get the products for in a very fun festive countdown.
The Body Shop 25 Days of the Enchanted Ultimate Advent Calendar: £99, The Body Shop
For a beauty and skincare calendar that's as visually exciting as its contents, we highly recommend The Body Shop's 25 Days of the Enchanted Ultimate Advent Calendar. The huge, festively-coloured box arrived stuffed with 25 surprises worth £231, including 14 full-sized products such as a giant almond milk and honey body lotion, a British rose hand cream and a Himalayan charcoal purifying glow mask.
There are some smaller Body Shop products too, perfect for taking in your hand luggage for a weekend break: shampoo, conditioner, make-up remover, moisturiser, body scrubs and more. In addition to the skincare, you'll find some make-up treats in there too, such as mascara, eyeliner and lipgloss.
Plus, once we finished opening each box, the fun didn't stop there: the empty boxes, once turned around, form a picture puzzle depicting a series of magical creatures, and on the side, each box has a small challenge to help you reconnect with nature.
A calendar that scores top marks both for its contents and its festively fun appearance.
Not on the High Street Martha Brook 24 Days of Stationery Advent Calendar: £95, Not on the High Street
Our love of stationery has never faltered since school days, and fellow stationery lovers will adore this personalised calendar from Martha Brook at Not on the High Street. The smart, personalised navy blue box contains 24 smaller boxes, one to be opened each day in the run-up to Christmas. Each box contains a delightful stationery treat, from luxurious pens to brass rulers.
We particularly liked how useful each piece of stationery was, from the adorable little thank you notes and envelopes to the smart gold paperclips.
There were even some personalised surprises in the calendar: a lovely star and notebook with our tester's name on it, which we found to be an extra thoughtful touch.
Plus, the packaging is 100% recyclable, perfect for an eco-friendly gift.
Birchbox Beauty Advent Calendar 2018: £65, Birchbox
Devotees of beauty subscription service Birchbox will be used to its gorgeous presentation and fantastic selection of beauty products, but despite being longtime fans, we were still blown away by the brand's glorious advent calendar.
Not just pretty to look at in its large festive box with pull-out drawers, the calendar is stuffed with products worth more than £179 from a selection of premium brands, including Caudalie, Smashbox, Benefit, Nuxe and Bumble and Bumble. It's a great way to get a few products from your favourite brands while trying samples of must-haves from companies you might not have bought from yet.
We loved peeking inside each drawer and sampling each genuinely useful product, from the handy Tangle Teezer to the Lord & Berry eyeliner, and the box was too pretty to throw away, so we'll be keeping it and reusing it next year.
Juniqe Black and White Advent Calendar 2018: £59.95, Juniqe
Arty types will adore the smart Black and White Advent Calendar from Juniqe. Arriving in a huge box guaranteed to delight any lucky recipient, the calendar is filled with 24 boxes, each hiding a chic black and white rolled poster created by a different artist.
You'll find fun slogans and song lyrics alongside beautiful sketches and nature photographs, and the collection of quirky designs look fantastic when placed together.
We immediately wanted to stick every single poster up on our wall in an Instagram-perfect grid, although they make great individual gifts too.
The value of the posters come to £240, and there's a limited run of 1,000 advent calendars.
Yankee Candle Fold Out Advent Calendar: £34.99, Yankee Candle
Get into the festive mood with Yankee Candle's great value 24-day Fold Out Advent Calendar. Folding out into a pretty holiday scene, the candle's windows each conceal a very Christmassy surprise.
There are 12 votives, all in deliciously festive scents such as Frosty Gingerbread and Spiced White Cocoa, and 12 tea light candles that are equally Christmassy, including Snowflake Cookie and Crackling Wood Fire. There's also a lovely votive holder to hold all your new candles in.
We loved the fold-out style of the calendar as well as the wintery scents, which got us even more in the mood for the festive season.
Green People Green Regime Beauty Advent Calendar: £75, Green People
If you're a beauty and skincare fanatic who's just as passionate about the environment, you'll love Green People's Green Regime Beauty Advent Calendar. There are 12 little boxes containing lovely organic hair, skin and beauty products, and considering the whole set would usually be worth £125, it's a pretty good deal.
You'll find 15 plant-based, cruelty-free products, including three full-sized items: expect to find necessities such as shampoo, shower gel and moisturiser and luxurious surprises like volumising mascara, velvet matte lipstick, facial oil and an organic cotton head bandeau.
Of course, the packaging is all 100% recyclable, too, so it's a totally guilt-free, indulgent way to count the days till Christmas.
Bird & Blend Tea Co. Matcha Tea Advent Calendar: £65, Bird & Blend Tea Co.
Much has been written about the health benefits of matcha tea, and it helps that it's absolutely delicious, too. Matcha aficionados will be bowled over by the Matcha Tea Advent Calendar from Bird & Blend Tea Co., which hides 23 mini matcha flavours behind each window, and also comes with a free travel whisk.
We loved trying the regular matcha as well as some super-wintery flavours such as Mince Pie Matcha, Mulled Matcha and Gingernut Matcha to get us into the festive spirit.
There's also a little surprise gift behind door 24 to look forward to.
Mavala 12 Days of Christmas: £45, Treat Your Skin
Cancel that Christmas manicure you had planned, because with Mavala's excellent 12 Days of Christmas advent calendar, worth £82, you'll have everything you need to take care of your nails at home.
The calendar, which is beautifully presented in a turquoise vanity case with an oversized pink satin bow, contains four on-trend mini nail polishes, plus plenty of great extras to make sure your mani lasts the distance. There are day, night and hand creams, base and top coats, cuticle oils and more.
We used various combinations of the products and found they all worked brilliantly together to create a long-lasting, strong manicure.
Superdrug Bristle and Smith Men's 12 Days Advent Calendar: £9, Superdrug
A fun, affordable gift for the man in your life, Superdrug's Bristle and Smith Men's 12 Days Advent Calendar offers everything you need to look perfectly groomed.
The calendar opens up to reveal a retro illustration of men's grooming tools, and behind the 12 windows, you'll find useful toiletries and accessories. As well as travel-handy minis such as body wash, body lotion and beard wash, you'll find tools like scissors, mini nail clippers and tweezers.
Our tester loved the illustration and the affordability, and he found it really useful having all the toiletries and grooming tools he needed in one place.
SockShop Wild Feet Christmas Advent Calendar: £79.99, SockShop
Forget everything you thought you knew about socks not making good Christmas presents: when they're this fun, you'll want dozens of pairs, and luckily with SockShop's Wild Feet Christmas Advent Calendar, you'll get exactly that. The huge calendar is stuffed with 24 pairs of super-fun socks, with designs ranging from festive gingerbread men to adorable animals with extra furry material.
There's a ladies or men's option to choose from, and each calendar is full of socks that are guaranteed to make you smile every day.
Plus, the high-quality cotton socks will last years, so there's no excuse for odd socks anymore.
FeelUnique The Little Beauty Parcel: £75, FeelUnique
We loved everything about FeelUnique's The Little Beauty Parcel, from its festive laser-cut doors, wrapped with a smart blue ribbon, to its fantastic contents, with 24 boxes full of fabulous beauty, skin and hair products worth £250.
It's a great choice if you're not committed to just one beauty brand but like to sample a little bit of everything from a selection of premium names, including Charlotte Tilbury, Caudalie and Ren.
We loved that it contained everything we needed to stock our make-up bag for the festive season, including highlighting palettes, moisturisers, make-up brushes, lipsticks and so much more.
Find Me a Gift Personalised Dog Treat Advent Calendar: £49.99, Find Me a Gift
While it may not technically be for adults, we really liked this Personalised Dog Treat Advent Calendar from Find Me a Gift – as did our dog.
Stuffed with 25 doggy surprises, from knotted bones and chewy treats to squeaky balls, your dog is guaranteed to get excited at the mere sound of another day being popped open.
We especially loved the personalisation across the front of the big red box, which looked great on our kitchen counter and was a fun visual countdown to Christmas. It's the paw-fect gift for a furry friend.
Cuckooland Lisa Angel Personalised Luxury 12 Days of Christmas Jewellery Advent Calendar: £52, Cuckooland
The Personalised Luxury 12 Days of Christmas Jewellery Advent Calendar from Lisa Angel is an adorable gift for a jewellery lover (or a perfect self-gift too). The calendar impresses from the minute you see it, with a sweet, watercolour-style cover with a personalised gold vinyl name on the front. You can also personalise the inside cover with up to five lines of text to make a thoughtful gift.
The main event is, of course, the beautiful sterling silver plated necklace and bracelet chains that you can accessorise as you wish with 10 cute little charms. It also comes with a small branded pair of pliers so you can easily add the charms to your new bracelet or necklace as you see fit.
We loved the delicate chains and found it surprisingly simple to add the charms onto them, too.
Design 911 Porsche Advent Calendar: £39.50, Design 911
Are you obsessed with sports cars? If so, then Design 911's Porsche Advent Calendar is the perfect way for you to count down the days till Christmas.
Arriving in a big red branded box, the calendar is filled with 24 individual boxes, each with a Porsche design on them, for you to open each day.
Inside the boxes, you'll find various components enabling you to build a detailed Porsche model, a plastic base with miniature boards and even a sound module so you can rev up your mini sports car with the realistic sound of an original Porsche engine.
There's also a book detailing the history of the Porsche 911, perfect for sports car obsessives.
We loved the smart packaging and the fact that after 24 days of building the model, we had an eye-catching miniature to keep on the shelf for years to come.
Nails inc 12 Days of Beauty Gold Advent Calendar: £49, Nails Inc
Do you love all things sparkly? Then you'll love getting into the festive spirit with this fun, vibrant 12-day calendar from Nails inc, which is stuffed full of full-sized products guaranteed to make the run-up to Christmas a lot more glittery.
We were pleasantly surprised to find not just great nail products in the calendar, including some bright festive shades, top coat, nail polish remover and a handy file, but also fun sheet masks and lots of lip products, from full-on glittery glosses to easy-to-wear moisturising sticks.
A perfect gift for a fun-loving beauty aficionado.
The Verdict: Best alternative advent calendars for adults
For an enormous advent calendar that's as exciting to look at as it is to open, we loved The Body Shop's 25 Days of the Enchanted Ultimate Advent Calendar, where you can snap up £231 worth of products for just £99.
Another hot beauty contender with both excellent presentation and great-value contents was FeelUnique's The Little Beauty Parcel.
And our pick for an unusual but fun and useful calendar for both men and women would be SockShop's Wild Feet Christmas Advent Calendar.
Register for free to continue reading
Registration is a free and easy way to support our truly independent journalism
By registering, you will also enjoy limited access to Premium articles, exclusive newsletters, commenting, and virtual events with our leading journalists
Already have an account? sign in
Register for free to continue reading
Registration is a free and easy way to support our truly independent journalism
By registering, you will also enjoy limited access to Premium articles, exclusive newsletters, commenting, and virtual events with our leading journalists
Already have an account? sign in