The Independent's journalism is supported by our readers. When you purchase through links on our site, we may earn commission.
9 best alternative Christmas advent calendars for foodies
Chuck out the chocolate and try a tasty alternative this year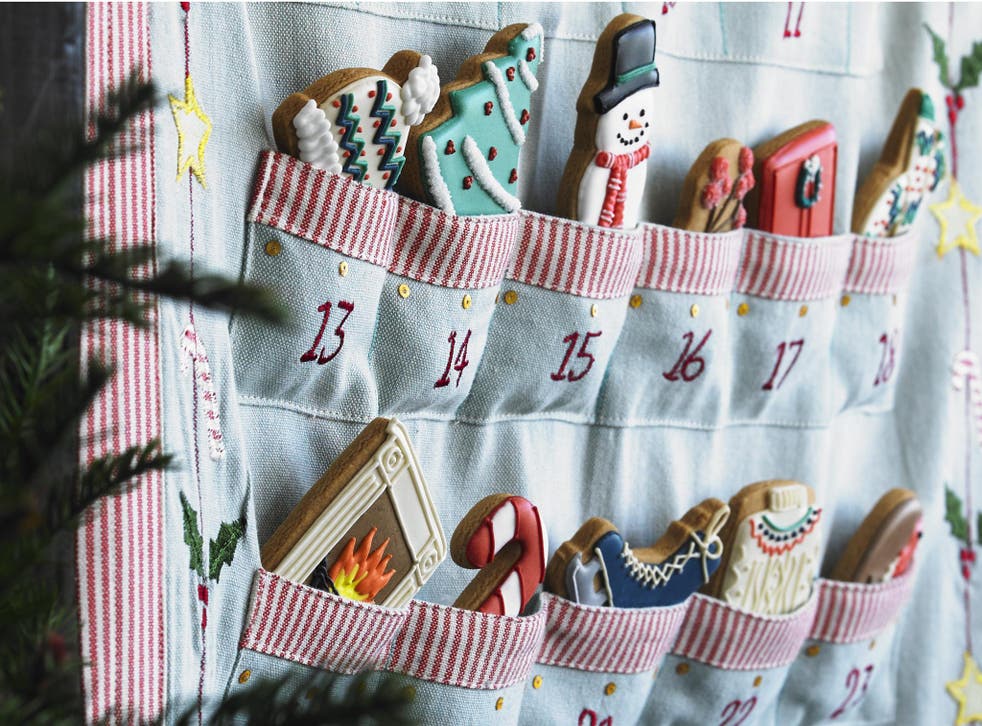 Christmas might be weeks away, but the holiday cheer is already here, which means it's time to start planning for the annual countdown.
In recent years, the traditional chocolate advent calendar has given way to a wider range of treats. Here, we take a bite out of all the options for alternative chocolate-free Christmas almanacs that food lovers will adore.
From a 24-day caffeine fix to a carnivore's pork crackling dream, these calendars are the perfect way to celebrate all month long.
Lakrids by Johan Bülow Advent Calendar: £32.95, Sous Chef
Liquorice lovers will not want to miss this calendar – luxurious in design and delectable in taste, the box comes with a range of flavours in shimmering Christmas colours. Lakrids creator Johan Bülow has dedicated much of his life in Denmark to perfecting the Scandinavian snack. After questioning why liquorice was so rarely blended with other flavours, he set out to create the perfect pairings in 2007, turning Lakrids into a producer of some of the finest liquorice in the world. With this advent calendar, liquorice aficionados will get to taste-test his sweet creations, with flavours including dulce de leche, dark and coffee, peach chocolate, elderflower chocolate, blackcurrant chocolate and a limited edition series with some surprise flavours. It's hard to play favourites, but the dulce de leche and dark and coffee are standout sweets. Each day also features its own hidden message, describing the flavours and history of each treat.
Biscuiteers Advent Calendar: from £60 (£99 for cloth calendar plus biscuits), Biscuiteers
The ornately decorated selection of Christmas-themed biscuits in this calendar from the London-based company are as scrumptious as they are stunning. From ice skates to Christmas trees, these treats will remind you of all your favourite things during the holidays. They come in Biscuiteers' classic all-spice flavour, with a strong gingerbead taste. If you already have a fill-your-own advent calendar, you can buy the tin of 24 biscuits – but the company also offers its own adorable cloth calendar by interior designer Susie Watson. The calendar can be hung on a wall and comes with biscuit-sized pockets for each day.
The Snaffling Pig Co. Pork Crackling Advent Calendar: £17.50, Snaffling Pig
The holiday season is the perfect excuse to pig out, so why not indulge in those crackling cravings with Snaffling Pig Co's annual advent calendar? The company began as a passion project with a mission to help foodies embrace their carnivorous side, but it has quickly grown into a booming, award-winning business. Behind each window is a mini bag of flavoured pork, with a mix of six flavours, including: Pigs in Blankets, Low & Slow BBQ, Maple and Salt and Vinegar. The pork crackling is gently double-cooked at high temperatures, to ensure a softer snack that maintains its bite. There's also a fun puzzle at the back of the box.
The Naked Marshmallow Co Advent Calendar: £15, Not On The High Street
The Christmas season is the perfect time for roasting marshmallows by the fire. With The Naked Marshmallow Co's advent calendar, you can indulge in one perfectly puffed hand-cut marshmallow each day in the month before Christmas. The UK-based company produces beautiful handmade mallows in a range of delicious flavours using only the highest quality ingredients. The "naked" bit in the brand's name comes from its dedication to using all natural flavourings and colours. Varieties include vanilla bean, candy floss, strawberry cream, chocolate orange and – our favourite – salted caramel. These soft mallows melt in the mouth and can be toasted for an extra treat.
So Wrong It's Nom Cheese Advent Calendar, £8, Asda
When it comes to cheese, 'tis always the season. This began as a small project by a blogger in 2016, but with thousands of people putting in orders, the So Wrong It's Nom Cheese Advent Calendar is already becoming something of a Christmas tradition. The box includes five cheeses from Norseland's popular Ilchester range – applewood smoked cheddar, red leicester, jarlsberg, mature cheddar and wensleydale with cranberries. All are delicious, but since there are only five, don't expect to be greeted with a brand new flavour each day. Each door does, however, come with its own clever cheese joke or fact. For example: "What cheese is made backwards?" The answer? Edam, of course!
Bluebird Tea Co Advent Calendar: £36, Bluebird
Brighton's Bluebird Tea Co's team of mixologists has come up with a cracking Christmas advent calendar packed with its top holiday flavours. For the uninitiated, Bluebird may very well craft some of the finest tea in the UK (seriously). For those who like their tea strong and rich, this is the perfect opportunity to sample a wide range of delicious flavours, including mulled wine, spiced clementine, gingernut matcha, mince pie and the award-winning gingerbread chai. The calendar comes in beautiful midnight blue and gold packaging that captures the magic of Christmas and in addition to tea, includes mini matcha satchets, a Bluebird pin badge and a tea-scented solid perfume. You'll definitely be getting your money's worth with this one. Pre-oder now to have delivered in the first week of November.
Perkulatte Coffee Advent Calendar: £40, Perkulatte
Perkulatte has been nailing coffee subscriptions for a while now and its advent calendar is also a winner. Presented in a luxury gift box, this one doesn't follow the standard format but it does provide 24 days of delicious coffees to keep you going through one of the busiest months of the year. Each foil bag marked for each day of the countdown is filled with 20g of fresh artisan roasted coffee – just enough for one hot cup each morning. The origins, flavour notes and strength of each cup is listed on the bag, with 15 different flavours including the Costa Rica SHB with notes of star anise, honey and coconut, the Sumatra Lintong, with warming nutmeg and "aromas of Christmas" and one of our favourites, the Honduras SHG Cosecha Azul, with flavours of sugared milk chocolate and undertones of cashew nuts. It's the perfect pre-Christmas gift for the coffee lover in your life. Conveniently, you can choose the coarseness of your grind according to the method you favour and you can also select the dispatch date.
Fortnum & Mason Rare Tea Wooden Advent Calendar: £125, Fortnum & Mason
Another tea offering, ​this very luxurious option features 12 different delicious, rarely seen teas - and with 24 doors, that means you get to try each one twice - with each being picked as it's particularly well-suited to the festive period. There are some eye-catching names there (Dong Ding Oolong or Fuding White Peony King, anyone?), and if you're wondering what all those letters mean at the end of the names, that's to do with tea-grading (Margaret's Hope Second Flush has the suffix "FTGFOPI", which means the Himalayan estate that grew the tea classes it as one of its finest, for example). The loose-leaf teas come in individual tins within one of Fortnum's famous wooden calendars, which you'll be able to keep and use for years to come. Just don't forget a tea strainer. There's a cheaper tea advent calendar also available for £25.
John Lewis Hand Decorated Iced Gingerbread Advent Calendar: £15, John Lewis
This calendar is a delicious way to enjoy the Christmas countdown. Beautifully presented in a clear box and red ribbon, the crunchy gingerbread biscuits are a lovely daily treat. Once you've munched your way through a couple of days though, we did notice the calendar looked less Christmassy (there's no festive image under the biscuits so you're left with an increasingly empty box). But what it lacks in festive cheer, it makes up for in taste, and it's a fun option that the whole family can enjoy.
The Verdict: Advent calendars for food lovers
While each of these advent calendars brings something deliciously unique to the table, it's Lakrids' liquorice advent calendar that stole the show. With its wide range of flavours and stylish packaging, it makes for a lovely pre-Christmas present, or the perfect gift to treat yourself with in the lead-up to the big day. For those who aren't fans of liquorice, however, the Biscuiteers' beautiful – and scrumptious – biscuits are the perfect choice. They might look almost too good to eat, but we're sure you'll manage.
IndyBest product reviews are unbiased, independent advice you can trust. On some occasions, we earn revenue if you click the links and buy the products, but we never allow this to bias our coverage. The reviews are compiled through a mix of expert opinion and real-world testing.
Register for free to continue reading
Registration is a free and easy way to support our truly independent journalism
By registering, you will also enjoy limited access to Premium articles, exclusive newsletters, commenting, and virtual events with our leading journalists
Already have an account? sign in