The Independent's journalism is supported by our readers. When you purchase through links on our site, we may earn commission. Why trust us?
When does Black Friday end, and when does Cyber Monday start? Plus best offers to shop now
Pick up a beauty, tech, fashion or appliance bargain in the sale, ahead of Christmas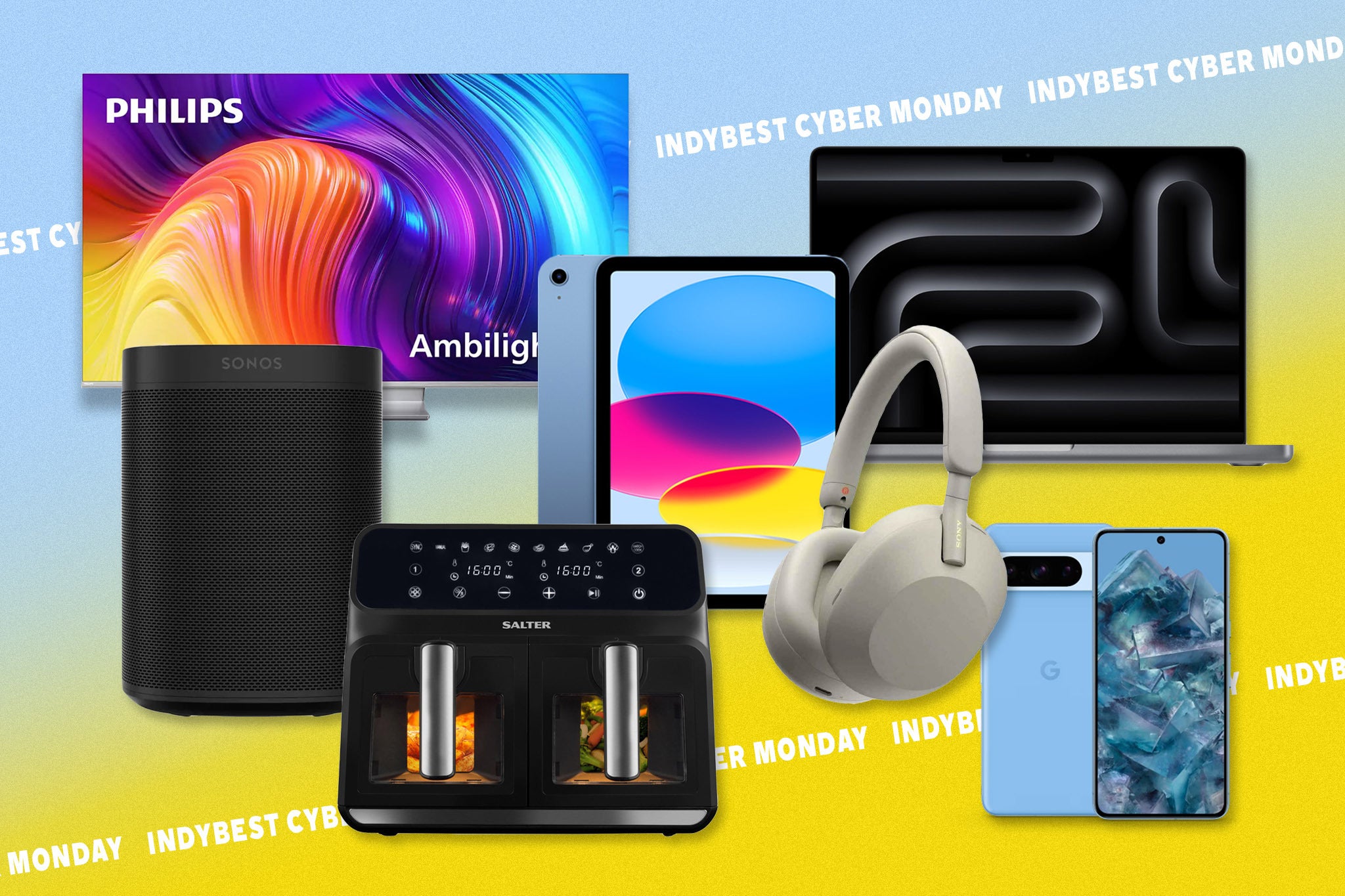 The Black Friday weekend may be over, but the good news is that the Cyber Monday sale is now here. The event has delivered thousands of incredible savings across a range of categories, including tech, TVs, mattresses, kitchen appliances and more.
All of our favourite brands are taking part this year, with Coggles delivering discounts on designer fashion, while Cult Beauty and Lookfantastic should be your go-to destinations for all things beauty.
Follow live: The best Cyber Monday deals as they drop
But, they're not the only ones, other big names we're seeing jump on the bargain bandwagon for 2023 are Apple, Pandora and Asos, as well as Nintendo, PlayStation and Ninja. Even Dyson, which rarely discounts its products, is getting involved and cutting the price of some of its most popular gadgets, including the airwrap. To stay on top of the latest deals as they land, here's your cheat sheet for Cyber Monday 2023.
Read more: What our beauty editor is shopping in Lookfantastic's sale
Black Friday officially ended at midnight on 24 November, if we're being pedantic, but most retailers continue offering their Black Friday deals through to Cyber Monday (27 November). That means you'll find discounts from now until this evening.
The Xbox Series X has plummeted to its lowest-ever price this Cyber Monday, with a saving of more than £120. In our review of the device, our tester described it as a "thunderously powerful next-generation console". Praising the sleek look, they added: "Aesthetically, and acoustically, the Xbox series X is a console that feels at home in a living room where grown-ups live".
The PlayStation 5 gets a surprise discount for Cyber Monday plummeting to just £389.99 between now and 30 November across most retailers. The Independent's tech team were impressed with the performance of the PlayStation 5 in the review of the best gaming consoles. "One of the first things you will notice about the PS5 is how games feel in your hands, thanks to the dualsense controller's haptic feedback and adaptive triggers," praised the review.
Wellness editor Madeleine Spencer wrote an entire piece on why she swears by omega 3 – and it's made the whole team want to invest in these relatively affordable supplements. "It took about a fortnight to notice the difference," she wrote, adding that her "skin wasn't so volatile, getting spotty less frequently", and when it did break out she "found the redness and swelling subsided more quickly". The other benefits included her hair being shinier and her nails stronger. We're sold. Don't forget to enter "BLACK" at the checkout to benefit from the additional saving.
Read more: How to get up to 60% off at Myprotein
If you're looking to upgrade your handset, here's an iPhone 15 Cyber Monday deal for you. You can currently get the new handset for £29.99 per month, with a reduced-price upfront cost of £129 (was £149). Included within the package, you'll get 250GB of data (for the price of 110GB). When our tech critic reviewed the iPhone 15, he said that it's "slick, fast and effective", and the "new, brighter screen here looks very good, especially with the brilliant dynamic island". What's more, the "cameras are a very big update", he added before noting that they deliver "sensational images with zero effort".
Aptly named, the essential mini boot is a wardrobe essential this season. With a saving of 20 per cent, the beige suede boot seems even sweeter and its Uggplush wool blend lining is sure to keep your feet nice and toasty. Right now, all sizes are available, although we imagine they will sell out quite quickly.
If you're looking to improve your working-from-home setup, we've found the answer. This motorised model took the top spot in our review of the best standing desks, with our writer praising "the excellent raise/lower mechanism" and "impressive range". It was also found to be easy to assemble and "it can accommodate a variety of heights while staying stable and supporting a range of working devices". Thankfully it's now been reduced by an impressive 30 per cent when you use the code "BFE8".
The cult hair tool needs little introduction. Naturally, we've reviewed it, with our tester noting that it's "definitely better than the original", praising the "improved attachments" for feeling "well thought out". While "the curling barrels are still a little bit faffy to use (albeit less so than having to switch them), being able to change the direction of airflow almost instantly is much appreciated, and it does make using it easier".
Amazon's Cyber Monday sale sees huge discounts on big-name brands. If you're in the market for a top-rated activity tracker, we've spotted a stellar saving on the Fitbit charge 5, which is currently reduced by 42 per cent. It's also an IndyBest favourite, as it was crowded the best overall in our round-up of the best Fitbits. When describing the model, our tester said: "Combining a widened tracker screen (or arguably, a streamlined watch face) with a rich feature set that includes smartphone notifications and health scans, the charge 5 is a best-of-both-worlds Fitbit that will hit the sweet spot for many users."
The Cyber Monday sale at Emma is here to help us sleep easy, with massive savings of up to 65 per cent on a range of mattresses, including the Emma luxe cool. When you plump for the cooling mattress in double dimensions, you can look forward to a saving of more than £1,000. What's more, it's been tried and tested by us. In our review, we said: "We felt ourselves overheating less in temperatures when we would ordinarily sweat, and the mattress itself was comfortable and supportive, moulding to our body."
With up to 80 per cent off everything, the Myprotein Cyber Monday sale is the perfect time to pick up protein powders, vitamins and more for less. Featuring in our round-up of the best protein powders, this impact whey protein was praised by our tester, who said: "It's the UK's favourite brand of protein powder, and with 40 flavours to choose from (including unflavoured) it's easy to see why." Right now, you can save 60 per cent on a pack.
Earning a spot in our review of the best suitcases, our tester said: "Prone to overpacking? You'll appreciate the expander zip, as well as the extra-sturdy compression straps you'll find inside the case." They added that there's a "sense that no expense has been spared on materials with this bag – the telescopic handle glides out incredibly smoothly and feels wonderfully tactile, and there's a reassuring sturdiness to every single component, whether it's the zips, the wheels or the TSA-compliant padlock." Right now, you can save 30 per cent thanks to Amazon.
Save yourself over £600 on this 43in Samsung 4k smart TV, complete with Quantum Dot technology for a vibrant, colourful image. It comes with a 5 year guarantee and a whole host of apps and services to choose from – plus its Dolby Atmos surround sound system is sure to boost your entertainment experience.
Home cooks will love that this classic round casserole is currently reduced by 40 per cent, securing home chefs a delicious saving of £140. Large enough to roast an entire leg of lamb, according to the brand, it sounds ideal for family households. Plus, the the enamelled cast iron design can be popped in the oven, and used on the hob or under the grill.
Whip up hot drinks for the whole family with a Tassimo Bosch coffee machine, which is currently reduced by 42 per cent, thanks to this Amazon discount. In our review of the pocket-friendly machine, our tester noted that it has "lots of features found on bigger ticket coffee machines". For instance, you can "tweak the temperature, volume and intensity of your coffee easily", while the machine will remember up to four different coffee blends, so you can have your perfect brew saved for next time. And for less than £60, there's no denying it's a steal.
Named best overall in our air fryers review, this Salter model received five stars and a glowing review from our tester. Now, £40 cheaper in the Currys sale. "This Salter style covers all bases with its relatively large baskets, countless cooking options and incredibly easy-to-use design," our tester shared, adding: "This model can make everything from steaks and shrimp to cakes, and can even bake bread, making it a one-stop shop for almost any foodie, no matter what you're after."
Almost everyone loves the Elemis pro-collagen cleansing balm. In fact, if there was a beauty hall of fame, it would be a firm fixture. So, with a saving of 25 per cent, now's the time to snap it up for less. Nine essential oils work to nourish the skin, while padina pavonica (a fatty-acid-rich brown algae) gives a good hit of hydration.
The latest, fifth-generation Echo Dot has the same design as its predecessor, but with improved audio quality and deeper bass from its single 1.73in speaker. The Dot measures 100mm x 100mm x 89mm and weighs 349g. With the many features of the Alexa voice assistant, the Echo Dot can be used as a handy timer in the kitchen, an alarm clock in the bedroom, a radio in the office, or a way to control smart home devices, such as smart plugs and smart lights. With this post-Black Friday deal, you can save a huge 60 per cent.
Looking for an energy-efficient way to tackle your laundry this winter? There's 30 per cent off this drying pod at Lakeland right now. The model landed a spot in our review of the best heated clothes airers and was awarded five stars (out of five). Our tester noted that it's "compact, taking up less space than a coat rack, and it's powerful." They also praised the cover "for privacy" and the "fast-drying times". A winter must-have, this deal is a very worthy investment.
Screwfix has kicked off its Cyber Monday sale with some mega savings for your power-tool arsenal. You can save more than 50 per cent on this DeWalt cordless impact driver, which is touted as having an improved run time and extra durability. An aluminium front allows for greater heat dispersion, while an LED light helps with precision.
If you're looking for a deal on the new Sky Stream box, Sky's Cyber Monday deal will save you £7 every month when you take out an 18-month contract, meaning you'll pay just £19 a month instead of £26. It comes with Sky Entertainment – so you get Sky Atlantic, Sky Documentaries, Sky Max and the rest. Plus, you get a Netflix Basic plan as part of the deal, meaning you can cancel your current Netflix subscription. Best part? No dish. It's like an Apple TV or Fire TV Stick, but made by Sky. Everything is done over wifi. Our tech writer loved the Sky Stream box when they reviewed it earlier this year, calling it the most 'hassle-free way of getting Sky TV".
This cordless stick vacuum cleaner features Shark's revolutionary anti-hair-wrap technology – as well as an anti-allergen complete seal, which is touted as being able to trap up to 99.9 per cent of allergens. With up to 40 minutes of run-time, this device is also suitable for all floor types – with four attachments ranging from a crevice tool to an upholstery tool. Plus, it's complete with a car detail kit and a spare filter. Two similar Shark models made it into our round-up of the best cordless vacuums, so you know you're in safe hands with this brand.
Bring out your inner florist with this vibrant and intricate bouquet of wildflowers. The floral bundle features 16 height-adjustable stems, along with a dynamic array of flowers reflecting the vibrancy of wildflowers such as Welsh poppies, cornflowers and lavender. Perfect for arranging before displaying in a vase as you would a fresh bouquet of flowers, they'll brighten up any windowsill (without worrying about wilting and watering). You can save nearly 40 per cent with this post-Black Friday deal.
Missoma's mini chubby earrings secured the top spot in our round-up of the best gold hoops. And it's not hard to see why, with the trend-led and well-crafted design being endlessly wearable. The finish is long-lasting thanks to the 18-carat gold plating while the chunky, rounded design comes in both medium and mini sizes – we prefer the smaller size, which only serves to enhance the "chubby" feel. An everyday classic, they're well worth the investment (trust us).
Our Place is offering stellar Cyber Monday savings. Its cult always pan 2.0 has been reduced by £45, meaning it's at one of its lowest prices ever. In our review of the design, our tester said: "The always pan 2.0 is beautiful, and it's made from post-consumer recycled aluminium, which is nothing but a great thing. There's also a certain satisfaction from cooking on such an uncannily smooth surface, and it could be the more sensible choice if you're cooking for one or two people."
A standout model in Lego's Star Wars range, this set is on sale with £70 off in Argos' post-Black Friday sale. Built for display, use a Jedi-like focus to build this authentically detailed version of Luke Skywalker's landspeeder from Star Wars: A New Hope. Complete with the franchise's two most iconic characters, Luke Skywalker with a lightsaber and C-3PO, the spaceship also comes with a display stand.
A must for make-up fans, there's currently 20 per cent off this iconic lipstick duo. With each product usually costing £27 when bought separately, the deal means you'll save over a fiver per lipstick. The set includes the original matte revolution pillow talk lipstick, as well as the slightly darker pillow talk medium lipstick. These nude-coloured lipsticks are presented in signature chic Charlotte Tilbury gold packaging and come complete with a hydrating and long-lasting finish.
It seems the force is already with Lego fans, thanks to a stellar post-Black Friday saving on this 1,067-piece Star Wars set. Complete with features such as rotating stud shooters, a ceremonial stage and a pilot-briefing room, the Lego build comes with several minifigures, from Luke Skywalker and Princess Leia to Chewbacca. Right now, the set is reduced by £60.
The Sonos One might just be the definitive all-round smart speaker for multi-room audio. It's available in black or white and packs a powerful acoustic punch with good bass and a warm, rich sound that can be cranked up to room-filling volume.
Earning a spot in our round-up of the best hot brushes, Remington's volumising hair styler is currently discounted by 40 per cent, thanks to Amazon. "It has a ceramic-coated barrel, which leaves hair silky soft... and a cool tip (which comes in handy when twisting it through strands, as it helps you avoid any nasty burns), along with a cool shot button that sets your style in place," our tester said. They added it's "ideal if you want straight, smooth hair". Dubbed as the best budget buy in our round-up, it's now even cheaper.
Apple's AirPods pro 2 have plummeted to their lowest price ever in Amazon's Cyber Monday sale, so invest now while they're less than £200. "The new AirPods pro are a significant improvement over the already-splendid first-generation model," we noted in our review. Boasting active noise-cancellation, spatial audio and intuitive smart sensors, the flagship earbuds have a battery life of up to six hours listening time and four and half hours of talk time, outside their charging case.
Now with £80 off for Cyber Monday, this air fryer from Ninja is a total steal. This model was named the best dual-zone model in our guide to the best air fryers. "Not only does it look super chic with a matte black outer and shiny silver accents, it has an impressive 2,470W," shared our tester. "Chicken, chips and chopped-up veg cooked much faster compared with cooking in other air fryer models. So, it's safe to say it has us sold," they added.
Dark and dreary mornings can make getting up in the AM a little more difficult, but this is where a sunrise lamp can help. This one from Lumie, an established name in light therapy, is an IndyBest tried-and-tested model, and it's been reduced by 40 per cent at Amazon. It features six alarm sounds and colour options to use throughout the day. In our review, our tester said: "We really liked the mellow quality of this light, which eased us gradually from sleep, and the final level seemed to really help us get out of bed with a spring in our step."
Pick up a Simba double mattress for less than £600, with this hybrid original deal. Designed to help regulate your temperature as you sleep, the medium-firm mattress has five pocket spring and foam layers. Plus, there's a removable, washable top cover, too. We've reviewed this exact mattress, and our tester noted it "offers cloud-like support and comfort."
There's a whopping 60 per cent off Amazon's Echo Pop right now, taking its price down to less than £20. This Bluetooth smart speaker, complete with Alexa, can be used to stream music, set timers and more. In our review of the Amazon Echo Pop, our writer said: "The Echo Pop is a fun, pretty cute-looking Alexa device with a slanting fabricated speaker front and a plastic rear." Plus, the sound quality is "decent for such a small device."
The M2-powered MacBook Air gives you top-tier MacBook performance in a thinner and lighter form factor. The more powerful Pro benefits from bigger and stronger fans, meaning it can really push the boat out when it comes to performance, while the smaller MacBook Air dials performance back a little, in favour of comfort and portability. Right now, there's a discount to be found at Amazon.
You can save up to 50 per cent in jewellery label Monica Vinader's Cyber Monday flash sale, meaning this chic pearl bracelet is now under £140. The design puts a contemporary spin on the traditional pearl bracelet, and we're obsessed. Whether stacked with other gold pieces or worn as a statement, snap it up now while stock's last.
You can save a generous 30 per cent on this famous hair product right now at Amazon. The treatment is designed for weekly use and aims to repair the hair's bonds and improve the look and feel of split ends and strand damage. In a review of Olaplex no3 hair perfector, our writer said: "We found it to be a really effective at-home solution, so much so, we'd go as far as to say it produced results that were far better than other at-home treatments we've used in the past."
If earbuds aren't your style, Sony's over-ear headphones are available with a £70 discount at Currys. These are the best wireless headphones you can buy, with unbeatable clarity, richness and noise cancellation.
The brand's hoodies rated highly in our round-up of the best blanket hoodies, where we found the oversized hoodie to be "very oversized, cocooning our 6ft tester down to the knees." Complete with a hood, sleeves and practical front pouch, the hoodie is finished in a plush soft-to-touch flannel fleece with sherpa fleece lining the inside.
A cost-effective alternative to turning the central heating on, electric blankets are on many people's wish lists right now. This Silentnight model is reduced by 30 per cent in Amazon's sale. Fitted with three heat settings, the blanket is made with a cosy fleece material for extra comfort appeal. Plus, it features easy fit straps so you can fit it to your bed.
Clean up with this 47 per cent on Shark's vacuum cleaner, taking the bagless vacuum's price down to less than £230. The 6.9kg model comes with a cord length of 8m and a 1.3l capacity for sucking up dirt and debris. It can navigate hard floors and carpets, while the anti-hair-wrap technology is useful for pet owners, and there's an anti-allergen seal to capture dust. Plus, LED headlights offer visibility when reaching underneath the sofa and into the darker corners of your home.
Falling each year on the Monday after Thanksgiving, Cyber Monday is your last chance to score a saving during the annual sale. The second-biggest day of the Black Friday period, it lasts 24-hours and takes place exclusively online.
With Black Friday taking place the day after Thanksgiving, the shopping bonanza lands on Friday 24 November, with deals dropping across the weekend. This means Cyber Monday – the final day of the sale – falls today, on Monday 27 November 2023.
While Black Friday deals are typically available both online and in stores, Cyber Monday offers are available exclusively online, hence the name.
The main difference between Black Friday and Cyber Monday is that the latter takes place exclusively online. But this isn't a hard and fast rule, as myriad brick-and-mortar shops continue their sales into Monday.
Typically, the best deals on fashion, beauty and toys can be found on Black Friday, while Cyber Monday sees bigger savings across tech and home appliances – so, this is worth bearing in mind when ticking off your Christmas shopping list.
Cyber Monday isn't about buying a lot of things, it's about saving on items you really want. To avoid over-spending, make (and stick to) a shopping list, so you only buy things you actually need.
It's also helpful to save products on wish lists and create accounts with retailers and brands, to make check-out easier and quicker on the day. You might also want to sign up to newsletters and follow your favourite brands on social media, so you can be the first to know about any early offers or lightning deals.
From gaming consoles to iPhones, the biggest discounts during Cyber Monday 2022 could be found on tech.
The Xbox series S (£199, Currys.co.uk) was reduced to its cheapest price ever, thanks to Currys, while Very dropped a big saving on the Nintendo Switch neon console with Mario Kart 8 Deluxe (£379.97, Amazon.co.uk). Plus, Amazon's popular Echo dot smart speaker (£21.99, Amazon.co.uk) was discounted to less than £30. Elsewhere, Olaplex's cult hair perfector no.3 (£18.38, Amazon.co.uk) was discounted by more than 50 per cent.
If you were after a new coffee machine, Nespresso's vertuo next coffee machine was discounted by £80 (£130, Amazon.co.uk), while John Lewis reduced Le Creuset's casserole soup pot by more than £100.
For the latest home appliance discounts and more offers, try the links below:
Looking for more sales intel? Here's everything you need to know about Black Friday 2023