As it happened
ended
1638266183
Cyber Monday deals 2021 – live: Post-Black Friday offers on Apple Watches, beauty advent calendars and more
Whether you're after a discounted Lenovo laptop or an Amazon Fire tablet, follow along for the top offers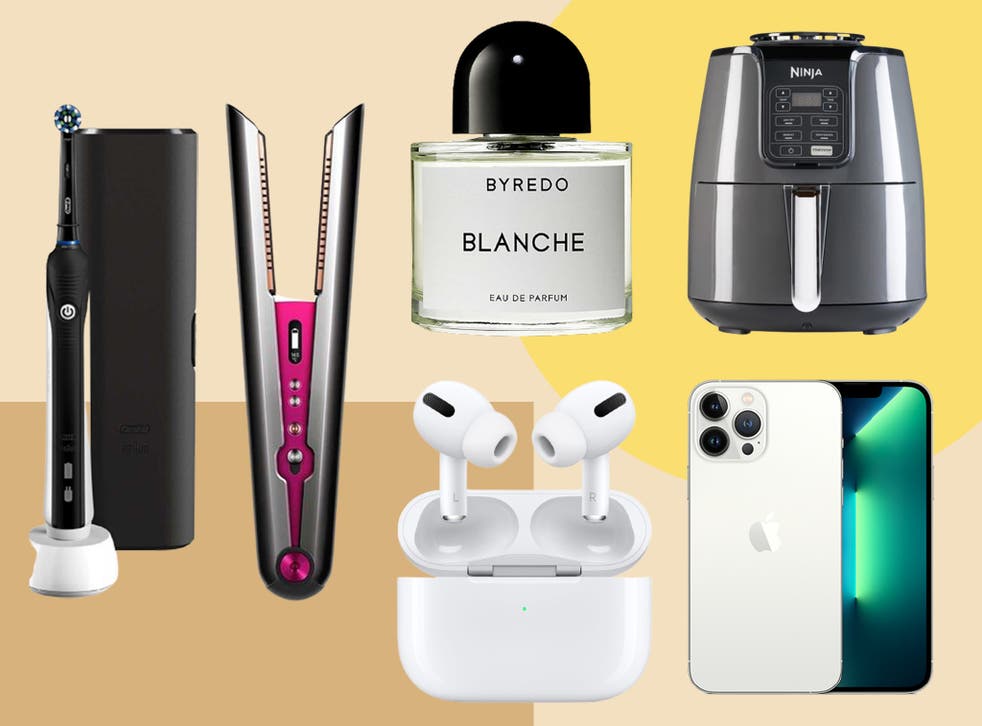 Black Friday – aka the best shopping event of the year – is almost over with the sale concluding today on Cyber Monday, meaning it's your final chance to bag a bargain. From deals on Dyson airwrap alternatives to the first-ever offer on the 3rd gen Apple AirPods, 2021 has been one of the sale's biggest years yet.
The last day of the shopping bonanza offers you the chance to snap up a saving on everything from TVs, games consoles and laptops to home appliances, beauty products and mattresses from the likes of Amazon, John Lewis & Partners, Argos, Currys, Boots and Apple. It really is the best time of year to find a deal, and of course, make a dent in your Christmas shopping lists.
In order to help you grab a bargain during the mammoth sales bonanza, our team of expert IndyBest deal-hunters are on hand to find you the best offers throughout the sale . We've already seen some standout deals but will continue to reveal the hottest offers as soon as they drop. Happy shopping!
Read more:
Black Friday quick UK retailer links:
1638180923
Amazon's fire 8 tablet is half price right now for Cyber Monday
Amazon fire HD 8 tablet, 8in HD display, 32 GB, black: Was £89.99, now £39.99, Amazon.co.uk
There are still plenty of cracking deals to be snapped up this Cyber Monday, and this one's a corker – a whopping 56 per cent of Amazon's fire HD 8 tablet. Said to be faster and more responsive – and with twice the storage of its predecessor – the handheld's battery has also had an upgrade, surviving up to 12 hours on one charge. While we haven't tested this exact model, the fire HD 8 plus did land a spot in our best tablets review – describing the fire tablet family as "solid and powerful", our tester noted the "higher-resolution display which makes it the perfect video playback tablet for the commute…".
Daisy Lester
29 November 2021 10:15
1638193559
The only gaming laptop deal you need this Cyber Monday
There is a huge £270 saving to be had on this HP gaming laptop (was £899, now £629.99, Argos.co.uk) this Cyber Monday. The 15.6in HP pavilion R5 comes bundled with the brand's own RGB mouse and headset accessories. The extra bits aren't the most advanced in the world, but mean this laptop is a complete gaming system straight out of the box. Under the bonnet you'll find a fast Ryzen 5 processor supported by 8GB of memory, enabling you to play all of the latest PC games and multitask with ease.
For a more in-depth look at the laptop, read our feature here:
Looking to upgrade your gaming experience? You can now save £270 on this HP Pavilion laptop bundle at Argos, which comes with an RGB mouse and headset
Eva Waite-Taylor
29 November 2021 13:45
1638194043
How to get 20% off the Sony WF-1000XM4 earbuds
Sony WF-1000XM4 noise cancelling earphones: Was £249, now £199, Amazon.co.uk
There is currently 20 per cent off the Sony WF-1000XM4 earphones. The best of 2021, they're a pair of noise-cancelling buds packed with clever features and supremely luscious audio fidelity. The earbuds can sense when you're moving around and dial in the noise cancellation to suit your surroundings, ramping up when you're on public transport or allowing in traffic sounds if you're walking near a road. In our round-up of the best wireless earbuds of 2021, our reviewer praised the earphones' bass response and overall quality. "Although these are small, light earbuds, they manage significant bass as well as great, precise clarity in higher notes. At once delicate and powerful, they have some of the best audio of any wireless headphones."
Eva Waite-Taylor
29 November 2021 13:54
1638194459
The best Amazon Cyber Monday deals
With so many discounts on Amazon's website, it can be hard to see the wood between the trees. But, luckily, as the deal connoisseur that we are, we've taken the pain out of the process by curating a round-up of the best offers currently available.
So, whether it's a new Echo dot (was £39.99, now £18.99, Amazon.co.uk) or a SAD lamp in the form of the Lumie zest (was £150, now £104.99, Amazon.co.uk), we certainly think you'll be the king or queen of Amazon with our guide:
Amazon's Black Friday 2021 sale is coming to an end – these are the best deals to shop now on Shark, Apple AirPods, Amazon Echo dots, 4K TVs, laptops and more
Eva Waite-Taylor
29 November 2021 14:00
1638194750
Red Letter Days slashes prices for Cyber Monday
Eva Waite-Taylor
29 November 2021 14:05
1638195359
Get your caffeine fix with £120 off this coffee machine
If you're looking for a deal on a coffee machine, there is £120 off this Nespresso vertuo plus (was £189, now £69, Ao.com) model. The sleek design means it would take pride of place in your kitchen, and at this price, your cup of Joe will taste even sweeter. From just one machine you will have the choice of five different cup sizes – ranging from espresso to alto – as well as three different capsule sizes, from small to large.
If you're after a snazzy Sage bean-to-cup, we've got just the deal for you:
Eva Waite-Taylor
29 November 2021 14:15
1638196259
A Fitbit for £90 this Cyber Monday? Yes, here's how
Fitbit charge 4 with GPS and swim tracking: Was £129.99, now £89.99, Amazon.co.uk
You can save more than 30 per cent on this Fitbit tracker in Amazon's Cyber Monday sale. With a battery life that claims to last up to seven days, a built in GPS system, and plenty more great features such as sleep scoring, 24/7 heart rate tracking and iOS and Android compatibility, this Fitbit has everything you need in a fitness watch. It also landed the top spot in our review of the best fitness trackers and watches, with our reviewer calling it "the best of Fitbit's dedicated fitness trackers".
This is a great gift for fitness fanatics, so, read more about the Cyber Monday deal now:
Whether you run, cycle, swim or walk, fitness fan favourite Fitbit is in the Cyber Monday sale with 32% off the charge 4 thanks to Amazon
Eva Waite-Taylor
29 November 2021 14:30
1638197159
Bookworms, save 47% on Kindle in Amazon's Black Friday sale
Amazon Kindle paperwhite, 32GB: Was £119.99, now £79.99, Amazon.co.uk
Whether you're an avid reader or shopping for a bookworm, now is the time to snap up a Kindle. The device took the top spot in our guide to the best ereaders, with our writer noting that it's "a big step up from the entry-level Kindle". It features "a high-resolution screen which is extremely easy to read" and the "design is elegant with the screen flush to the frame". If you'd rather have the option to download your books away from wifi, then you'll be glad to know the 3G Kindle paperwhite (was £219.99, now £129.99, Amazon.co.uk) is also reduced, which gives you the option of accessing new books by the pool.
Eva Waite-Taylor
29 November 2021 14:45
1638198050
A Cyber Monday deal on Audible
If you're a total bookworm, but mainly enjoy listening to stories, then now is the time to sign up to Audible. New customers can get 50 per cent off their membership for the first three months, making it just £3.99 per month. You'll have access to a whole range of audiobooks, and they can be played through your phone, Kindle (was £129.99, now £104.99, Amazon.co.uk) and even your Echo dot (was £49.99, now £24.99, Amazon.co.uk).
Eva Waite-Taylor
29 November 2021 15:00
1638198950
Deck the halls with boughs of holly (and a Patch Christmas tree)
It's the most wonderful time of the year, and now one of our favourite online plant nurseries, Patch Plants, has reduced the price of its small Christmas tree (was £22, now £13, Patchplants.com).
It is the perfect festive addition to your home and is sure to add some cheer. It is also offering 30 per cent pots for the event, so we'd suggest buying the fir tree alongside this concrete pot (was £34, now £23.80, Patchplants.com).
Eva Waite-Taylor
29 November 2021 15:15
Register for free to continue reading
Registration is a free and easy way to support our truly independent journalism
By registering, you will also enjoy limited access to Premium articles, exclusive newsletters, commenting, and virtual events with our leading journalists
Already have an account? sign in