The Independent's journalism is supported by our readers. When you purchase through links on our site, we may earn commission.
12 best student kitchen essentials
From sandwich toasters to iridescent cutlery, we have you covered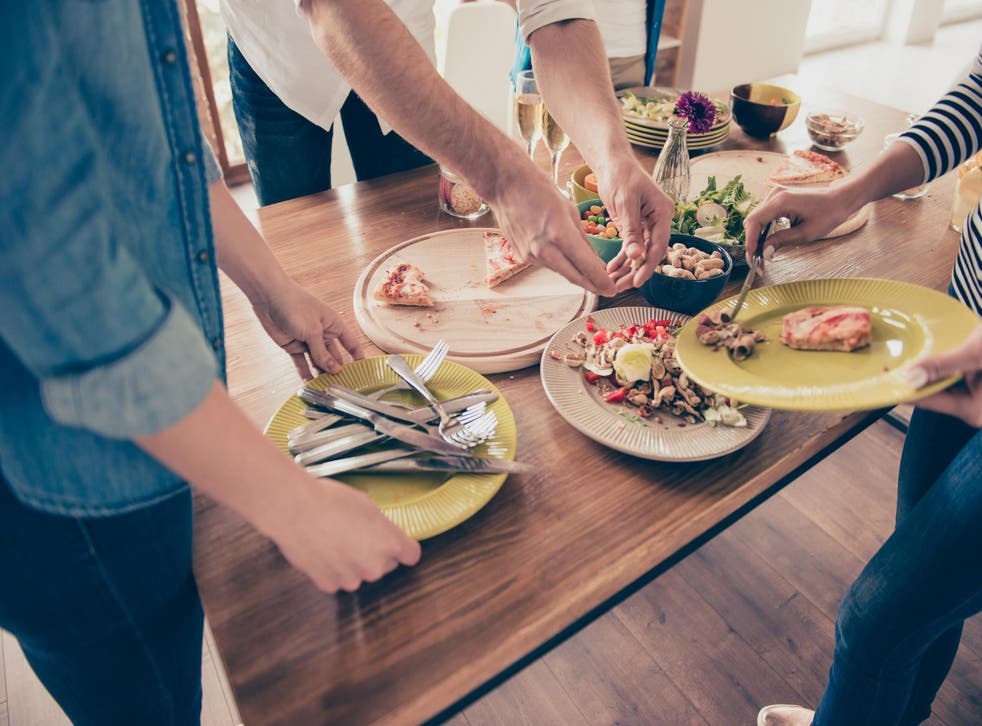 Google student kitchen essentials and you'll be overwhelmed by suggested packing lists. These are helpful if you are worried about forgetting something, but we don't recommend stocking up on everything straight away: no cramped communal kitchen needs ten woks taking up cupboard space.
If you'll be staying in halls, ring up the accommodation office to find out what's already there – toasters and kettles are often provided. Check their fire safety rules too, in case you're not allowed to bring particular items.
Try getting in touch with your future flatmates beforehand and dividing up key bits and bobs between you. Make a note of who bought what so you know what's yours when you move out. (Hint: you might want to shotgun the toastie maker.)
Buy cheap and cheerful glasses and crockery in preparation for breakages and opt for colourful or patterned sets – nobody will nick your favourite cereal bowl if its unique design makes their thievery obvious. Ditto Tupperware – it'll make it obvious what's yours in the fridge. Spend a bit more on a couple of trusty non-stick pans and an oven-proof dish (lasagne and shepherd's pie are both student classics) that will last you the full three years.
Be wary of starter set deals that look too good to be true – 20 kitchen items for £20 might sound like a great way to save money but you won't use half the stuff and the quality will be frustratingly bad. Before you know it, you'll have spent more over the course of your degree than you would have done buying fewer, better items in the first place. Remember you're going to uni, not Outer Mongolia, and you can fill in gaps once you're there.
That being said, we've tried and tested the below bits and bobs in our own, immeasurably-more-boring-now-we're-old kitchen, and found them worthy of snapping up before they sell out.
Swan 3.5L Retro Slow Cooker: £29.99, Swan
If you've never used a slow cooker before and suspect it is one step too far for your fledgeling adult self, don't panic!
We'd never used one until we reached our late twenties, but this one by reliable British brand Swan is super simple.
It only has three settings: low for gently simmering food all day; high for cooking pulses and baking crumbles; and automatic, which starts on high to brown meats before switching to low for the rest of the cooking time – ideal for leaving casseroles cooking while you're in the library.
Its removable crock pot means you can take it straight to the table for serving – great if you're cooking for the flat – and the keep warm function means you won't need to reheat your lovingly-made meal if some guests join late. It fits 3.5litres of food – enough to serve six people or make extra portions to freeze.
We made a delicious chicken and chickpea tagine with ours, but there's a 32-page recipe book included for inspiration – we'll be trying the boeuf bourguignone next.
We're big fans of its retro look, which comes in eight colours from muted grey, green and cream to brighter orange, baby blue and our favourite cherry red.
At just under £30, it's a bargain, and worth the investment for the time and faff it will save.
George 16-Piece Iridescent Cutlery Set: £20, Asda​
The problem with cutlery is that much of it looks the same. That's all well and good, but it's going to make differentiating your forks from your flatmates' really tricky, potentially ending in unnecessary arguments.
Not ones to do things by halves, we've found the shiniest, most extra cutlery set available to buy online – no-one will be able to 'borrow' one of these beauties on the sly.
You get four knives, four forks, four spoons and four tablespoons in the box and the colour is even more vibrant in real life.
Though not as heavy as pricier cutlery, they aren't flimsy to hold, and the knife cuts well.
Expect to be the envy of your newfound pals with this Instagram-ready hit that looks far more designer chic than suggested by the £20 price tag.
KitchenCraft Colourworks 3-Piece Knife Set: £7, Amazon
Some of the bigger knife blocks in the shops are painful on the wallet, and we don't recall ever using more than three at uni. Surely designed with students in mind, this is a really a handy set.
For under £20, you get a 20cm chef's knife for use with meat, a 12cm utility knife – the one you'll use the most – and a 9cm paring knife for more intricate culinary skills.
They're as brightly coloured as knives come – green, purple and red, right down to the sharp, non-stick stainless steel blades – and their protective cases limit the chance of a nasty surprise while hunting through the over-packed cutlery drawer.
The handles have been well-designed to offer a soft grip, again reducing the risk of injuries while attempting to cut up a butternut squash (hint: don't try this, it's not worth it).
Tefal Everest 28cm Frying Pan: £38, Dunelm
Shopping for pans can be tough – there are endless budget options aimed at impoverished students, but many will be useless after only a few months, forcing you to spend much more in the long term.
We strongly recommend biting the bullet and paying that bit extra for Tefal's new built-to-last frying pan.
It has deep sides to minimise messy splashing and a powerful non-stick coating that will withstand scratching from metal utensils.
It's so durable, it'll be an effort for even the most careless to damage it. It also has Thermo Spot technology – that dot in the middle turns solid red when the pan reaches its optimum cooking temperature. It's tough enough to go in the oven for an hour, too.
There's a variety of sizes available, but this is our favourite – it fits lots in without being overly bulky. It comes with a lifetime guarantee on the non-stick coating and a two-year guarantee on its main body.
Happy Avocado Tea Towel: £6, Sass & Belle
If eating too many avocados means you'll never own a home, you may as well go the whole hog and enjoy drying up with them, too.
This cheery little fella came to our attention while browsing affordable, trend-led homeware store Sass & Belle. It's made from cotton weaved for the best durability and dries surfaces and kitchenware without becoming sodden in seconds.
Smiley avocados may not be for everyone – the halves with closed eyes are less surreal than those with tongues, we admit – but cracking this out on your first day in halls will prove an instant ice-breaker.
Think about it: who would you rather be friends with – the one with a safe black gingham number or the owner of this? Exactly.
There's an equally excellent cactus-themed tea towel with 'I'm drying up here!' slogan to snap up, too.
Cusinart CH4BCU Mini Food Processor: £44.99, John Lewis
There's a bit more of a splurge involved here, but this mini food processor's five-year guarantee means it'll last beyond your degree.
Chopping veg can be a time-consuming slog, especially when there are so many more exciting things you could be doing as a student. It can be easy to rely on ready meals and takeaways, but convenience costs money and is usually full of salt and additives - not what your body needs when it's already under assault from booze and exam stress.
Compactly designed for easy storage, this nifty gadget chops, grinds and mixes with locked-in, sharp stainless steel blades. Use it for making soup, sauces, salad dressings and dips, then remove the parts and pop them into the dishwasher (or wash them up, if you're not so lucky – we certainly weren't).
The lid can be a bit stiff to open and it's noisy, but they're easy gripes to live with for the helping hand this offers.
There are cheaper options on the market, but they fit a third of this one's 900ml volume, and making food in batches is an age-old money-saving tactic.
ProCook Collapsible Colander: £16, ProCook
Space-saving items are godsends in a shared kitchen.
This collapsible colander is just 2.5cm thick once collapsed, leaving more space for important things such as toastie makers, and its lurid green colour will make it quick to dig out in a pre-lecture rush.
It pops open easily, will withstand hot water and is mostly made of high-quality silicone for speedy cleaning (those trickier-to-scrub holes are only on the bottom).
Pesto pasta made up the bulk of our diet at uni, so if you plan to follow suit, you'll want one of these. It'll also come in handy for draining vegetables, which you should probably eat sometimes.
Sainsbury's Home Helsinki 12pc Geometric Dinner Boxset: £29.33, Sainsbury's
Remember what we said about choosing dinnerware that'll stand out from everybody else's? We found this 12-piece set –- four dinner plates, four side plates (perfect for toast) and four cereal bowls – in Sainsbury's affordable Home range and it's a steal in the sale.
It's made from fine china, with a monochrome Scandi-esque design – circles on the plates and flecks on the bowls.
Everything is dishwasher-safe if you have one, but they're easy enough to wash up if not – just grab that avocado tea towel to jolly the job up.
It's fine to use them in the microwave, too.
While we encourage looking after all your possessions, they aren't so expensive you'll be worried about accidental breakages. They certainly don't look cheap either.
Grab yours while there's a third of the usual £44 price tag – there are pasta bowls, mugs and more in the range, too.
Shark Vegetable Peeler: £3.95, Rex London
It's tough to make a vegetable peeler exciting, but if you want to avoid scurvy (or, more importantly, enjoy some mash with your bangers), you're probably going to need one.
Sure, you can pick up one of those standard black ones, but we reckon this fun blue shark will inject a bit of joy into your meal prep.
Not ones to support style (and this is stylish) over substance, we got our hands on one and put it through its paces peeling veg for our aforementioned slow-cooked tagine.
The grip takes a bit of getting used to but it worked brilliantly, slicing the grubby layer off carrots swiftly without pulling and cutting our fingers like lower quality peelers can do.
It's adorable and does its job – you can't go wrong.
VonShef 15pc Aluminium Cookware Set: £64.99, Domu
Again, we're not in the business of scrimping when it comes to core items, but we also don't believe in spending more than you need to, so don't baulk at the price of this set straight away.
Professional chefs use VonShef, so this kit won't let you down, and what we love most is that it includes better quality versions of the things you'll actually use: 16cm, 18cm and 20cm saucepans with glass lids, 20cm and 24cm frying pans, four-cup egg poacher, masher, pasta spoon, solid spoon, slotted spatula, ladle, can opener, peeler, grater and even a pizza slicer.
The pans can be used on any type of hob, including induction (the ones that start glowing red), have heat-resistant handles and are all non-stick, making that dreaded pile of washing up quicker to clear.
It comes with a two-year warranty.
Joseph Joseph Multi-Coloured Nest Utensil Store: £26, Trouva
Kitchen utensils get used a lot and have a tendency to lie festering in the sink, so you'll want your own set.
This won't be a problem if you plump for this space-saving set from trendy brand Joseph Joseph – it comes with a small steel stand they all smartly stack on to thanks to magnetics in the handles. This then fits compactly into a drawer or can be wall-mounted for better accessibility – we recommend the former to avoid them succumbing to kitchen grease.
Five tough nylon utensils are included: a slotted spatula, slotted spoon, solid spoon, ladle and a spaghetti server, each a different colour of the rainbow.
They won't melt during cooking but rinse them immediately after making strongly-coloured meals if you want to avoid staining. The price works out at just over a fiver per piece, which we think is fair given their quality, durability and good looks.
We've have liked a masher to be included, but we still think it's a great purchase.
Wilko 4-Slice Sandwich Toaster: £8, Wilko
Some may argue that a toastie maker is not an essential, but ask any student and they'll tell you otherwise. The person with the toastie maker, is the popular one, especially when trying to sober up at 3am or recover the next day.
If you aren't yet sold on the glory of gooey cheese, at only £8, it's surely worth a go.
Despite being by far the cheapest toaster we've come across, it works a treat. Closing the lid is a push if you cram your sandwiches with filling, but it gets hot enough that this really doesn't matter – just don't try to jam it shut.
You can make two rounds of toasties at a time and we love how the internal moulds seal and cut (if you lighten the load to close it, that is).
The outside stays cool so you won't burn yourself and it's all non-stick for easy cleaning. There's no indicator light to tell you when your toastie's ready so you'll need to keep opening it up to check (ours took about seven minutes), but it's a fab bit of fun for the price.
Verdict: Best student kitchen essentials
If you buy just one thing from this list, make it the Swan slow cooker – it couldn't be simpler to set up and use, will save you hours of time, and is the closest thing you'll get to Hogwarts-style potion making. In case it wasn't obvious, we also really love that avocado tea towel.
Register for free to continue reading
Registration is a free and easy way to support our truly independent journalism
By registering, you will also enjoy limited access to Premium articles, exclusive newsletters, commenting, and virtual events with our leading journalists
Already have an account? sign in
Register for free to continue reading
Registration is a free and easy way to support our truly independent journalism
By registering, you will also enjoy limited access to Premium articles, exclusive newsletters, commenting, and virtual events with our leading journalists
Already have an account? sign in